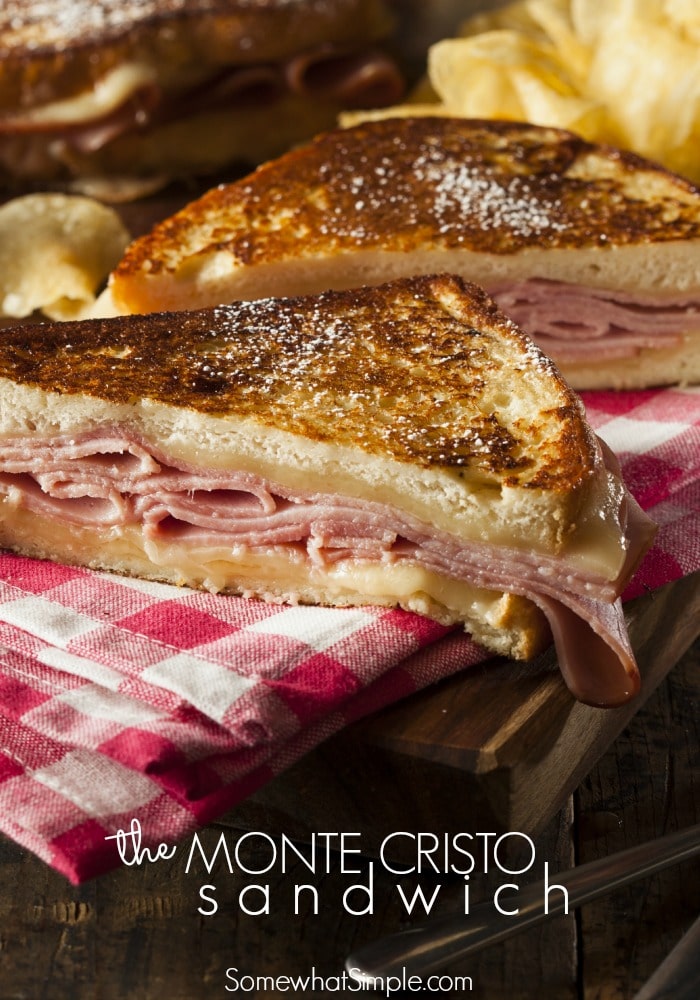 I didn't discover the delicious taste of a Monte Cristo Sandwich until just a few years ago- where had I been?!?! Simple, crispy, warm deliciousness- these sandwiches are tasty! Making them is as easy as making french toast, but you build a yummy sandwich out of the dipped bread- YUM!
Monte Cristo Sandwich
Serves 4
Ingredients:
4 large eggs, beaten
1/4 cup warm milk
a pinch of ground nutmeg
a pinch of ground black pepper
8 thick cut slices of bread
1/2 cup brown mustard
1/2 pound sliced provolone cheese
8 slices bacon, cooked
1 pound sliced ham
1 pound sliced turkey breast
1 1/2 cups maple syrup, warm
powdered sugar, optional
nonstick cooking spray
Directions:
These directions are for 1 sandwich at a time. If you have a big griddle, you can cook all 8 pieces of bread to make 4 sandwiches at once.
Heat griddle or frying pan over medium heat. Spray with nonstick cooking spray.
Beat eggs with milk, nutmeg and pepper.
Turn 2 slices bread in batter, then add to griddle or pan.
Flip bread after it browns, 2 to 3 minutes.
Top bread slices with mustard. Add cheese, bacon, ham, then turkey.
Cover with another piece of browned bread to make sandwich.
Keep flipping and browning like you would french toast until meat is heated and cheese is melted.
Sprinkle with powdered sugar and and drizzle syrup over the top or serve with a side of syrup for dipping.
The last step almost didn't happen in my family- maple syrup on a grilled sandwich??? It sounds weird, but it actually tastes so yummy!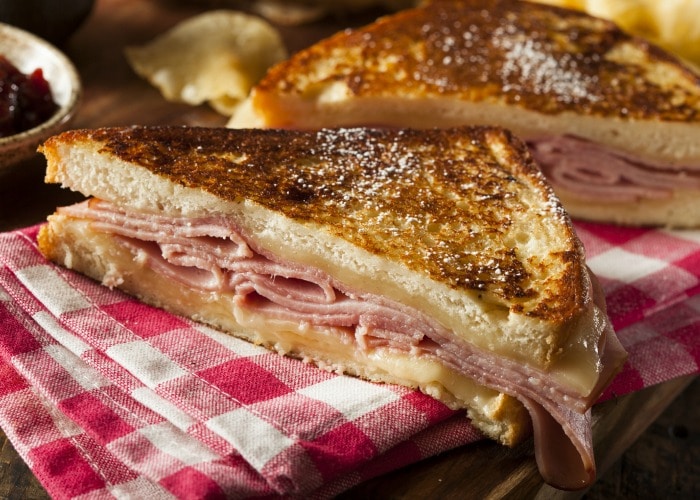 Enjoy!
The recipe was originally published on Somewhat Simple in July 2009
Hack Your Routine!
FREE E-COURSE
5 Time-Saving Tips for Crazy Busy Moms