Split pea soup is a hearty recipe that's incredibly easy to make.  Pea soup is one of my favorite recipes to make using leftover ham.  Filled with split peas, ham, spices and other healthy vegetables, this classic soup is the perfect comfort food.
This recipe is a perfect way to use up any leftover Ham from a holiday meal.  Some of my other favorite recipes to make with ham are Hawaiian Ham Sandwiches, Ham and Potato Casserole and these Monte Cristo Sandwiches.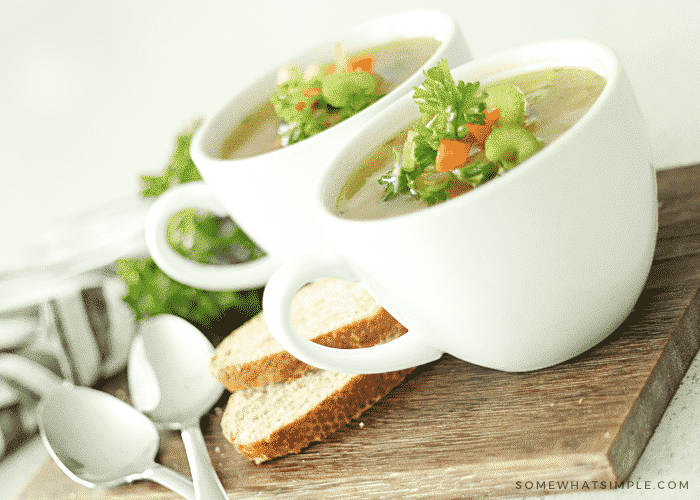 What Are Split Peas
They are peas taken from the field and then dried, peeled and split in half.  There are two varieties of split peas that you will find; green and yellow.  Split peas are a healthy vegetable that are a great source of protein and fiber but are also low in fat.  While you should rinse them before cooking with them, they don't need to be soaked prior to using them.
Split Pea and Ham Soup
I grew up thinking Split Pea Soup was something one should gag on, and I always turned it down. The color made my stomach churn, even though I actually enjoyed eating peas. Fast forward several years, and I attended an event that was serving, you guessed it, split pea soup for lunch.  I almost wasn't a grown up that day and just about turned it down and missed out on this amazing soup.
You guys this soup is actually really incredible!  What really makes this recipe pop is the flavor of the ham mixed with the peas.  This is one of my favorite meals to make with all of the ham that's leftover after a holiday meal.  I know this may sound crazy but when I see the pile of ham leftover after dinner, I get so excited for all of the yummy recipes I get to make with it.
How To Make Split Pea Soup
Before I made this recipe for the first time, I was really intimidated to make it.  For some reason, I thought it would be really difficult to make.  I have never been so wrong about a recipe before.  This really pea soup recipe really couldn't be any easier.
Wash and chop the celery, carrots and onions
Combine all of the ingredients into a large pot and mix well
Bring the pot to a simmer and let the soup simmer for 90 minutes
Remove the ham shank and trim the meat from the bone
Return the meat back into the pot
Simmer everything for an additional 2 – 2 1/2 hours or until the soup reaches your desired thickness
How To Make Split Pea Soup In A Crock Pot
If time is on your side and you want to make this recipe even easier, you can make it in a slow cooker as well.  Simply place all of the ingredients in the crock pot and make these few small adjustments.
Add the ham bone last so that it's near the top of the slow cooker
Cook the soup on low for 5-6 hours
Take the ham bone out and remove the ham from the bone
Return the small pieces of ham back into the slow cooker and mix it back into the soup and then it's ready to serve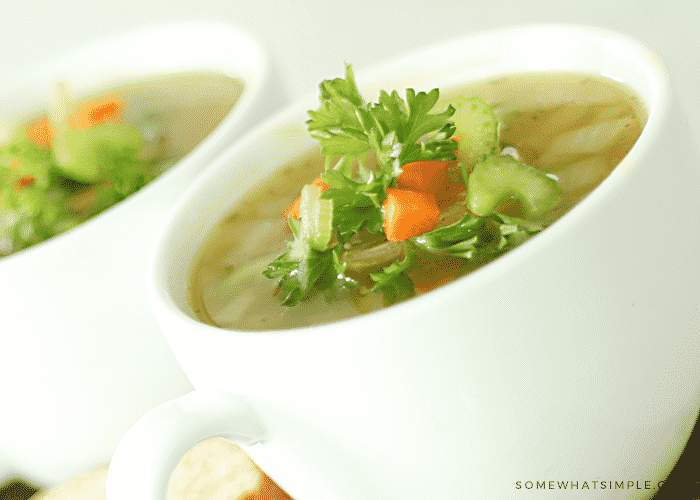 Ingredients For Split Pea Soup With Ham
Split peas
Water
Ham shank (this is the leftover bone with meat attached from your holiday ham)
Onion
Chicken bouillon
Garlic powder
Oregano
Pepper
Bay leaf
Carrots
Celery
Can You Freeze Split Pea Soup
Yes, you can definitely freeze this recipe and eat it later.  In fact, this recipe yields quite a bit of soup, so I always freeze some for later.  Just make sure the soup has completely cooled before putting it in the freezer.  You can store it the freezer for up to 3 months.  Just be sure to mark the date on the container before putting it in the freezer.
Here's a quick tip that makes freezing soup easy and practical.  I put my leftovers in freezer safe 16 oz deli containers so I only have to thaw the amount I plan to use the next day.  These are perfect to take to work the next day for lunch.  Let the soup defrost in the freezer over night and then warm it up when you're ready to use it.
Vegetarian Split Pea Soup
This pea soup can easily be made into a vegetarian friendly recipe.  Simply remove the ham from the ingredients and replace the chicken bullion cubes and broth with vegetable bullion and broth and you're all set.
More Easy Soup Recipes
Easy Split Pea Soup Recipe
Go ahead, give this delicious recipe a try.  Leave us a comment below and let us know how much you enjoyed this pea soup with ham or tag us on social media after you make it because we love to see what you've been up to in the kitchen!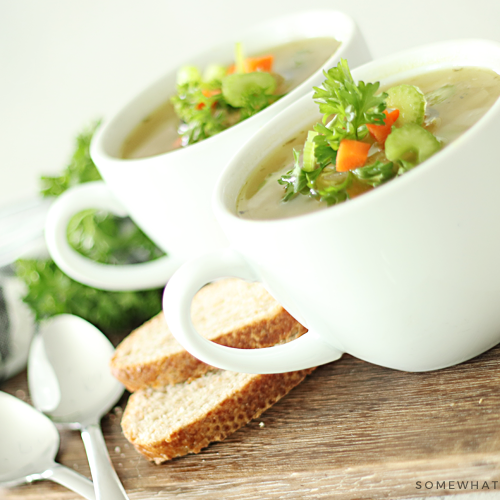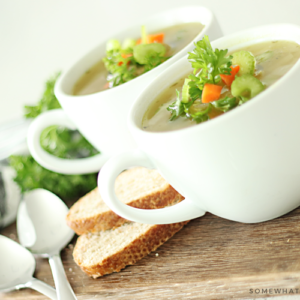 Split Pea Soup Recipe
Split pea soup is an easy recipe to make using leftover ham. This hearty recipe is made with split peas, ham, spices and other healthy vegetables.
Total Time
4
hours
15
minutes
Ingredients
14

oz

package of green split peas

3

quarts

water

1

small ham shank

1

large onion

finely chopped

2

chicken bouillon cubes

1/2

tsp

garlic powder

1/2

tsp

oregano

1/3

tsp

pepper

1

bay leaf

1 1/2

cups

chopped carrots

1

cup

chopped celery
Instructions
Chop the celery, carrots and onions

Place all of the ingredients into a large pot

Simmer the ingredients for 90 minutes

Remove the ham shank and cut the meat from the bone

Put the meat back into the pot and stir

Continue simmering for an additional 2 - 2 1/2 hours or until the soup reaches your desired thickness