This easy copycat Zuppa Toscana recipe will let you enjoy the flavor of the Olive Garden from the comfort of your own home!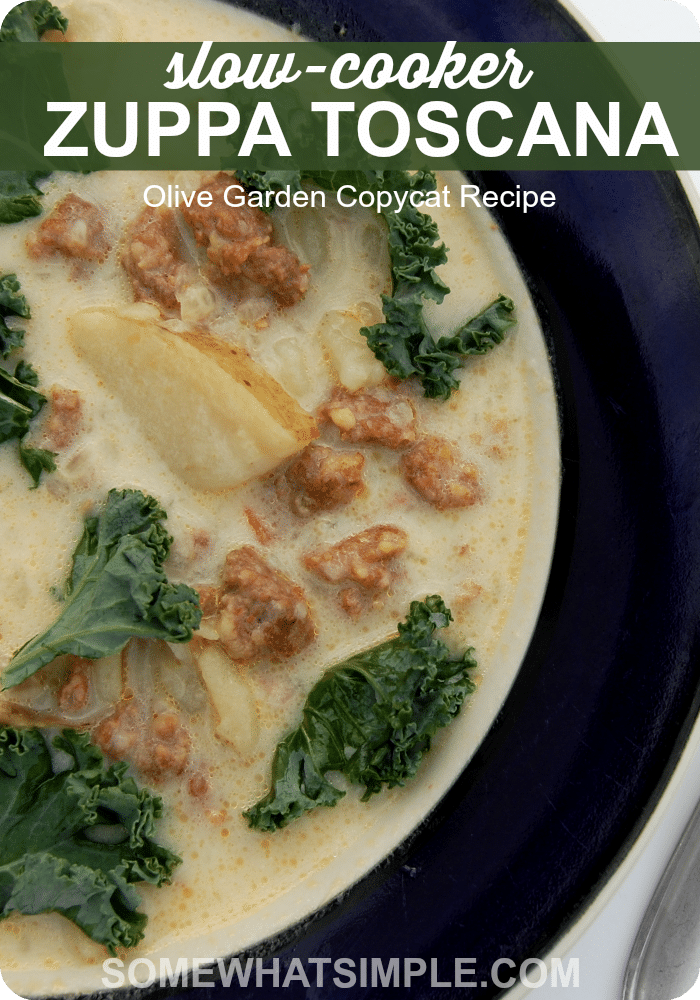 When my husband and I go out to eat at Olive Garden, Zuppa Toscana is one of my favorite things to order! Since we have 5 little ones at home and going out to eat doesn't happen as often as I would like it to, I needed to find another way to get my fix for this delicious soup. This Copycat Zuppa Toscana recipe is PERFECT! It tastes exactly like the soup from Olive Garden, but we get to enjoy it from the comfort of our own home. Added bonus: Our house smells amazing all day while it cooks in our slow cooker!
ZUPPA TOSCANA RECIPE
INGREDIENTS
1 lb mild Italian sausage
2 large potatoes, cut in half lengthwise, and then cut into 1/4″ slices
3/4 cup onion, diced
1 1/2 teaspoons minced garlic
2 tablespoons chicken base
1 quart water
1/3 cup heavy whipping cream
2 cups kale leaves, broken into bite sized pieces
DIRECTIONS
Brown Italian sausage in large skillet over medium heat, stirring often to prevent burning, until cooked through.
While meat is browning, cut up potatoes, onions and garlic.
Add all ingredients except heavy whipping cream and kale to crock pot and set to low.
Allow to cook on low for 4-6 hours until potatoes are tender.
Add heavy whipping cream and garnish with kale.
Other Easy Crock Pot Recipes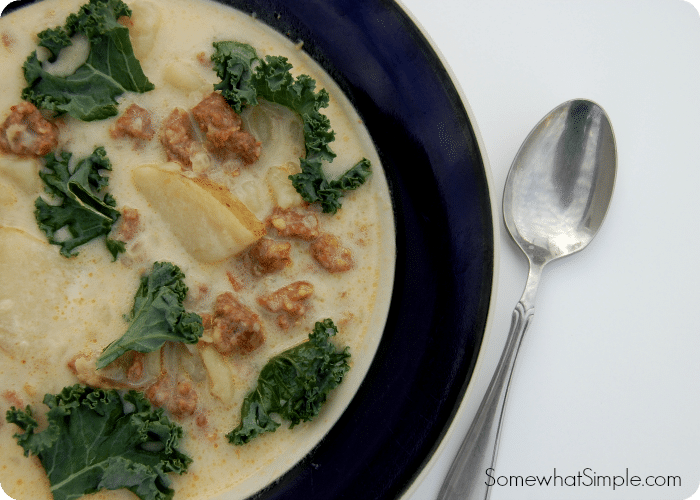 This soup is delicious when served with bread sticks from the freezer section of the grocery store.
Enjoy!
Hack Your Routine!
FREE E-COURSE
5 Time-Saving Tips for Crazy Busy Moms