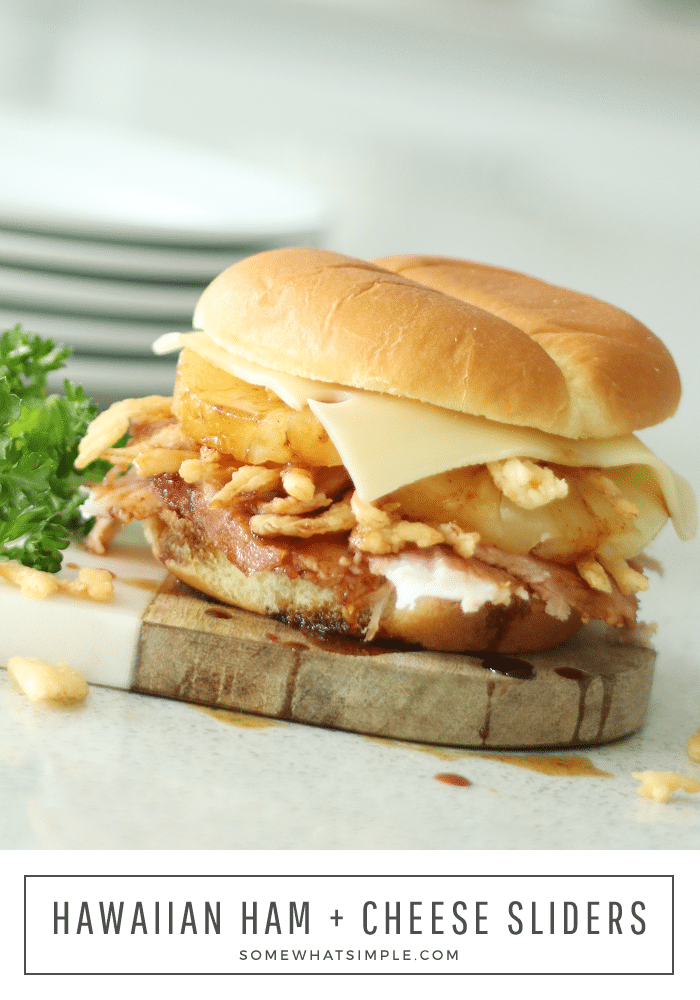 Hawaiian ham sandwiches are made with slices of baked ham and pineapple then topped with fried onions and teriyaki sauce all on a sweet King's Hawaiian roll. Once you've had one, you'll never eat a ham sandwich any other way.
Sever these delicious ham sandwiches with a side of Sweet Potato Fries, a pile of Pasta Salad and a Homemade Brownie for dessert and you'll be all set!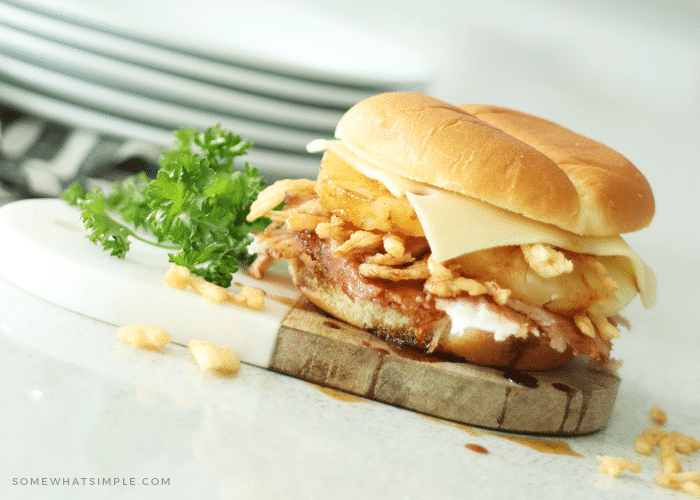 Hawaiian Ham & Cheese Sandwiches
Ever since I learned how easy it is to make a ham in the Instant Pot, I cook a ham for dinner about once a month. Making ham is simple, affordable, and there are so many recipes that change the flavor of the dish, so you don't feel like you're eating the same thing every time.
A classic ham dinner is usually loved by all in my home, but last month I made these Hawaiian ham sandwiches from leftover Easter ham and they were hands-down everyone's favorites! We have actually made them twice since then!
These amazing sandwiches are made with soft King's Hawaiian buns, slices of leftover ham, melted cheese, pineapple, crunchy French's fried onions, and drizzled with teriyaki sauce. These little sandwiches sure pack a ton of flavor into every bite!!!
Assembling Your Sandwich
One of the things I love most about these sandwiches is that they can be made to your liking. Do you have picky eaters in your home too?! My 16 year old hates pineapple and my 5 year old wasn't a fan of the French fried onions, but both of them loved this meal because they didn't have to eat what they didn't want. While you can customize it, here's how I make my Hawaiian ham sandwich.
Make The Ham – If you're using leftover ham, reheat it until it reaches your desired temperature. If not, cook your ham according to the direction on the package. Here's a great Ham Recipe if you want to cook it quickly in an Instant Pot.
Toast It – Toast the hamburger buns in a toaster oven with a slice of cheese on one side.
Assemble – Add several slices of ham and a slice of pineapple to the sandwich. Sprinkle a fair amount of fried onions on the sandwich, drizzle teriyaki sauce over the top and serve.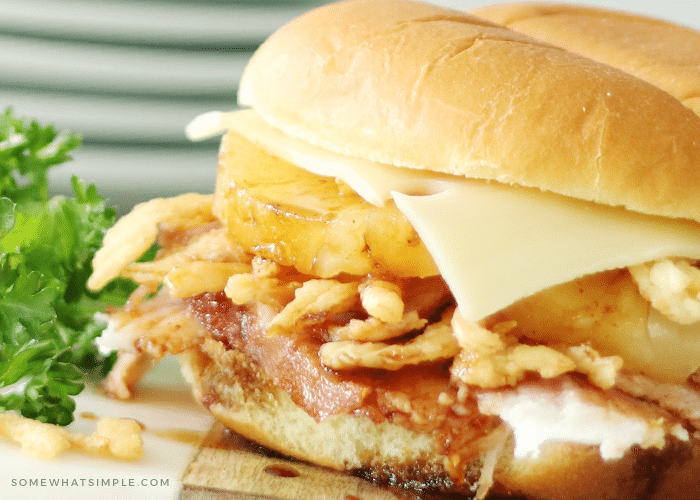 Sandwich Making Tips
Don's Use Lunch Meat – While you can use packaged ham slices in a pinch, there's nothing like the taste and texture of a sliced spiral ham on these Hawaiian ham sandwiches.
Toast Those Buns – One of the most underrated things, I think, in the art of sandwich making is using a toasted bun for sandwiches that are served warm. While the inside is still soft, the crispy texture on the outside really makes this recipe sing! I like to toast them with a slice of cheese so that it's nice and melted when you're ready to serve them.
Use The Best Ingredients – I love using King's Hawaiian hamburger buns because they have a subtle but sweet flavor to them that really compliments the pineapple. I've also tried several teriyaki sauces over the years and my favorite one to use in all my recipes is Yoshida's. Just remember, a little teriyaki sauce goes a long way.
Turn It Into A Slider – If you want to serve these as an appetizer, you can easily turn these into a Hawaiian ham and cheese slider. Just use the smaller King's Hawaiian rolls and cut the pineapple into smaller pieces. Your party guests will love these!
Other Recipes For Leftover Ham
Hawaiian Ham Sandwich Recipe
These ham sandwiches really are to die for! Let us know when you make these sandwiches by leaving us a comment below, or by tagging us on social media!
Hawaiian Ham Sandwiches
Looking for ways to step up your ham sandwich game? 10 out of 10 sandwich and ham lovers agree that these Hawaiian Ham Sandwiches are the perfect solution!
Ingredients
King's Hawaiian Buns 

,

or regular hamburger buns

leftover ham slices

pineapple rings

Swiss cheese

French's fried onions

Teriyaki sauce

,

Yoshida's brand won our taste test
Instructions
Build the sandwich to your liking, using any and all the ingredients above!
Nutrition
Other Notes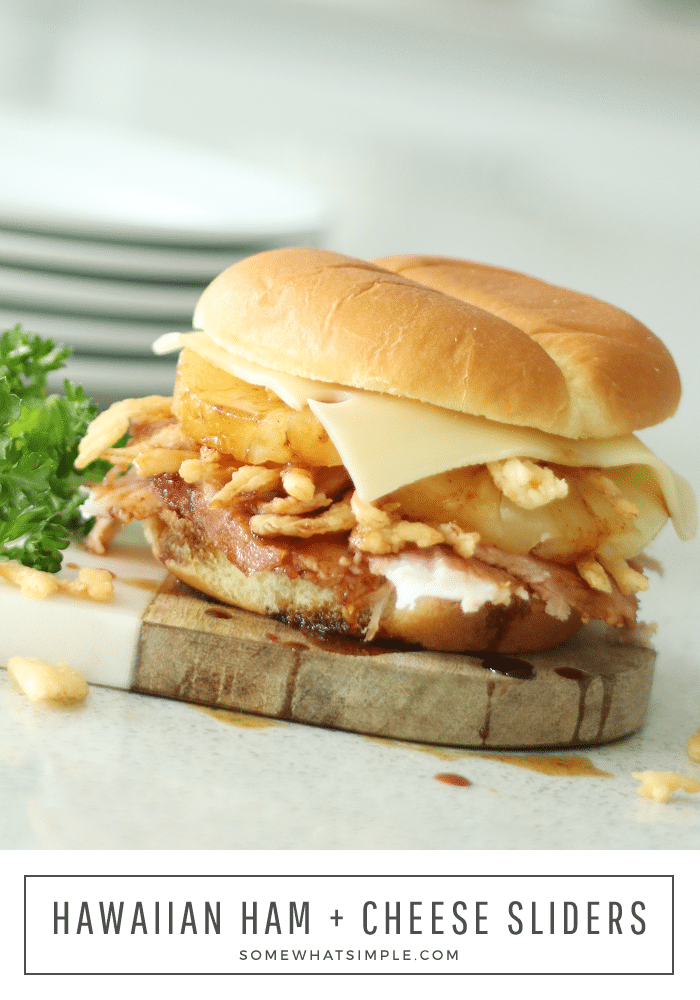 ENJOY!