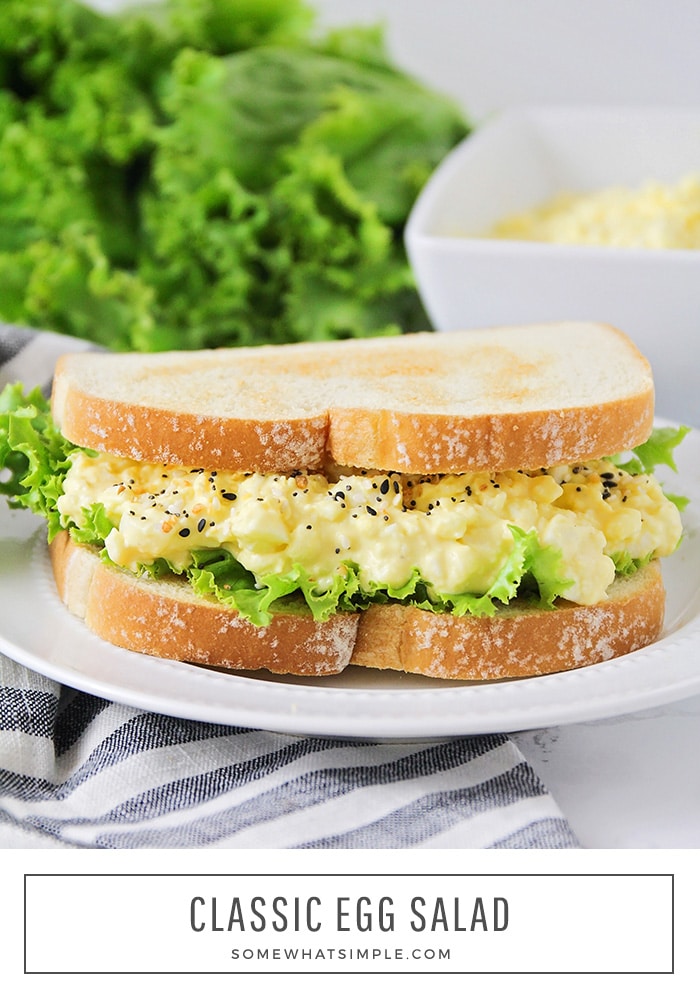 This classic egg salad recipe is incredibly easy to make, and totally delicious! It's perfect for a light lunch or dinner!
If you love simple sandwiches as much as we do, be sure to try a few more of our favorites: Hawaiian Ham Sandwiches, Make Ahead Breakfast Sandwiches, and Crock Pot French Dip Sandwiches.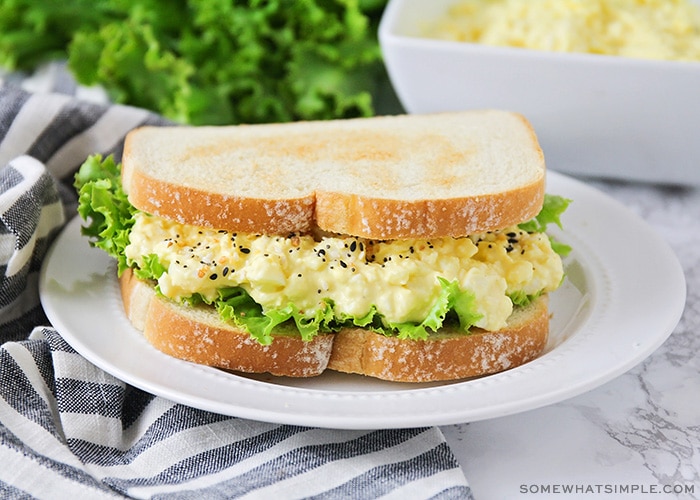 Egg Salad Sandwiches
When lunch time rolls around, I'm always a little stumped about what to make. My kids are in school all day, and on the days when my husband works, it just doesn't seem like it's worth the effort to cook a whole meal just for me. I often eat leftovers from dinner the night before, but sometimes I want something that feels special and fancy, but also something doesn't take a lot of effort to make.
That's where this delicious egg salad recipe comes in! I can eat it straight out of a bowl or throw it on a couple slices of bread for an egg salad sandwich. It's simple and delicious, and makes enough for several days' worth of lunches. It really is the best recipe!
How to Make Egg Salad
One of the best things about this egg salad recipe is that it's so easy to make! You just need boiled eggs, mayonnaise, Dijon mustard, everything bagel seasoning, and salt and pepper. If boiled eggs have given you trouble in the past, you have got to try our never-fail method for hard boiled eggs. They come out perfectly every time, and they're easy to peel, too!
Boil & Peel Eggs – Hard boil the eggs either using the method above or you can Boil Them in an Instant Pot if you prefer. Peel the eggs once the have cooled sufficiently to handle them.
Dice & Mix Ingredients – Dice the hard boiled eggs and then add them to a mixing bowl along with the mayonnaise, Dijon mustard, and salt & pepper. Mix everything together until everything has blended together.
Cool It Down – I like to eat my egg salad cold, so I place it in the refrigerator for about an hour to chill.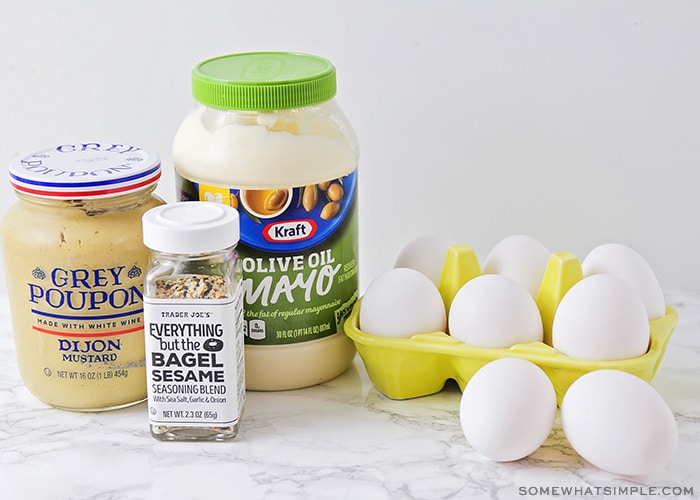 Recipe Tips
How To Make It Creamier – If you like your egg salad a little creamier, you can add a little more mayonnaise until you reach the desired consistency.
Mustard Flavor – You can also increase or decrease the amount of Dijon mustard to taste. Personally, I love the little kick of flavor that the Dijon mustard adds!
Mayo Substitute – Some people have asked if they can substitute the mayo with another ingredient. Two of the more popular substitutes would be to use Greek yogurt or hummus.
Sandwich Tip – If you're going to make an egg salad sandwich, don't skimp on the bread you use. You know the type of bread I'm talking about, the loaf that costs 99 cents at the grocery store. Treat yourself to a loaf with soft and thick slices. My favorite way to serve this egg salad is as a sandwich on toast, with some fresh lettuce leaves. It's also delicious on its own, and totally amazing when served in a croissant.
Additional Seasoning – Adding a sprinkle of everything bagel seasoning to the top of the egg salad makes it taste even more delicious! If you haven't tried everything bagel seasoning before, it's a mix of things like poppy seeds, sesame seeds, dried garlic, dried onion, and salt. It adds a ton of flavor to whatever you sprinkle it on, but it's especially amazing with eggs. I've found it at Trader Joe's and Walmart in the spice section. You definitely need to give it a try!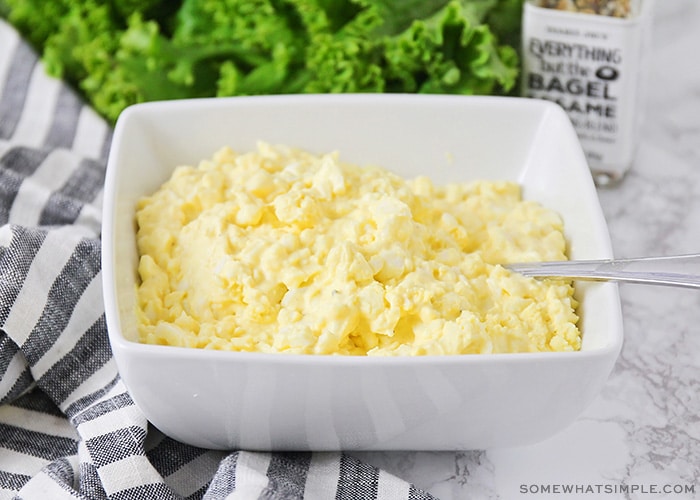 Serving & Storage
How Many Servings Does This Yield – The egg salad recipe will be enough to make 4 sandwiches. If you are planning to feed more, you'll want to add 2 eggs per additional person plus a little extra mayo and mustard.
How Long Does Egg Salad Last – This salad will last in the fridge for about 4 or 5 days if stored properly. Just be sure to keep it in an airtight container and don't leave it out for more than 2 hours.
Can I Freeze Egg Salad – I wouldn't recommend freezing this recipe. While the salad won't go bad in the freezer, when it thaws, the consistency of it will be less than desirable.
More Delicious Salads To Try
Classic Egg Salad Recipe
Now it's your turn to try this easy recipe. Leave us a comment below and let us know how you liked it or if you added any fun ingredients to this class salad. We'd also love to see you enjoying it with friends at your next BBQ, so tag us on social media when you do.
Egg Salad
This classic egg salad recipe is incredibly easy to make, and totally delicious! It's perfect for a light lunch or dinner!
Ingredients
for the egg salad:
8

large eggs

,

boiled

1/2

cup

mayonnaise

2

teaspoons

dijon mustard

salt and pepper to taste
for serving:
2

teaspoons

everything bagel seasoning

bread of your choice

,

croissant, toast, etc.

lettuce
Instructions
Allow the eggs to cool completely, then peel. Dice the eggs into small pieces, and place in a medium bowl. Add the mayonnaise, dijon mustard, salt and pepper, and mix until combined.

To serve, layer lettuce on top of the bread, then add a scoop of egg salad. Finish with a sprinkling of everything bagel seasoning. Serve immediately.
Notes
*Calorie count does not include the bread for your sandwich
Nutrition
Other Notes