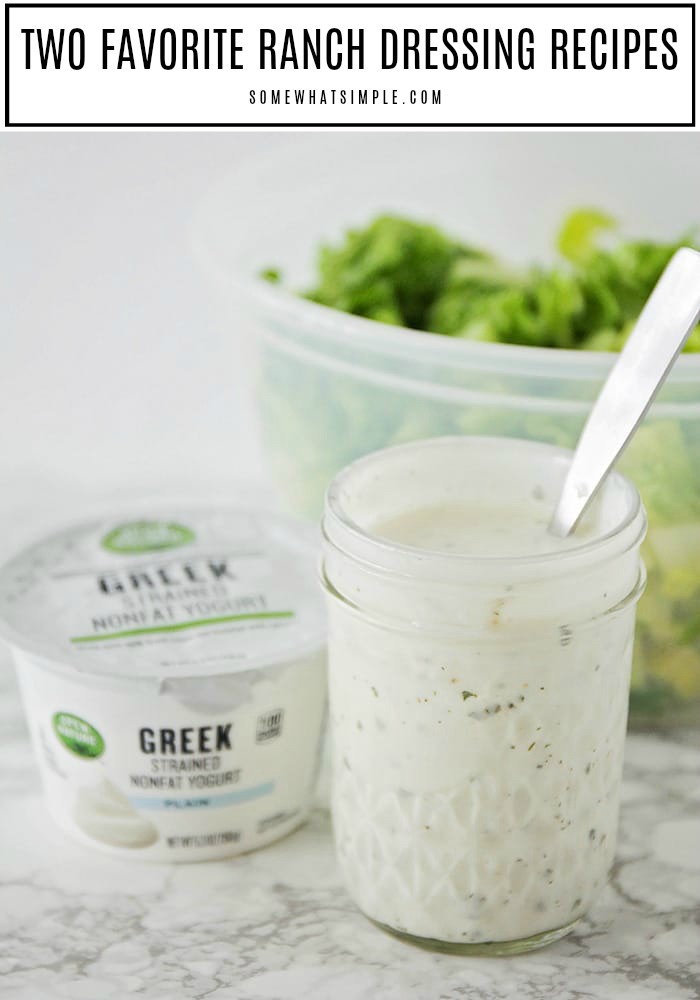 2 favorite Homemade Ranch Dressing recipes made without all the chemicals and preservatives that store-bought dressings include. Greek Yogurt Ranch Dressing is creamy and healthy and easy to make, and Buttermilk Ranch Dressing is good enough to eat straight with a spoon!
I am a huge fan of making homemade dressings for salads. A couple of my other favorites are these homemade Coleslaw Dressing and Poppy Seed Dressings.
The Best Homemade Dressing
Anyone else have a child that will eat anything you put in front of them AS LONG AS there is a dip to go with it??? Eating is way more fun for kids when they get to dip their food into something delicious, right?! Even my stubborn 2 year old will eat her carrot sticks and chicken when this homemade ranch dressing is on the table.
If you've never made your own ranch dressing, you are in for a special treat! For years I would always purchase the bottles at the grocery store because it was so convenient. However, once I made the homemade version, I'll never go back! Not only do homemade dressings taste better but they're also healthier because they aren't made with all of those weird ingredients that allow you to leave it on the shelf for months.
Homemade ranch dressing recipes can vary greatly! We'll show you two recipes below that are both delicious! One is made with Greek yogurt, and one is made with buttermilk. I've been using the buttermilk recipe for years – it is probably my favorite! But the Greek yogurt recipe is so tasty, and it only uses 3 ingredients so I tend to make this one more often.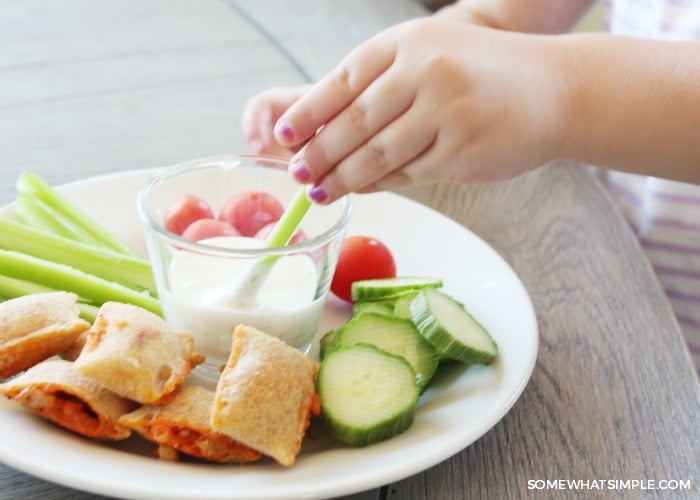 How To Make Homemade Ranch Dressing
Ranch Dressing With Buttermilk – In a large bowl, you'll simply whisk together the mayonnaise, buttermilk, sour cream, dried parsley, dill weed, garlic powder, onion powder and salt & pepper together. Once the ingredients are blended together, you'll want to refrigerate it for about 30 minutes before you're ready to serve.
How To Make Ranch With Greek Yogurt – For this recipe, you'll whisk together the Greek yogurt, milk and a packet of ranch dressing mix. If the dressing is a little too thick, add a little extra milk until you reach the consistency you like. You'll want to refrigerate this dressing for about 30 minutes as well before serving.
These dressings are so good that my family always asks for it every time I make something that calls for ranch dressing. My husband also loves to pack little containers with it to enjoy some vegetable sticks while at work.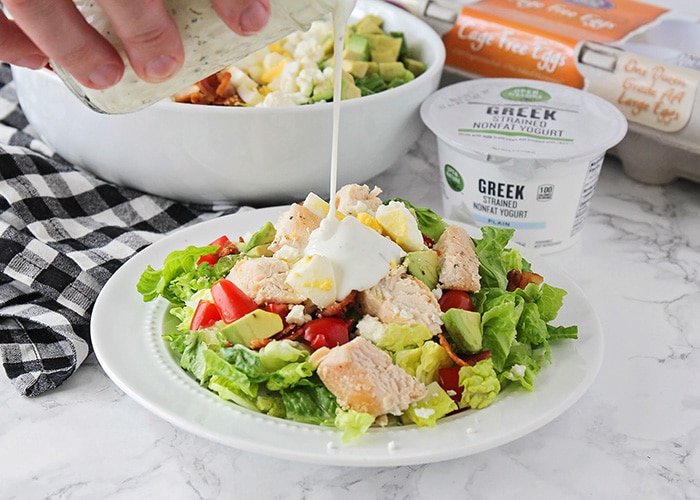 Ranch Dressing Recipe FAQ'S
What If My Dressing Is Too Thick – After the dressing has been sitting in the fridge overnight, it will typically thicken a bit. Stir in a tablespoon of milk at a time until you reach the desired consistency.
How many Calories does Ranch Dressing Have – Ranch dressing calories will vary depending on ingredients, but typically there are about 75 calories in every tablespoon of Ranch Dressing.
How Many Carbs Are in Ranch Dressing – Some ranch dressing recipes have zero carbs, but you'll find that low fat and non-fat variations can range from 2 to 6 grams or more. If you're looking for specific nutritional information, check out My Fitness Pal.
Is Ranch Dressing Gluten Free – Gluten I can be found in some ranch dressing ingredients. Some brands and recipes are gluten free and others are not. Be sure to check the food labels to determine whether or not your ranch dressing contains gluten.
How Long Will Homemade Ranch Stay Fresh – The dressing will stay fresh for about 5 – 7 days in the fridge. After that you'll want to toss it and make a new batch.
Recipes To Serve With Ranch
Go ahead and give this homemade ranch dressing a try. Leave us a comment below and let us know which version you made and how you liked it!
(The Best) Ranch Dressing Recipes
Cool, creamy, and good enough to eat straight with a spoon!
Ingredients
For the Buttermilk Ranch Dressing:
For the Greek Yogurt Dressing
1

package

,

5oz plain Greek Yogurt

½

cup

of milk

1

tablespoon

of ranch dressing mix
Instructions
For the Buttermilk Ranch Dressing:
Combine all ingredients in a mixing bowl.

Refrigerate until ready to serve.
For the Greek Yogurt Dressing
Whisk together all ingredients in a small bowl or jar, until smooth.

Refrigerate at least 30 minutes, or until ready to serve.
Notes
The longer you let it refrigerate before serving, the better it will taste! If you want to thin the Buttermilk dressing out a bit to pour over a salad, just add a little more buttermilk.
Nutrition
Other Notes