These crispy ranch chicken fingers are baked in the oven and so delicious and flavorful. A hearty main dish the whole family will love!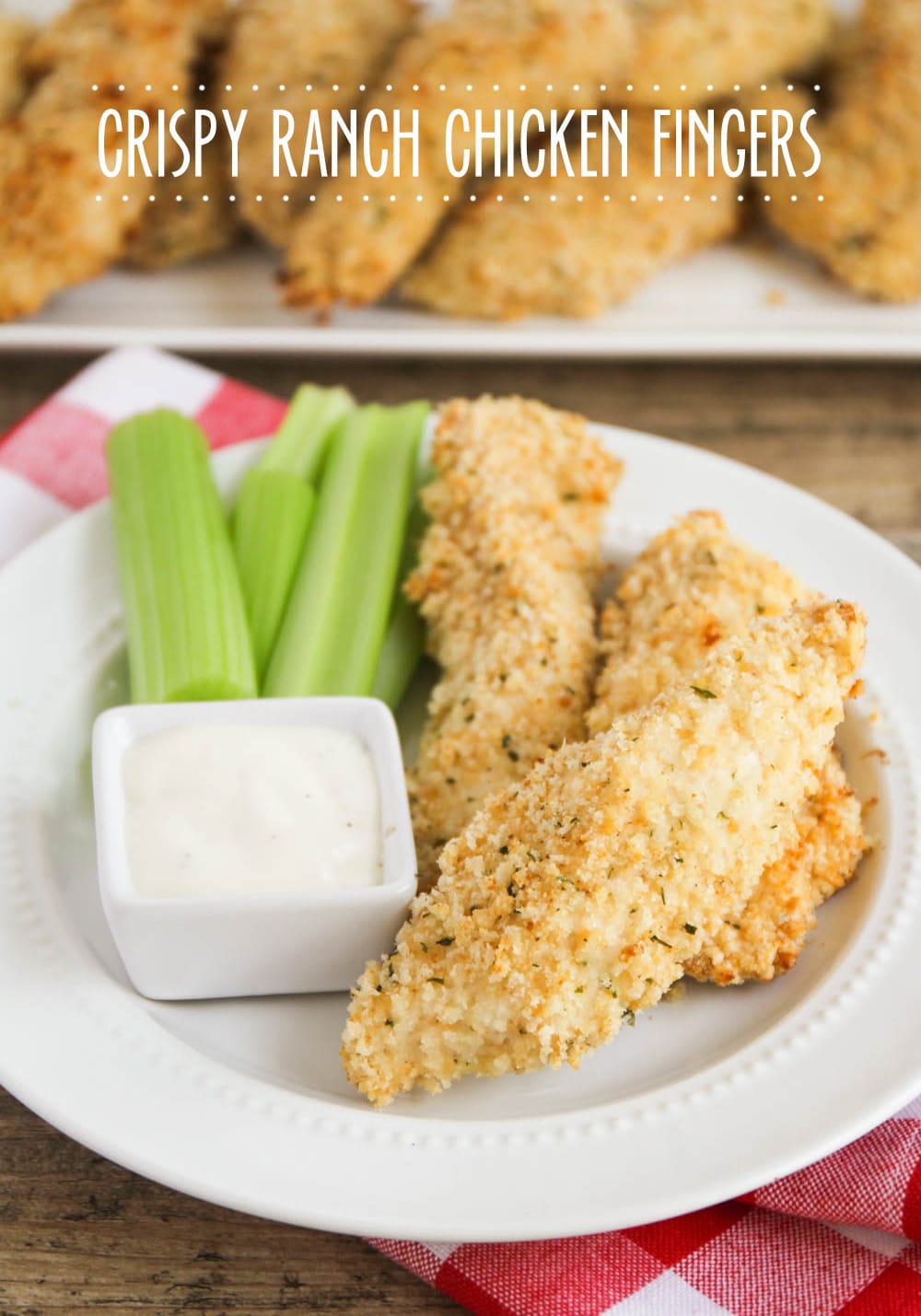 Who doesn't love a good chicken finger? My kiddos are obsessed with them and order them pretty much every time we go out to eat. I confess that I love them too, but I don't always love that they're deep fried and greasy and fattening. I've been on a quest to make my own chicken fingers at home that are crispy and delicious without being deep friend, and these crispy ranch chicken fingers are pretty darn near perfect!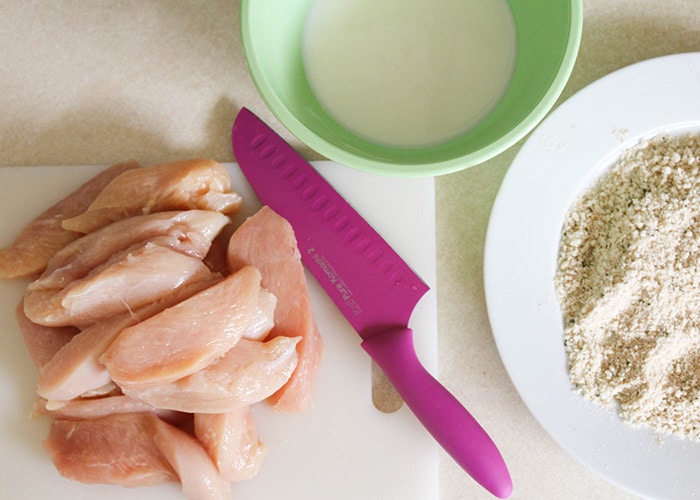 The chicken is dipped in buttermilk, then dredged in a mixture of bread crumbs, panko, and ranch seasoning, then baked. One tip that I've found helpful when breading chicken is to use one hand for the wet ingredients and one hand for the dry ingredients. I use my left hand to dip the chicken strips, drop them into the bread crumb mixture, and use my right hand to dredge them and place them on the baking sheet. It results in a lot less mess!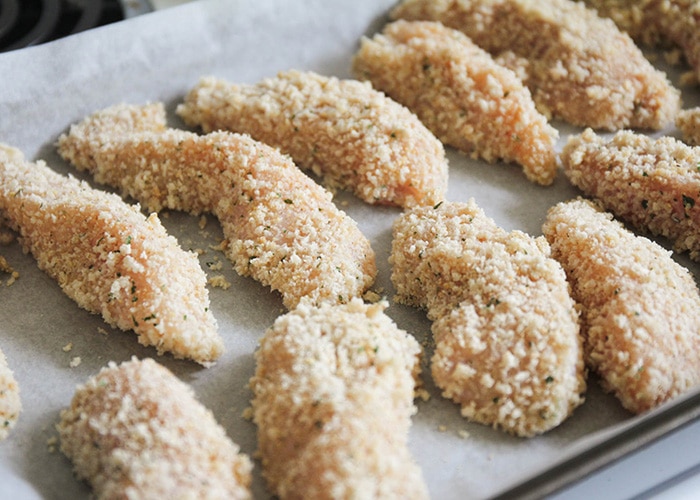 The chicken comes out of the oven crispy and golden and delicious! I love that so little effort can make something so tasty. I am all about the easy meals around here! 🙂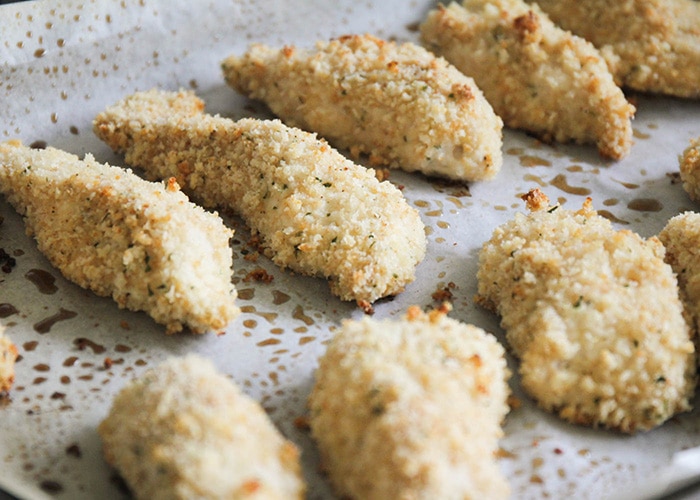 We ate our chicken fingers dipped in ranch with some fresh fruit and veggies on the side, and they were delicious! They'd also go wonderfully with some homemade street corn or roasted garlic parmesan broccoli. I made a double batch and saved some to use later in the week for topping salads, and it made for some delicious, easy lunches. You definitely have to try these delicious chicken fingers!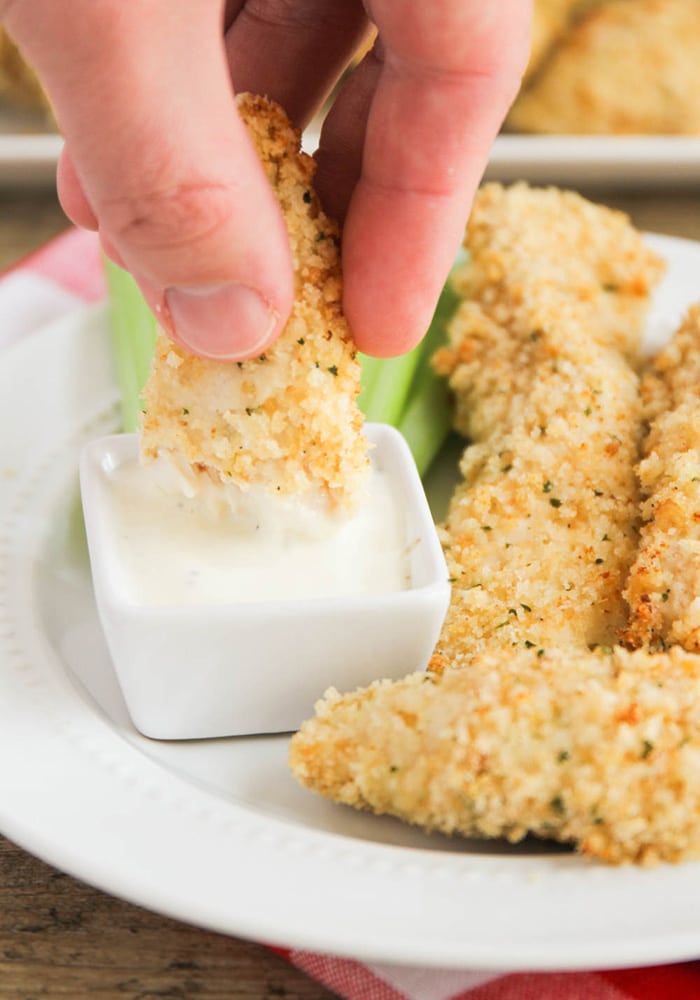 Crispy Ranch Chicken Fingers
INGREDIENTS:
3 pounds chicken breast, cut into 3-4 strips each
1 cup buttermilk
1 1/2 cups bread crumbs
1 1/2 cups panko
1 packet (1 ounce) ranch dressing mix
cooking spray
DIRECTIONS:
Preheat the oven to 425. Line a baking sheet with parchment or foil.
Pour the buttermilk into a bowl or shallow dish. Whisk together the bread crumbs, panko, and ranch dressing mix in a bowl or shallow dish.
Dip each piece of chicken breast into the buttermilk, then roll in the bread crumb mixture to coat. Place on the prepared baking sheet and repeat with remaining chicken.
Spray the chicken with cooking spray and bake 20-25 minutes, or until cooked through. Serve hot with ranch dressing for dipping.