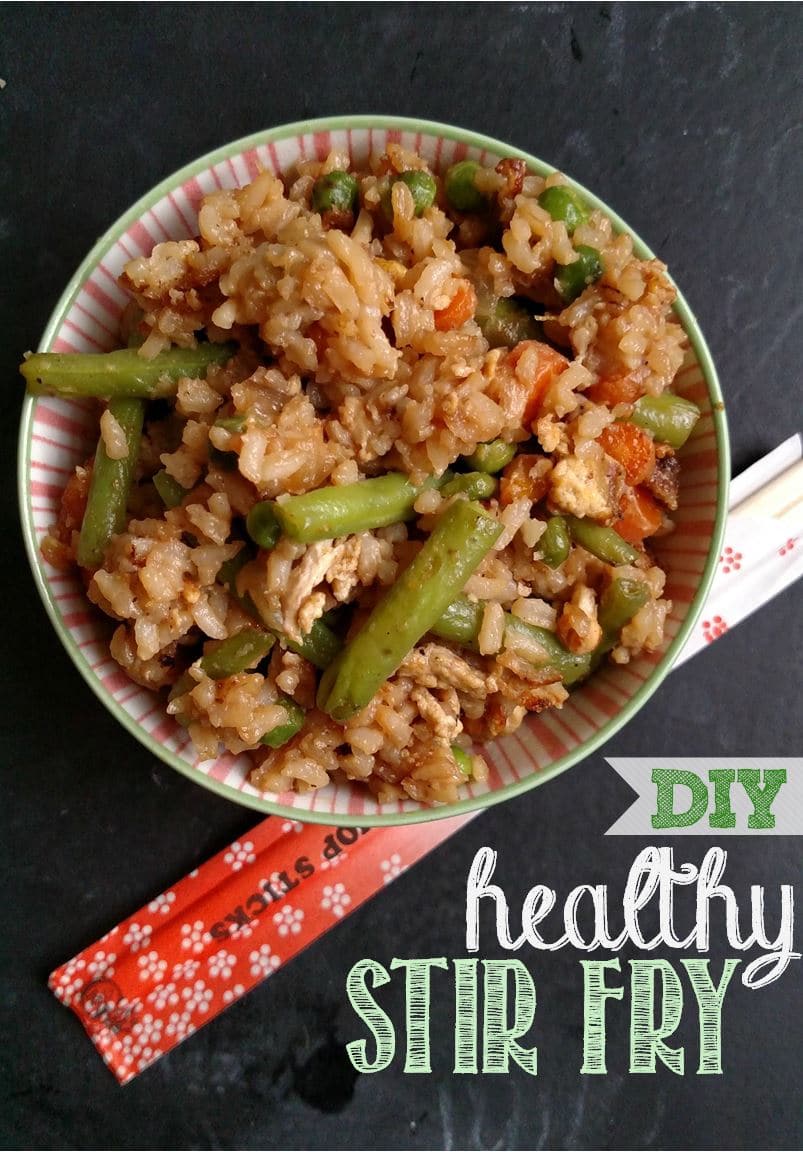 Making dinner with my husband is always a challenge. I'm gluten intolerant- he is not. I'm vegetarian- he DEFINITELY is not. I love vegetables, all vegetables, I pretty much live on vegetables- he…. tolerates them. So when I sit down to plan recipes we both can enjoy, it is a careful balancing act between what I CAN eat and what he WILL eat. As tough as it sounds, there's one thing we always a-l-w-a-y-s love: stir fry.
On the health side, stir fry is an absolute winner because you can avoid nearly any allergy. It's gluten free, nut free, dairy free, easily vegan by leaving out the egg, and best of all: customizable. This is the biggie for me. It's a recipe that I can fill with exactly what I want, or, more often, exactly what scraps of leftover veggies I have on hand!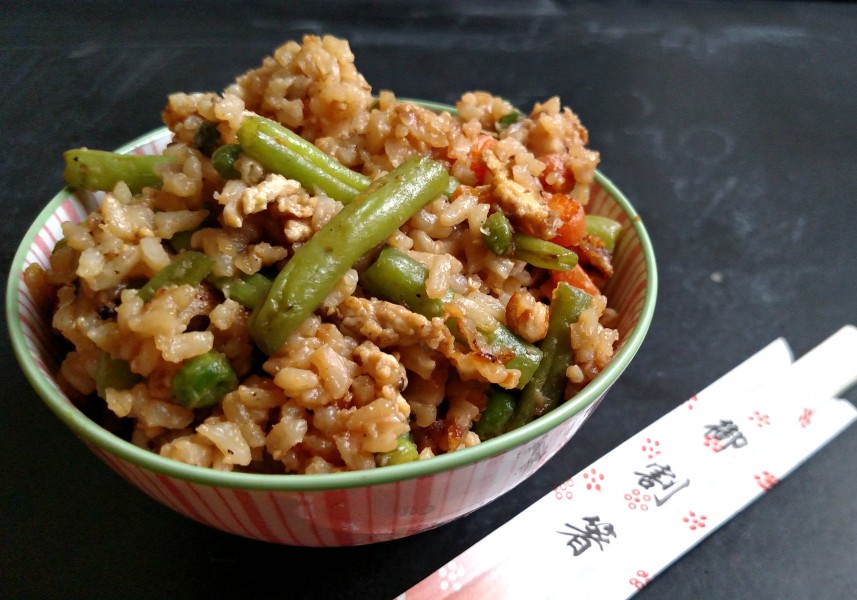 Before I get to the recipe, here's just a few tips to make perfect stir fry every time. Stir fry cooks fast so the key here is to time everything perfectly…
Have all your ingredients prepped before you start so you can add them at just the right moment.
Know that moment! Vegetables largely cook at different rates, so you want to add them when they'll cook enough to be tender but not so long they get mushy. (For example broccoli takes about the same time as green beans whereas zucchini cooks much faster so add it later on in the process).
It's going to be HOT so make sure you keep everything in the pan moving and prevent sticking- use your best non stick pan and add a little water (1 Tbsp) if needed.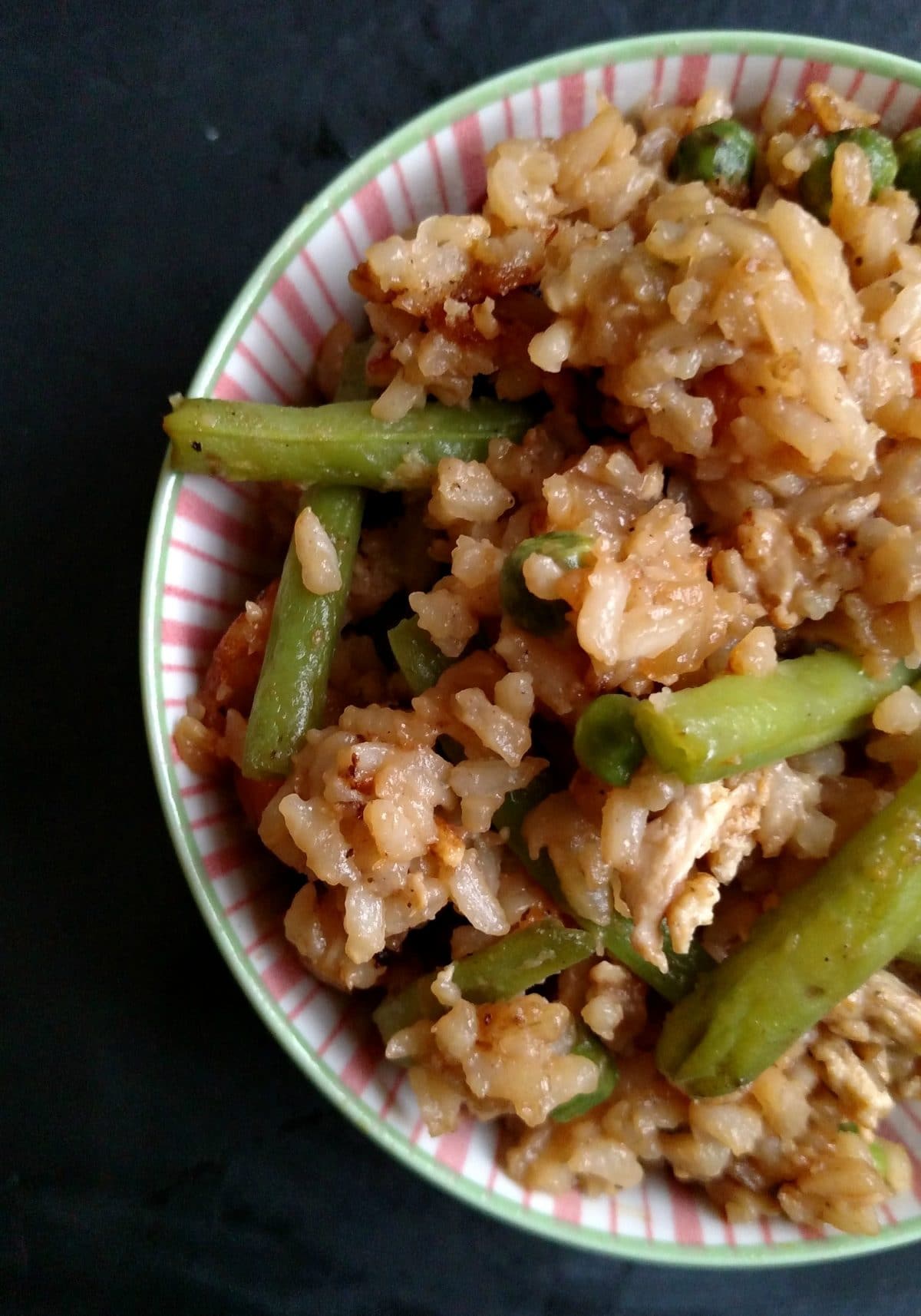 INGREDIENTS:
(these are what I used, but swap them for your favorites!)
1/2 cup chopped onion
4 cloves minced garlic
2 tsp olive oil
1/2 cup chopped carrots (I used baby carrots to make life easy!)
1/2 cup chopped green beans, fresh or frozen
1/2 cup peas
1 whole egg + 2 egg whites
1.5 cups cooked white rice
1/4 cup soy sauce or gluten free tamari
2 Tbsp Sake (or 1 tsp sugar)
1 tsp garlic powder
1/2 tsp ginger
salt, pepper, red chili flakes to taste
DIRECTIONS:
Chop all your veggies ahead of time. In a large pan heat 1 tsp olive oil to medium high (8 out of 10) for 30 seconds.
Add onion, garlic, carrots, and a sprinkle of salt. Cook 3 minutes.
Add green beans, cook 2 minutes. (If anything sticks add 1 Tbsp water)
Add peas, cook 1 minute. Beat together the egg and extra whites.
Push everything to the outsides of the pan. Add the egg in the middle and scramble (about 2 minutes).
Push everything to the outsides again. Add remaining 1 teaspoon of oil then the rice, cook 30 seconds then mix it all together along with Sake, cook 30 more seconds mixing continuously.
Add soy sauce and spices. Cook 5 minutes stirring often.
This makes 2-3 servings depending on how hungry your diners are!
At 3 servings the nutrition is: 262 calories, 5g fat, 41 carbs, 11g protein
 Want even more easy, healthy, gluten free dinner inspiration? Check out these quick ideas!

 Caprese Pasta Toss // Red Curry Pasta Bowl // Sprouty Tahini Quinoa