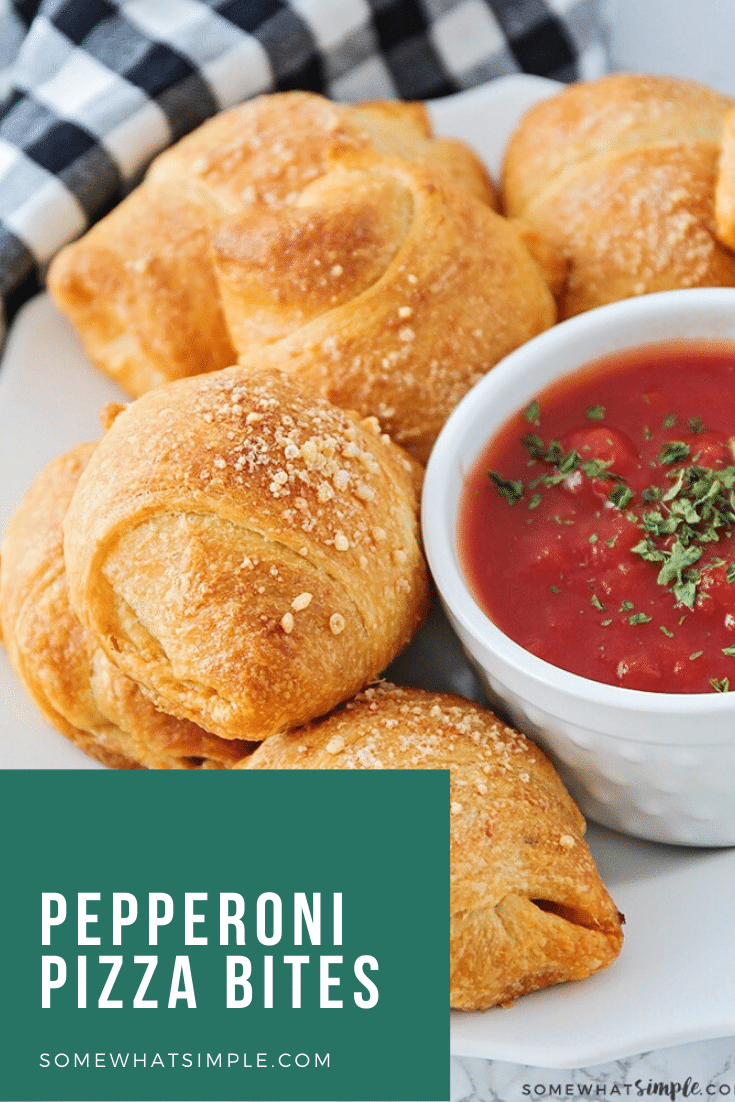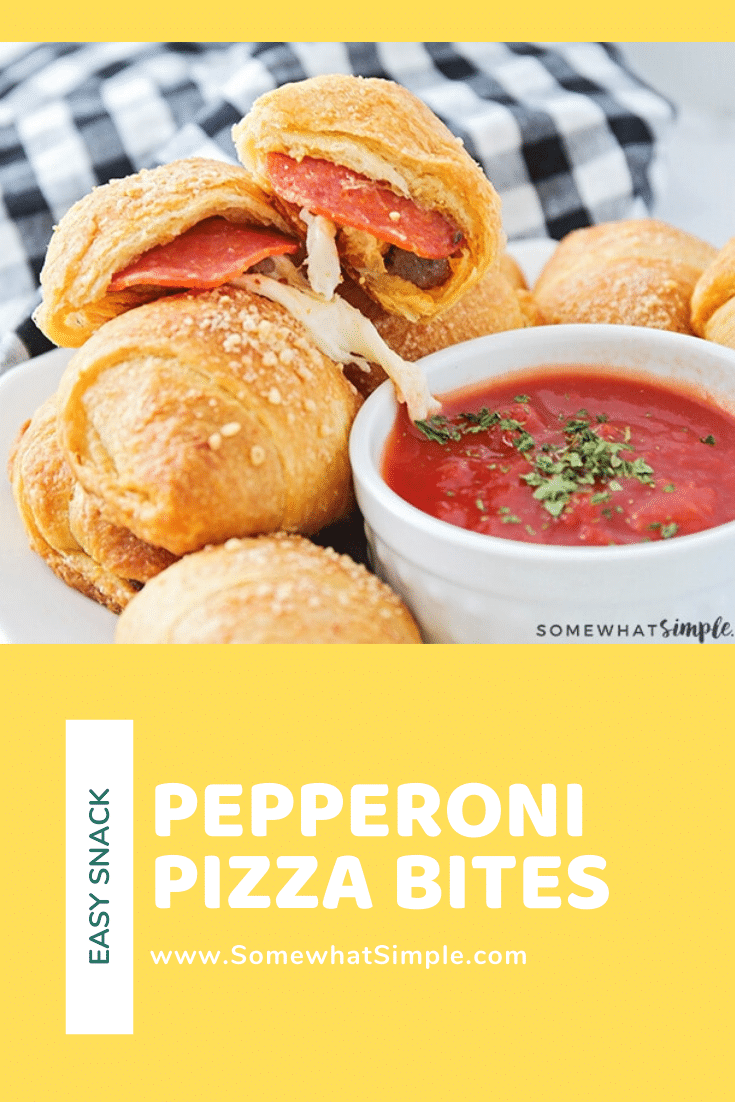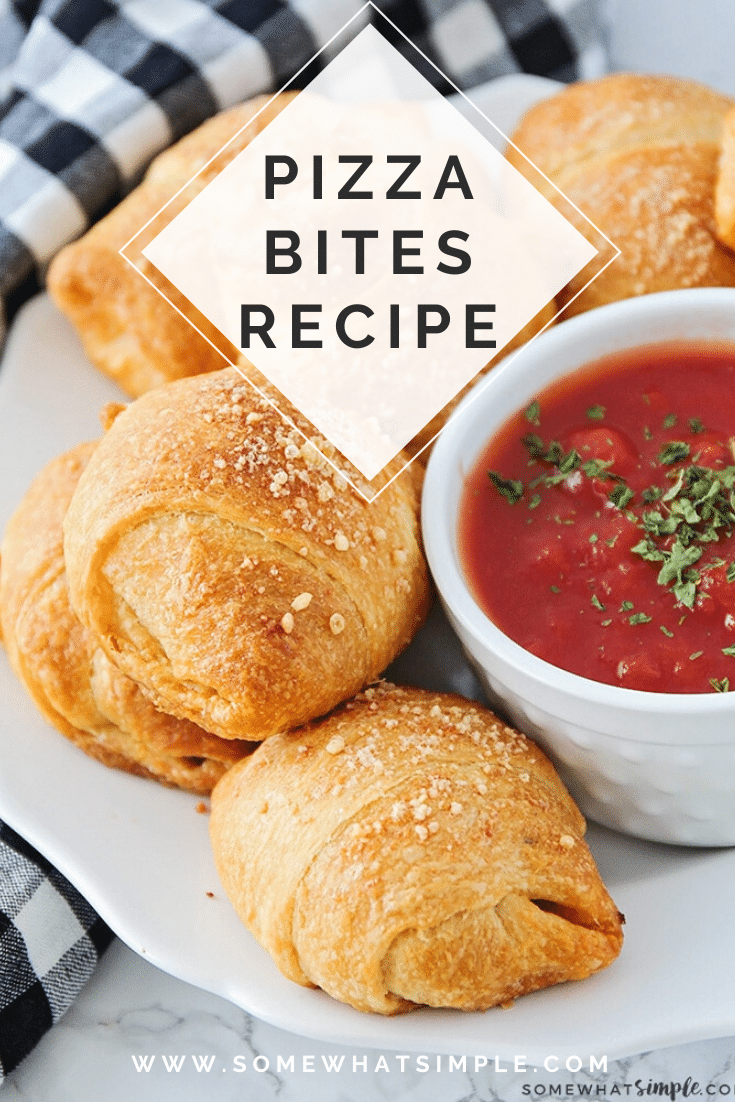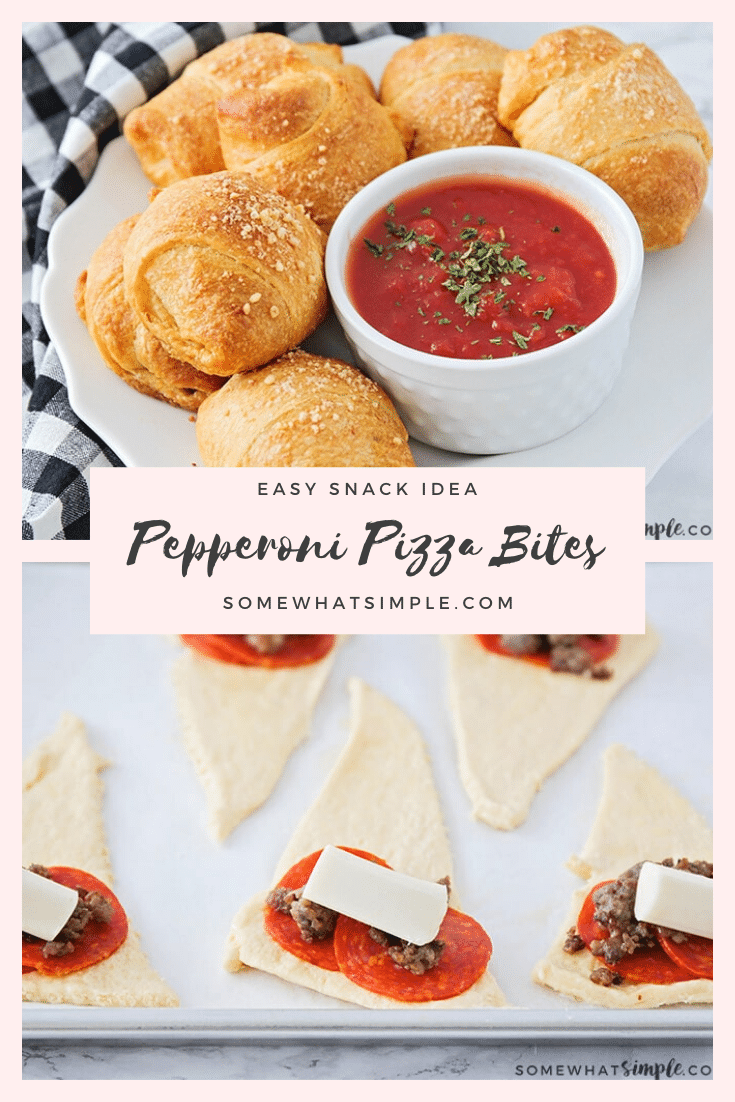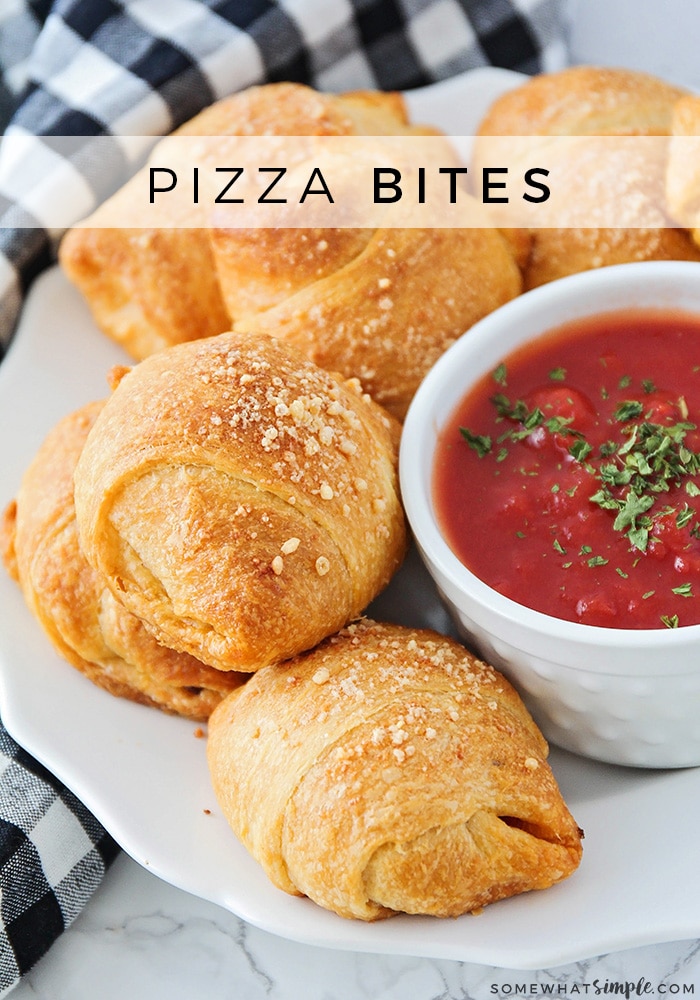 These mini homemade pizza bites are a simple meal or snack that can feed a small family or a large crowd! Filled with cheese, pepperoni or any of your other favorite pizza toppings, this easy recipe will make everyone happy.
I love to serve these when we host friends over for the Super Bowl. Some of my other favorite appetizers to serve are the easy Ham and Cream Cheese Roll Ups, Buffalo Chicken Dip and cocktail Grape Jelly Meatballs.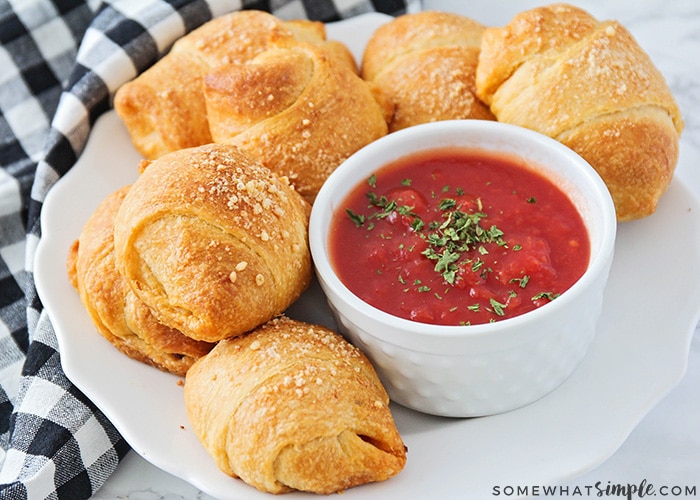 Homemade Pizza Bites
My 15 year old son could live off of store-bought frozen pizza bites. I'm not a huge fan of them, but he would totally eat them every day if our freezer were stocked accordingly.
So you might imagine how excited he was when his favorite mom ever made these cheesy pizza bites for dinner last week! I filled them with his favorite combination of pepperoni and sausage. (Mom of the year moment right there!) He finished every last one on his plate and asked me to make them again. He might have even said he liked them "way more" than the store-bought pizza bites. (Who said motherhood was hard?!) Totally kidding.
These homemade pizza bites are still delicious and soft, but the texture and filling are so.much.better than the store-bought snacks. Best of all, it only takes about 5 minutes to prepare, plus about 18 minutes to bake. Dinner can literally go from your fridge to your table in under 30 minutes!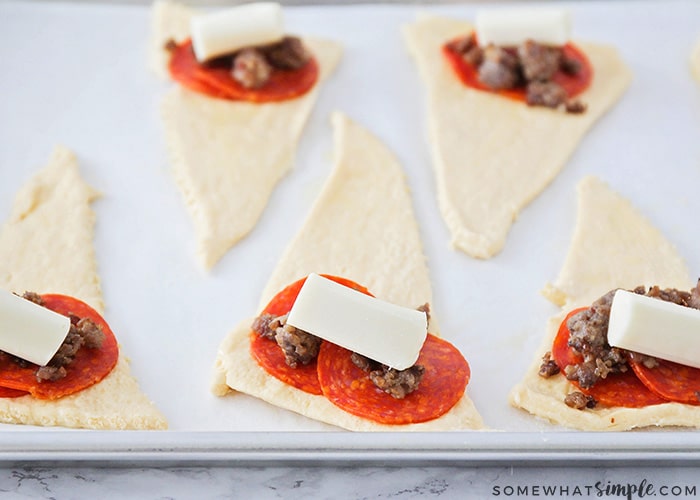 How To Make Pizza Bites
Prepare – Preheat the oven to 375 degrees F. While you're waiting for the oven to warm up, grease two baking sheets or line them with parchment paper. Unroll the crescent roll dough and then separate each one at the perforation. Place on the baking sheet leaving an inch or so in between each one.
Butter The Rolls – Combine the melted butter and garlic salt and then brush the mixture over each crescent roll. You'll only want to use half of the mixture because the other half will be brushed over the top once they're rolled up.
Assemble Each Pizza Pocket – Place your favorite pizza toppings onto the bigger end of the dough and then top it with cheese. Starting at the larger end, roll up each pizza bite and then tuck in each edge so the cheese won't fall out when it melts in the oven.
Cook – Bake in the oven for about 15-17 minutes until they are a beautiful golden-brown color. You'll want to rotate the baking sheets about half-way through to help them cook evenly. When done, remove them from the oven and then brush the butter mixture over the top of each one.
Recipe Variations
For these particular pizza bites, I used cheese, sausage and pepperoni. However, all week I've been dreaming of making some Hawaiian pizza bites with Canadian bacon, pineapple, and crispy bacon pieces. (YUM!) The best part about these, is that you can customize them with any of your favorite pizza toppings. Here are some of our families favorite toppings (are they still called toppings if you put them inside) to put inside:
Bacon and onions
Salami
Bell peppers and other vegetables
BBQ sauce and chicken
Multiple flavors of cheese
Buffalo sauce and chicken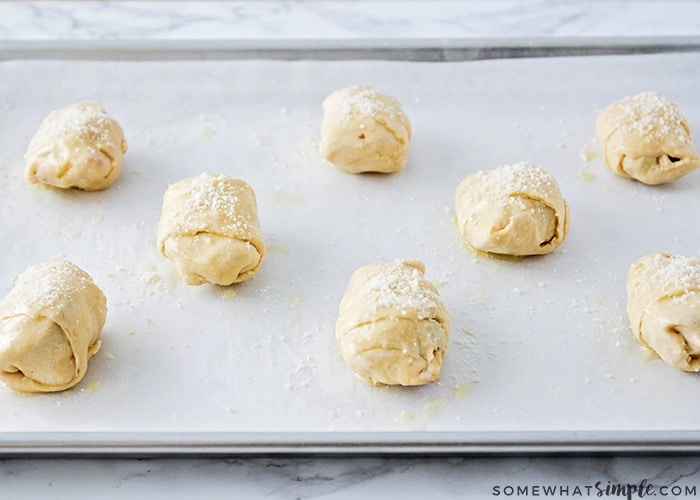 Tips For Making Homemade Pizza Bites
Best Cheese To Use – I always top my pizza bites with the string cheese last because it makes rolling the dough easier. If you put the slices of string cheese down first, the toppings tend to topple over and it makes it more difficult to roll and keep everything inside.
Tuck In The Sides – When rolling up the pizza bites be sure to tuck all that dough around the cheese so that it does not melt out during the baking time.
When To Serve Them – These pizza bites are perfect for lunch, dinner, after school snacks and party appetizers! In fact, this leads me to a question I get asked frequently.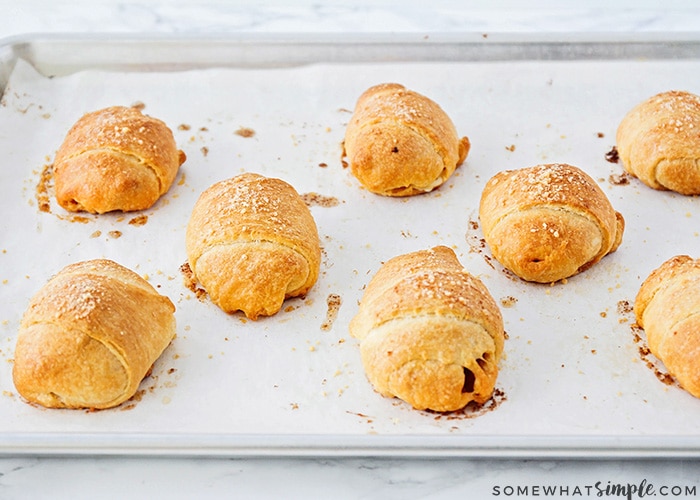 Can You Freeze Homemade Pizza Bites?
Knowing how much my kids love these, I always make an extra bag to freeze so my kids can grab them whenever they're hungry. Once they've completely cooled, I just put them in a Ziploc freezer bag and throw them in the freezer. They can keep for at least 2 months but they never last that long. When they're ready to use them, they just grab them out of the bag and warm them up in the microwave.
More Easy Pizza Recipes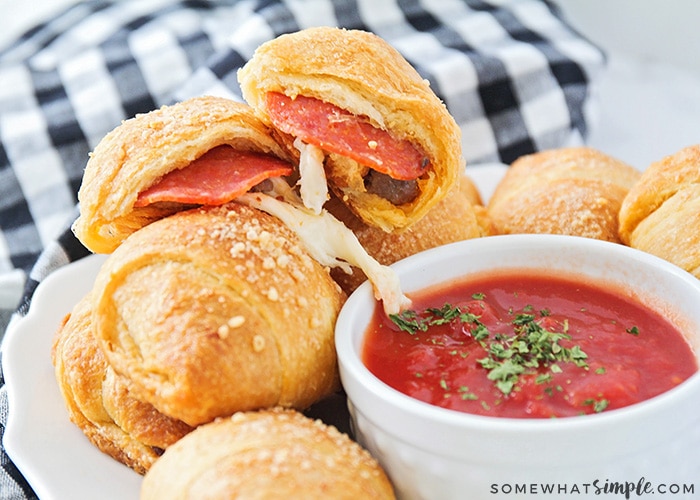 Pizza Bites Recipe
My family is a huge fan of these and could eat them every day if I would make them. Leave me a comment below and tell me if your family is a big of a fan of these as my kids are.
Pizza Bites
Skip the pizza delivery! These mini pizza bites are a simple meal or snack that can feed a small family or a large crowd!
Ingredients
2

8 count packages refrigerated crescent rolls

6

mozzarella cheesesticks

,

cut in thirds *you will end up with 2 extra pieces

4

tablespoons

salted butter

,

melted

1/4

teaspoon

garlic salt

assorted pizza toppings

grated parmesan cheese
Instructions
Preheat oven to 375˚F. Grease two cookie sheets with non-stick cooking spray or line with parchment paper.

Unroll the crescent roll dough and pull apart at the perforated lines. Put the crescent roll triangles on the baking sheets (8 per sheet).

Combine the melted butter and garlic salt. Brush the butter mixture over the crescents, reserving about half of it for brushing on top after baking.

Put about a tablespoon of your favorite pizza toppings on the large end of each crescent triangle. Top with a piece of cheese stick.

Roll the crescent roll dough around the pizza toppings and cheese, making sure to tuck the edges of the dough in so that the cheese does not melt out of the dough in the oven.

Bake for 15-17 minutes, rotating the pans half-way through, until crescent bites are golden brown . Remove from oven and brush with remaining butter. Sprinkle with parmesan cheese.

Serve hot with your favorite warmed pizza or spaghetti sauce. Enjoy!
Nutrition
Other Notes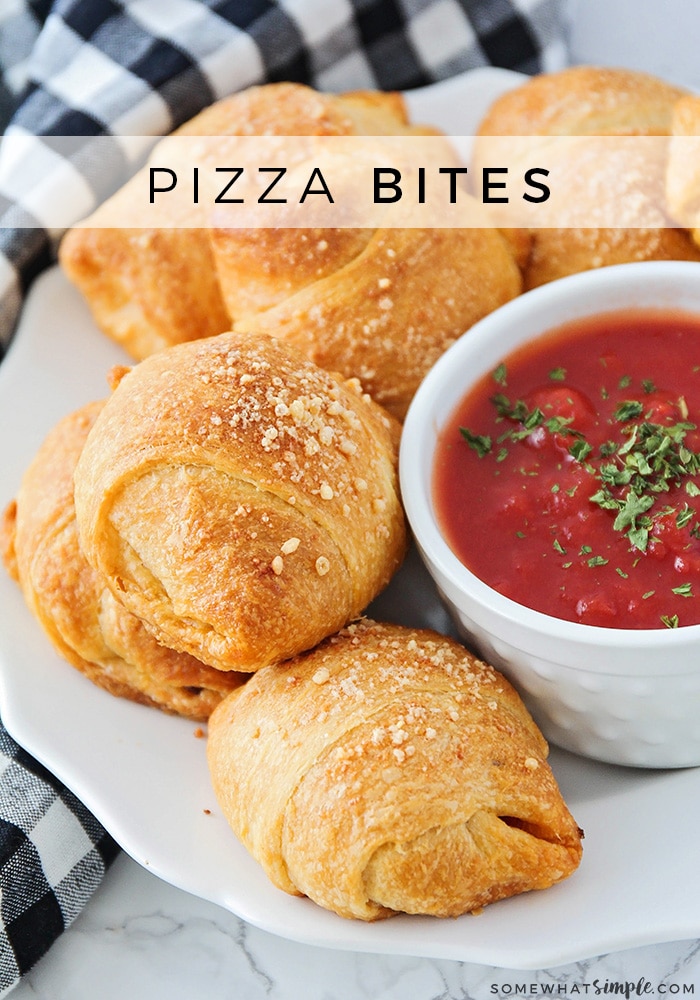 ABOUT THE AUTHOR: Amanda Jenks is the delicious blogger from The Taste Tester. She was on the contributing team of Somewhat Simple in 2013.