These Strawberry and White Chocolate Cupcakes are Summer in cupcake form! Soft, sweet and packed with fresh strawberries; these are an easy dessert the whole family will love!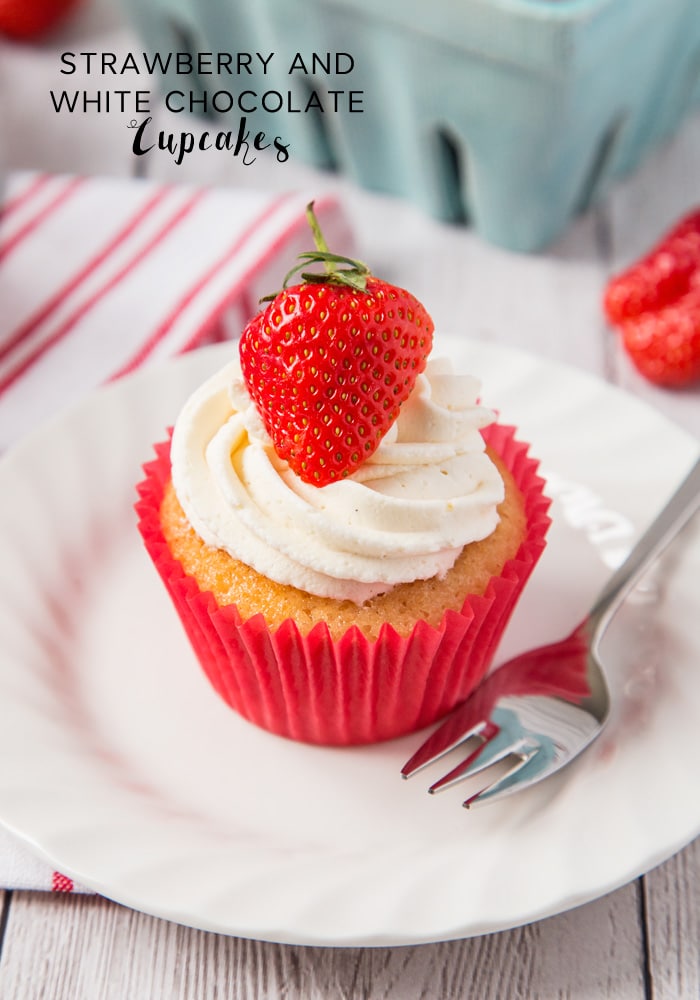 I decided to make some Strawberry and White Chocolate Cupcakes to take full advantage of the juicy, sweet strawberries filling the supermarket shelves right now. The sweet berries combined with the smooth, sweet white chocolate chips makes the most heavenly combination. These cupcakes are out of this world amazing!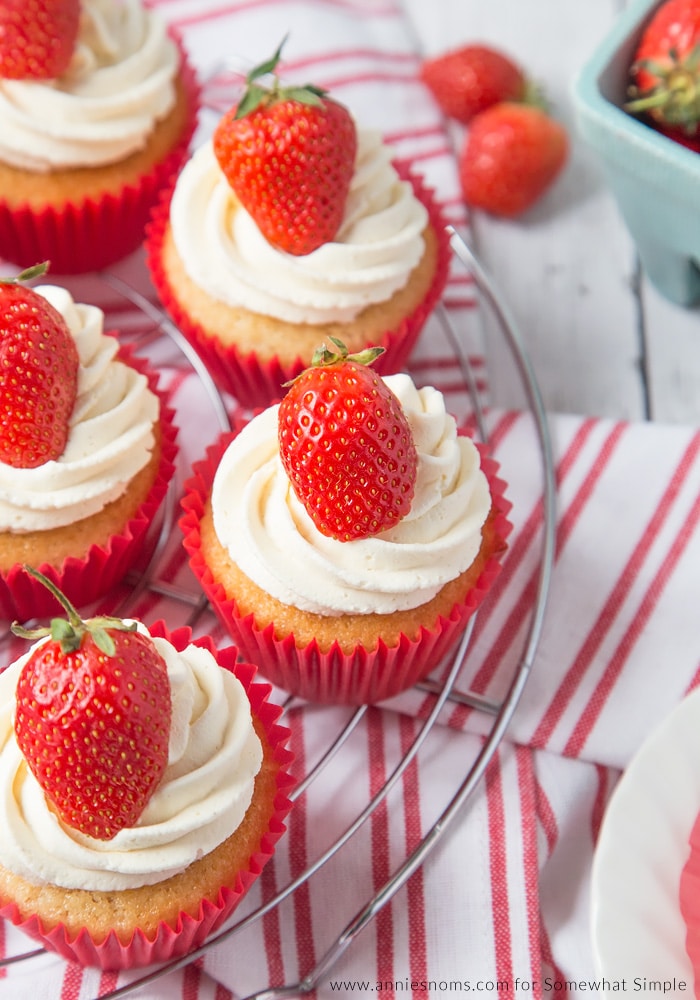 These cupcakes may be simple in concept, but when you bite into them, you will fall in love! The white chocolate buttercream really is the cherry on the top for these delightful cupcakes! It's silky smooth and so, unbelievably light and fluffy.
STRAWBERRY AND WHITE CHOCOLATE CUPCAKES
Yield: 12 cupcakes || Total time: 2 hours
INGREDIENTS:
For the Cupcakes:
1 stick (113g) unsalted butter or margarine*, at room temperature
1 cup (200g) white sugar
2 large eggs
1tsp vanilla extract
1 cup (150g) fresh strawberries, diced
¾ cup (129g) white chocolate chips
1 and ½ cups (210g) all purpose flour
2tsp baking powder
Pinch of salt (ONLY if using unsalted butter)
½ cup (120ml) milk
*Note: I don't normally use margarine in recipes, but I prefer it over butter in vanilla based cupcakes. I think it results in a more tender cake, but you can use either!
For the Frosting:
1 cup (175g) white chocolate chips
1 and ½ sticks (170g) unsalted butter, at room temperature
2 and ½ cups (300g) powdered sugar, sifted
1tsp vanilla extract
Pinch of salt
½ – 1 tbsp milk, if required
Fresh strawberries for garnish, optional
DIRECTIONS: 
Preheat the oven to 350F/180C and line a 12 hole cupcake tin with liners.
Place butter/margarine and sugar into a large bowl, or the bowl of your stand mixer, and beat until light and fluffy. 2-3 minutes on medium-high speed.
Add in the eggs and vanilla, scraping down the sides of the bowl as necessary, and mix on medium-high speed until well combined, around 1 minute.
Place strawberries, white chocolate chips, flour, baking powder and salt (if using), and stir until the strawberries are coated in flour.
Add the flour mixture into your butter mixture and mix on low until it starts to combine, then stop the mixer and add in the milk. Continue mixing on low until there are no lumps of flour and everything is smooth and combined.
Divide the batter between cupcake liners, filling each one ¾ full.
Place in the oven for 18-22 minutes, until risen, lightly golden and an inserted skewer into the centre comes out clean.
Transfer the cupcakes to a wire rack to cool immediately. (I know they are hot, but I find if you leave them in the pan they get greasy and peel away from the liners!)
Leave the cupcakes to cool completely before making the frosting.
Place white chocolate chips into a heat proof bowl and microwave, in 20 second increments, stirring in between each one, until the chocolate is melted. Leave to one side to cool slightly.
Place butter and powdered sugar into a large bowl, or the bowl of your stand mixer and mix on low until the sugar starts to combine with the butter, then turn up to high and beat until light and fluffy, around 2 minutes. Add in the vanilla and salt and mix briefly to combine.
Pour in the cooled melted chocolate and beat on high until well combined and smooth.
Add milk, ½ tbsp. at a time (if required) until you have a firm, but smooth frosting; able to be piped.
Fit a piping bag with an open star nozzle and then half fill the bag with frosting. Pipe a swirl onto each cooled cupcake and then top with half of a fresh strawberry, if desired.
Strawberry and White Chocolate Cupcakes will keep in an airtight container, in the fridge for 3 days.