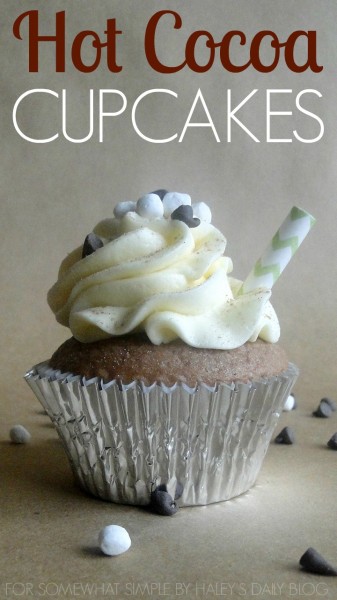 Let me tell you about these Hot Cocoa Cupcakes. Yum! They are delicious and they really do taste like hot cocoa.
The cake is beautifully light brown and has a light cocoa flavor. The Vanilla Whipped Cream Frosting is light and not too sweet. Just like the whipped cream that I love on hot cocoa. The frosting is sprinkled with hot cocoa powder, mini chocolate chips, and mini crunchy marshmallows.
Real quick, before I share the recipe, I want to tell you one little secret….these Hot Cocoa Cupcakes start with a box of white cake mix. Shhh.
Here is he recipe.
Hot Cocoa Cupcakes
1 box white cake mix
milk, eggs, oil, vanilla extract
3 packets hot cocoa mix
-Empty the cake mix into a large mixing bowl. You will want to make the cake according the the directions on the box, but with a few substitutions. Use the same amount of eggs and oil, but use milk instead of water and add 3 tbsp. more than the box suggests, add a tsp. of vanilla extract,  and add 3 packets of hot cocoa mix. Mix well with a stand or hand mixer until batter is smooth. Because of the hot cocoa mix, this batter will be thicker than usual. Use an ice cream scoop (or spoon) to fill cupcake wrappers about 2/3 full. It will make about 24 cupcakes. Bake at 350 for 17 minutes. Remove from oven, and let cool completely.
Vanilla Whipped Cream Frosting
1 stick butter softened
1 tsp. vanilla extract
3 cups powdered sugar (give or take)
1/2 cup milk
3 tbsp. vanilla instant pudding mix
1/2 cup heavy whipping cream
-Start by creaming together butter and vanilla. Add the sugar, starting with about 2 1/2 cups, and mix well. At this point, it will be very thick. Next, in a small separate bowl mix 1/2 cup cold milk with 3 tbsp. vanilla instant pudding mix, and whisk until smooth and thickened. Add the thickened pudding mixture into the butter and sugar and mix until well combined. With the mixer on low speed, pour the whipping cream in slowly. Turn mixer to med. speed and mix until all ingredients are combined and smooth. The frosting should form stiff peaks, but still be pretty light. If it is too thin, add a little more powdered sugar and if it is too thick, add a tbsp. or so of milk and mix again. Spoon into a piping bag or the corner of a gallon size freezer bag.
To assemble:
hot cocoa mix, mini crunchy marshmallows, mini chocolate chips, straws (optional)
-Pipe the Vanilla Whipped Cream Frosting on the top of the cooled Hot Cocoa Cupcakes. I used a star tip so that it would look like whipped cream from a can. Sprinkle the top of the frosting with some hot cocoa mix and then mini marshmallows and mini chocolate chips. If you want to take it a step further, cut a straw in half and push it right into the top of the cupcakes.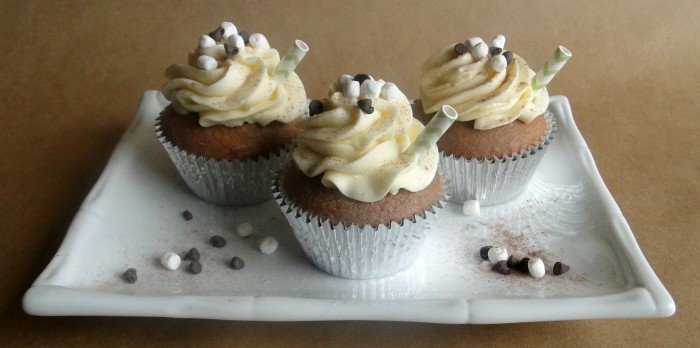 Now you are done! So cute and easy. These Hot Cocoa Cupcakes are great for fall, nothing like a warm cup of hot cocoa…or a Hot Cocoa Cupcake.
I hope you try this recipe and let me know what you think. You can also go to Haley's Daily Blog if you want to check out another fall cupcake recipe, Apple Pie Cupcakes.