Add some fun to your celebrations with these colorful mini cupcake poppers!
We're taking a delicious frosting you are going to LOVE and sandwiching it between everyone's favorite part of a cupcake.. the cupcake tops!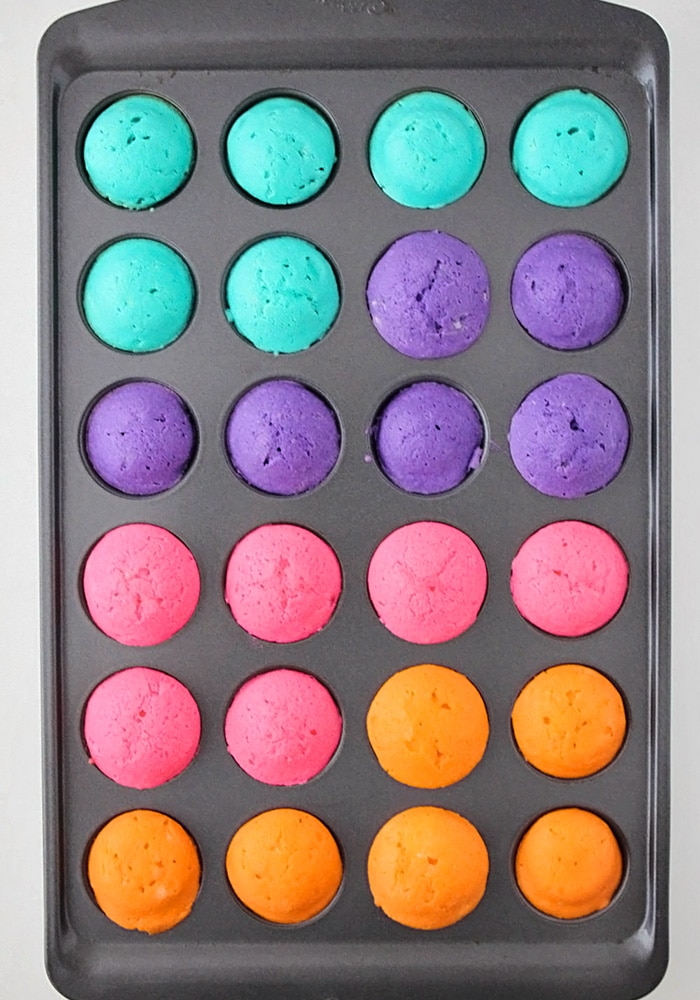 These little cupcake poppers are a quick and easy way to add some color and fun to your next celebration!  I found this idea years ago from Betty Crocker and we've made them several times in my home. Cupcake poppers are perfect for birthday parties, baby showers, Halloween, 4th of July… they are a tasty treat that's easy to customize and match to a certain color scheme. Most recently we made them for our Superbowl party and we had the cupcake poppers in the colors of our favorite team.  (They are kind of perfect for any occasion!)
Here is how you make them: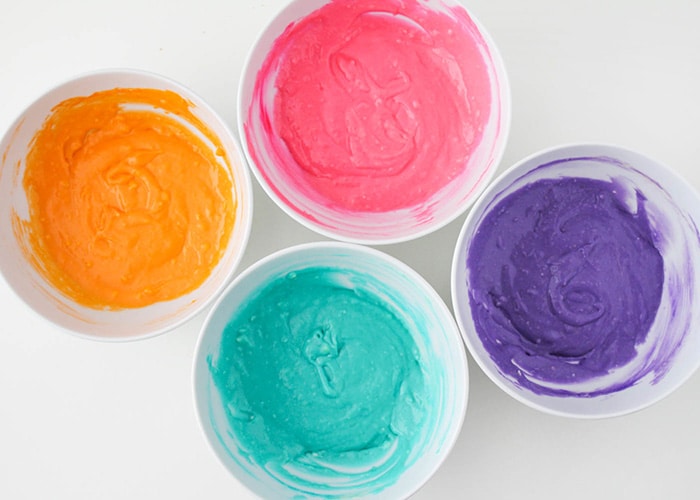 Cupcake Poppers
INGREDIENTS – 
YOU WILL ALSO NEED –
DIRECTIONS –
Preheat your oven to 350°. Make the cake batter according to package directions, then separate into 4 different bowls, about 1 1/4 cups batter in each.
Add 5-6 drops of food coloring to each bowl and mix well.
Spoon batter into mini cupcake tins and bake for 8-10 minutes or until they pass the toothpick test. Let them cool completely.
Meanwhile, separate frosting into 4 small bowls, and add 5-6 drops of food coloring to each and mix well.
Once the cupcakes are cool, cut off the tops with a serrated knife. You can shamelessly eat the bottoms (no judging here!) or use them to make Cake Pops*! 🙂
Pipe or spread a little color coordinated frosting onto the underside of one of the tops and then sandwich another top of the same color on top of the frosting.
*Quick directions for Cake Pops, in case you're wondering what they are: Crumble the remaining cupcakes and mix with frosting until it can be shaped into a 1″ ball. Stick a lollipop stick into the center, then dip into melted chocolate. Place in freezer to set and harden – that's it!  You can google cake pops and you'll get more thorough directions. 🙂 
Eat and Enjoy!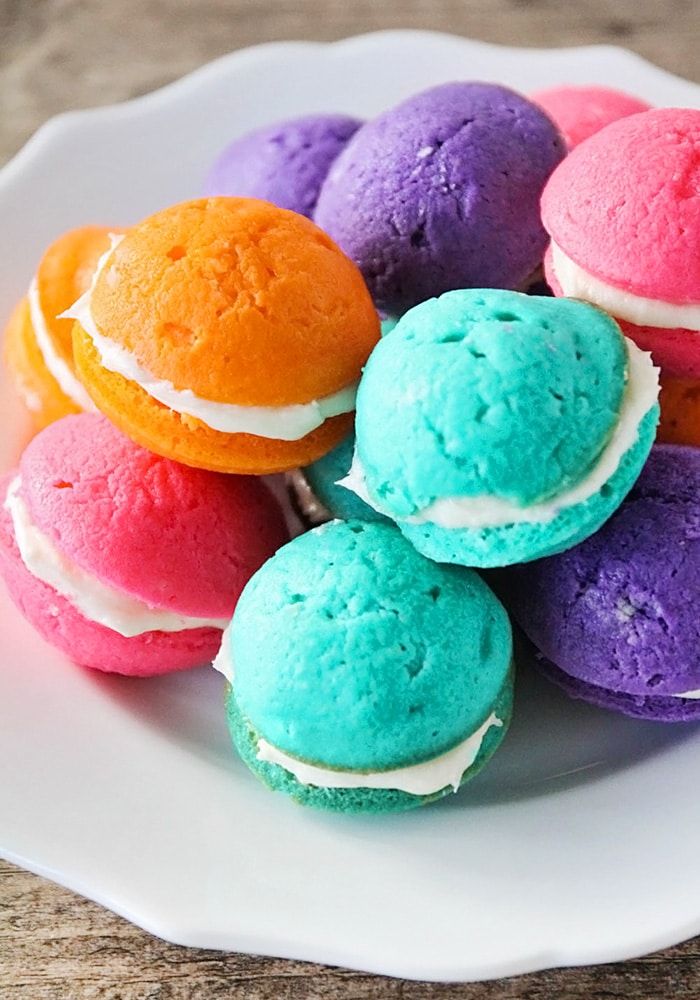 Aren't these the cutest?
(And they taste great too!!!)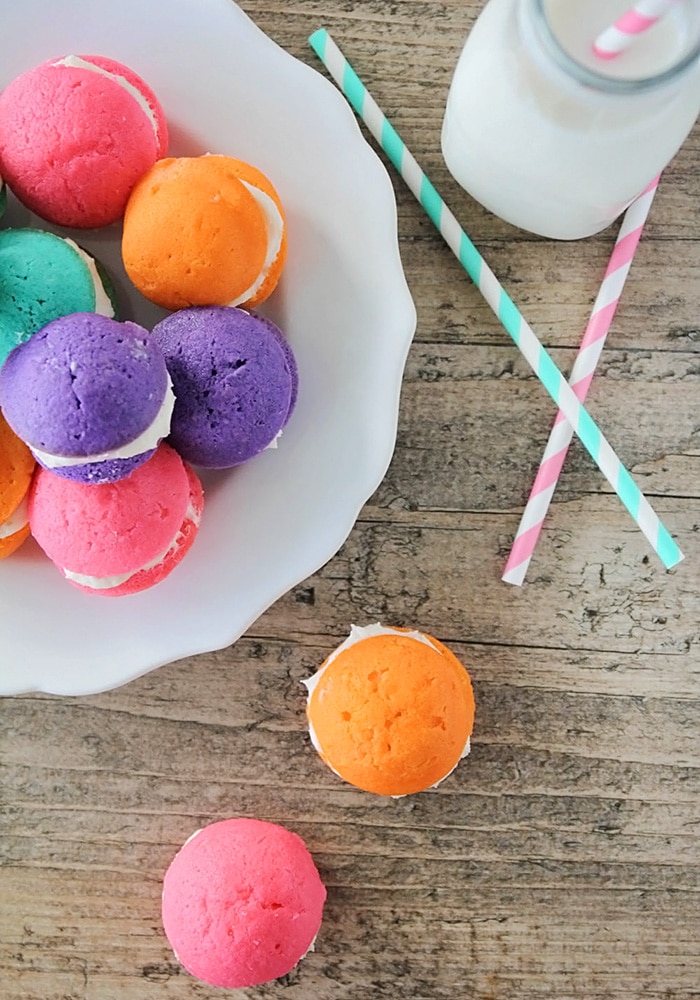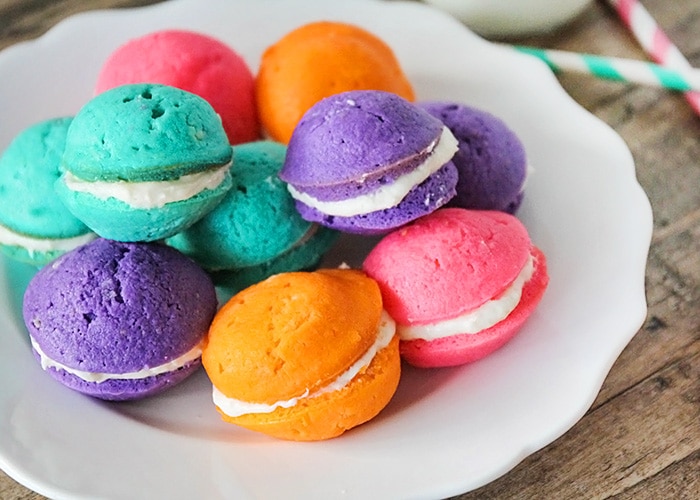 (This idea was originally published in May 2011)
If you like these treats, you might enjoy a few more of our favorites:


Easy Marshmallow Fondant // Classic No-Bake Cookies // 3-Ingredient Lemon Cookies