How fun are these colorful cupcakes? My kids absolutely LOVE to make – and eat – them! They think it's just about the best thing ever to take a bite and see what color is inside! These would be perfect for Easter or a spring party – or switch up the colors for any holiday or season. You could do chocolate cupcakes with orange centers for Halloween; red and green for Christmas; pink, red, and purple for Valentine's Day, and so on. The options are endless!
And even though they might look pretty impressive, these polka dot cupcakes couldn't be easier! See below for the simple tutorial.
Just take your favorite cake recipe (I'm typically a from-the-box kind of girl and not ashamed to admit it!) and divide some batter into bowls – one bowl per color.
Baking Tip: as I mention in this post featuring Simple Greek Yogurt Chocolate Muffins, you can always sub the oil in any boxed cake or muffin mix with an equal amount of applesauce or Greek yogurt to make your treat a bit healthier. I do this all the time, and you honestly can't tell the oil is missing! I promise. I actually think it tastes better this way – the result is more moist, in my opinion. Try it and see what you think! In this recipe, I used applesauce.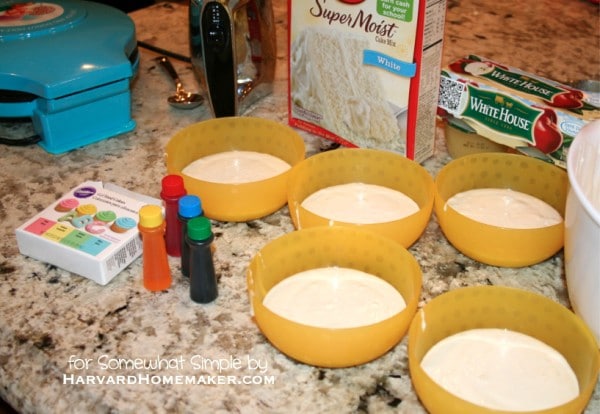 Next, add some food coloring to each bowl to create your desired colors. The kids love to help with this part! I find the gel food coloring will give the cake a more vibrant color, but the liquid works, too! We just use whatever we have on hand.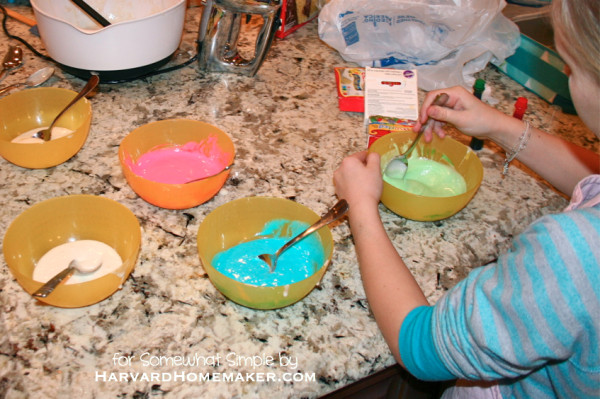 Looks like a party to me already with these fun colors my four daughters whipped up!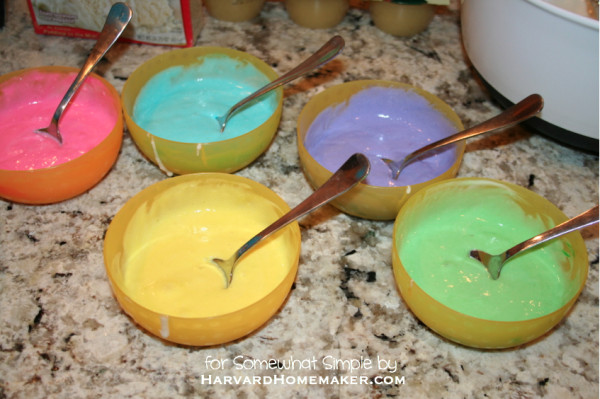 This next part might very well be your "Aha!" moment. 🙂
You then spoon the batter into a cake pop maker (you can find them where small appliances are sold). Follow the baking instructions – the small balls cook very quickly! Remove when done (I pop mine out with the edge of a fork).
If desired, you can put them in the freezer for a few minutes to help keep them from overcooking inside the cupcakes. In all honesty, though, I usually skip this step. I've never noticed the inside of the cupcakes seeming overcooked, but if you're more of a perfectionist than I am about things like this, definitely pop the little balls into the freezer briefly.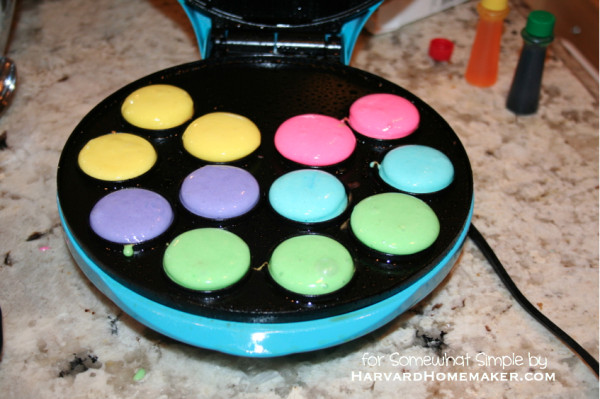 Next scoop some batter into your cupcake papers (I like to use an ice cream scoop with spring action for this), and then drop a ball in each one. The balls may not look very pretty at this stage – but they will surely look cute when your cupcakes are complete!
Side note: Please excuse the nasty-looking cupcake pan! I could probably stand to get a new one, but it still works just fine. As long as it's getting the job done, right? 🙂 Good enough for me!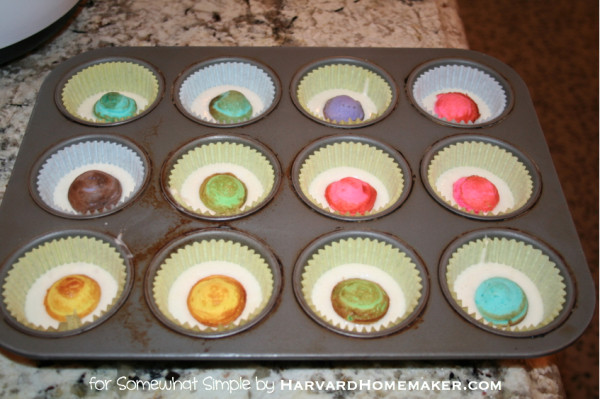 Scoop more batter to cover the cake balls, and bake as directed.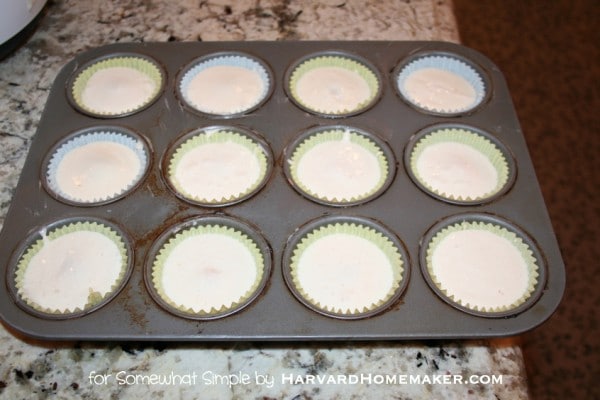 Decorate as you like – my kids are always involved, so sprinkles are a must in our house!
CREATE A POLKA DOT CAKE
You can also create a polka dot cake as shown here where I first shared this idea. I actually made a small polka dot smash cake for my daughter's first birthday party – she got the little cake, and the other kids got the polka dot cupcakes… fun for everyone!
Enjoy this post?
If so, please pin the image below to share the idea with your friends – thanks for spreading the word!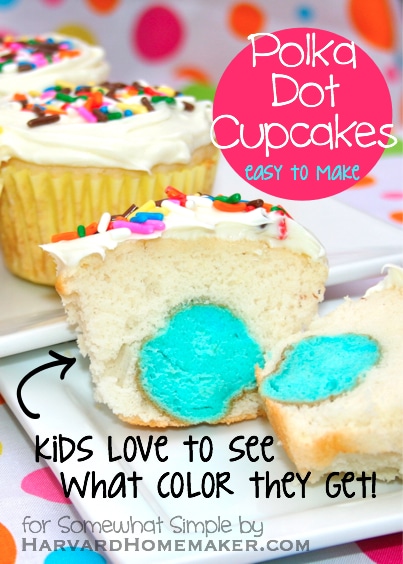 I have a feeling these will be a hit at your next party or event. Kids (and even adults!) really do love to see what color they happen to get inside. And remember, you can be creative with the color combinations to suit the holiday or season!
If you'd like to keep up with me (I'd love that!), please visit my blog, Harvard Homemaker, or you can find me on Facebook, Pinterest, Twitter, Instagram, and Google+. 

Take care and Happy Spring, my friends!
Until next time,