These pink velvet waffles are so fun for Valentine's Day, and so quick and easy to make!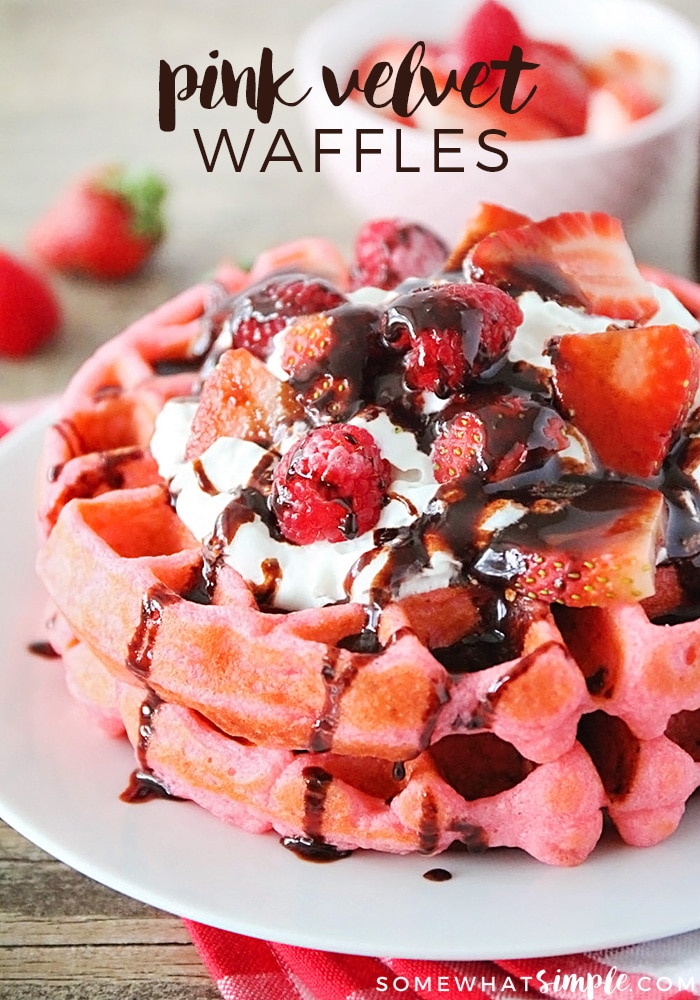 If you're looking for the perfect Valentine's breakfast for your sweetheart, then look no further! These pink velvet waffles are everything you need in a holiday breakfast – they're easy, they're festive, and they're super delicious, too! Who wouldn't love to wake up to some delicious pink waffles? They're crisp on the edges, tender in the middle, and have the perfect buttery waffle flavor.
I started with my favorite buttermilk waffle recipe, made a few little tweaks, and then made them extra festive with a little pink food coloring. We don't use a lot of food coloring at our house, but I make an exception for holiday treats. It's only a few times a year, and sometimes it's fun to turn your food pretty colors, right? If you're not a fan of food coloring, you could definitely leave it out. The waffles will taste just as delicious, but I'll warn you that they may not be as cute. 🙂

MY LATEST VIDEOS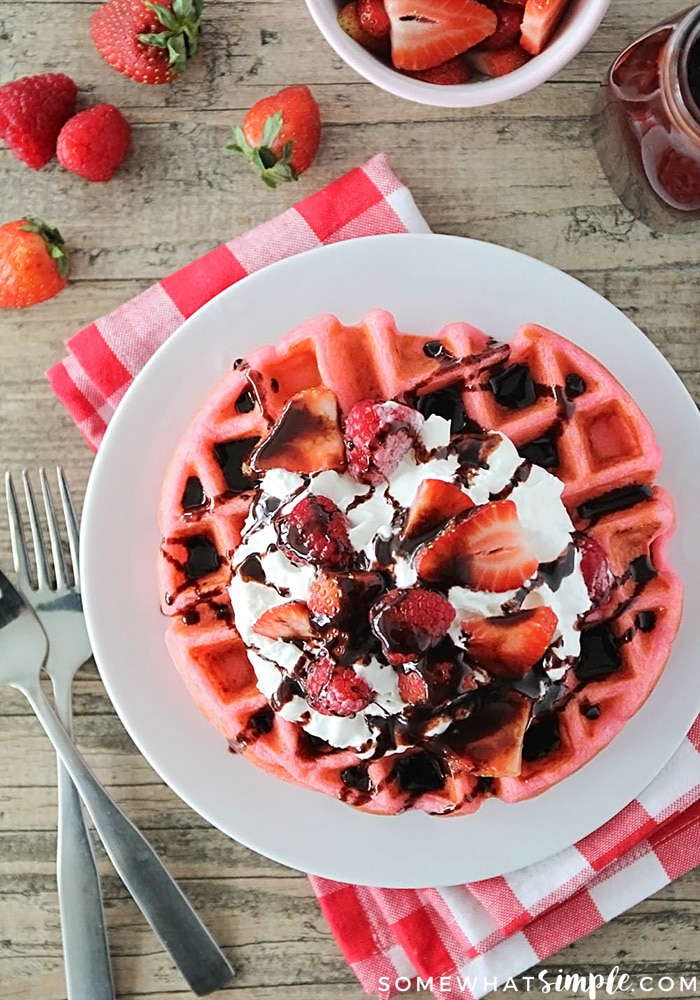 I topped my waffles with whipped cream, chocolate syrup, and fresh berries, and it was definitely a good choice! The sky is the limit as far as toppings go, though… I'm sure they'd be delicious with any kind of syrup or fresh fruit. These waffles are definitely going to be part of my family's Valentine's Day tradition, and I hope you'll try them too!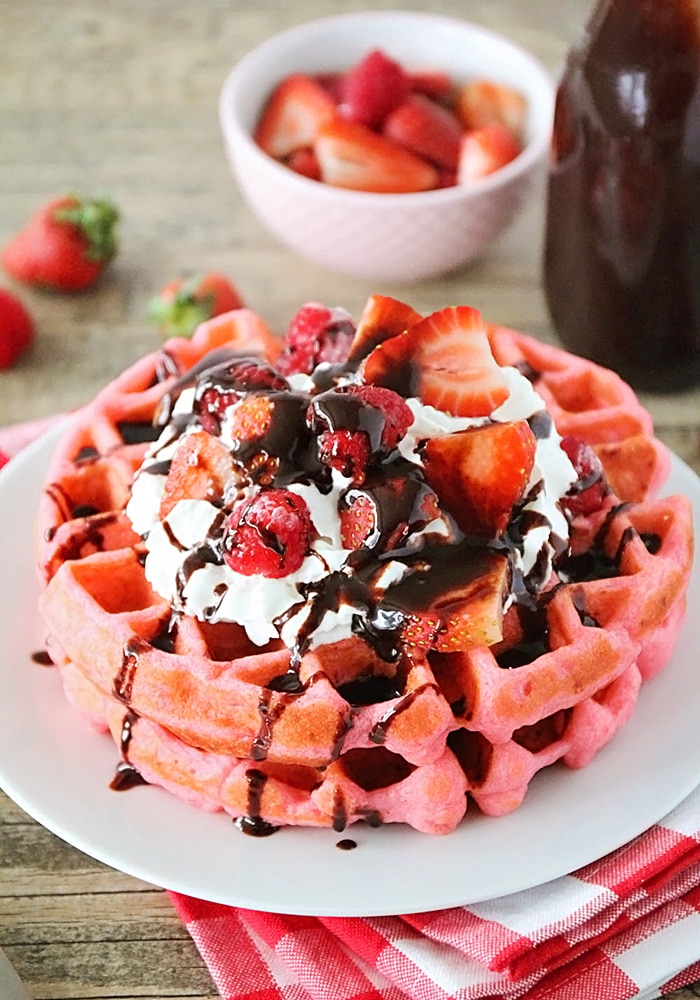 Pink Velvet Waffles
ingredients –
2 cups flour
4 teaspoons baking powder
2 tablespoons sugar
1/2 teaspoon salt
1/2 cup butter, melted
1 3/4 cups buttermilk
2 teaspoons vanilla
2 eggs
6-8 drops pink food coloring
chocolate syrup, fresh berries, and whipped cream (for topping)
directions –
In a large bowl, whisk together the flour, baking powder, sugar, and salt. In a medium bowl, whisk together the butter, buttermilk, vanilla, eggs, and food coloring.
Pour the wet ingredients into the dry ingredients, and stir until just combined (small lumps are okay). Let sit 5-10 minutes.
While the batter is resting, heat your waffle iron. Add the batter and cook according to the waffle maker's directions. (For my waffle iron, 1 cup of batter cooked for four minutes was perfect.) Serve hot, topped with chocolate syrup, fresh berries, and whipped cream.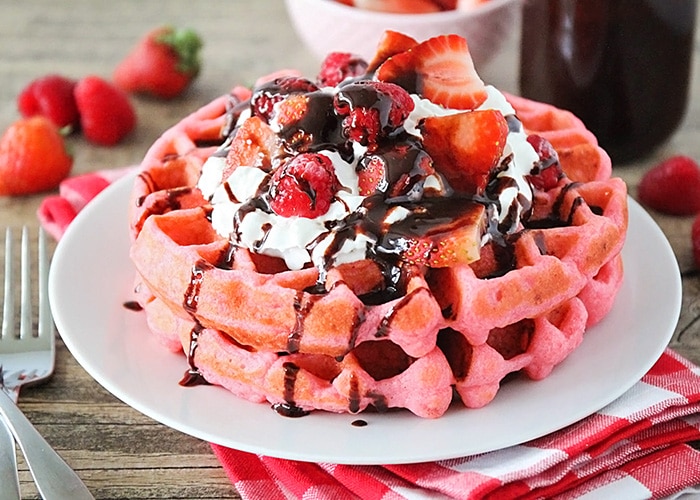 If you liked these pink velvet waffles, you'll love these other waffle recipes: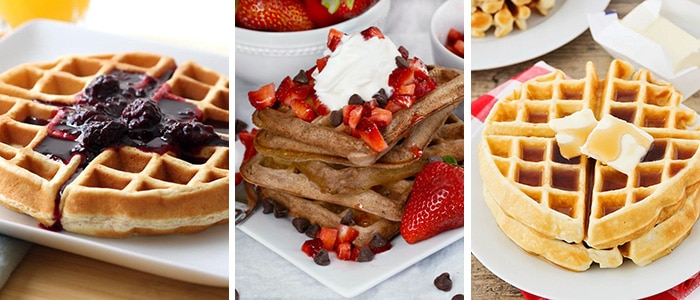 Simply Delicious Waffles | Homemade Chocolate Waffles | Golden Butter Waffles