Homemade Chocolate Waffles with fresh Strawberries are easy to make and perfect for a family breakfast or brunch!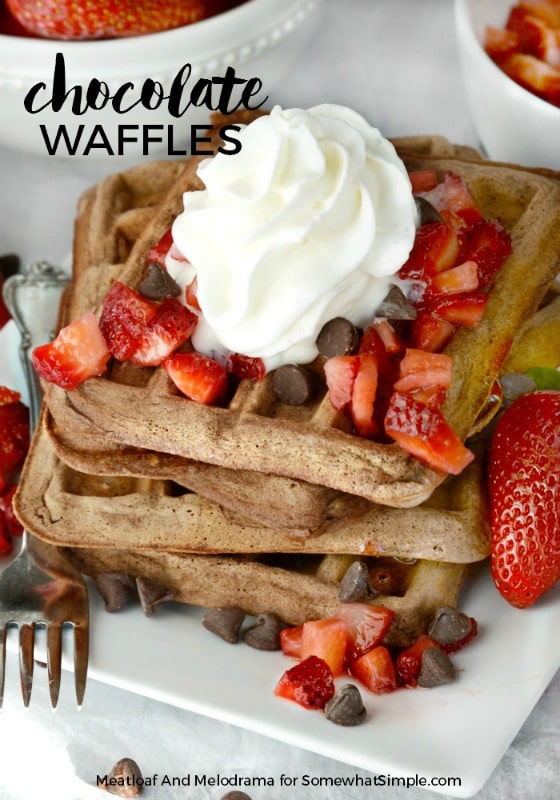 In my house, we try to have at least one large breakfast or brunch on the weekends. We get so busy that it's nice to have a large meal, just in case we end up eating dinner later than usual. And whenever there's a special occasion, I like to make the breakfast or brunch a little extra special.
These homemade chocolate waffles are easy to make. The nice thing about these waffles, besides the fact that they taste amazing, is that they freeze well, so they're perfect for reheating on busy weekday mornings — just  pop them into the toaster for a couple of minutes, and breakfast is served!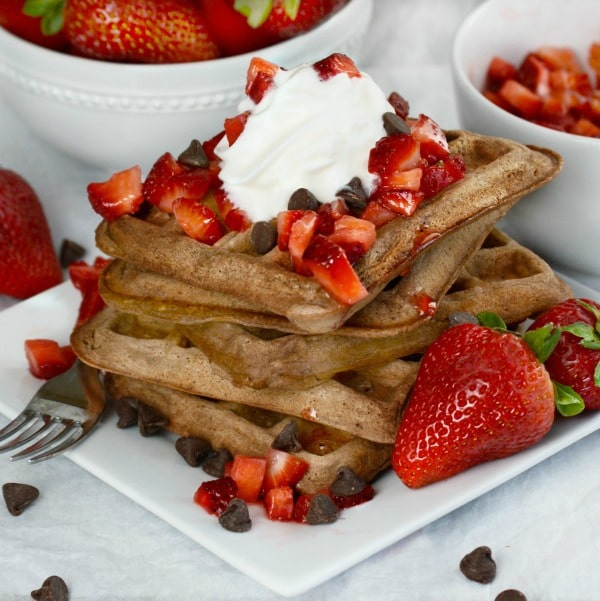 HOMEMADE CHOCOLATE WAFFLES WITH STRAWBERRY TOPPING
INGREDIENTS:
2 eggs
2 cups all purpose flour
1/2 cup melted butter
2 cups milk
3 teaspoons baking powder
1/4 cup cocoa powder
1/2 teaspoon sea salt
1 tablespoon brown sugar
1 pound fresh strawberries, washed and diced
3 tablespoons white sugar
DIRECTIONS:
In a small bowl, mix the strawberries with the white sugar and set aside.
In a medium bowl, mix the eggs, flour, melted butter, milk, baking powder, salt and brown sugar until fairly smooth.
Spray waffle iron with non-stick cooking spray.
Add some batter to the center of the waffle iron and spread out towards the edges.
Close lid and cook for about 5 minutes, or until no longer steaming.
Remove waffles and keep warm.
Repeat process until batter is gone.
Spoon strawberries over waffles and add your choice of toppings.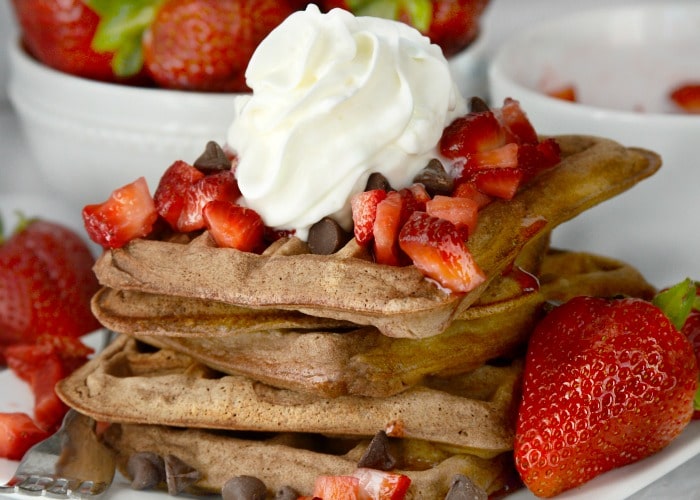 We like to set up a mini waffle station, complete with whipped cream, chocolate chips and just about anything else the kids can think of. This way, people can help themselves and build their own waffles just the way they like them.
 It's the perfect way to start the day!