These comforting and flavorful Gingerbread Waffles with Cinnamon Cream Syrup will become a yearly holiday tradition!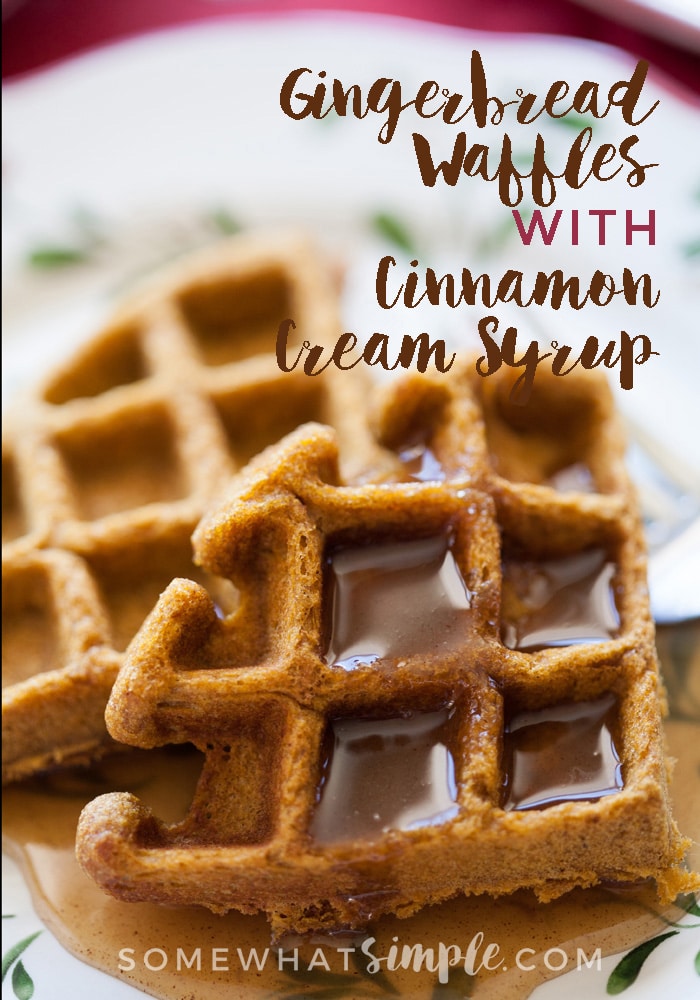 These Gingerbread Waffles with Cinnamon Cream Syrup are the perfect way to bring gingerbread to breakfast! Made with pumpkin and plenty of ginger, they taste just like the famous gingerbread (which is actually cake, if you ask me). Add Cinnamon Cream Syrup to the top, and you've got a showstopping breakfast for Christmas or any other time of the year.
A couple of notes as you make these. I used a Belgian waffle iron, and I used a large cookie scoop to put the batter into the iron. It took me about 4 large scoops to get the batter to go all the way out to the edges. Although the batter is quite thick, it makes really tender waffles.
These waffles cook very quickly. Watch them so that they don't get overcooked. They will be very soft when you remove them, but will firm up a little as they cool. I recommend spraying with non-stick spray between each waffle, even if your waffle iron is non-stick. (In the spirit of full disclosure, I had a really hard time getting out a full waffle intact. But that's o.k.! They still taste just as delicious in pieces!)
This recipe makes 8-10 large waffles and about 3 cups of syrup.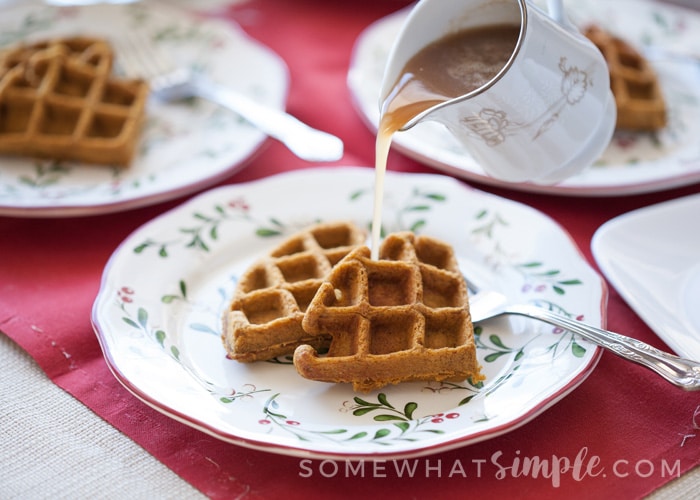 Gingerbread Waffles with Cinnamon Cream Syrup
INGREDIENTS:
for the Gingerbread Waffles –
4 large eggs
2/3 cup packed brown sugar
1 cup pumpkin pureé
1 1/2 cup milk
1/2 cup molasses
1/2 cup melted butter
3 cups flour (can use half whole wheat if desired)
4 tsp. baking powder
2 tsp. cinnamon
2 tsp. ginger
1/2 tsp. nutmeg
1/2 tsp. salt
for the Cinnamon Syrup –
1 cup light corn syrup
2 cups sugar
1/2 cup water
2 tsp. cinnamon
1 cup evaporated milk
DIRECTIONS: 
for the Gingerbread Waffles –
In a large bowl, beat the eggs and brown sugar until frothy.
Beat in the pumpkin, milk, molasses, and melted butter until everything is evenly incorporated.
In a separate bowl, mix all the dry ingredients.
Add dry ingredients to the wet ingredients and stir (don't use the mixer) just until everything is moist. Do not over-stir the batter.
Spray the inside of your waffle iron (or brush with butter).
Add the desired amount of batter and cook for 1-2 minutes, watching carefully so the edges don't burn.
Carefully remove and set aside to cool slightly before serving.
for the Cinnamon Syrup –
In a medium saucepan, mix everything except the milk.
Bring to a full boil on high heat.
Reduce the heat to medium and stir constantly for two minutes.
Remove from the heat and stir in the evaporated milk. Serve warm
(Note: this syrup is quite thin but thickens up as it cools).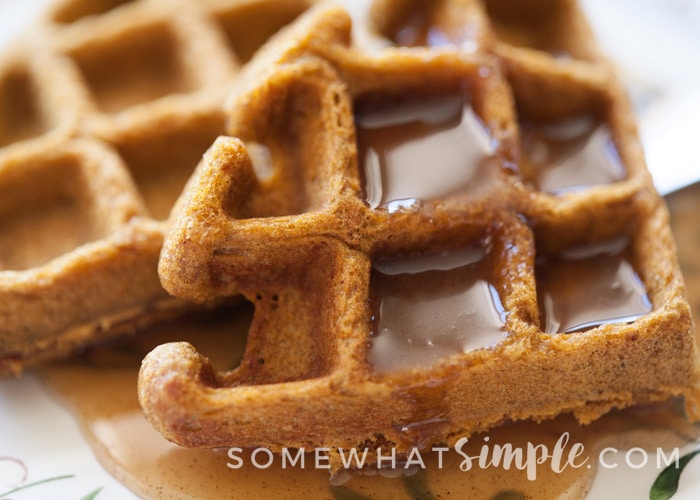 Enjoy!
. . . . .
Here are a few more of our favorite waffle recipes: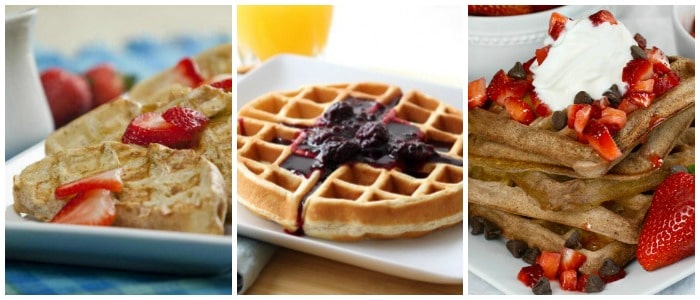 French Toast Waffles || Easy Homemade Waffle Recipe || Chocolate Waffles