Soft and crumbly scones filled with fresh cranberries and chunks of oozing white chocolate. These Cranberry and White Chocolate Scones are a perfect festive breakfast!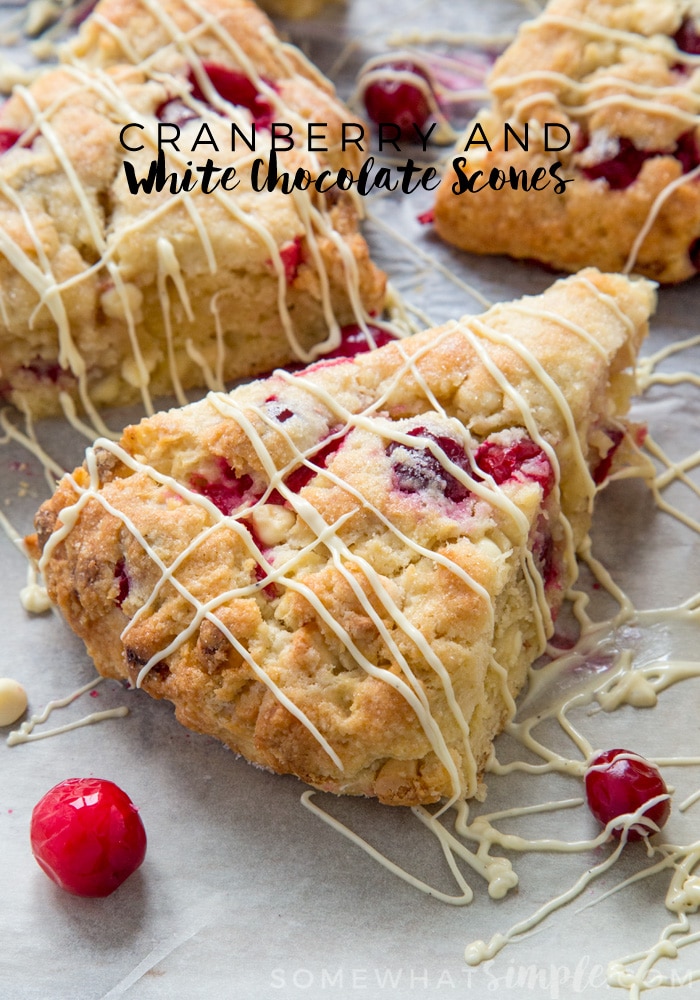 I feel like I've waited all year to bake with cranberry and white chocolate again! I just love the combination of the tart cranberries against the sweet white chocolate.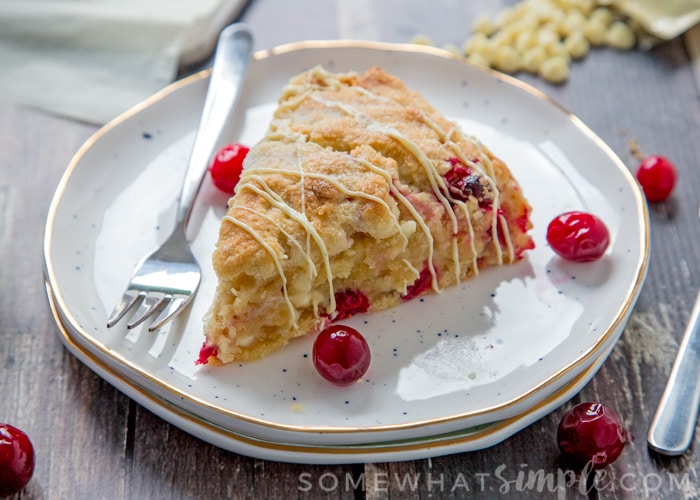 When the holidays come around, I crave homemade baked goods and there's something about a homemade scone that just gets me every time. These scones are light and fluffy, and I made sure to pack each scone with plenty of fruit and chocolate, so you get something delicious in every single bite!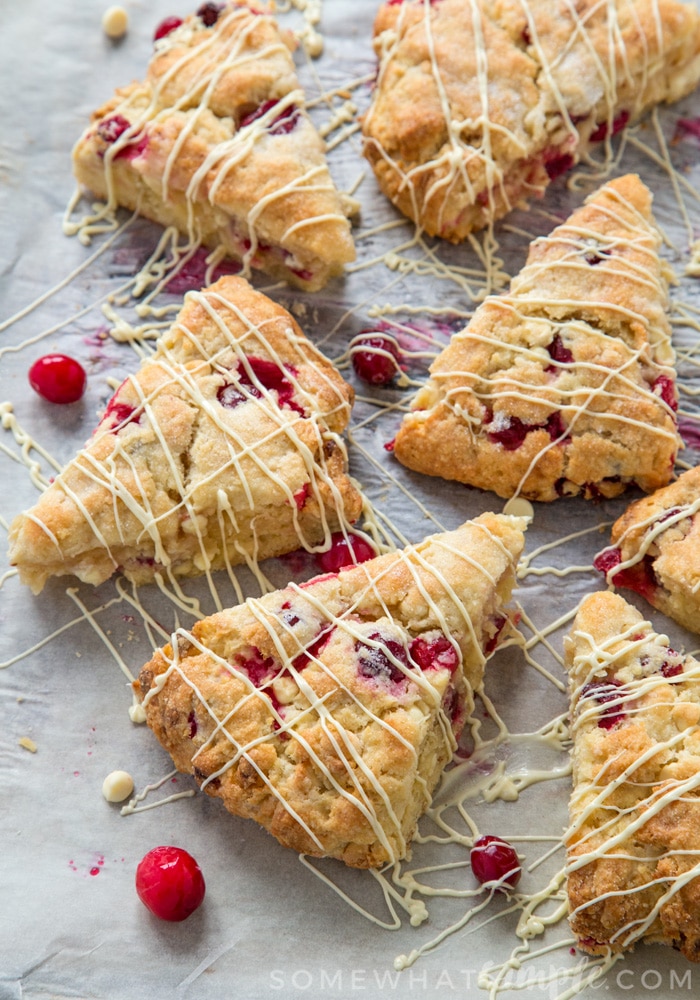 Something else I love about scones? How easy they are to make. You don't need any equipment, just your hands to rub the butter into the flour and to shape the dough into a big round disc. Slice them into wedges, sprinkle with sugar and then bake until golden and puffy. They taste the best fresh from the oven – warm. soft, flavour filled and totally amazing!
Cranberry and White Chocolate Scones
Serves: 6-8 || Total time: 45 minutes
INGREDIENTS: 
2 ½ cups (350g) all purpose flour
3 tbsp white sugar
pinch of salt
1 stick (113g) unsalted butter, cold and cut into small cubes
2 tsp baking powder
1 cup (175g) white chocolate chips/chunks
1 cup (90g) fresh or frozen cranberries; large ones halved. I used frozen as they leaked less into the dough
2 large eggs
½ cup (120ml) heavy cream (you may need 1-2tbsp more depending on how the dough comes together)
additional white sugar for sprinkling on top of the scones
2-3 oz additional white chocolate, melted
DIRECTIONS: 
Preheat the oven to 400F/200C and line a baking tray with a silicone mat.
Place flour, sugar, salt, baking powder and cubes of butter into a large bowl and rub the butter into the flour with your fingers until you have a coarse breadcrumb texture. Some pea sized lumps of butter is fine.
Add the white chocolate chips and cranberries and stir very briefly to evenly distribute.
Place the eggs and ½ cup heavy cream into a bowl and beat lightly with a fork.
Add the egg mixture into your flour mix and stir gently, until a soft, crumbly dough forms. You want it to hold if you press the dough together, but not be sticky and wet. If the mixture is still too crumble, add in the extra cream, 1tbsp at a time.
Tip the dough onto your prepared baking tray and press into a large disc, around ½ an inch thick.
Use a sharp knife or pizza cutter to cut the disc of dough into 6-8 wedges. At this stage you can leave the scones cut but together, or use a spatula to spread the scones around the baking tray with a 2 inch gap in between each one.
Sprinkle some white sugar onto the top of each scones and then place in the oven for 13-17 minutes.
NOTES:
If the scones are spaced out they will take less time to cook than if they are all together, just be aware of this. They could take 20 minutes if all together in a round.
Scones are done when they are risen, golden around the edges and sound light when you tap on the top.
Leave to cool on the tray before drizzling melted white chocolate on the top.
Cranberry and White Chocolate Scones will keep in an airtight container, at room temperature for 4 days.
ENJOY!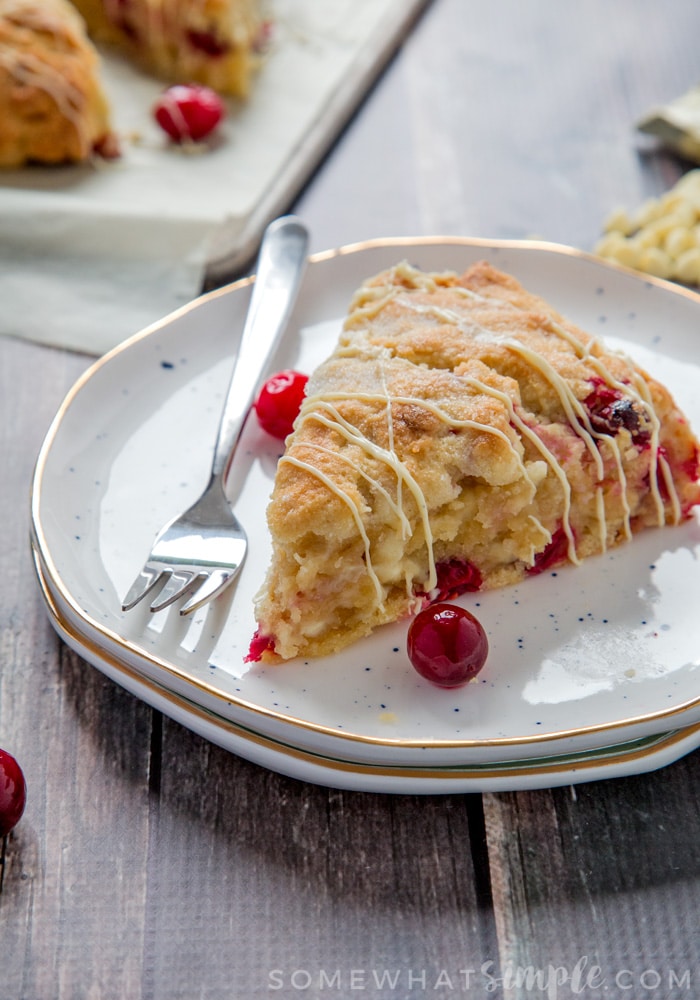 Here are a few more scone recipes you might enjoy: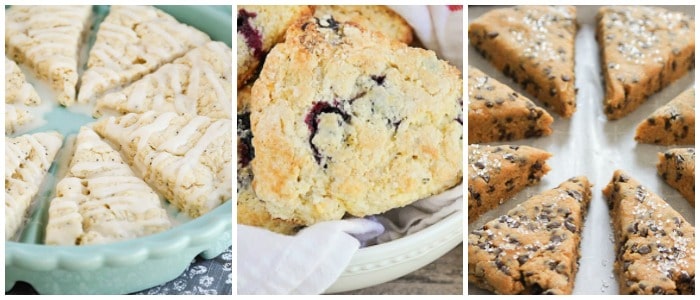 Almond Poppyseed Scones|| Lemon Blueberry Scones || Pumpkin Chocolate Chip Scones