Almond Poppy Seed Scones – these light and tender scones are simple to make and really tasty too. An easy and delicious breakfast, brunch, or dessert!
I love scones! They are one of my favorite treats to make. I love that they are so easy and delicious but feel so fancy too! These almond poppy seed scones are a fun variation on my favorite lemon poppy seed scones, and they did not disappoint. They have a light and tender crumb, and the combination of almond and poppyseed is perfect. Yum!
You'll want to cut in the butter so the pieces are no larger than pea-sized. If you don't want to go the pastry blender route, you could also grate the cold butter into the flour.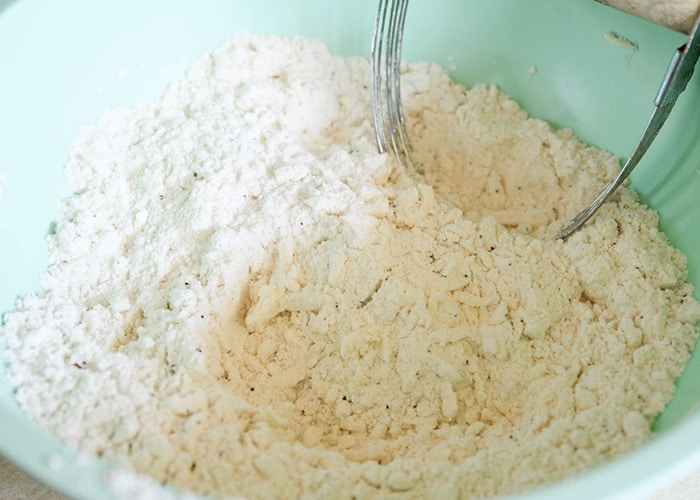 Once you've added your wet ingredients, you'll gently mix the dough, being careful not to over mix, then pat it out into a circle.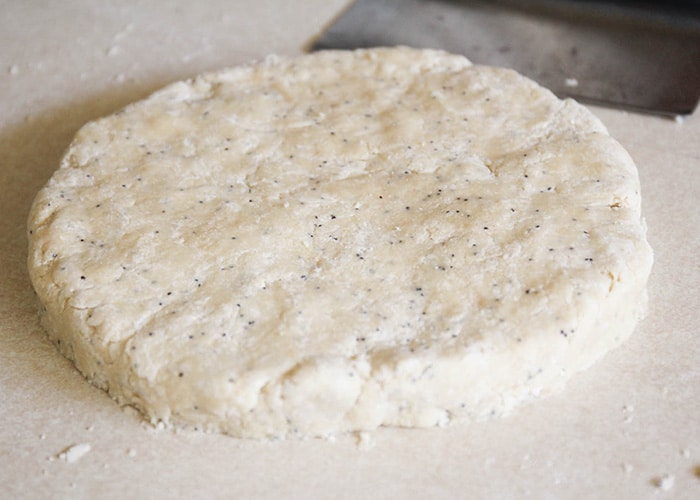 Cut the dough into wedges, then place them either in a scone pan or on a baking sheet. They'll taste just as delicious without the scone pan, but I happen to think the scone pan makes them extra cute!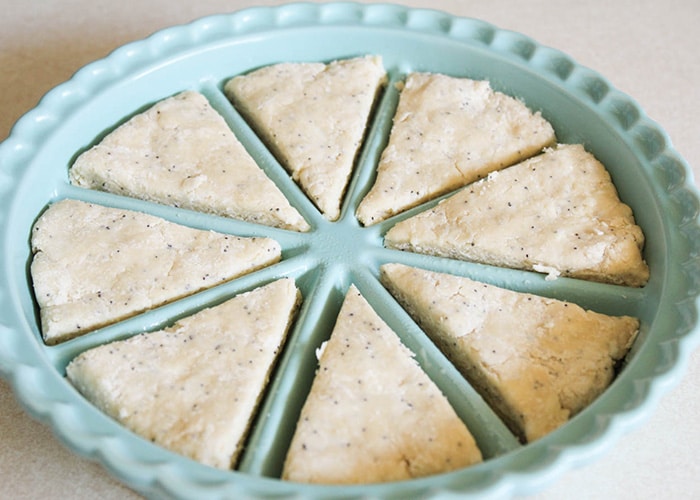 Once the scones are baked, you'll drizzle them with a  delicious almond glaze, and then they're ready to eat! So pretty and super tasty too!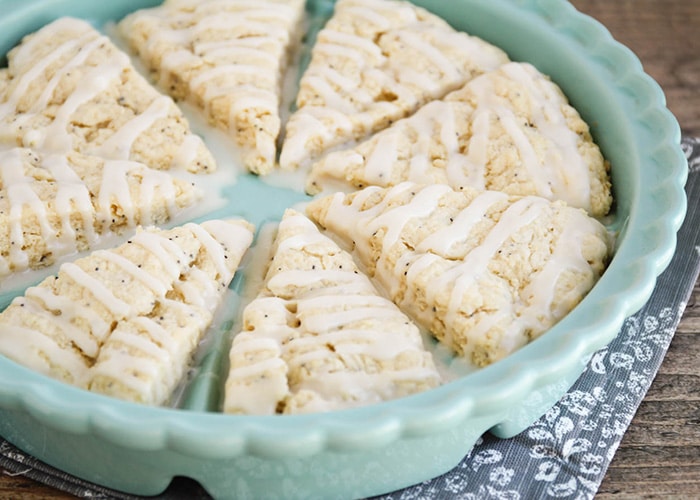 ALMOND POPPY SEED SCONES
INGREDIENTS:
For the Scones:
1/3 cup sugar
2 cups flour
1 teaspoon baking powder
1/4 teaspoon baking soda
1/2 teaspoon salt
1 teaspoon poppy seeds
1/2 cup (4 ounces) butter, cold, cut into pieces
1/2 cup sour cream
1 large egg
1 teaspoon vanilla
1 teaspoon almond extract
For the Glaze:
2 tablespoons melted butter
1 teaspoon almond extract
1 cup powdered sugar
1-2 tablespoons milk
DIRECTIONS:
Preheat the oven to 400. Line a baking sheet with parchment paper or spray a scone pan with cooking spray.
In a large bowl, whisk together the sugar, flour, baking powder, baking soda, salt, and poppy seeds.
Cut in the butter using a pastry blender or two knives, until the pieces are no larger than pea sized.
In a small bowl, whisk together the sour cream, egg, vanilla, and almond extract. Pour the sour cream mixture into the dry ingredients and mix until just combined (do not overmix!).
Pat the dough out into a circle that is approximately eight inches in diameter. Cut the dough into eight equal sized wedges (I found it helpful to use a pizza cutter).
Place the dough on the prepared baking sheet or in the scone pan. Bake 15-17 minutes, or until lightly browned. Remove from the oven and let cool slightly.
While the scones are cooling, whisk together the butter, almond extract, and powdered sugar. Add enough milk to make a glaze that is easily pourable but not too runny. Drizzle the glaze over the scones and allow to cool completely.