These delicious cinnamon scones taste just like your favorite cinnamon rolls, but in scone form! Buttery, rich scones, swirled with a sweet cinnamon filling. Yum!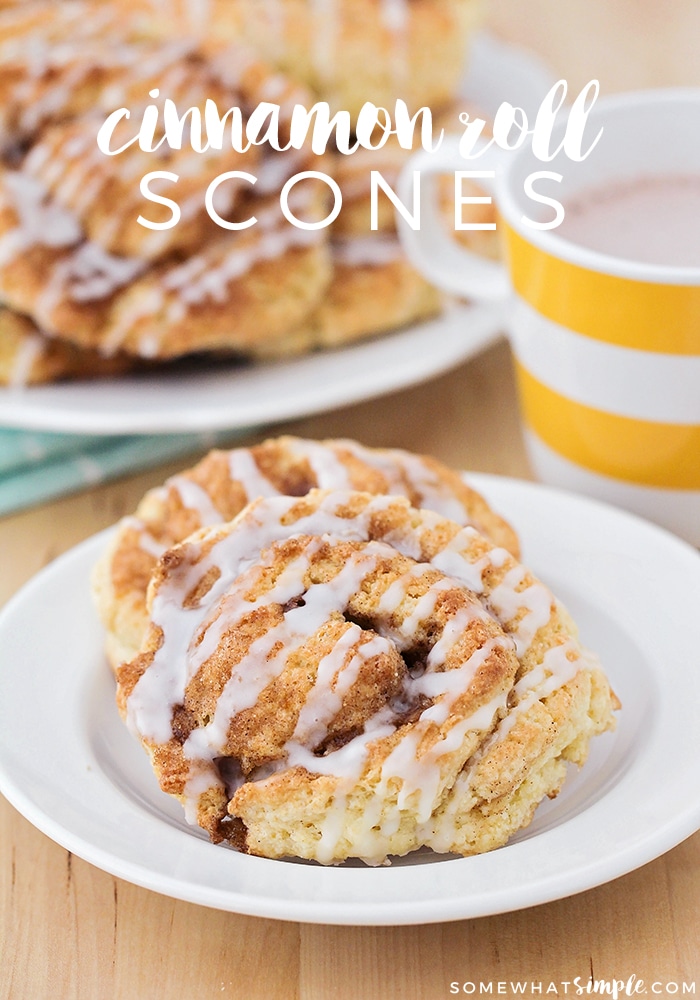 I have to admit, I am kind of obsessed with scones. When the weather starts to get colder, all I want is to curl up with a good book, a warm cup of cocoa, and a delicious scone. There's a Starbucks just down the street from my house, and it is all too tempting to just pop down there and pick up a scone when the craving hits. Unfortunately, my scone habit is not doing any favors for my budget, so it's high time to come up with some tasty scone recipes to make at home.
This cinnamon roll scone recipe came about because I had a craving for baked goods, and couldn't decide between making scones and making cinnamon rolls. These scones are truly the best of both worlds! They are so buttery, flaky, and sweet, swirled with a delicious cinnamon and brown sugar filling, and topped with a sweet glaze. They're also simple and easy to make. What more could you want in a dessert?
Cinnamon Scones
Ingredients for Cinnamon Roll Scones –
2 cups flour
1/2 cup sugar
1 tablespoon baking powder
1/2 teaspoon salt
4 ounces (1/2 cup) butter, cold
1/2 cup half and half
1 egg
1 teaspoon vanilla
1/4 cup brown sugar
1 teaspoon cinnamon
1 cup powdered sugar
2-3 tablespoons milk
Directions to make Cinnamon Roll Scones –
Preheat the oven to 400. Line a baking sheet with parchment or silicone, then set aside.
In a large bowl, whisk together the flour, sugar, baking powder, and salt. Grate the cold butter into the flour mixture and toss to coat.
In a small bowl, whisk together the half and half, egg, and vanilla. Pour the wet ingredients into the dry ingredients, and mix until just combined, being careful not to overmix. The dough should be a little rough and shaggy, but should hold together.
Gently pat the dough out on a floured surface into a rectangle that is approximately 8 inches tall and 10 inches wide.
In a small bowl, mix together the brown sugar and cinnamon. Spread the brown sugar mixture evenly over the dough.
Gently roll the dough up, starting on the wider side, to form a long tube. Cut the dough into ten even-sized pieces, and place them on the prepared baking sheet. Bake 18-20 minutes, or until golden brown. Let cool.
In a small bowl, whisk together the powdered sugar and 1 tablespoon milk. Add additional milk, as needed, to make a smooth and somewhat runny glaze. Drizzle the glaze over the cooled scones and let set.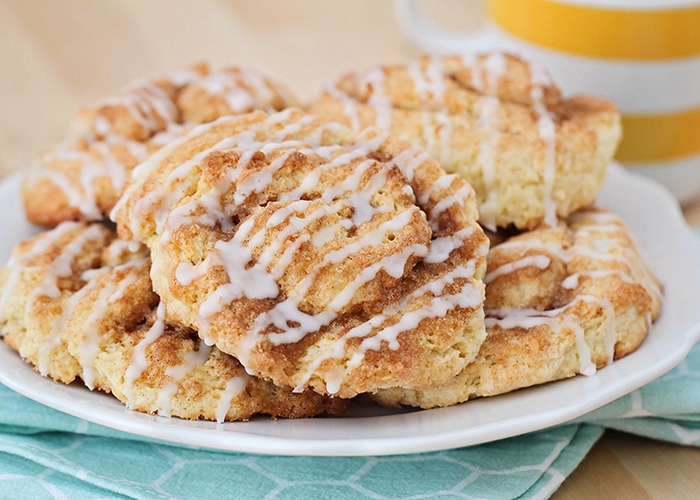 The key to success with these scones is to work the dough as little as possible. If you overwork the dough, then the scones will be tougher and lose that flaky tenderness. It's important to flour the surface you're using to pat at the dough, so the dough will roll up nicely instead of sticking to the counter. Don't worry too much about them being perfectly round because they will turn out delicious either way!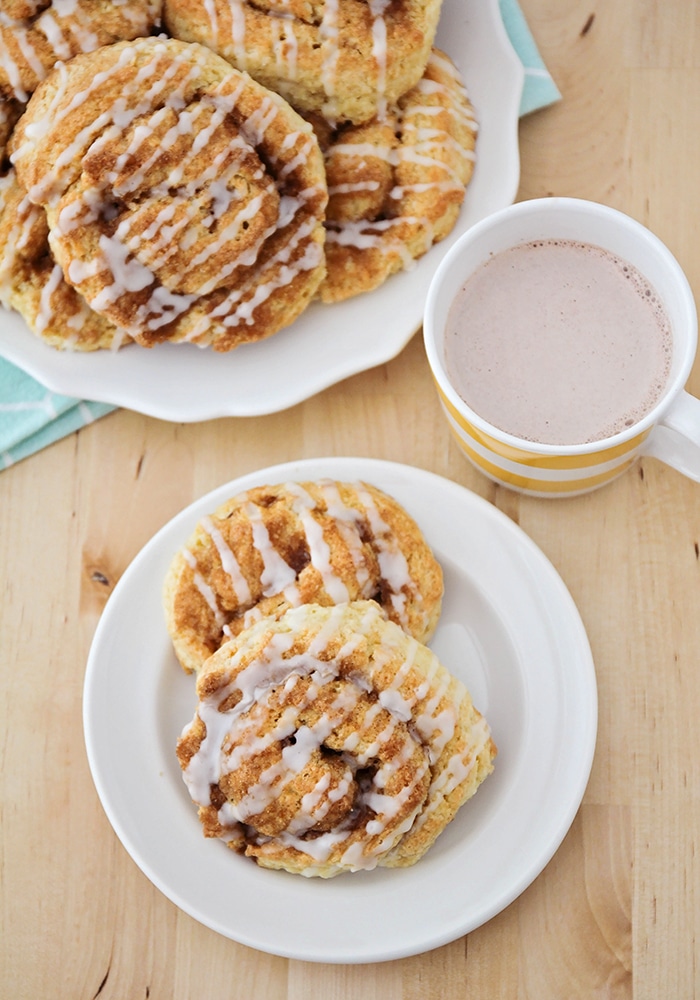 My favorite part is definitely that brown sugar and cinnamon swirl! It gives these scones such a delicious flavor, and makes them extra craveable. I usually send my extra baked goods to work with my husband, to share with his co-workers, but these scones I kept all for myself!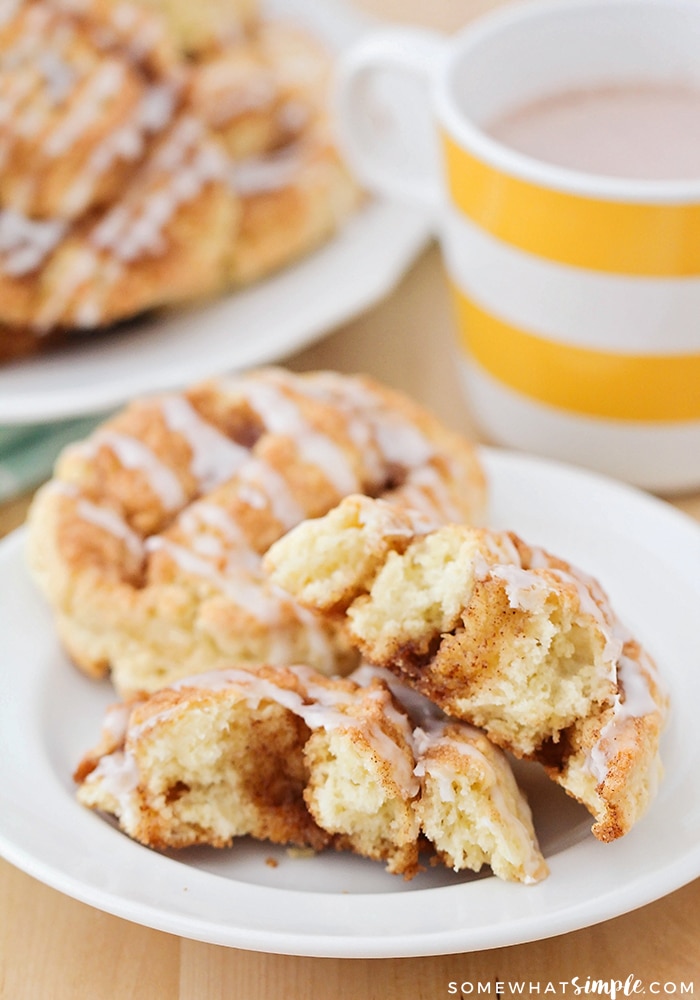 For more fantastic scone recipes, be sure to check out some of our favorites below: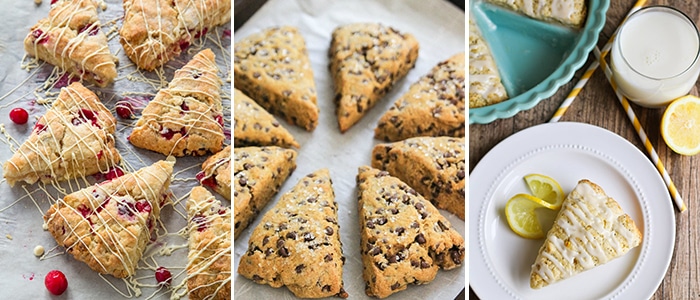 Cranberry White Chocolate Scones | Pumpkin Chocolate Chip Scones | Lemon Poppy Seed Scones