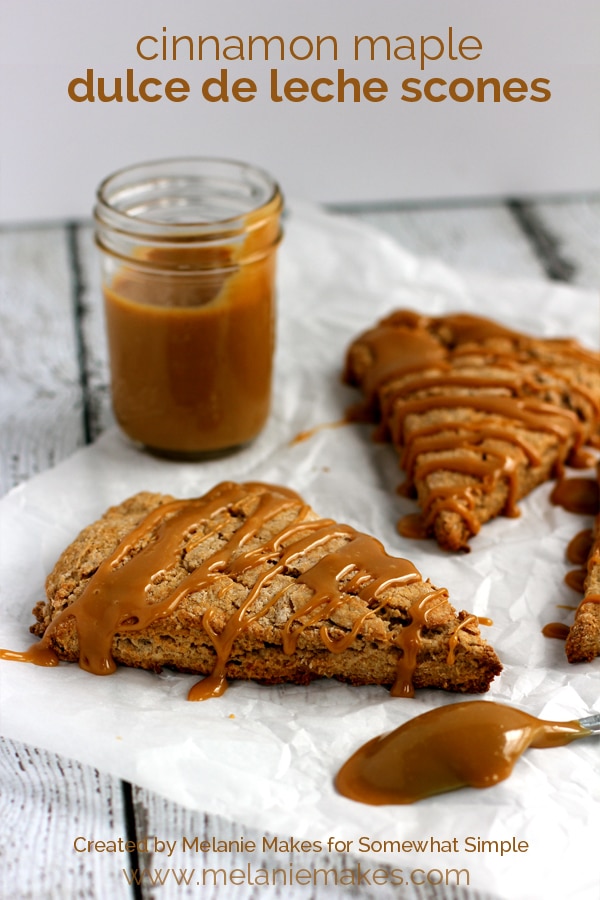 Looking for the perfect breakfast or brunch treat for that special someone? Look no further than these Cinnamon Maple Dulce de Leche Scones!
Cinnamon scones flavored with homemade maple dulce de leche and then drizzled with additional dulce de leche after cooling. Believe me, you'll want to lick your fingers clean after one taste of this caramel-like goodness!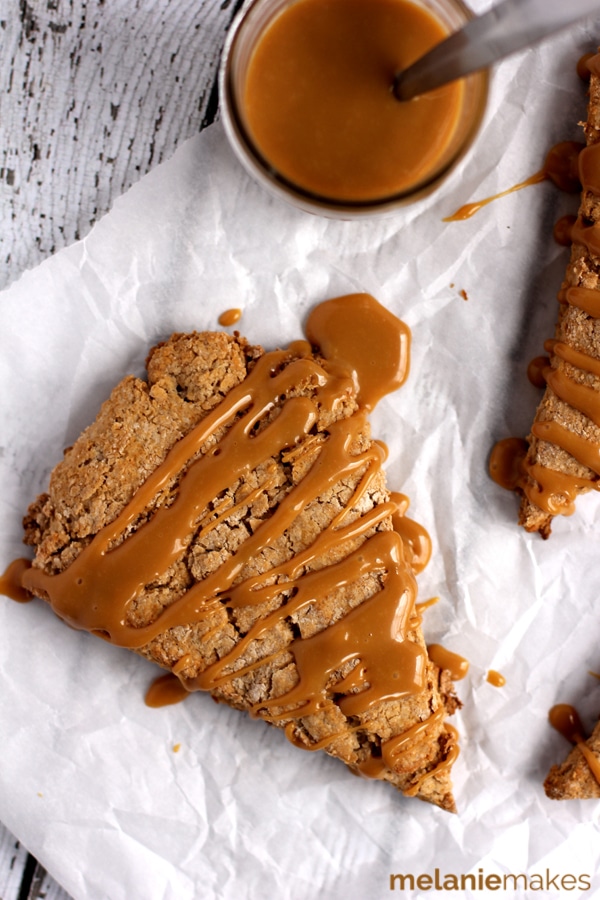 Cinnamon Maple Dulce de Leche Scones
INGREDIENTS:
Dulce de Leche
14 ounces sweetened condensed milk
2 tablespoons maple syrup
Scones
3 cups all-purpose flour
1 1/2 tablespoons baking powder
1 tablespoon ground cinnamon
1/4 cup white sugar
1 teaspoon salt
1/2 cup butter
2 eggs
1/4 cup maple dulce de leche
1/2 cup milk
DIRECTIONS:
Dulce de Leche
Preheat oven to 425 degrees. Empty sweetened condensed milk into 8×8 dish. Cover with foil and place in 9×13 pan.
Add water to larger pan, filling it until water reaches three quarters up the sides of the covered dish.
Bake for 90 minutes, being sure to check on the water level as it cooks to insure water remains at desired level.
Remove from oven and whisk in maple syrup until smooth. Let cool completely before storing in refrigerator in tightly covered container.
Scones
Preheat oven to 375 degrees.
In a large bowl, whisk together flour, baking powder, cinnamon, sugar and salt.
With a pastry blender, cut butter into flour mixture.
In another bowl, whisk eggs, milk and maple dulce de leche together.
Make a well in the center of the flour mixture and add egg mixture. Stir together until just combined.
Gather dough into a ball and roll out between two pieces of waxed paper formaing a circle 1/2-1″ thick.
Cut into eight wedges and place on parchment or silicone mat covered baking sheet.
Bake for 20 minutes. Allow to cool two minutes before removing to cooling rack to cool completely.
Before serving, drizzle each scone with dulce de leche.
Notes
To reheat dulce de leche to desired consistency, microwave in 15 second intervals, stirring afterwards each time.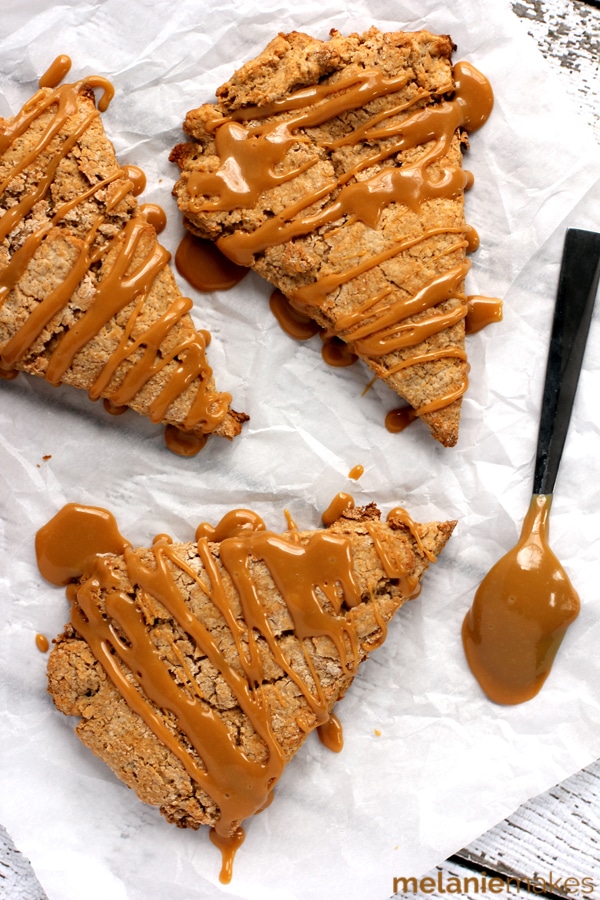 ENJOY!