These strawberry cream puffs are simple to make and so delicious! Tender pastry shells are filled with sweet strawberry whip cream for an elegant dessert.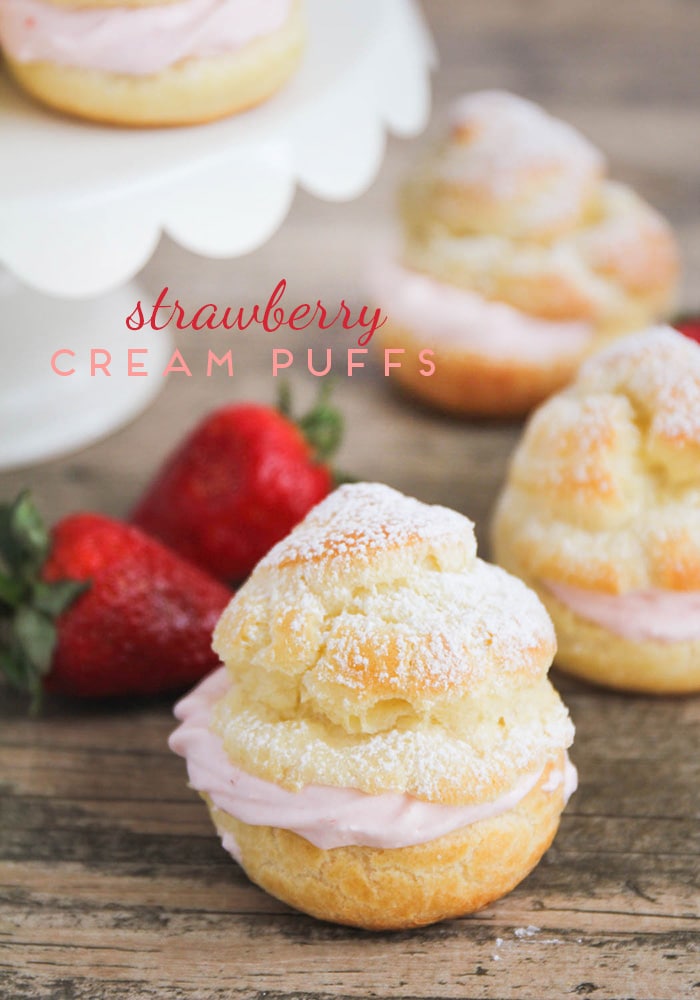 When I think about elegant desserts, the first thing that comes to mind is cream puffs. There's something so pretty and dainty about them, and they are one of my favorite treats! I've been making them for years, and every time I bake up the choux pastry shells, I'm amazed at how easy they are to make. With just a little time and effort, you can make a delicious dessert that's just as impressive as one you could buy at a french bakery. These strawberry cream puffs are a new variation, and one of my favorites! They're perfect for spring baby showers, wedding brunches, or any time you need an elegant and delicious dessert.
If you haven't worked with choux pastry before, don't be intimidated! It's just four simple ingredients (yes, seriously) and the only skill you need is stirring. It's as simple as that!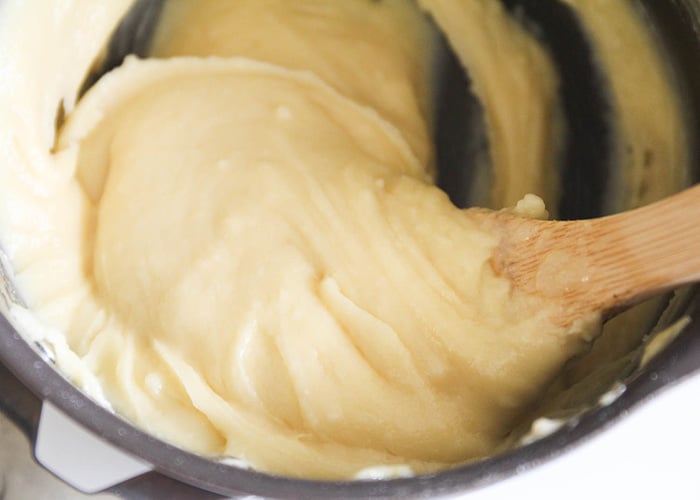 I like to pipe my dough onto the baking sheet because it looks a little neater (also, because I really like piping), but scooping the dough works just as well.
The pastry shells bake up so puffy and perfect! It always feels a little magical when they rise so much in the oven.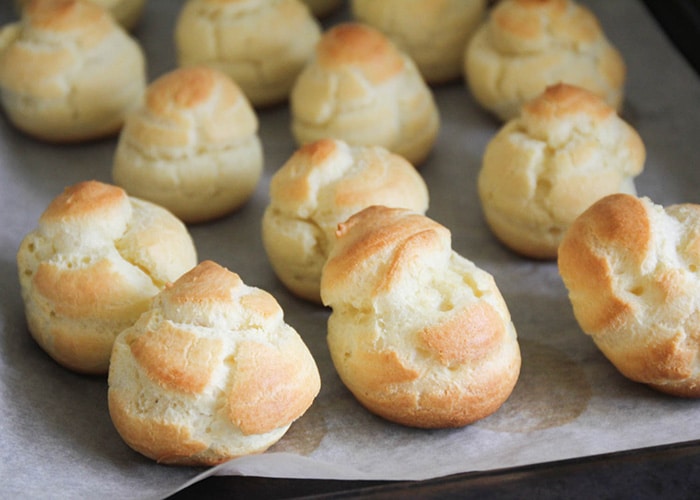 Once they've cooled, you'll cut them in half so you can add your filling. You could also poke a hole in the side of the puffs and pipe in the filling, but I think they're a little prettier cut in half.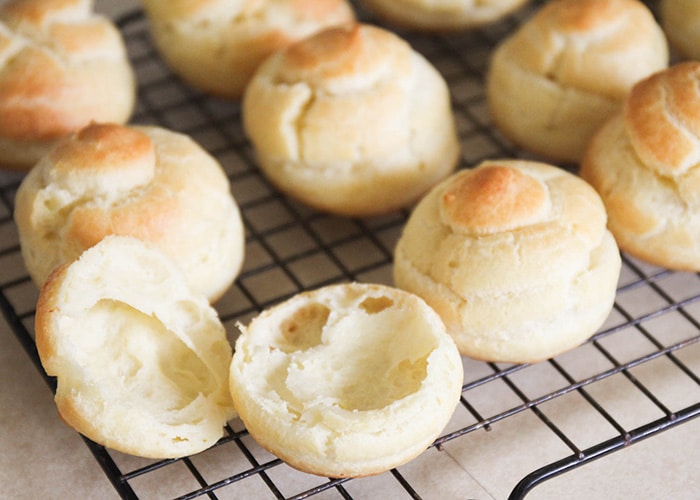 The fresh strawberry whip cream takes just a few minutes to make, and adds a ton of delicious strawberry flavor! I also love how pretty and pink it makes the puffs! You will love how easy and delicious these strawberry cream puffs are to make. And once you've mastered the choux pastry, be sure to try my nutella cream puffs as well!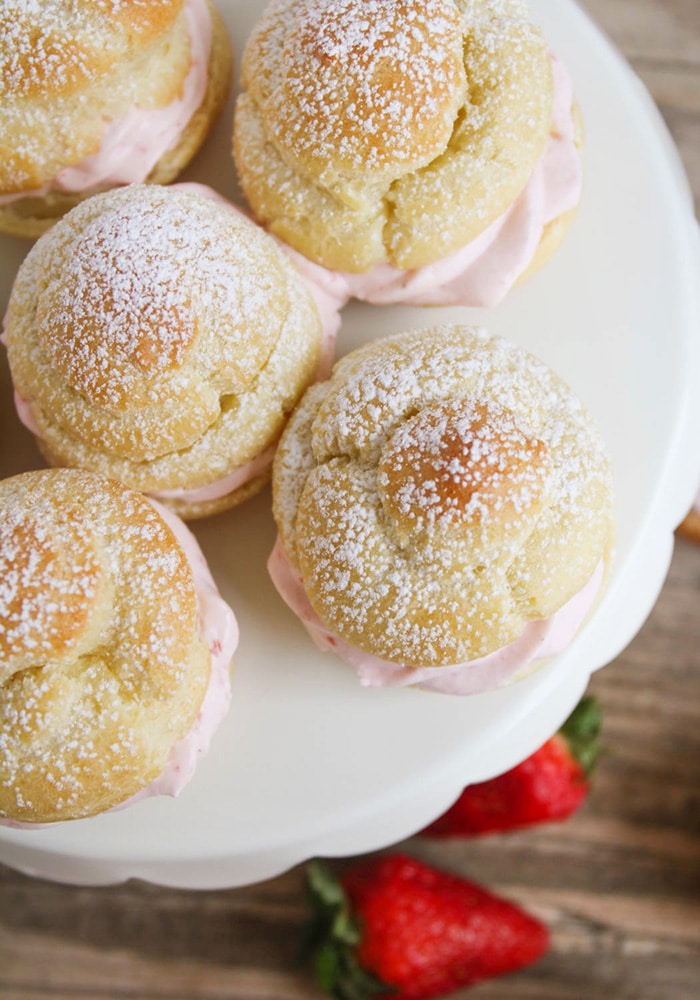 Strawberry Cream Puffs
INGREDIENTS:
for the pastry:
1 cup water
4 ounces (1 stick) butter, cut into pieces
1 cup flour
4 eggs
for the filling:
2 cups chopped fresh strawberries
1/4 cup sugar, divided
1 1/2 cups heavy whipping cream
powdered sugar
DIRECTIONS:
Preheat the oven to 400 and line a baking sheet with parchment.
In a medium sauce pan, combine the water and butter, and bring the mixture to a simmer. Remove from heat and stir in the flour to form a thick paste. Add the eggs one at a time, stirring after each addition, to form a shiny dough.
Pipe or spoon the dough into rounded mounds approximately 1 1/2 inches in diameter on the prepared baking sheet. Bake 20-25 minutes, or until golden brown and puffed up. Remove from oven and let cool completely.
While the puffs are cooling, puree the strawberries with two tablespoons of sugar using a food processor or blender, until smooth. Beat the whipping cream until light and fluffy, then add the remaining two tablespoons of sugar and beat until stiff peaks form. With the beaters running, gradually add the strawberry mixture to the whipped cream, beating constantly to keep the mixture light and airy. Refrigerate until ready to use.
When the puffs have cooled, cut each puff in half horizontally with a serrated knife. Scoop or pipe the strawberry whip cream into each shell and dust with powdered sugar. Refrigerate until ready to serve. If you are making these in advance, I would suggest freezing them, then thawing in the refrigerator for an hour or two before serving.