Strawberry Shortcake Roll is filled with fresh strawberries and a delicious cream cheese frosting!
Looking for more recipes to use up all your strawberries? Here are a few we LOVE – Strawberry Julius Copycat, Easy Strawberry Cake, and Strawberry Mint Fruit Salad.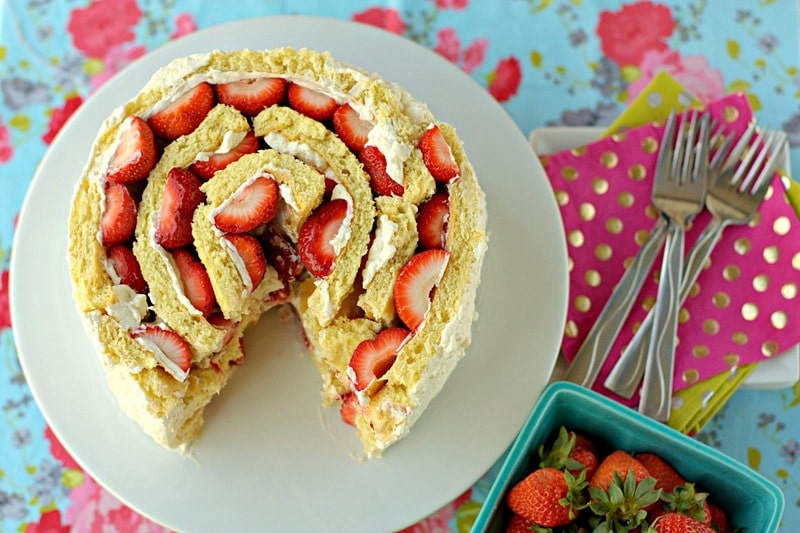 One of my very favorite desserts in the history of all desserts is strawberry shortcake with fresh strawberries. What's not to love about tart strawberries, moist cake and sweet cream? If you're like me and just can't get enough of that classic flavor combination, you will LOVE this Strawberry Shortcake Roll.
This cake is a show-stopper, and it's actually much easier to make than it looks. Here is the simple recipe –
Strawberry Shortcake Roll Up Cake
Serves 10 
INGREDIENTS – 
for the sponge cake: 
5 large eggs, room temperature
3/4 cup granulated sugar
1 teaspoon vanilla extract
3/4 cup all-purpose flour
1 teaspoon baking powder
¼ teaspoon salt
for the filling: 
1 – 8 ounce block cream cheese, softened
1/4 cup powdered sugar
1 teaspoon vanilla extract
2 cups heavy cream, chilled
1 ½ pounds strawberries, cut in half lengthwise
DIRECTIONS – 
for the sponge cake: 
Place the oven rack to the lower-middle position and preheat oven to 350 degrees.
Lightly spray a standard, rimmed cookie sheet (measuring 12 x 18 inches) with non-stick cooking spray. Line cookie sheet with parchment paper, and lightly spray again with cooking spray.
In the bowl of a stand mixer, whisk the eggs on low until foamy, about 2 minutes.
With the mixer still on low, add the vanilla and slowly add the sugar.
Increase speed to high and beat until eggs are pale yellow and thick, about 6-8 minutes.
Sift in the flour, baking powder, and salt and fold it into the egg mixture just until combined and there are no flour streaks.
Pour batter into the pan and spread into an even layer. Bake until the cake firms up and springs back a little when touched, 12-15 minutes.
Once cake is out of oven, run a paring knife along edges and place pan on a cooling rack to cool completely.
for the filling: 
In a large bowl on medium speed beat cream cheese, powdered sugar and vanilla until smooth; set aside.
In a medium bowl beat whipped cream until stiff peaks form. Fold whipped cream into cream cheese mixture.
to assemble and finish the Strawberry Shortcake Roll 
With a paring knife, cut cake into four even strips.
Spread 1/3 cup of whipped cream mixture on each cake piece and line with sliced strawberries.
Take one strip of cake and gently tuck cake into a roll.
Place rolled cake upright on a cake stand.
Take next cake strip and wind this piece around the rolled piece, starting where it left off and repeat with remaining cake strips.
To finish frost outside with remaining filling and chill for 1 hour before serving.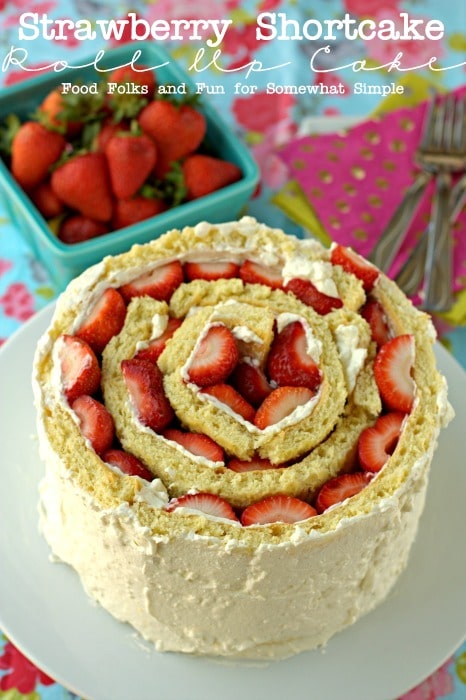 ABOUT THE AUTHOR – Jillian is the creator, author, recipe developer and travel blogger behind Food Folks and Fun. She's a teacher turned SAHM married to a military man—which means her family moves often, traveling and experiencing the world!