I'm so excited to be visiting from Food Folks and Fun to share with you my recipe for Strawberry Shortcake Roll Up Cake.  Summer is creeping closer and that means strawberry season is upon us! Whether you pick your own or forage for them in the grocery store, chances are you'll be able to find sweet, juicy strawberries whichever route you choose. I love nothing more than to make strawberry shortcake with in-season berries, but this year I wanted to try something a little different so I came up with this Strawberry Shortcake Roll Up Cake.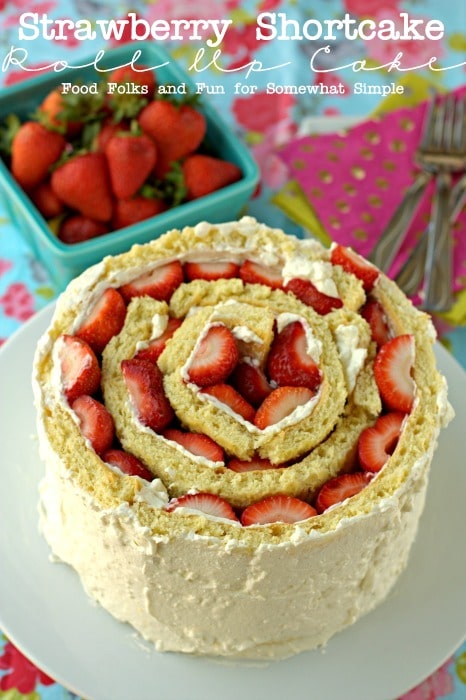 I mean come on, look at that cake! It would be perfect for all of your upcoming parties and barbecues. The sponge cake tastes just like those prepackaged ones from the grocery except this one is homemade and so much better!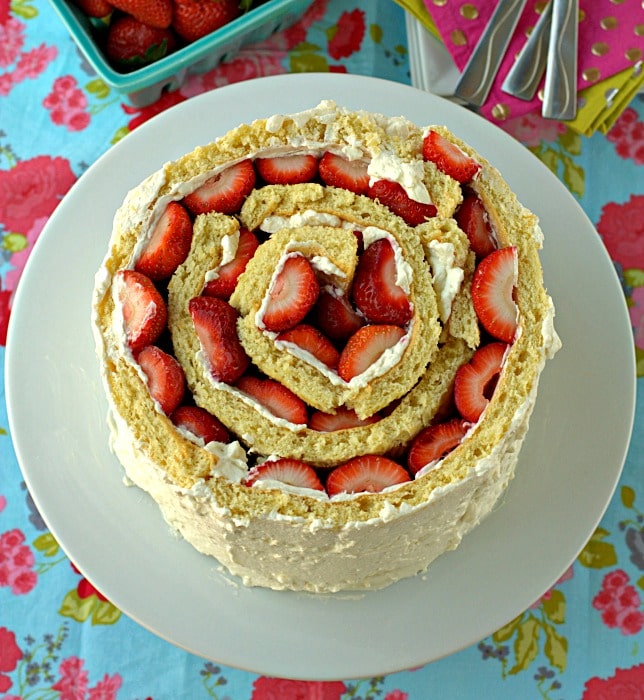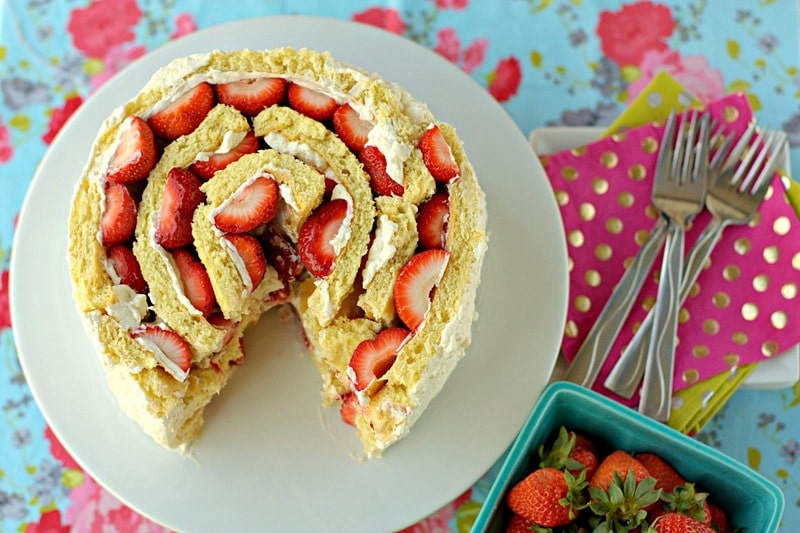 This cake is a show-stopper and it's actually much easier to make than it looks. When assembling it the key is to not fight with the cake strips, go gently and if they tear, don't fret. It's usually nothing a little extra filling couldn't fix.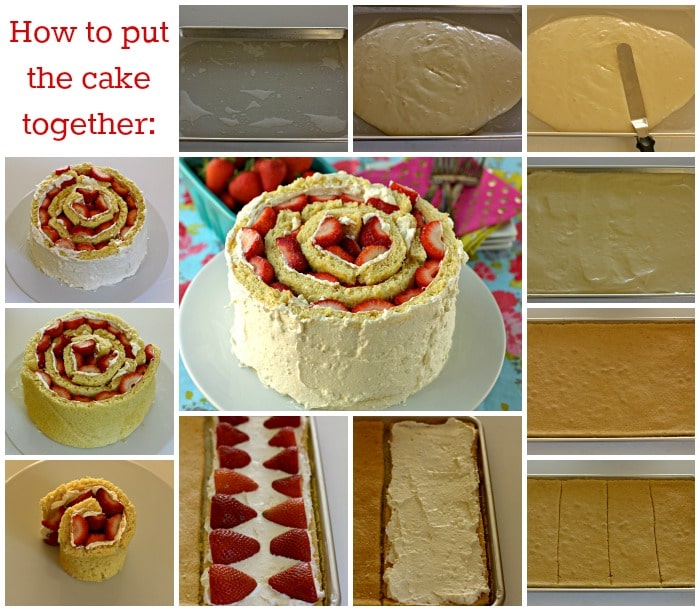 STRAWBERRY SHORTCAKE ROLL UP CAKE
Serves 8-10
Ingredients:
FOR THE SPONGE CAKE
5 large eggs, room temperature
3/4 cup granulated sugar
1 teaspoon vanilla extract
3/4 cup all-purpose flour
1 teaspoon baking powder
¼ teaspoon salt
FOR THE FILLING
1 – 8 ounce block cream cheese, softened
1/4 cup powdered sugar
1 teaspoon vanilla extract
2 cups heavy cream, chilled
1 ½ pounds strawberries, cut in half lengthwise
Directions:
FOR THE SPONGE CAKE
Place the oven rack to the lower-middle position and preheat oven to 350 degrees F. Lightly spray a standard, rimmed cookie sheet (measuring 12 x 18 inches) with non-stick cooking spray, line with parchment paper and lightly spray again with cooking spray.
In the bowl of a stand mixer, whisk the eggs on low until foaming, about 2 minutes. With the mixer still on low, add the vanilla and slowly add the sugar. Increase speed to high and beat until eggs are pale yellow and thick, about 6-8 minutes. Sift in the flour, baking powder, and salt and fold it into the egg mixture just until combined and there are no flour streaks.
Pour batter into pan and spread into an even layer. Bake until the cake firms up and springs back a little when touched, 12-15 minutes. Once cake is out of oven, run a paring knife along edges and place pan on a cooling rack to cool completely.
FOR THE FILLING
In a large bowl on medium speed beat cream cheese, powdered sugar and vanilla until smooth; set aside. In a medium bowl beat whipped cream until stiff peaks form. Fold whipped cream into cream cheese mixture.
TO ASSEMBLE & FINISH
With a paring knife cut cake into four even pieces. Spread 1/3 cup of whipped cream mixture on each cake piece and line with sliced strawberries. Take one strip of cake and gently tuck cake into a roll. Place rolled cake upright on a cake stand. Take next cake strip and wind this piece around the rolled piece, starting where it left off and repeat with remaining cake strips. To finish frost outside with remaining filling and chill for 1 hour before serving.
Hungry for some more strawberry recipes? Check out my Strawberry Cream Cake and Strawberry & Cream Blintzes.