Have a little bite of summer anytime with these Strawberry Lemonade Cookies – perfect swirls of sweet deliciousness!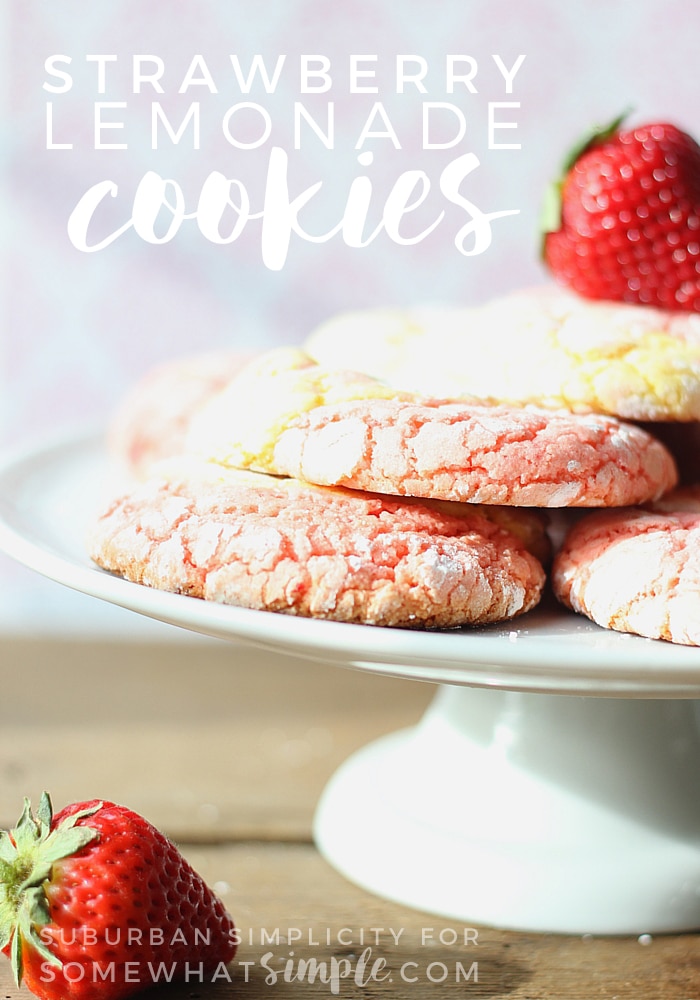 It's spring and the sun is shining and I'm dreaming of summer.  Lazy days at the lake, picnics at the park and walks in the evening after the sun goes down are some of my favorite things about this time of year.
Strawberry Lemonade Cookies remind me of the lemonade stands my kids excitedly do every summer and they were thrilled I made these cookies now instead of waiting 'til school gets out! These simple cake mix swirl cookies combine one of the best flavor combinations – Strawberry and Lemon.  Tart, yet sweet.  Perfect.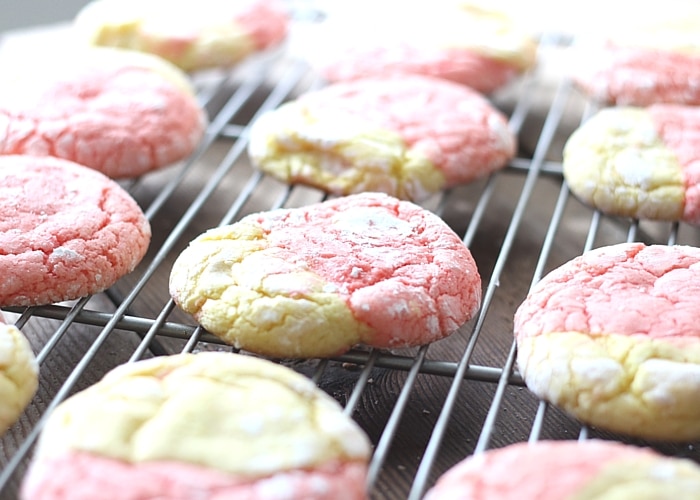 Strawberry Lemonade Cookies
INGREDIENTS
For the Cookies – 
1 (15.25 ounce) lemon cake mix
1 (15.25 ounce) strawberry cake mix
4 eggs
2/3 cup vegetable oil (1/3 for each mix)
2 teaspoons lemon extract
1-2 cups powdered sugar (divided)
1-2 tablespoons milk
For the icing, optional – 
1 cup powdered sugar

approx. 1 tablespoon of milk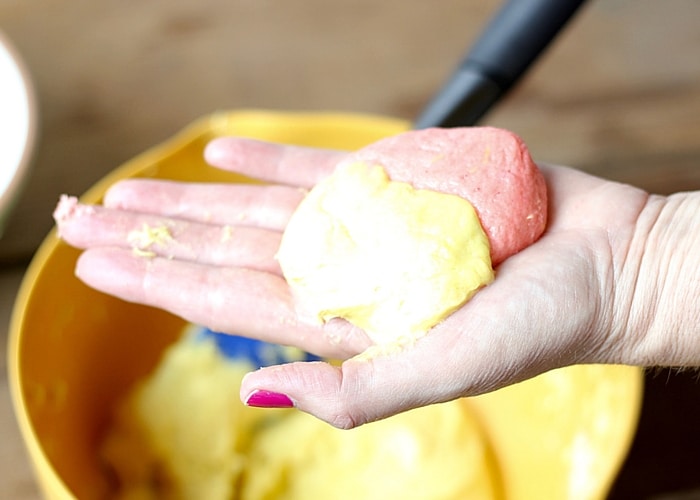 DIRECTIONS
Preheat oven to 375 degrees.
Place lemon cake mix into a large bowl and the strawberry cake mix into another large bowl. Mix 2 eggs, 1/3 cup vegetable oil, and 1 tsp lemon extract into each flavored cake mix until well blended.
Place dough in the refrigerator for 20 minutes to firm slightly.
Take 1 rounded teaspoons of lemon dough and roll into a ball. Do the same with the strawberry dough. Combine the lemon and strawberry dough to make one large ball.

Place the dough ball in a bowl with 1 cup of powdered sugar, and roll to lightly coat in powdered sugar. Place on a parchment covered baking sheet at least 2 inches apart. Repeat with remaining dough.

Bake 10 minutes until they turn slightly golden and are cooked through. Transfer to wire rack and let cool completely before frosting and serving.

To make the icing, which is totally optional, whisk together 1 cup powdered sugar with 1 tablespoon of milk until combined.  Add more milk for desired consistency.  Once the cookies reach room temperature, drizzle icing on each cookie with a fork or piping bag.
TIP – Make sure you place the dough in the refrigerator for at least 20 minutes.  If the dough is too soft, it will stick to your hands and be hard to roll. Place back in the fridge between batches so dough stays firm.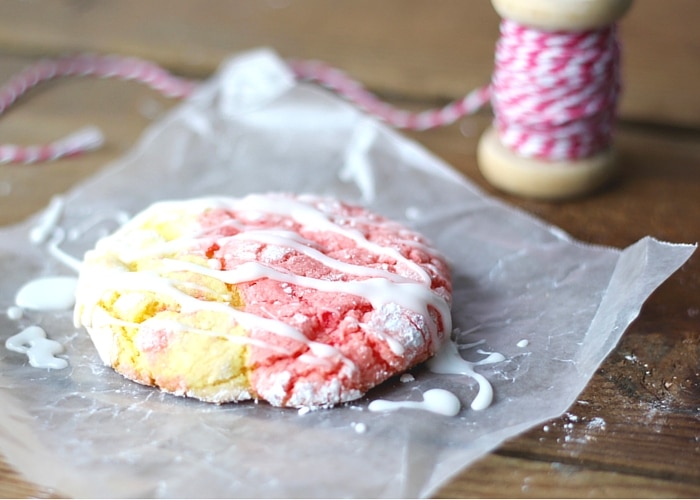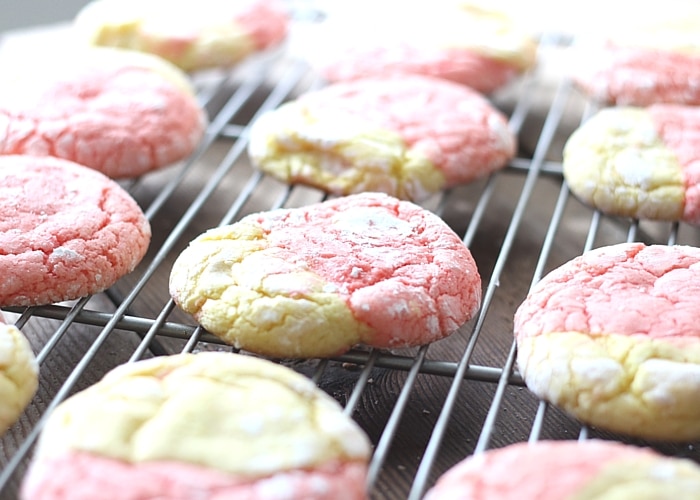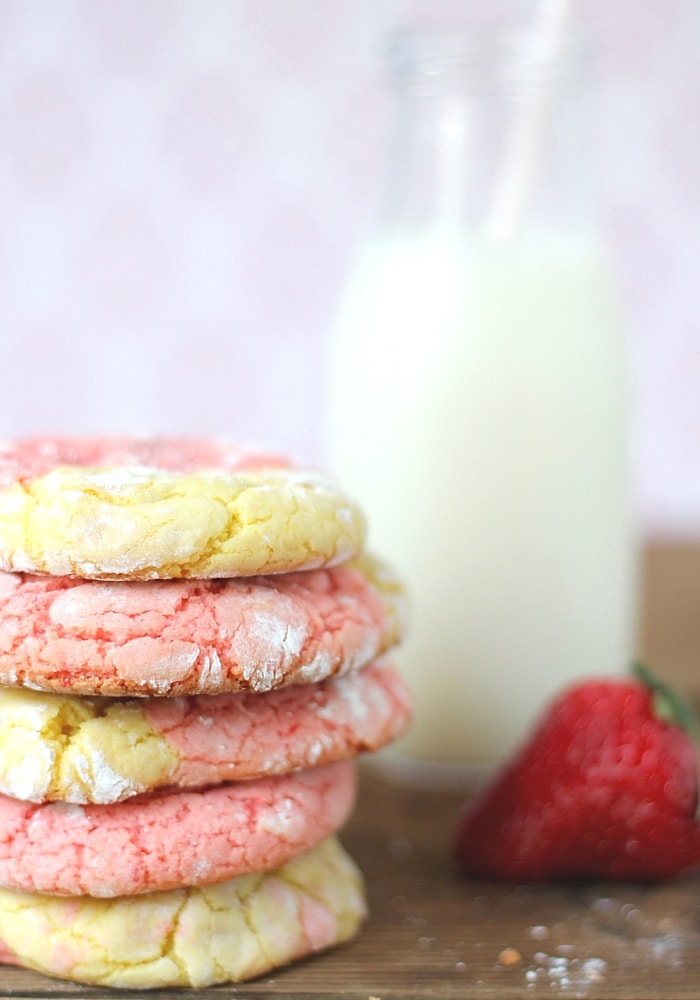 Whether it's summer or you're just dreaming of summer, have fun watching these Strawberry Lemonade Cookies bake up into cute swirly designs!