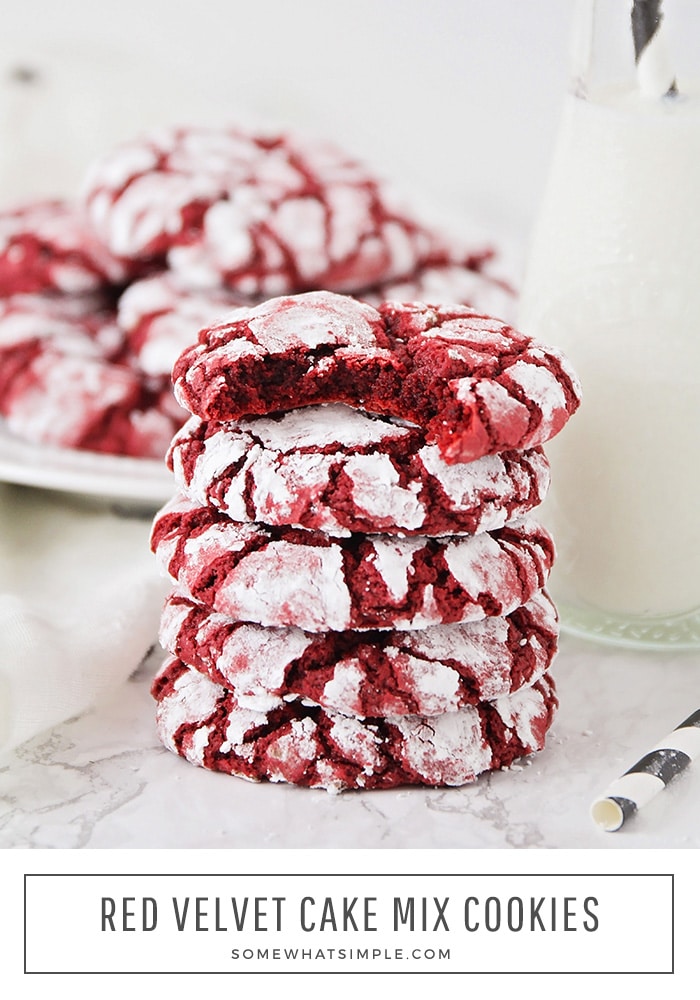 These red velvet cake mix cookies taste just like luscious red velvet cake, but in cookie form. Made using a box of your favorite cake mix, they're an easy dessert you can make quickly any time!
Easy cookie recipes are kind of our jam! Here are a few more of our favorites – Lemon Cake Mix Cookies with Cool Whip, Devil's Food Cake Mix Cookies, and Strawberry Lemonade Cookies.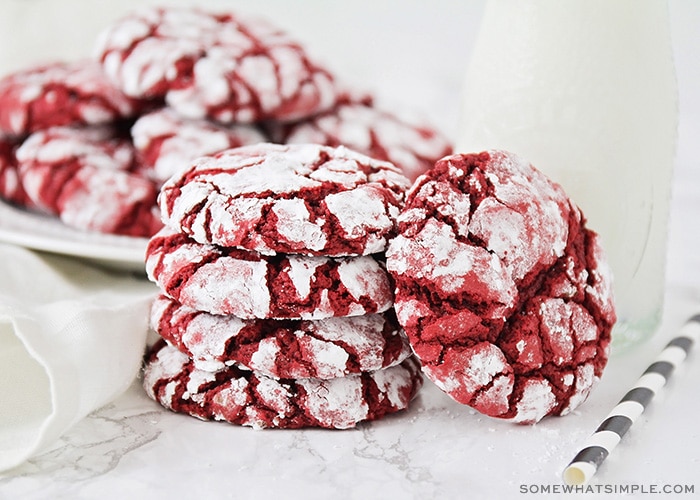 Red Velvet Magic
Who else is a huge red velvet fan? There's something so special about red velvet cake… the rich red color, the hint of cocoa flavor, the overall decadence. It's almost magical and it's so delicious that I love the flavor in a variety of recipes like these Red Velvet Pancakes and Cheesecake.
Life can get pretty chaotic, so I love finding using shortcuts any time I'm in a time crunch. One of my favorites is to use cake mix when I make cookies or other desserts. Using a cake mix is the perfect shortcut for making these quick and easy cookies. All of the dry ingredients are ready to go and pre-measured, so the cookie dough comes together quickly with minimal effort.
The great part about it, is there are so many different varieties of cake mixes to use, the flavors are endless. These red velvet cake mix cookies are the perfect way to enjoy that red velvet flavor, but in an easy to make cookie. They're simple and quick to make, and so indulgent and rich!
How To Make Cookies With Red Velvet Cake Mix
Prep – Preheat your oven to 350 degrees F while you're prepping the cookie batter. I also like to line my cookie sheets with parchment paper or a silicone baking mat for easier cleanup.
Mix – In addition to the cake mix, you'll need oil, eggs, and powdered sugar. Start by mixing the oil and eggs into a mixing bowl until they're blended together. Next, you'll add in the box of red velvet cake mix to the bowl and stir everything together until you have a nice thick batter. I just love the rich red color of the dough. It's so pretty!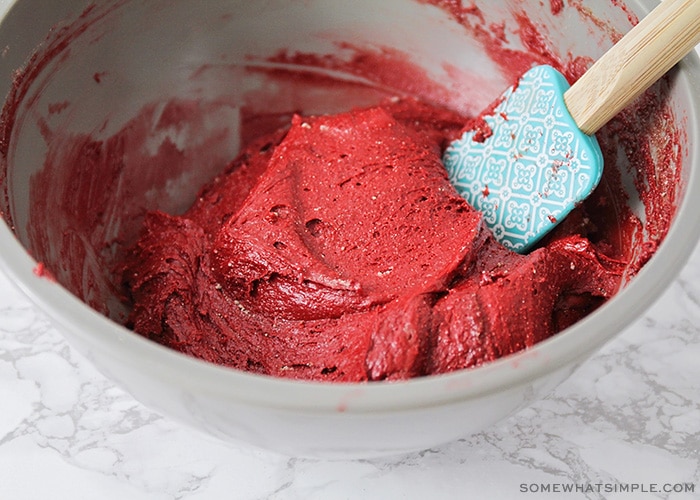 Roll It Up – Once the dough is all mixed together, you'll scoop the batter and form it into balls. Roll each of the balls in powdered sugar and then place them on the baking sheet. I've found that using a cookie scoop makes it easier to make all of the cookies the same size. If you don't have one, you can easily just scoop them with a tablespoon instead.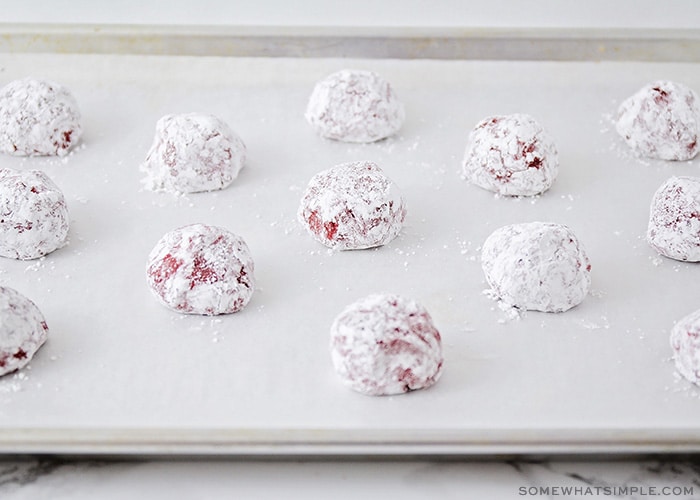 Add Some Heat – Bake the cookies for about 7-9 minutes. Allow them to cool on the baking sheet for a few minutes before moving them to a cooling rack. The tops will crack as the cookies bake, so the gorgeous red velvet color can show through the powdered sugar. They are so pretty!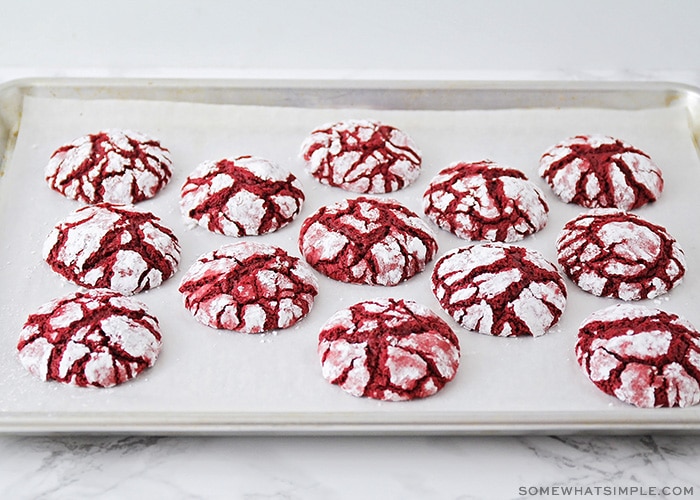 Recipe Tips
Wet Then Dry – Be sure to mix the wet ingredients together first before adding them to the dry ingredients in the cake mix. This will help your cookies to turn out fluffier.
Do The Bottoms Burn? – If the bottoms of your cookies are burning before they're cooked all the way through, try moving the baking rack a little higher in the oven. If that still doesn't work, it's probably time to buy new cookie sheets.
Mix-Ins – I love these red velvet cookies just how they are but sometimes I like to add a little something extra to the recipe. Some of my favorite things to add are white chocolate chips or pieces of macadamia nuts. Another great option is to top them with some Cream Cheese Frosting.
Other Cake Mix Desserts
These cookies are quite rich, so I like to eat them with a cold glass of milk on the side. The edges are crisp, but the insides are so soft and tender, and have that signature red velvet flavor. These red velvet cake mix cookies are so delicious! Leave us a comment below and let us know if you loved them as much as we do. Also, snap a picture the next time you make this and tag us on social media so we can see you enjoying one of our recipes!
Red Velvet Cake Mix Cookies Recipe
These red velvet cake mix cookies taste just like luscious red velvet cake, but in cookie form. They're so simple and quick to make!
Ingredients
1/3

cup

oil

2

eggs

1

box red velvet cake mix

1/2

cup

powdered sugar
Instructions
Preheat the oven to 350. In a medium bowl, stir together the oil and eggs until well blended. Add the cake mix and stir until the dough comes together.

Using a cookie scoop or a tablespoon, scoop the dough into one inch balls. Roll each of the balls in the powdered sugar, then place on a baking sheet, spacing about 2 inches apart.

Bake 7-9 minutes, or until they are very lightly browned around the edges and the tops look dry. Let cool on the pan for 5-10 minutes before moving to a cooling rack to cool completely.
Nutrition
Other Notes