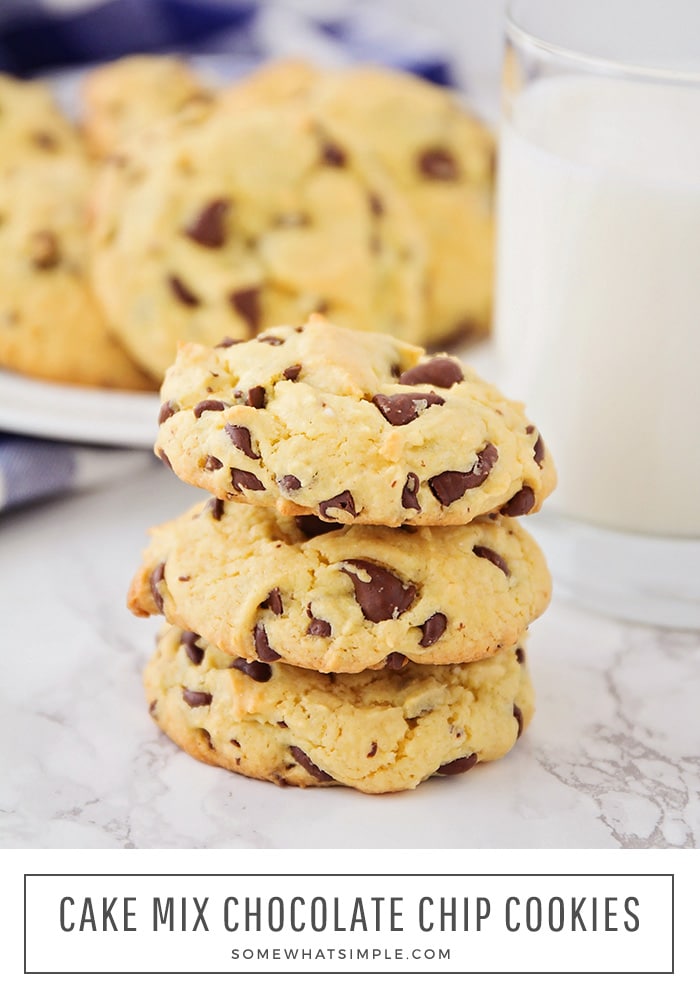 These cake mix chocolate chip cookies are the easiest cookies ever! They're soft and tender, and loaded with chocolate chips!
Warm chocolate chip cookies are one of our favorite treats! Here are a few more favorite recipes that call for chocolate chips you'll absolutely love – Peanut Butter Chocolate Chip Cookies, 3 Ingredient Pumpkin Chocolate Chip Cookies, and Cake Mix Cookie Bars.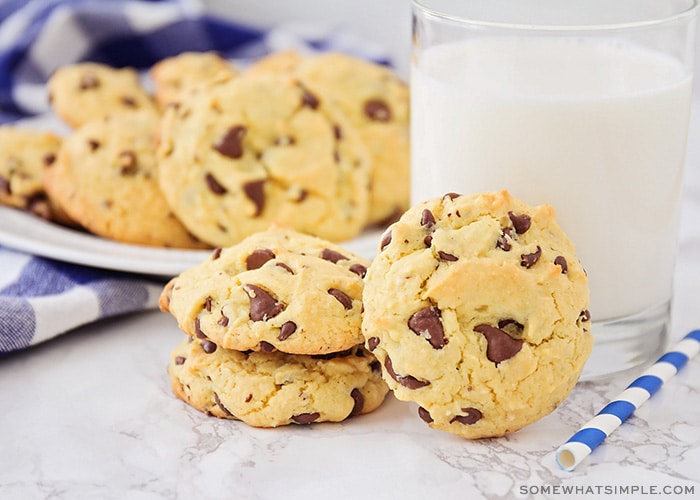 A Quick & Easy Dessert
A good chocolate chip cookie is a thing of beauty! They always remind me of my childhood when I would eat one too many of them when they'd come right out of the oven. Needless to say, they're one of my favorite cookies to make. They're simple and wholesome and delicious.
Then I came across this simple shortcut to make these delicious cookies. It's perfect for when I'm a little short on time, or am missing one of the ingredients to make them from scratch. These cake mix chocolate chip cookies are a fun new twist, and they're even easier to make than regular chocolate chip cookies. Delicious cookies that are ready in less than twenty minutes? Sign me up!
How To Make Cake Mix Chocolate Chip Cookies
Get Ready – Starting with a yellow cake mix makes these cookies a breeze to make. I like to use yellow cake mix, but white cake mix will also work. You'll also need oil, eggs, and chocolate chips. Before you start mixing the ingredients, preheat the oven to 350 degrees F.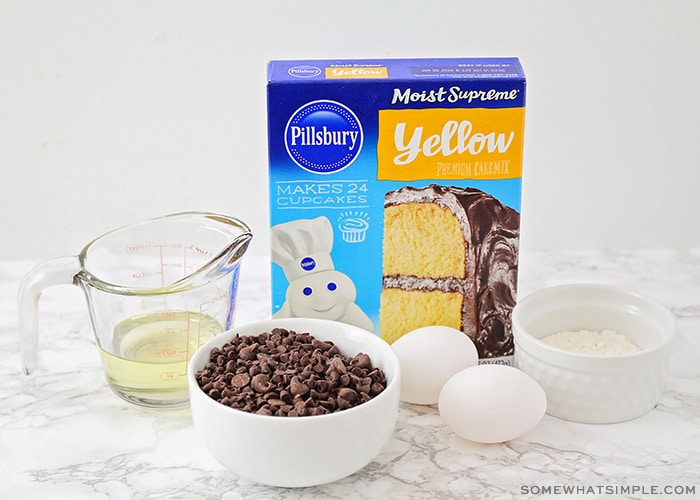 Mix It Up – Mix the eggs and oil together in a medium-sized bowl until they're fully blended. Next add the yellow cake mix and the extra flour and stir until combined. After the dough is made, stir in the chocolate chips.
Roll The Dough – Once the dough is mixed together, scoop it out into one inch balls on a cookie sheet. Give them plenty of space to grow as they bake, or they will all end up stuck together. A cookie scoop is always helpful, but you can use a tablespoon instead if you don't have one on hand.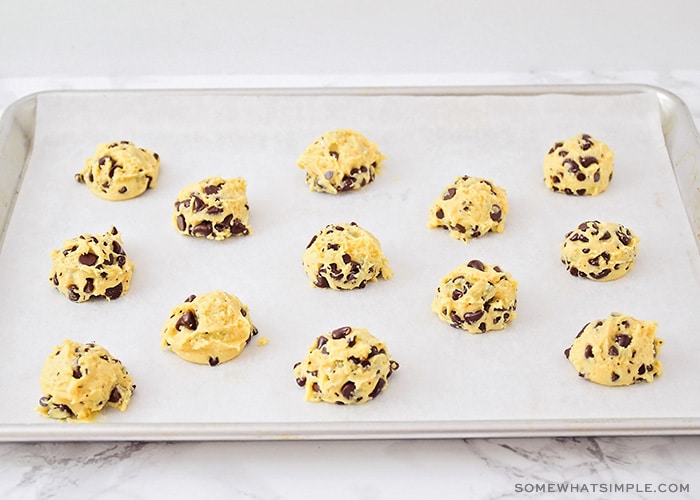 Bring The Heat – Bake the cookies until they are just slightly browned on the bottom. Let them cool on the baking sheet for a few minutes, then move them to a cooling rack to cool completely.
Recipe Tips
Best Texture – I added a little bit of flour to the dough to help the texture of the cookies be a little more like traditional chocolate chip cookies.
Best Chocolate Chips To Use – I didn't quite have enough regular chocolate chips, so I used a mixture of regular size and mini size. The combination of sizes was actually really great and made for more chocolate in each bite. So yummy!
Size Matters – When you roll out the dough balls, you'll want to make sure they are equally sized. This will help the cookies to cook evenly.
Make'em Fluffy – They key to getting fluffier cookies is to mix the wet ingredients together first, then adding in the dry ingredients from the yellow cake mix.
More Cake Mix Dessert Recipes
These cake mix chocolate chip cookies are crisp on the edges, but soft and chewy in the middle. The cake mix adds such a delicious flavor, and makes these cookies unique and special. They are the easiest chocolate chip cookies you will ever make! Leave us a comment below and let us know how you liked them.
Cake Mix Chocolate Chip Cookies
These cake mix chocolate chip cookies are the easiest cookies ever! They're soft and tender, and loaded with chocolate chips!
Instructions
Preheat the oven to 350. In a medium bowl, stir together the oil and eggs until well blended. Add the cake mix and flour, and stir until the dough comes together. Add the chocolate chips and stir until they are blended in.

Using a cookie scoop or a tablespoon, scoop one inch balls of dough onto a baking sheet, spacing about 2 inches apart.

Bake 7-9 minutes, or until they are very lightly browned around the edges and the tops look dry. Let cool on the pan for 5-10 minutes before moving to a cooling rack to cool completely.
Nutrition
Other Notes