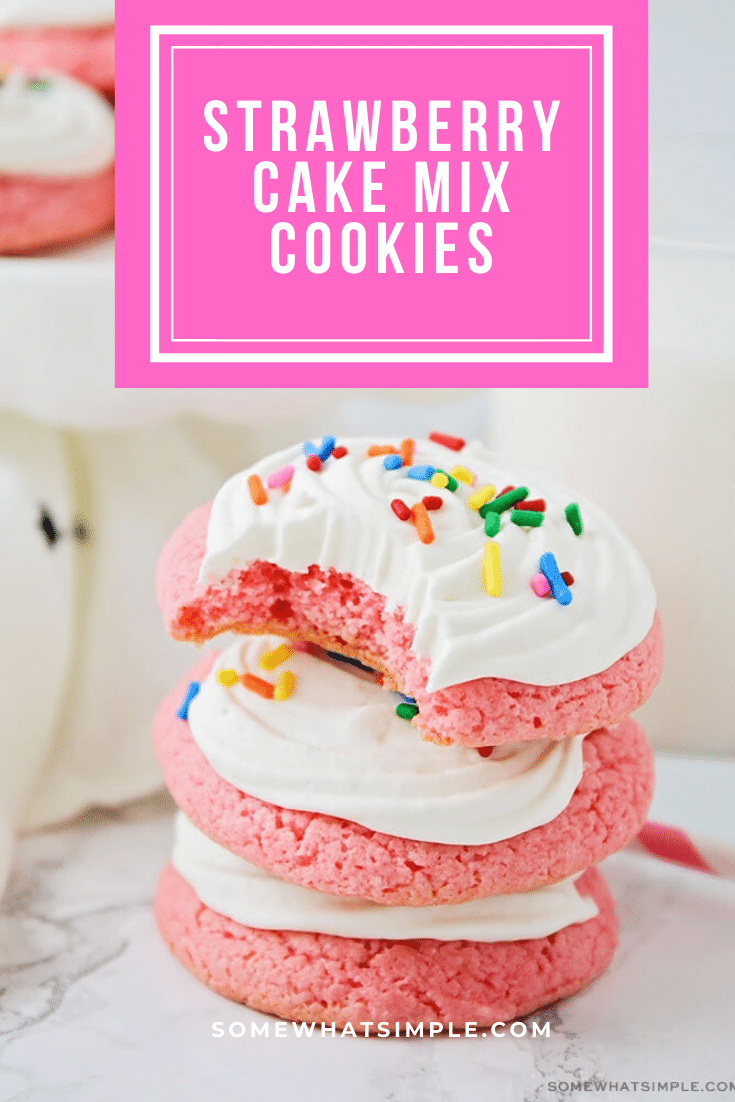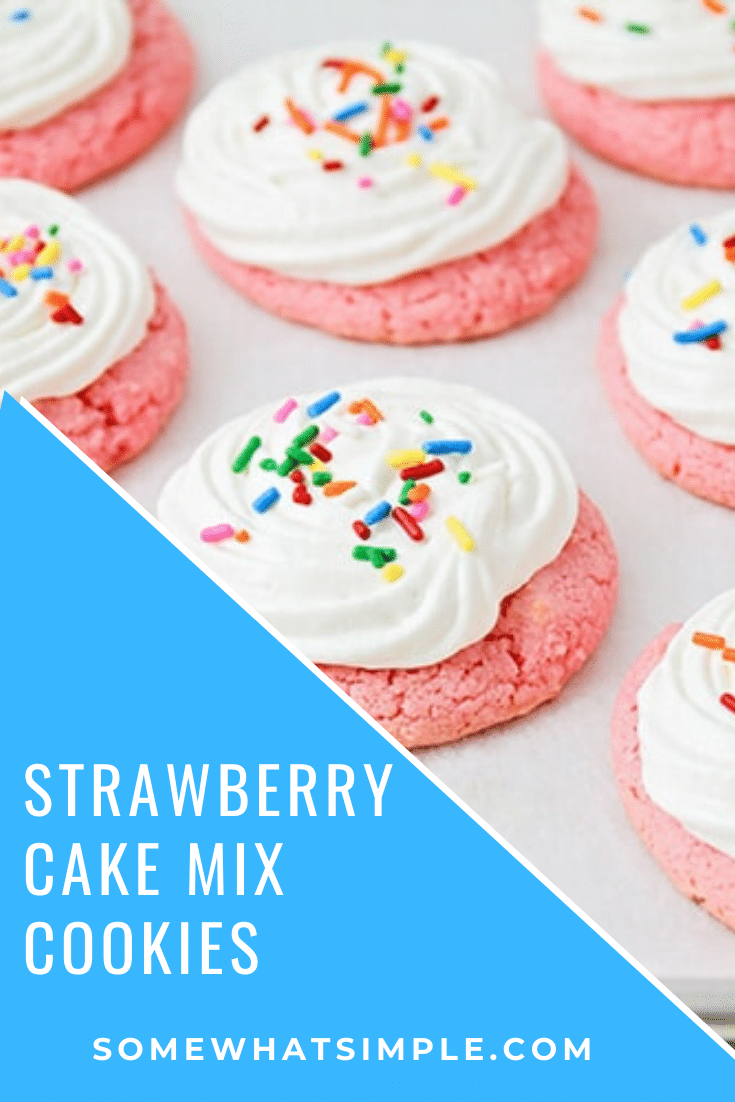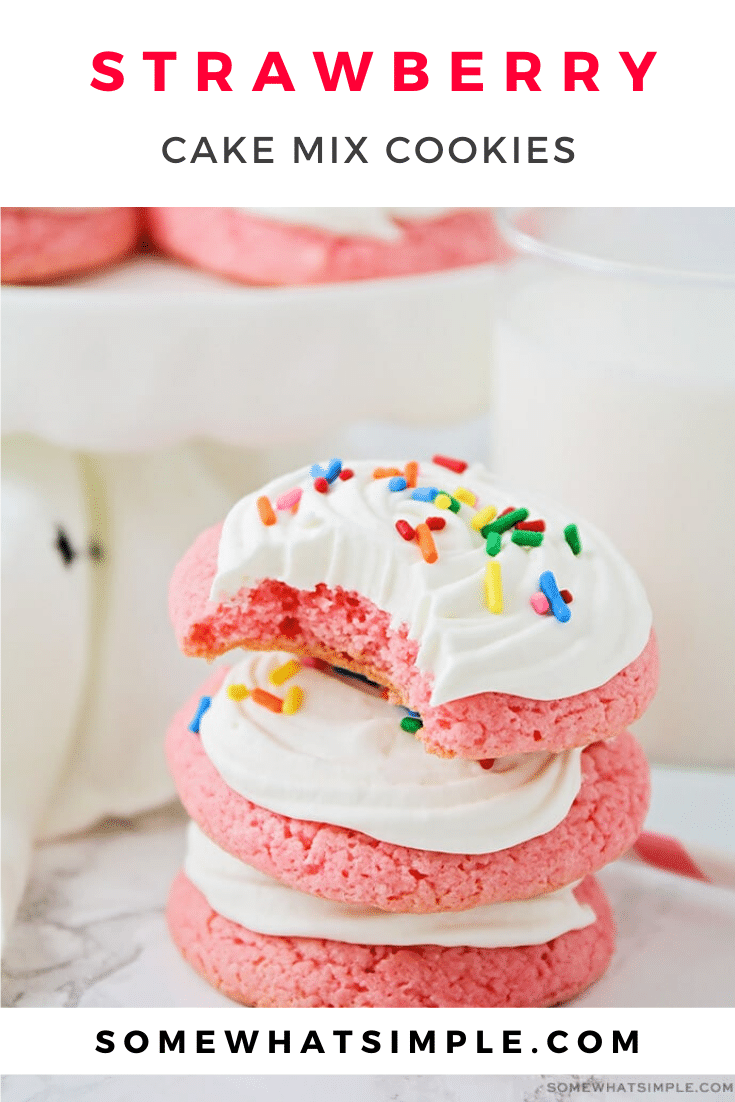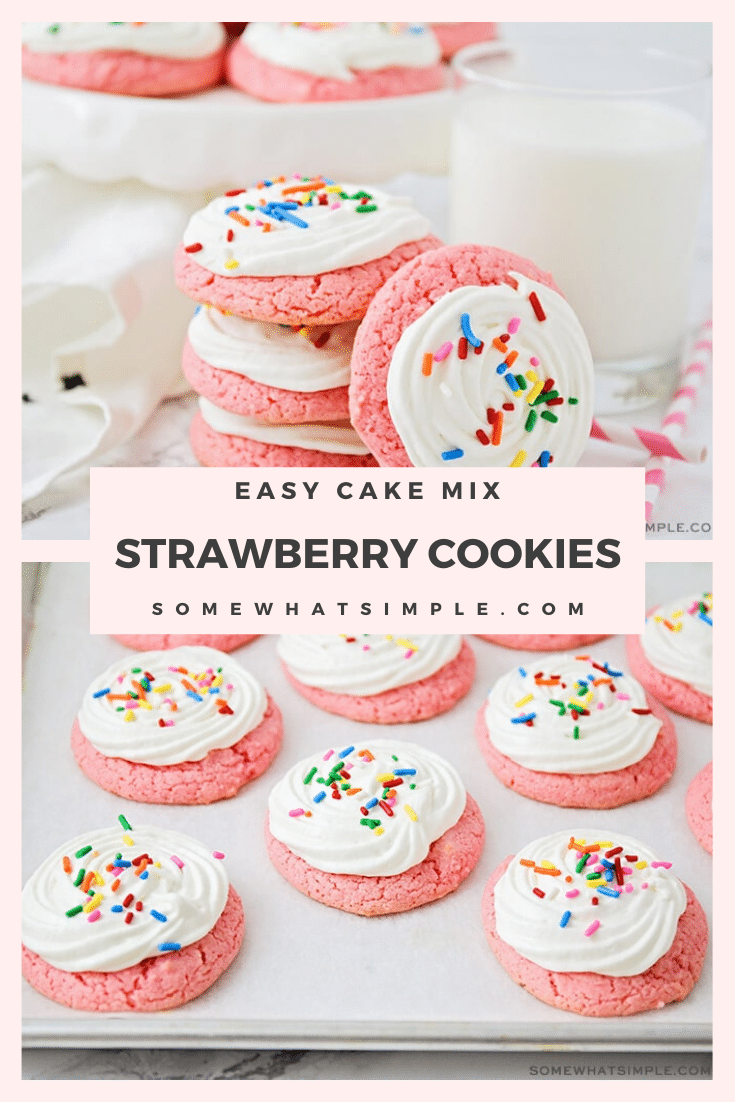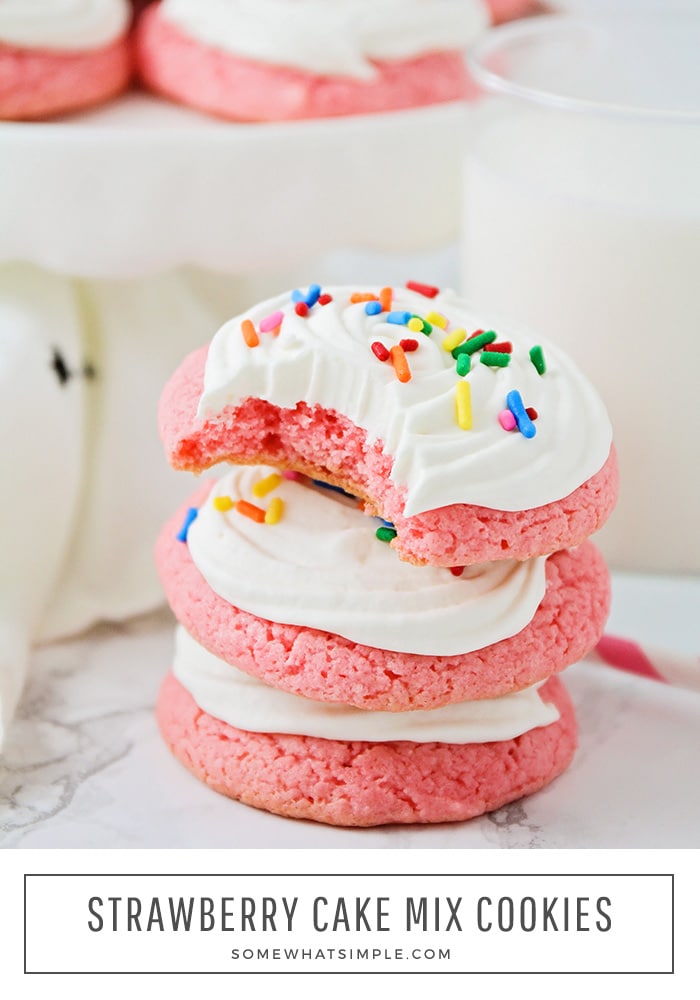 Strawberry cake mix cookies are so easy to make, and have the most delicious strawberry flavor! Using your favorite box of cake mix, you can make this cookie recipe in just minutes with virtually no hassle!
Looking for more strawberry recipes? Here are a few of our favorite – Easy Strawberry Shortcake, Homemade Strawberry Marshmallows, and Simple Strawberry Cream Puffs.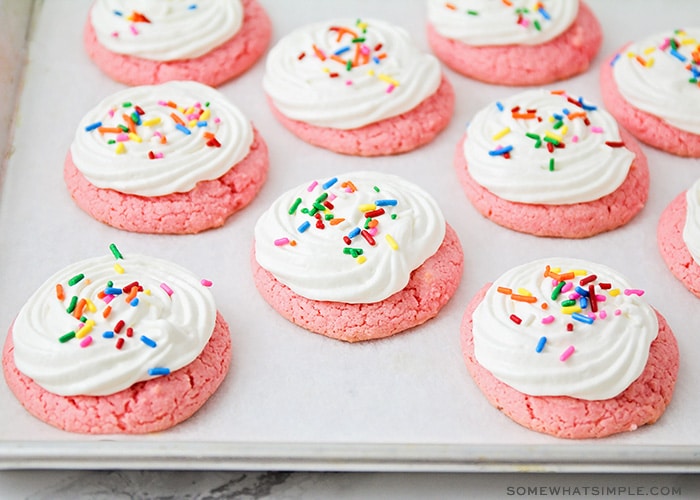 No Hassle Cookies
If you're anything like me, then you love a good cookie! I consider a day without a cookie to be a pretty sad day. As much as I enjoy baking cookies, though, sometimes I just need a quick shortcut method, and that's where these cake mix cookies come in!
The cookies themselves have only three ingredients, and the cookie dough takes just a few minutes to whip up. That means I can have delicious cookies on hand in about 15 minutes, which is great for when the cookie cravings strike. These strawberry cake mix cookies taste delicious, and I love that they are so easy to make!
How To Make Strawberry Cake Mix Cookies
I love the unique strawberry flavor of these cookies! Strawberry is always one of my favorite flavors, and these pretty pink cookies are the perfect way to show off that flavor. To make these cookies, you will just need cake mix, eggs, and oil. It doesn't get easier than that!
Easy Prep – Preheat your oven to 350 degrees F before you start making the batter for these delicious cookies. I also like to line my baking sheets with either parchment paper or a silicon baking sheet to make things easier.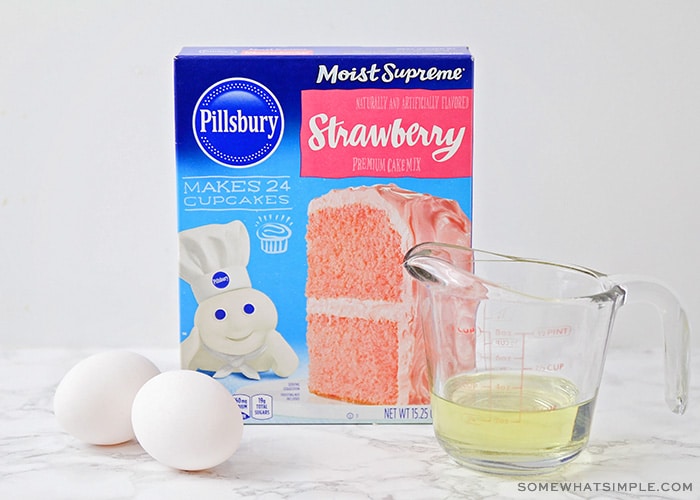 Mix It Up – Start by mixing the eggs and the oil together until they are completely blended together. Next, you'll want to stir in the box of cake mix until you have formed a thick dough. I used a box .of Pillsbury cake mix but any brand will work just fine. It will be a little sticky, but it should still be easy to work with.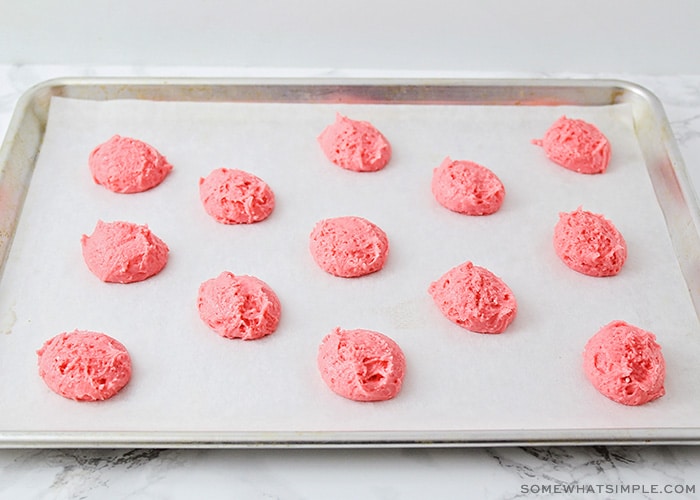 Form The Cookies – Scoop the dough onto a cookie sheet, spacing each ball of dough about 2 inches apart. These cookies will spread quite a bit as they bake, so be sure to give them room to spread out without blending together. I lined my cookie sheet with parchment to make them easier to clean but it's not strictly necessary.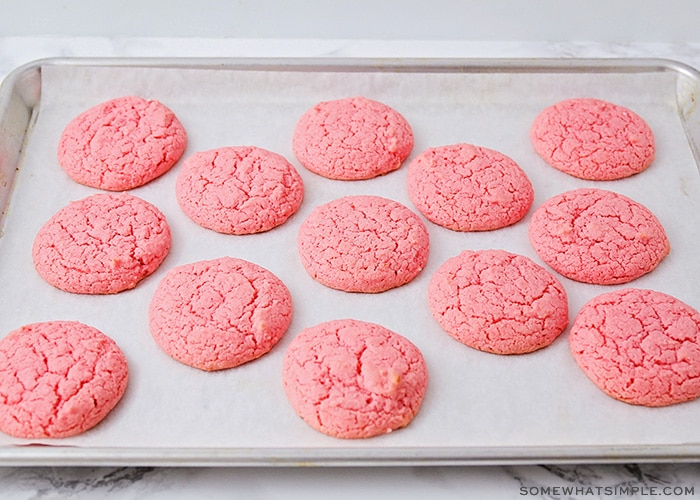 Bring The Heat – Bake the cookies for between 7-9 minutes. The bottoms should have just lightly browned and the tops should look dry. Let the cookie cool on the pan for a few minutes before moving them to a cooling rack to cool completely.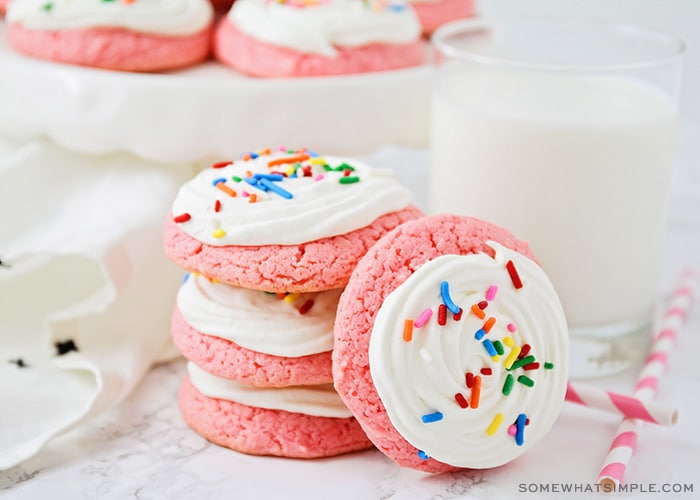 Recipe Tips
How To Get Fluffier Cookies – Be sure to mix the eggs and oil together first before adding them to the dry ingredients in the cake mix. This will help your cookies to turn out fluffier.
Bake To Perfection – To make sure the cookies bake evenly, you'll want to make sure ball of dough are similar in size. I like to use a cookie scoop because it makes forming the dough fast, easy and the balls are always the same size.
Frost Them – Once they have cooled, you can eat them as is, or you can add some luxurious cream cheese frosting to the top to make them extra delicious. Our cream cheese frosting recipe is truly the best, and makes these cookies extra delicious!
Bedazzle Them – You can finish them off with a few sprinkles for an extra festive touch or anything else you like to add on top.
More Cake Mix Dessert Recipes
These strawberry cake mix cookies are so colorful and fun, and the strawberry flavor is perfect. You definitely need to give these a try! Leave us a comment below and let us know how you like them or take a picture of you enjoying this easy recipe and tag us on social media!
Strawberry Cake Mix Cookies Recipe
These colorful and festive strawberry cake mix cookies are so easy to make, and have the most delicious strawberry flavor!
Ingredients
1/3

cup

oil

2

eggs

1

box strawberry cake mix

cream cheese frosting

sprinkles
Instructions
Preheat the oven to 350 degrees F. In a medium bowl, stir together the oil and eggs until well blended. Add the cake mix and stir until the dough comes together.

Using a cookie scoop or a tablespoon, scoop one inch balls of dough onto a baking sheet, spacing about 2 inches apart.

Bake 7-9 minutes, or until they are very lightly browned around the edges and the tops look dry. Let cool on the pan for 5-10 minutes before moving to a cooling rack to cool completely.

After the cookies have cooled, frost them with the cream cheese frosting and add sprinkles on top.
Nutrition
Other Notes