These blackberry crumb bars are full of juicy blackberries and topped with a crisp buttery crumb topping. So simple and easy to make, and so delicious!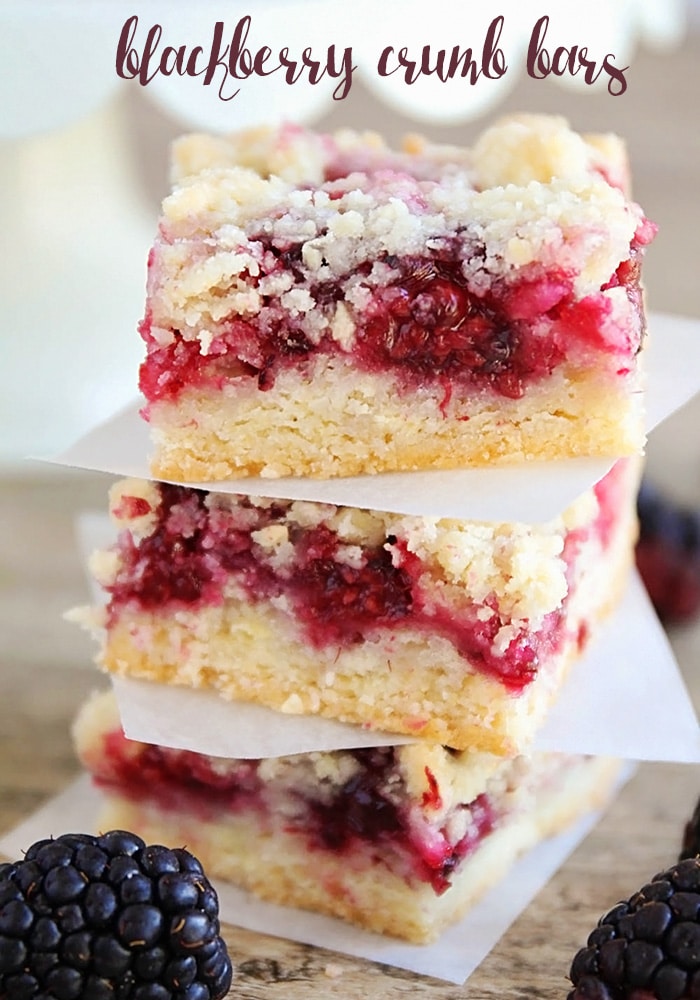 To me, blackberries are a very underrated fruit. When people think of berries, they usually go for strawberries, raspberries, or blueberries. (And I think we've all had that experience of biting into a sour blackberry and having our face pucker up.) But a perfectly ripe blackberry is a thing of wonder. You bite into it and your mouth fills with sweet blackberry juice, and the flavor is incredible! They are some of my favorite berries to use for baking, and I will never say no to a good blackberry jam. These blackberry crumb bars are perfect for highlighting those sweet and juicy berries and giving them their due! I've made several varieties of crumb bars in the past (like these blueberry crumb bars or these peach crumb bars) but these might be my very favorite!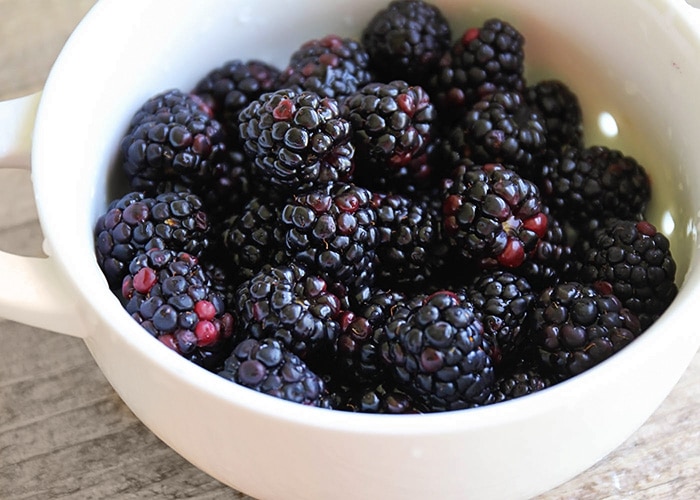 The crumb mixture has just six simple ingredients, and mixes together in a few minutes. You'll press about half of the crumb mixture into the bottom of a baking dish in an even layer.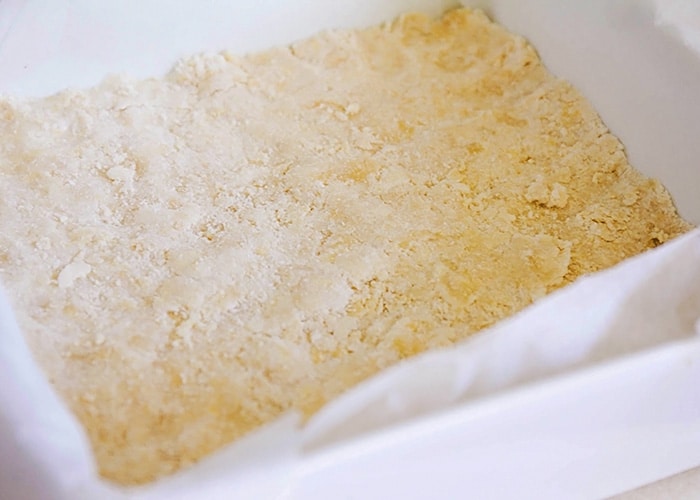 Then you'll add your fresh blackberries mixed with sugar and cornstarch. After that, you'll sprinkle the remaining crumb mixture on top. Super easy!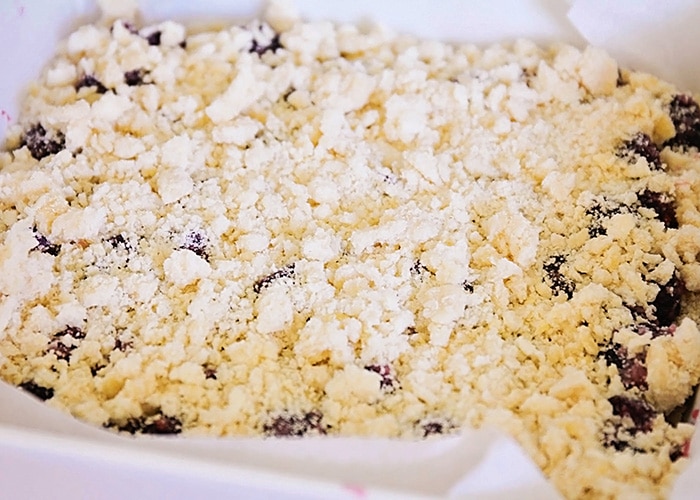 You'll then bake the bars until golden on top. The blackberries turn into an almost jam-like layer, and the buttery crumb topping gets crisp and delicious.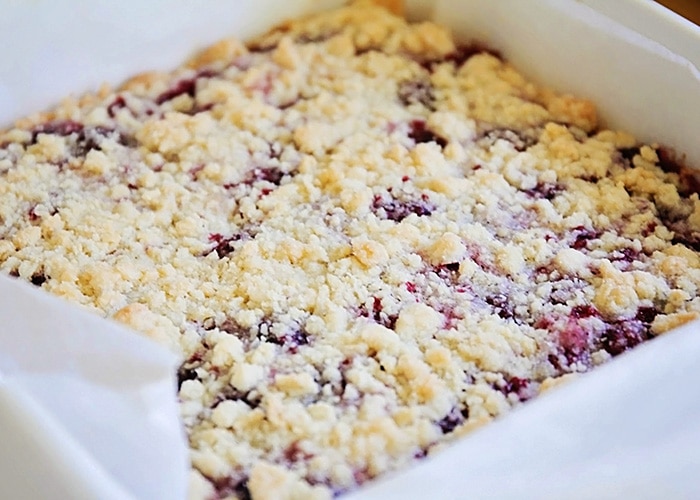 These bars are so simple and yet so delicious! If you love blackberries like I do, you will definitely have to try these bars!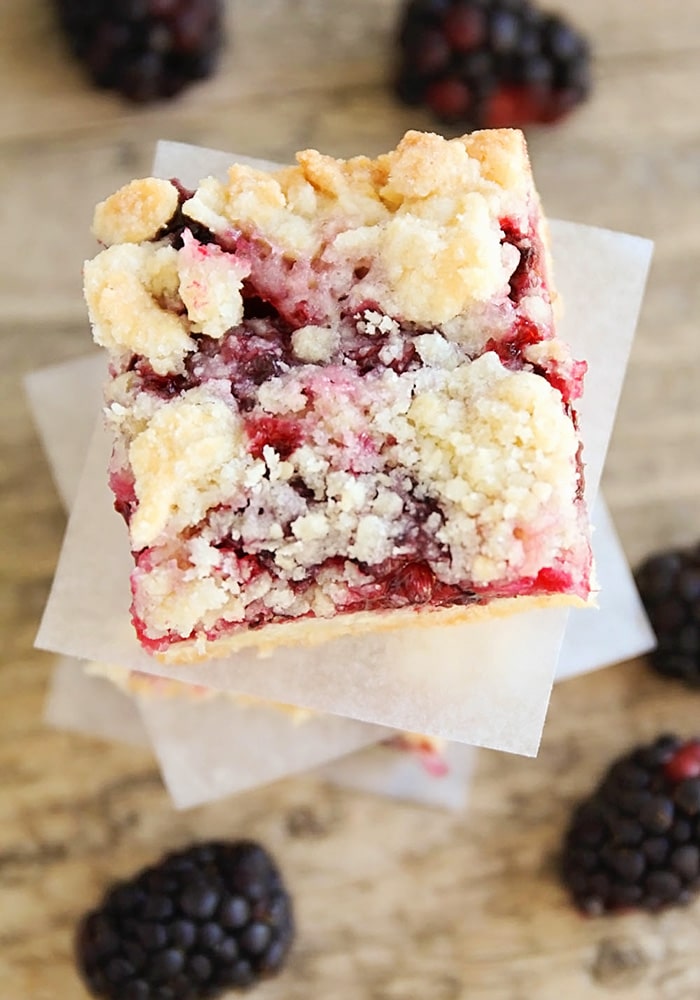 Blackberry Crumb Bars
INGREDIENTS:
1 cup sugar
1 teaspoon baking powder
1/4 teaspoon salt
3 cups flour
1 cup cold butter, grated
1 egg, beaten
4 cups fresh blackberries, cut in half
1/2 cup sugar
4 teaspoons corn starch
DIRECTIONS:
Preheat the oven to 375. Line a 9 x 13 pan with foil or spray with cooking spray.
In a medium bowl, whisk together the flour, sugar, baking powder, and salt. Add the butter and toss to coat in the dry mixture, then mix in the egg to form a crumbly dough. Press half of the dough into the prepared pan.
To make the filling, toss the with the sugar and corn starch. Spread the blackberries over the dough in the pan,  then crumble the remaining dough over the top, covering the blackberries evenly.
Bake 45-55 minutes, or until light golden brown. Let cool before cutting into squares.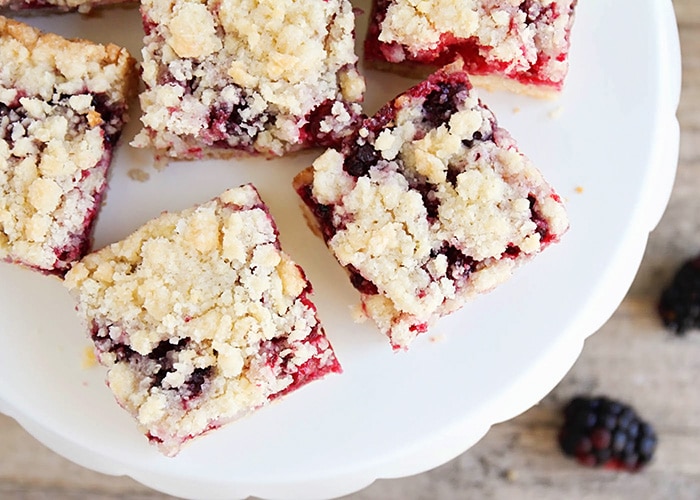 Hack Your Routine!
FREE E-COURSE
5 Time-Saving Tips for Crazy Busy Moms