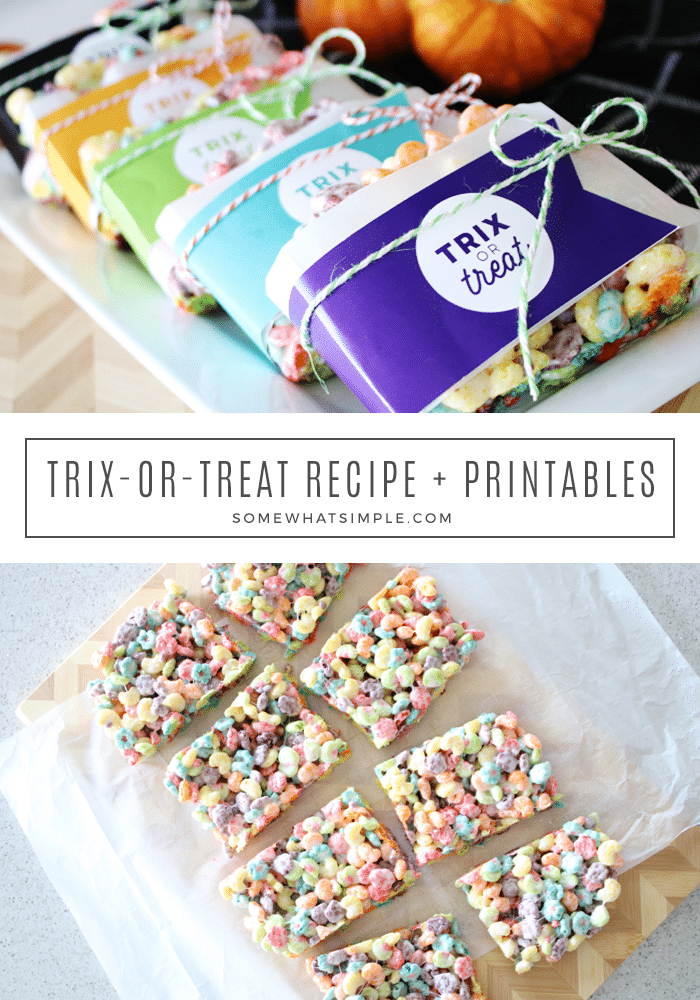 Trix or Treat Rice Krispies are a festive Halloween treat everyone will enjoy. Attach our FREE printable gift tags and transform them into a perfect gift or party favor!
Looking for more creative Halloween treats? Here are a few we think you'll LOVE – Bugs and Kisses, Eye Candy, and Zombie Bait.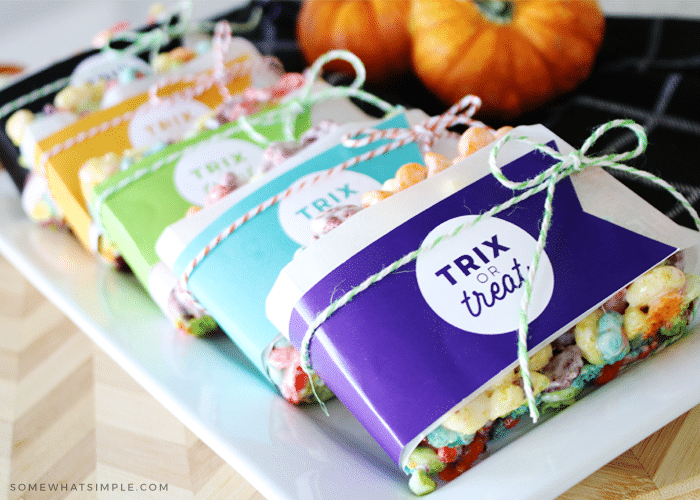 Halloween Rice Krispies Treats
If you've been following us for a while now, you've probably caught on to just how much with love a good Rice Krispie Treat. We have literally DOZENS of recipes, variations and holiday creations using the simple method of mixing crispy rice cereal with some butter and marshmallow. (Take a look at all our Rice Krispie ideas here.)
Today I want to show you the magic that can happen when you ditch the crispy rice and use one of my kids favorite cereals in it's place… Trix!
FYI – This is not sponsored in any way… although it should be! 🙂 I'm not getting paid by Trix or General Mills, or the National Cereal Association (if that's even a thing!)
Anyway, with that disclosure out of the way, let me show you this darling Halloween-ish version that my kids absolutely LOVED! Take a look: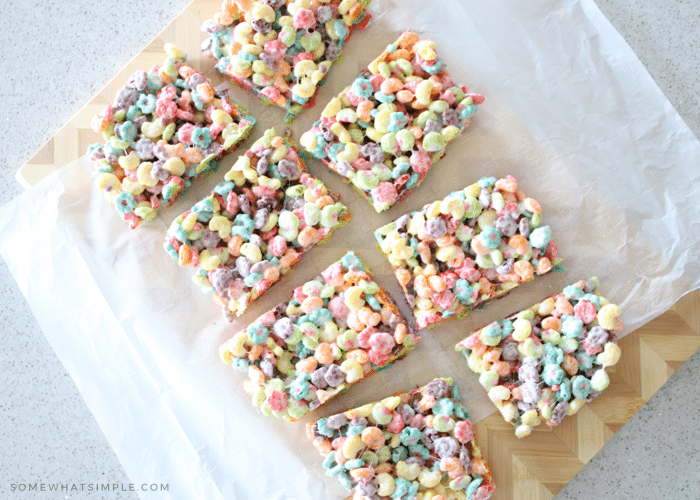 How To Make Trix Rice Krispies Treats
Melt It – Using a microwave safe bowl, melt the butter and marshmallows in the microwave. Start by warming them for about 2 minutes. If they're not fully melted, give them a good stir and then continue heating them for an additional minute or until they've melted.
Mix It – Stir in the Trix cereal until everything has been evenly coated.
Set It – Spread the Trix and Rice Krispies mix evenly into a 9×13 pan. You'll want to make sure you spray the pan with cooking spray or line it with parchment paper to make them easier to remove.
Cool It – Allow the marshmallow in the treats to completely cool. Once cooled, cut them into squares and then tie on a Trix or Treat tag with colorful twine.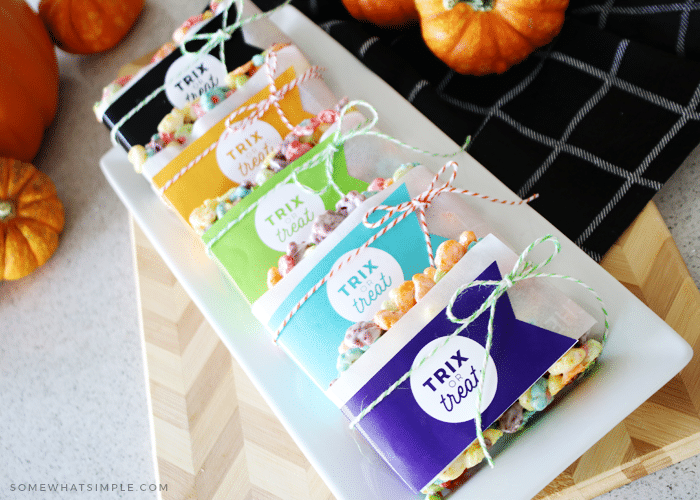 Other Fun Halloween Printables
Free Printable Trix Or Treat Tags
These are such fun little gifts for teachers, neighbors, school parties, visiting teaching and more! Fun, right?!

Bright, colorful, gooey and delicious! Wrap them up in some parchment paper + twine, and attach our darling gift tag, and your neighbors and friends will be singing your praises! How cute are these??? Leave us a comment below and let us know how you like this delicious variation!
Halloween Trix or Treat Rice Krispies
Halloween Trix or Treat Rice Krispies are simple and sweet, and our FREE printable gift tags add a festive Halloween touch!
Ingredients
3

tablespoons

butter

4

cups

mini marshmallows

6

cups

Trix cereal

parchment paper

twine

printable gift tag

,

printed and cut out
Instructions
In microwave-safe bowl, heat the butter and mini marshmallows for 2 minutes. Stir and then microwave for an additional minute, or until the marshmallows and butter are well mixed and smooth.

Add Trix cereal to the bowl and stir until evenly coated.

Press mixture into 13 x 9 inch pan coated with cooking spray or lined with parchment.

Let them cool for a bit so the marshmallow hardens.

Cut into squares or rectangles, then wrap in a strip of parchment paper. Add the printable gift tag, then secure with some twine.
Nutrition
Serving:
1
bar
·
Calories:
250
kcal
Other Notes