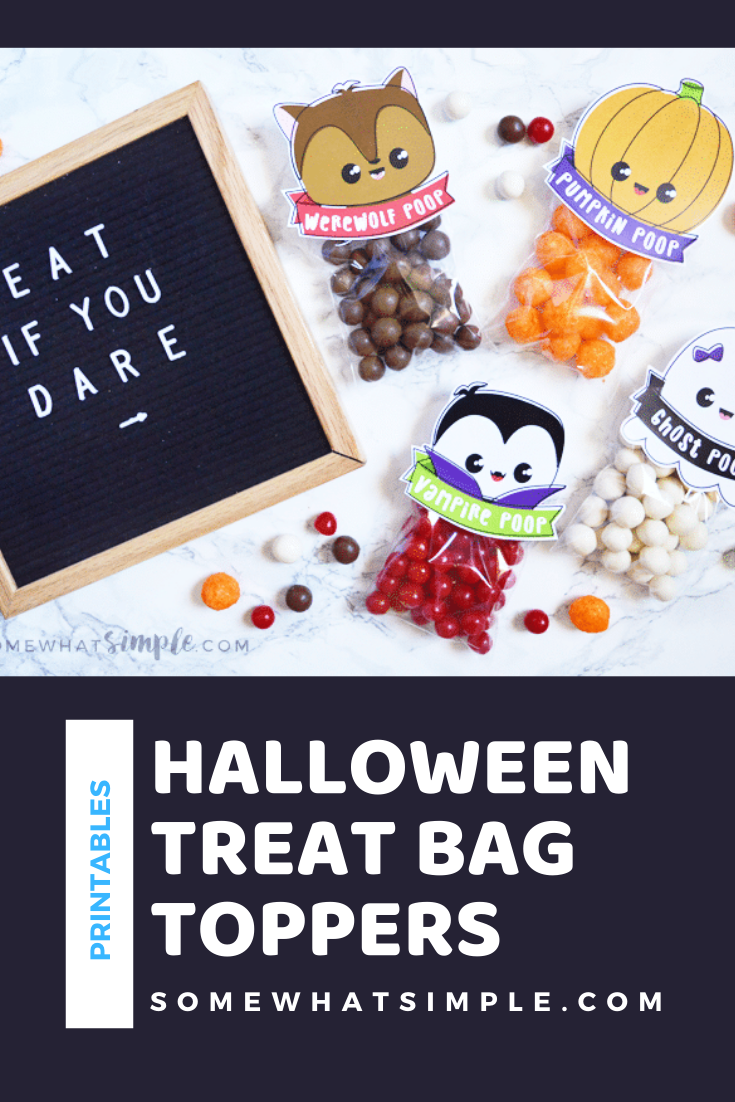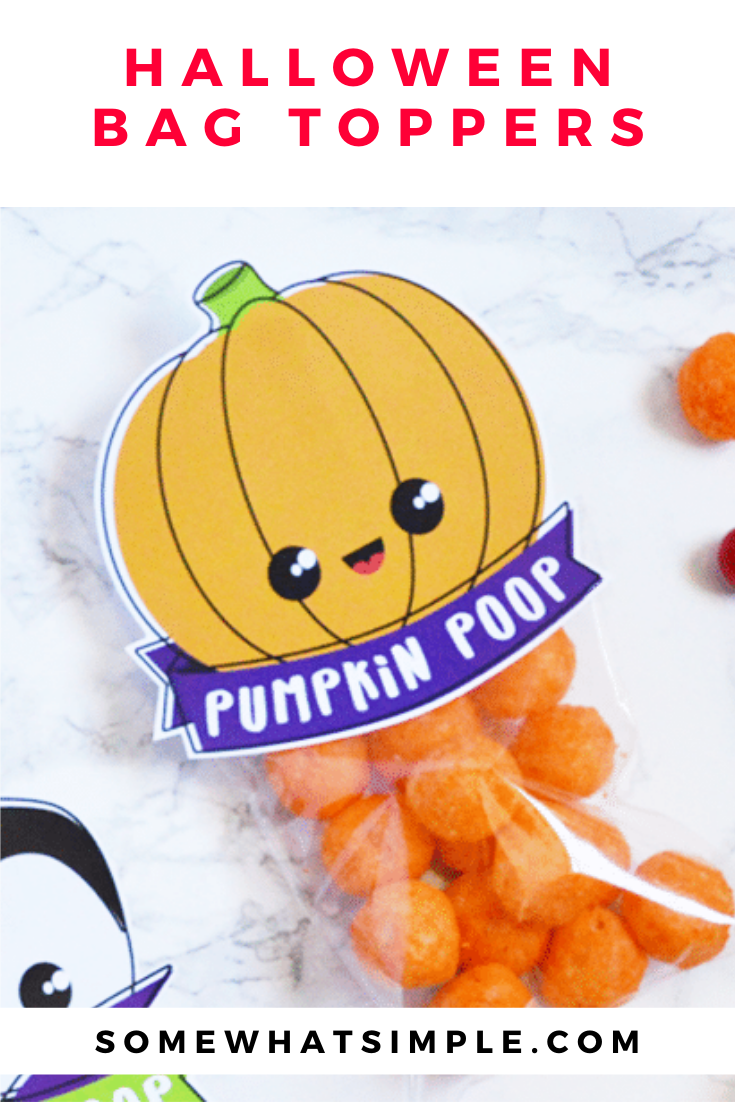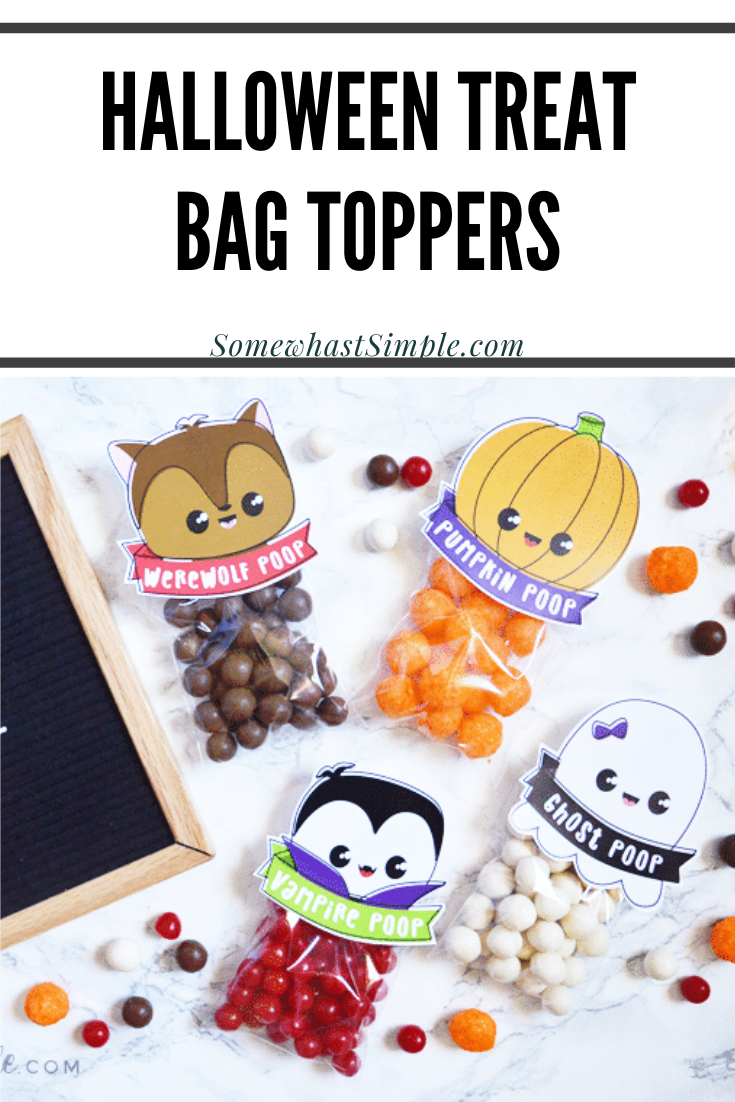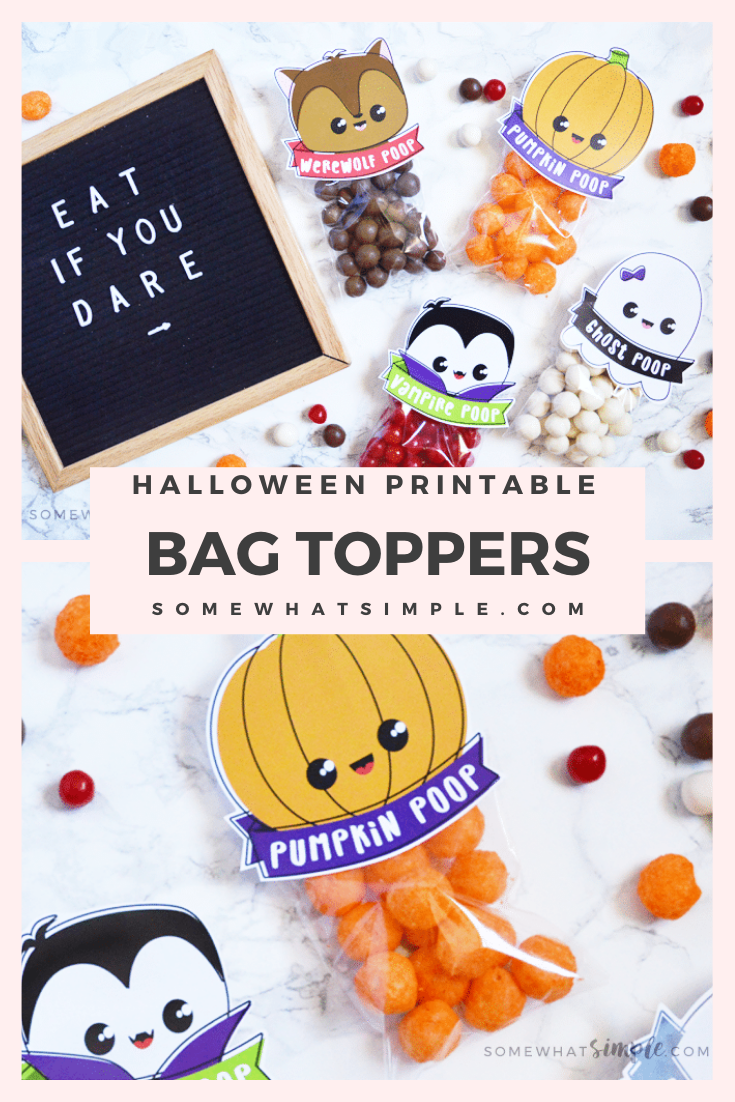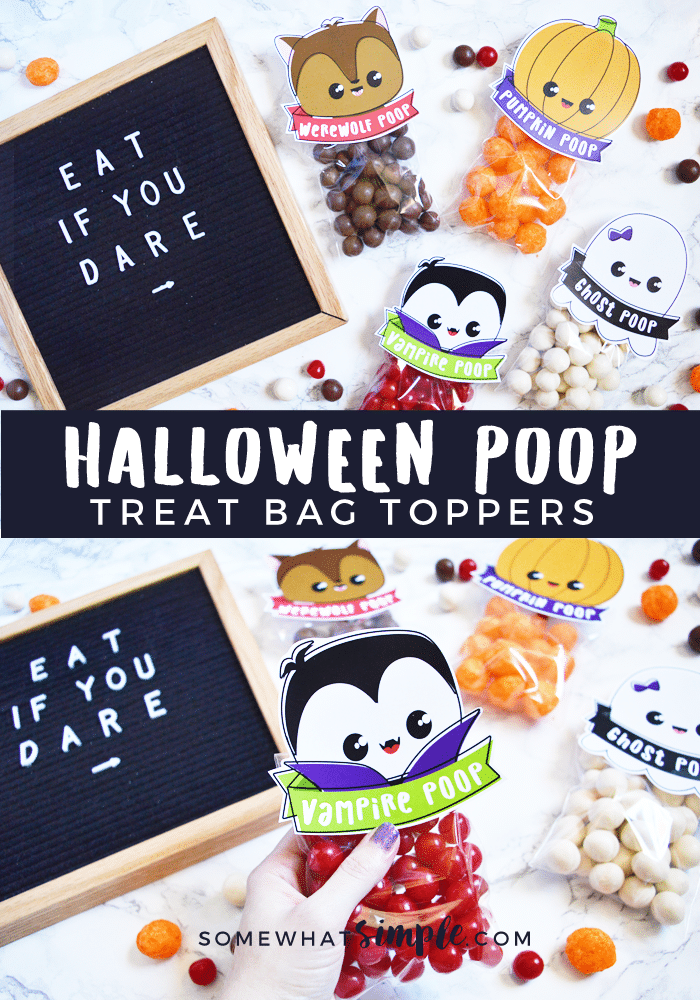 This hilarious pumpkin poop Halloween treat bag idea that kids of all ages will absolutely love! Make your Halloween treats more festive with these four funny designs.
These treat bags are a festive way to celebrate Halloween. Some of our other favorite Halloween treats are these Mummy Sugar Cookies, Pumpkin Popcorn Balls and these Witch Hat Cupcakes.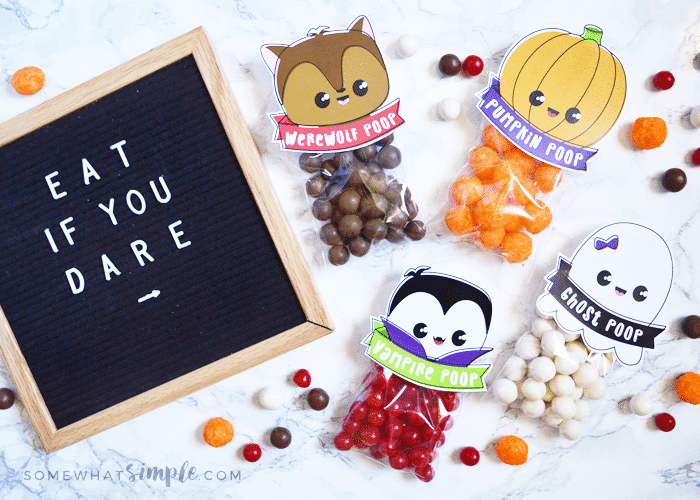 Halloween Treat Bag Idea
Want to send your kids to school with a Halloween treat that is sure to put a smile on their face? Need a simple (and hilarious) party favor? Whip up one, two, or all of our Halloween Treat bags in just a few minutes using our darling and simple printable gift tags!
These treat bags are also perfect as a party favor for your Halloween Party or you can hand them out to the trick or treaters as they come by. Though, if you do hand them out to the kids in the neighborhood, I would recommend using prepackaged candies that are the same color as the ideas suggested below.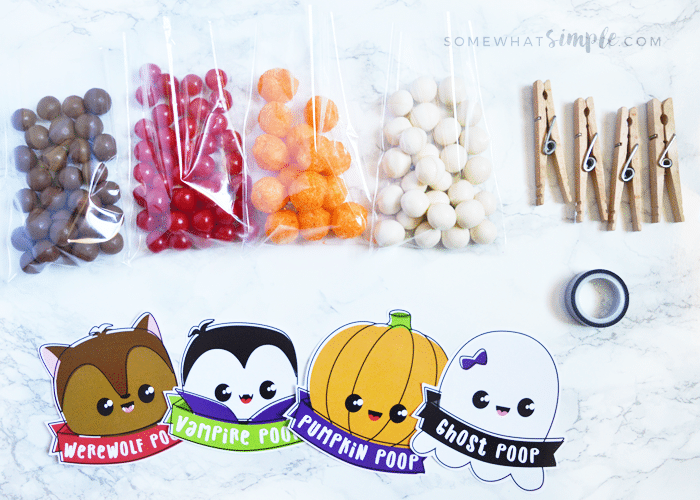 How To Make Pumpkin Poop Halloween Treat Bags
These Halloween treat bags are super easy to put together. All you need are a few simple supplies and then follow the easy instructions.
Supplies
Halloween Treat Bag Topper Printables (download here)
4×6 in. clear plastic bags
treats or snacks*
Directions
First, print off and cut out our adorable Halloween treat bag toppers.
Tape a clothes pin to the back of each character.
Fill the bags with coordinating treats.
Attach the clothespin, and you're done!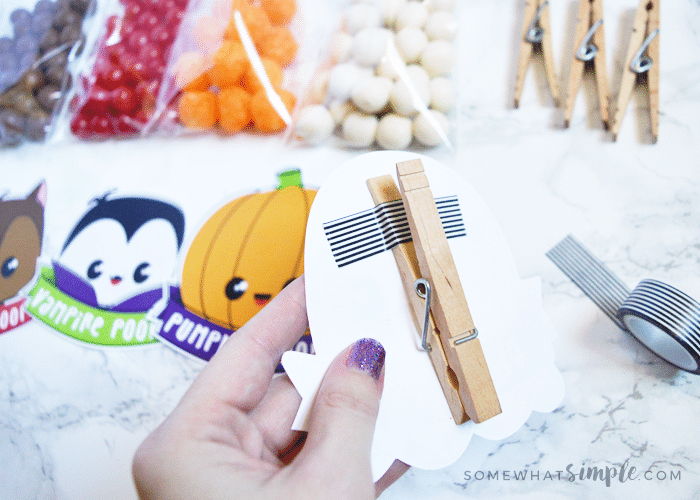 Pumpkin Poop Labels
We used cheese balls for the pumpkin poop, but you could also use cheese puffs, candy corn, sliced carrots, butterscotch chips, etc.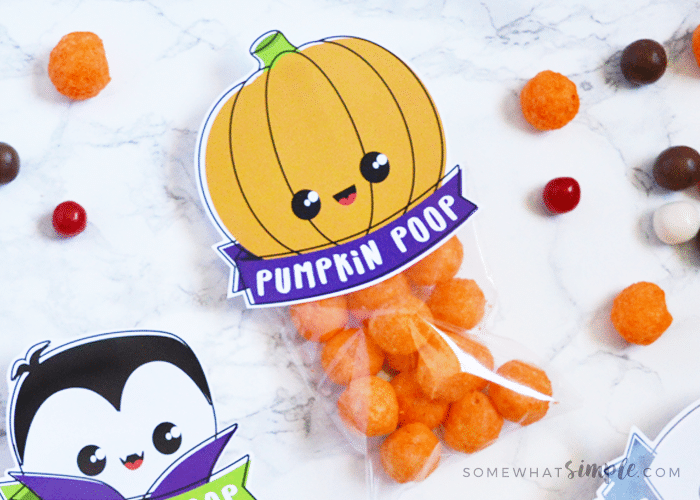 Vampire Poop Labels
We used sour cherry balls, but you could use packaged Hot Tamales, Fire balls, etc.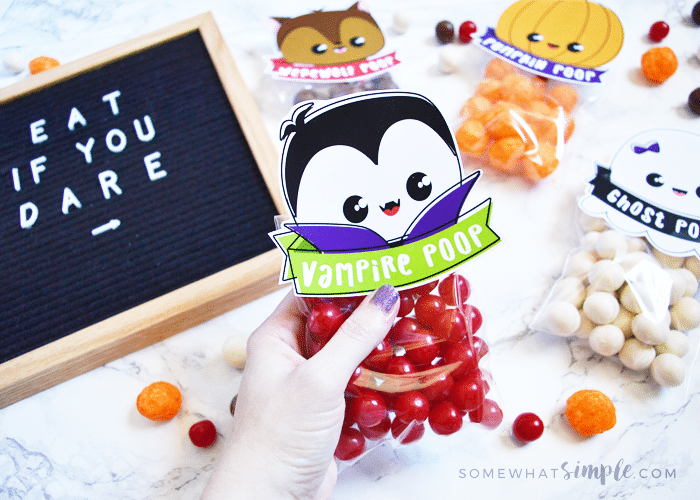 Warewolf Poop Labels
We used chocolate Whoppers, but any chocolate candy would work like M&Ms or Raisenettes!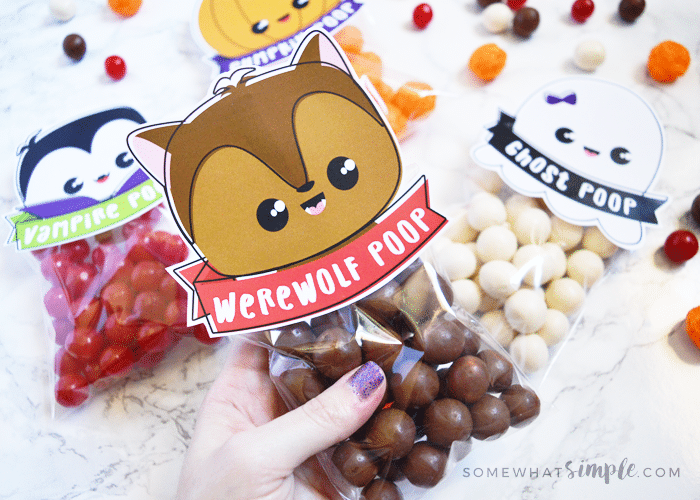 Ghost Poop Labels
We used vanilla Whoppers, but you could use marshmallows, white chocolate chips, butter mints or yogurt dipped candies. We just love how darling these turned out! The kids definitely got a good giggle with these!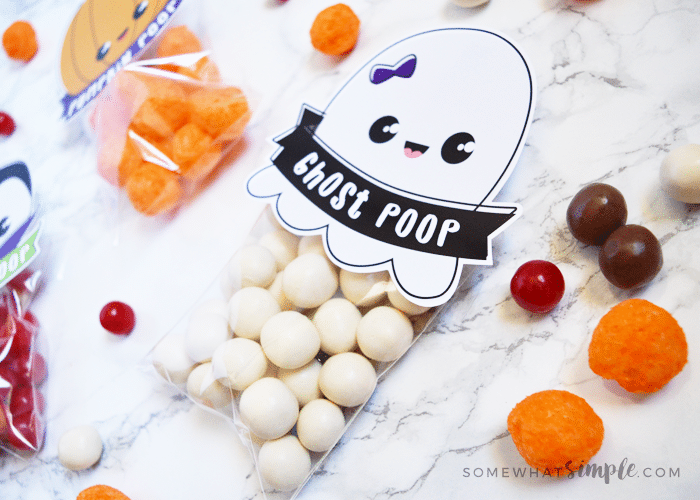 More Adorable Halloween Printables
Halloween Treat Bag Printable
Now that you've seen just how easy these are to put together, it's time to get started. Click here to download your Halloween Poop Bag Toppers. Hope you all have a very Happy Halloween!