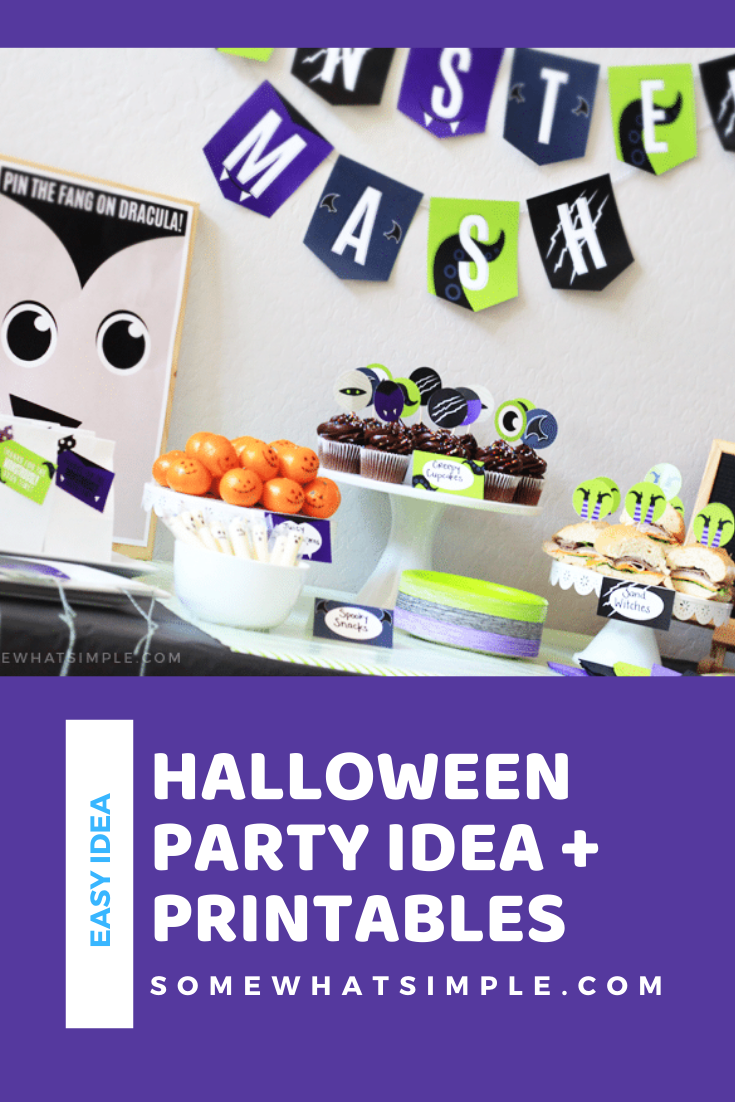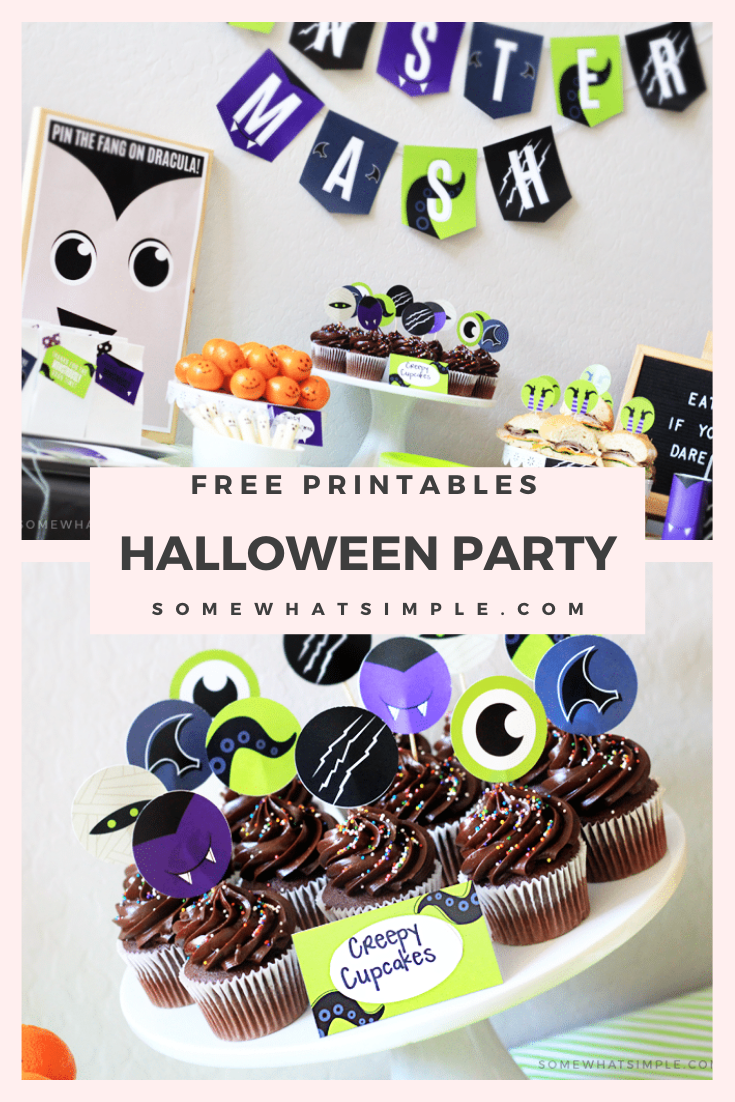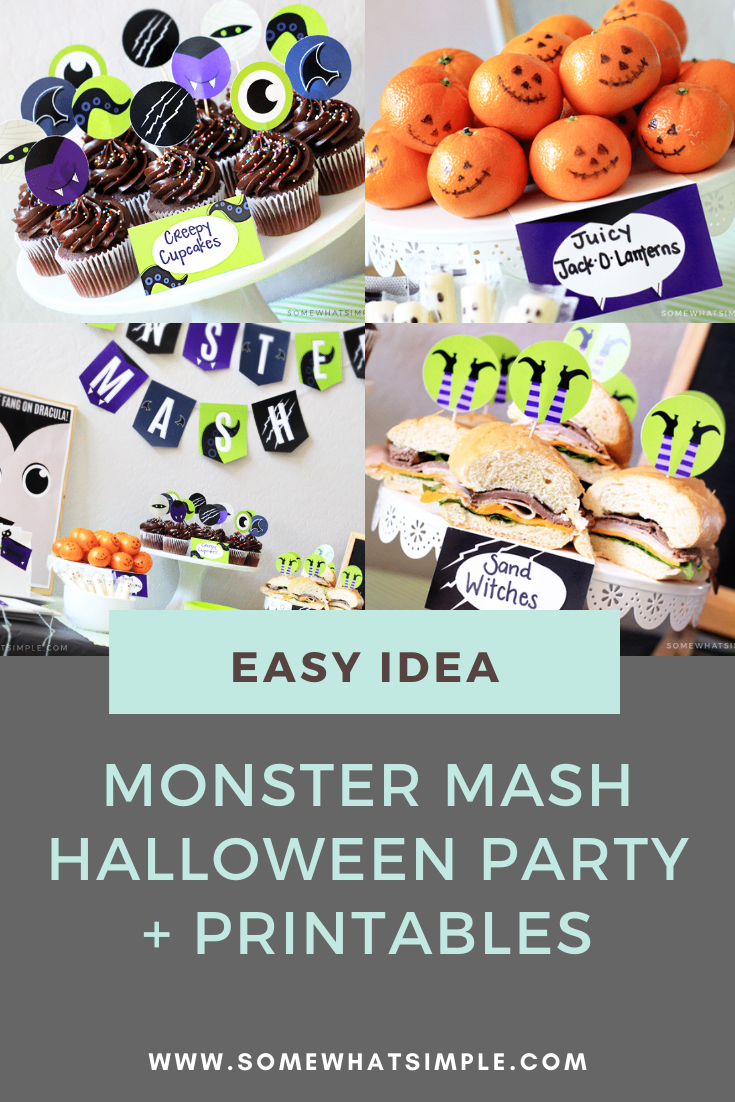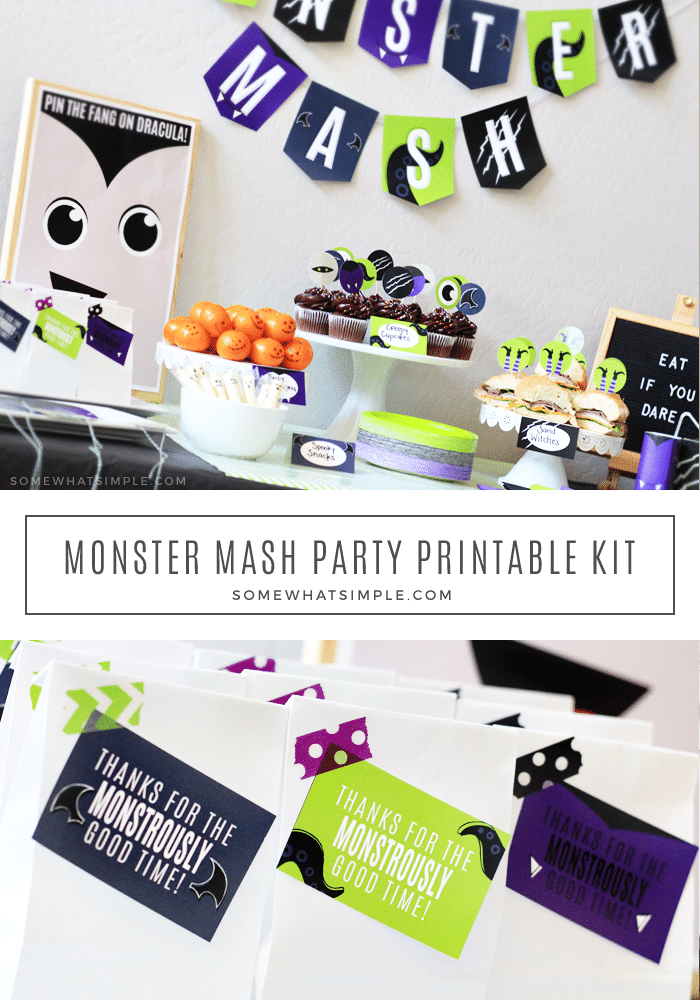 Ready to host a Hotel Transylvania 3 Monster Mash Party? We've got the most adorable printable kit in all the land, along with simple yet awesome Halloween party ideas that kids and parents will love!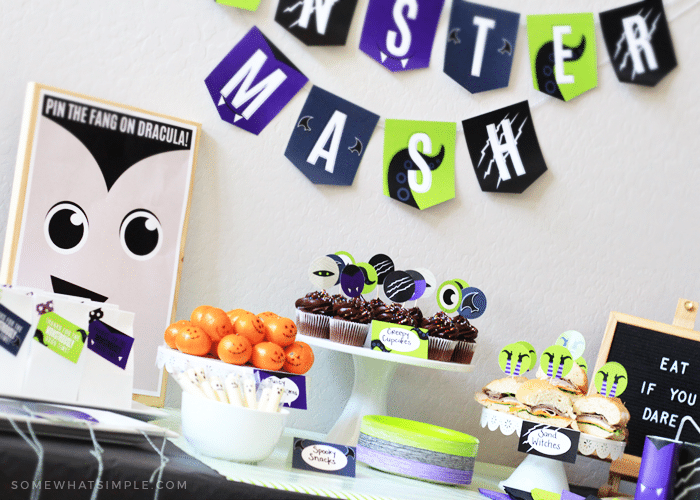 Easy + Awesome Monster Mash Halloween Party
Let's be honest- throwing a party can be a lot of work! All the planning and prepping is an olympic event in itself! But what if you had a secret weapon? Well, you're in luck, because today we've teamed up with HOTEL TRANSYLVANIA 3 to bring you that very thing: A Party Planning Secret Weapon!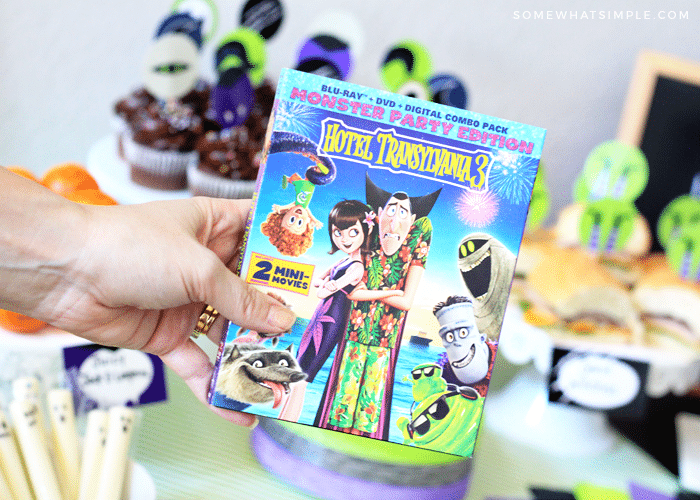 (Fans of the Hotel Transylvania movies! You're going to love how we incorporated these fun monsters into our Monster Mash Party kit! From Drac's fangs and Mavis's bat wings, to Murray's wrappings and Blobby's googly eyes!)
Adorable Monster Mash Party Kit
Our goal with our party printables is to make your life so much easier, and help you spend more time with your families and friends! All you need to do for this fabulous party is download and print out our Monster Mash Party Kit, and then go as elaborate or simple as you want! We've got a few suggestions that will make the planning stage even easier, or at the very least, inspire your own ideas! You're welcome. 😉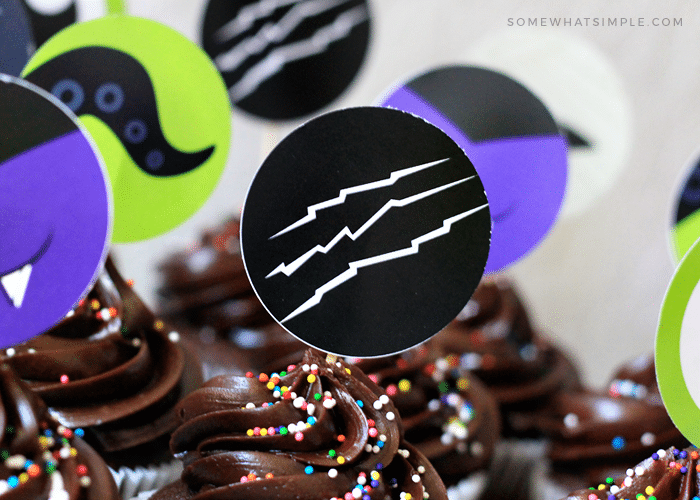 Planning stage:
First, decide how many children (or adults!) will be attending. Make sure you print enough:
Invites (there are 2 on a page)
Juice box covers (2 separate pages, 2 on a page)
Party favor tags (9 on a page)
Monster Masks (2 separate pages, 2 on a page)
Hotel Transylvania 3 toilet paper roll characters (there are 6 characters total: 2 to a page, but each person doesn't have to make all 6 – maybe one or two each)
Bingo Cards (we've provided 8 slightly different Bingo cards in our pack, but you'll only need to print off and cut out the first page)
Dracula Fangs for Pin The Fang On Dracula game (12 to a page)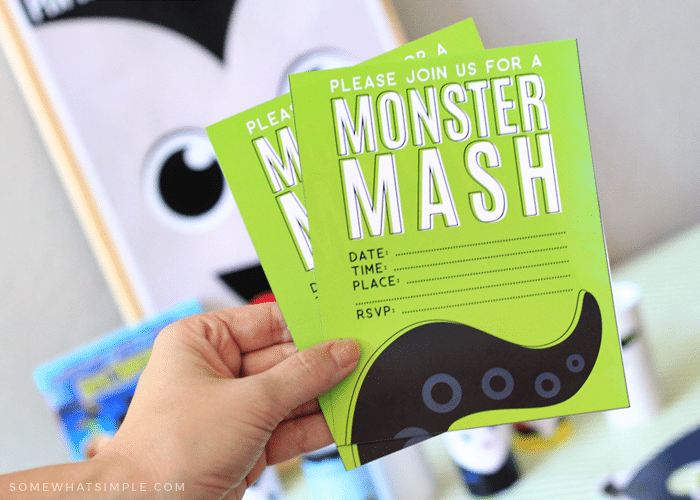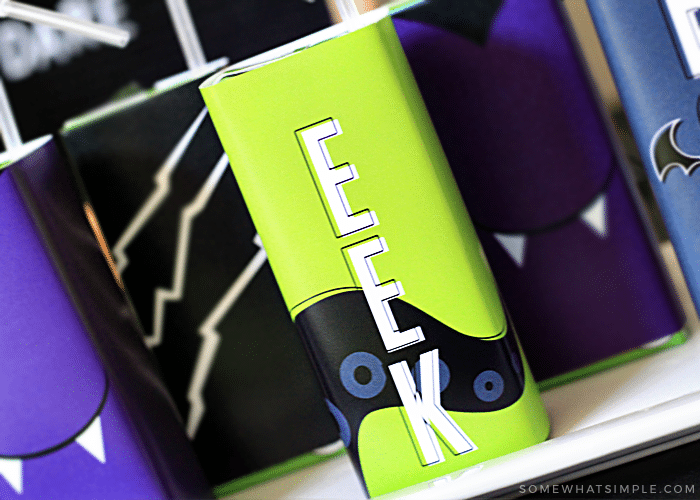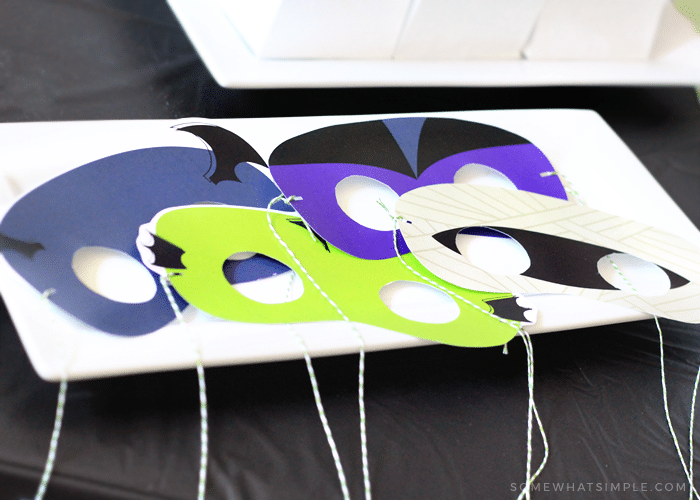 Then make sure you have enough food! Decide what you'll be serving, then print off enough:
cupcake toppers (12 to a page) – you can even use these on brownies, rice krispie treats, etc.
Sand "witch" toppers (12 to a page) – we just bought a large sub sandwich and cut it into pieces. You could serve sliders as well as any other sandwich.
Food tents (4 to a page) – get creative! We used a permanent marker to draw faces on clementines and string cheese!
And again, double check your juice box cover numbers. 😉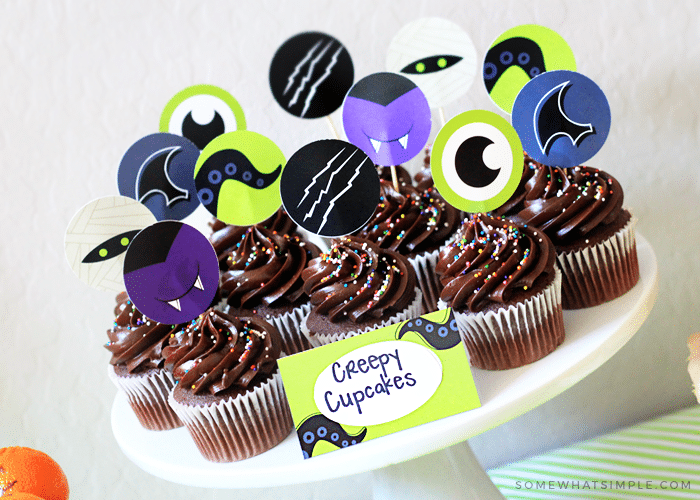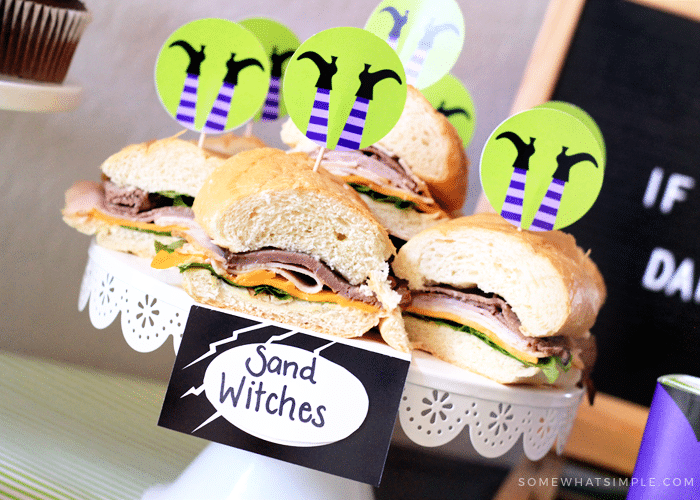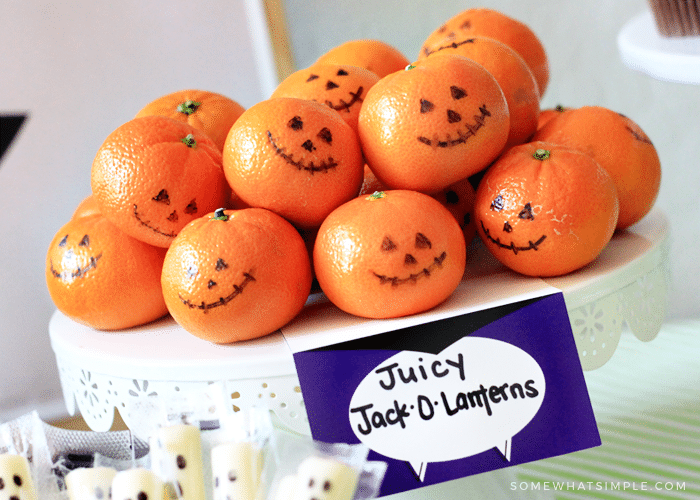 Decide what activities and games you want to do! We've included 3 of them in our kit – the Hotel Transylvania 3 TP roll characters, the Hotel Transylvania Bingo game, and our fun Pin The Fang On Dracula game! Another idea that we love is showing a movie! And since we're all about a good theme over here, we picked Hotel Transylvania 3 to round everything out ever so nicely.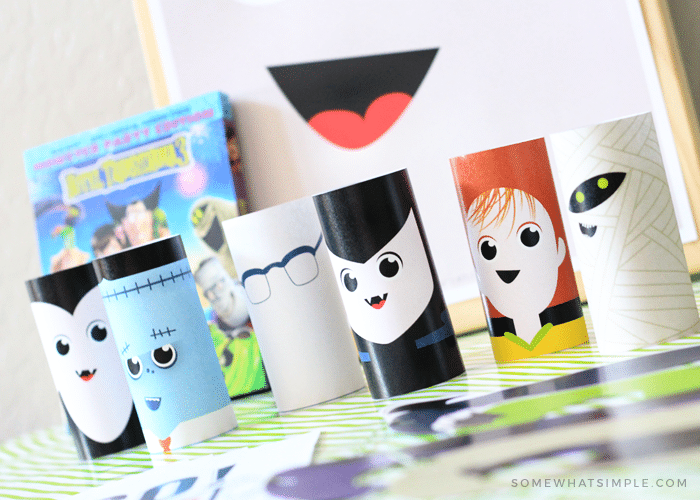 When you've figured out everything you want to serve and do, you'll just need to make a shopping list (don't forget the party favors- we just put popcorn into small bags for the movie and added our party favor tags to the front), then print off our Monster Mash Banner, and our Dracula!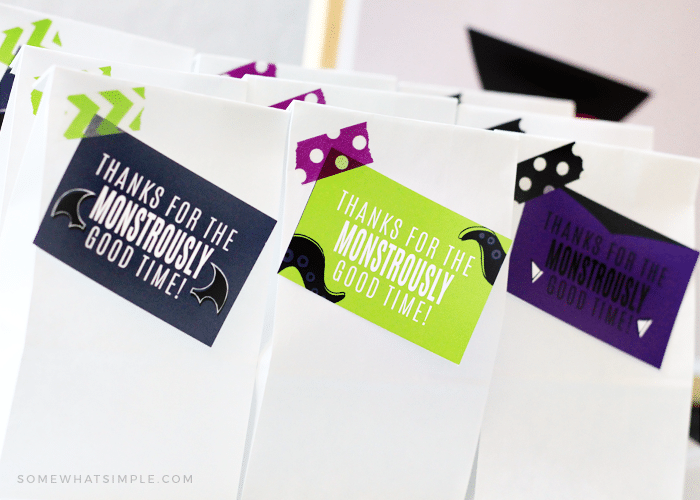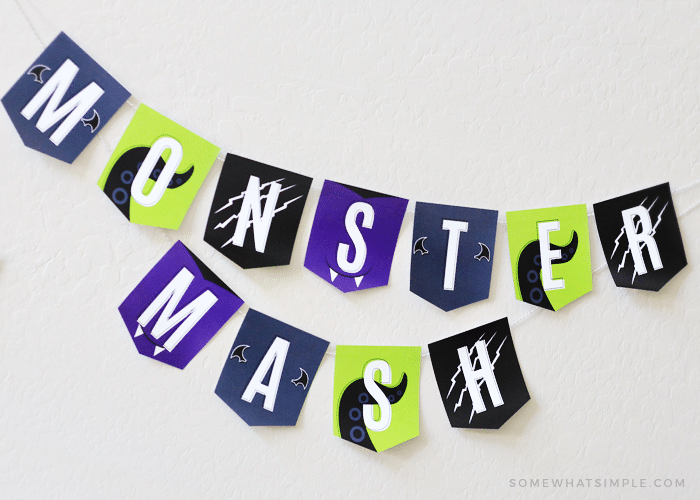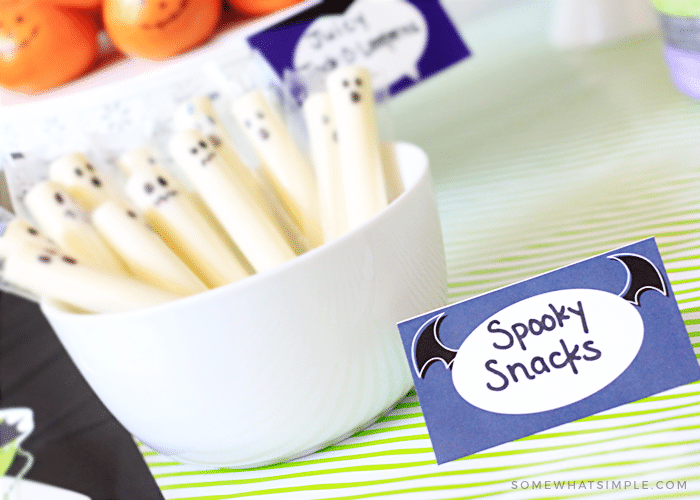 Please note that the Drac design is sized to 11×17″ paper, but if printing it off that size is not an option for you, you can print it smaller or draw your own.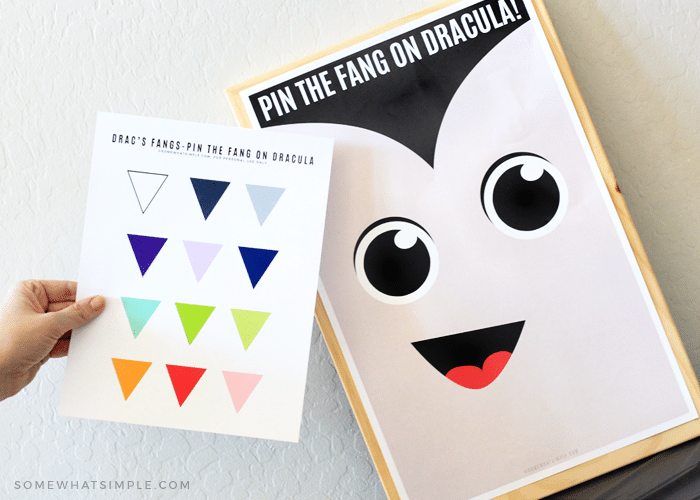 Prepping Stage:
Once all your food and extra decorations are purchased, and your prints are ready to be cut out, it's time to set up! You'll need:
Monster Mash printables (download below)
Scissors (+ paper cutter if you have one)
Tape
2″ circle punch for the cupcake toppers and sand "witch" legs
String or twine
Paper goods
Food + serving dishes
Extra decor (table cloth, balloons, streamers, etc.)
Game and activity supplies (don't forget the hilarious Hotel Transylvania 3 movie!)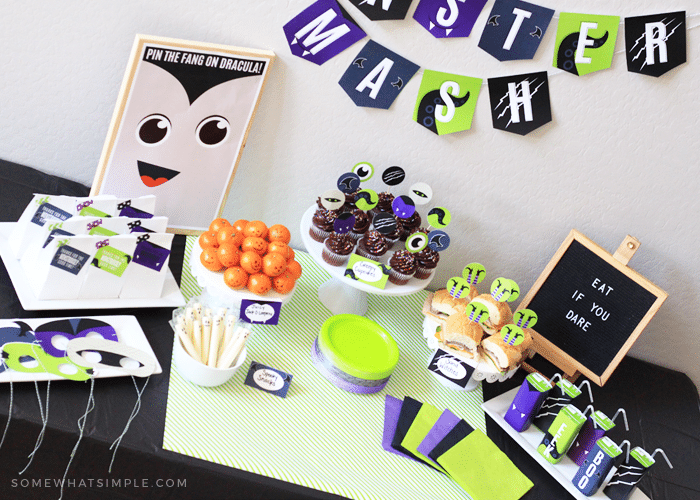 Set up all your items in a central location (we had a food table and a games/activities table), and get ready for some crazy fun! You can have the masks pre-cut, or have the party-goers cut and string them as an extra activity!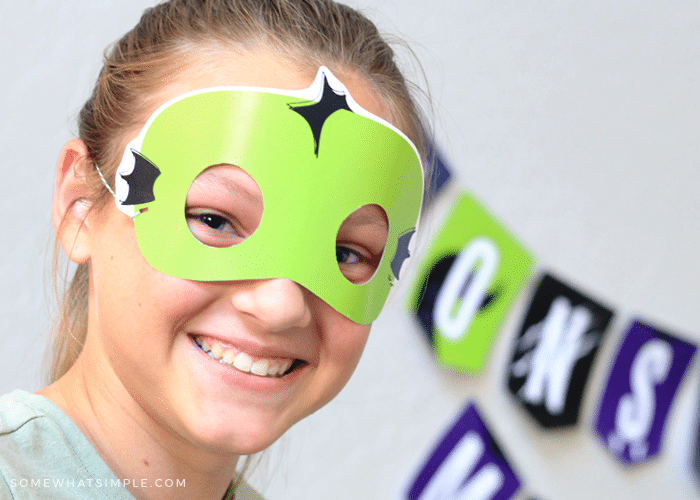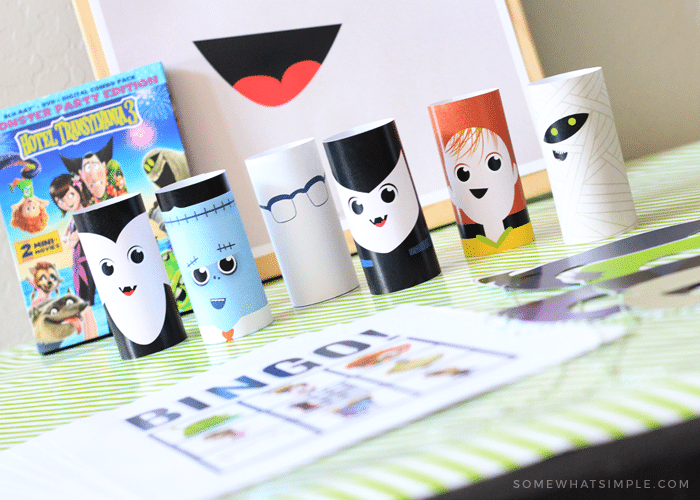 Party Time!
We love how we really didn't need to add very much to these darling Monster Mash Party printables! Just a few coordinating colors, and the whole thing looked darling! I think next time we'll add some balloons, just because they're fun. 😉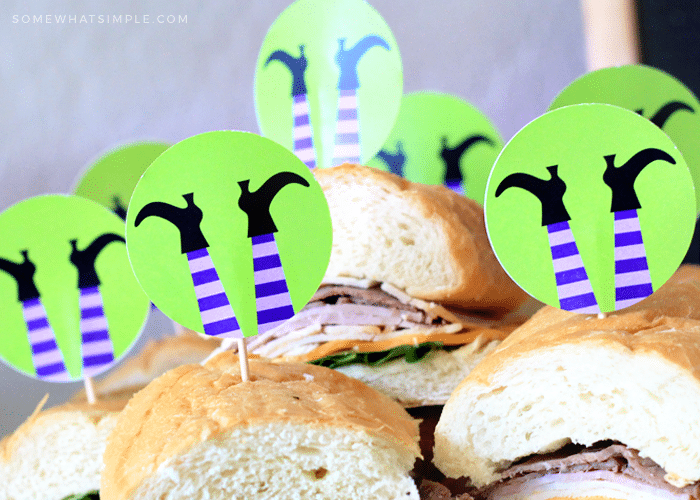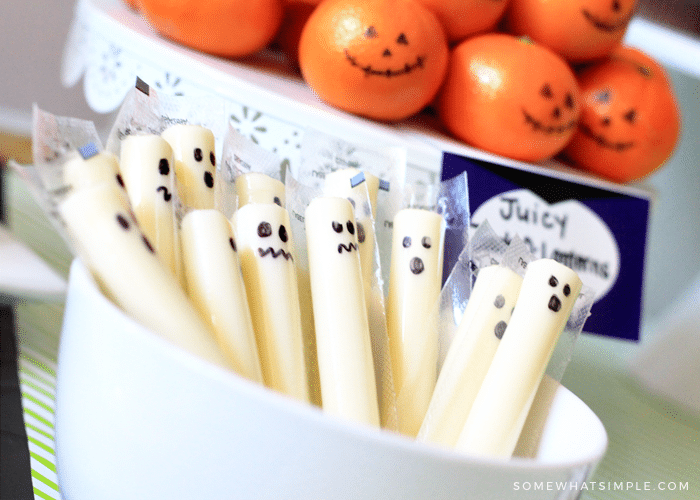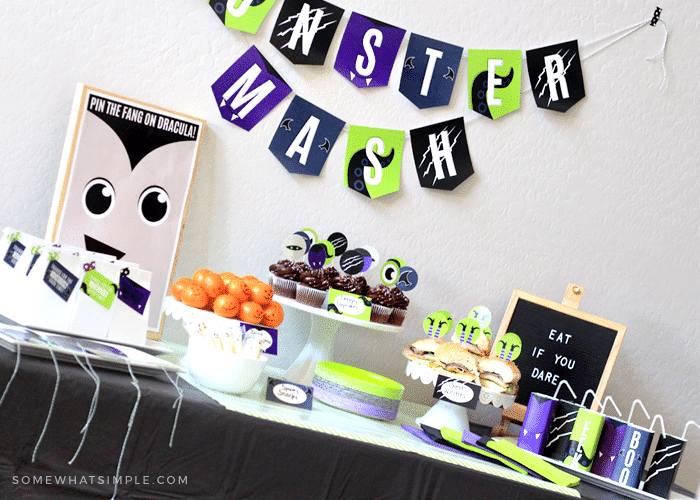 Ready to create your own Monster Mash Party?
A huge thank you to Hotel Transylvania 3 for helping us create this kit for our readers! We love how it turned out, and we love the fun theme!
Love Hotel Transylvania 3 as much as we do?
The Digital movie is available NOW, or grab the Blu-ray and DVD combo on Oct. 9th! A great way to welcome in the Halloween season with family and friends!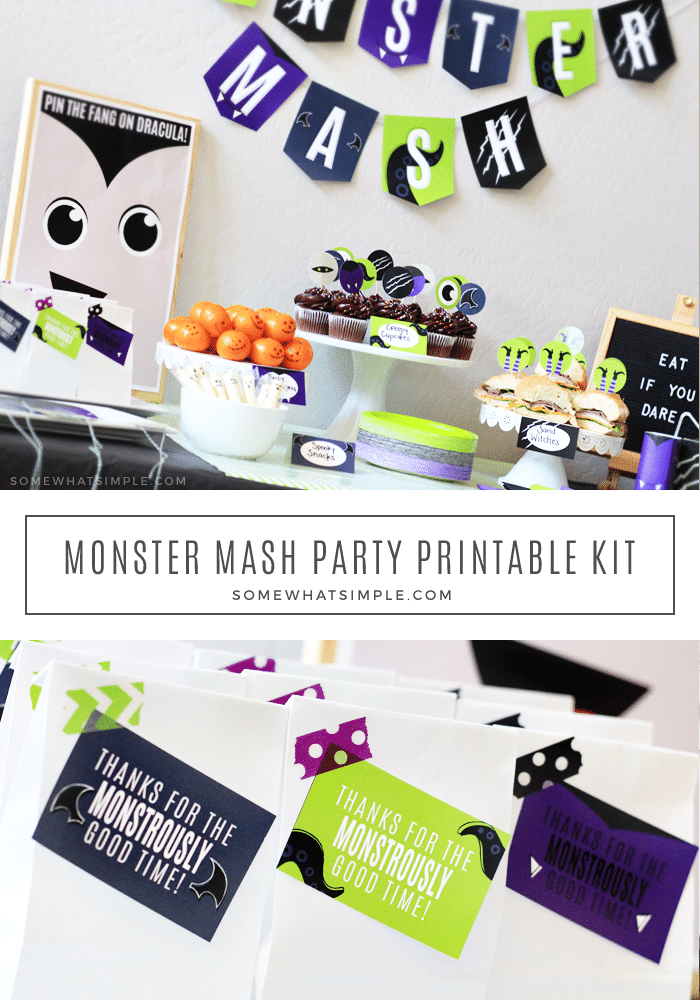 This post was sponsored by Hotel Transylvania 3, and as always, all text, images, and opinions are 100% our own.