Looking for some fun Halloween Games for Kids? Dead Man's Body is a spooky activity kids LOVE!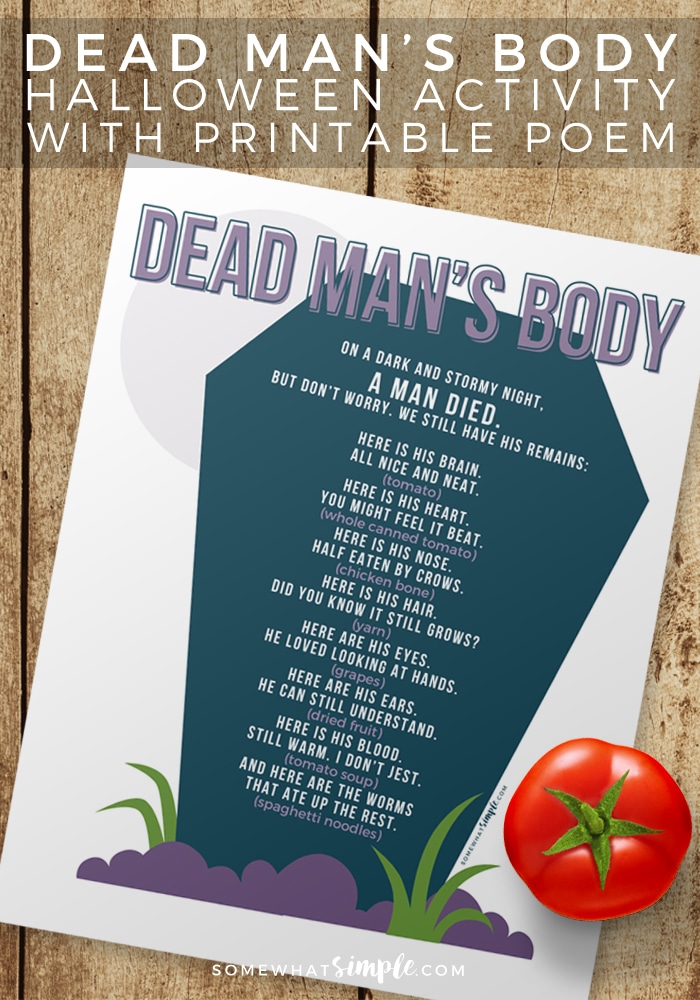 My mom and her sisters use to host a Halloween party every year for me and my cousins waaaaay back in the day. One of the things I remember LOVING at the party was an activity called "Dead Man's Body". Now that I have kids of my own, I decided to give it a try!
Disclaimer – My 3-year old daughter and my nephew who is 4 were too scared to even reach into the bowls! But my 6 year old son, my 5 year old niece and my son's friend had a blast with it! So keep that in mind if you have little ones at home.
Here's how you pull it off:
Dead Man's Body Halloween Games for Kids
SUPPLIES/INGREDIENTS – 
1 large fresh tomato
1 whole canned tomato
spaghetti noodles, cooked
1 piece of chicken bone
wet bunch of yarn
2 peeled grapes
Warm tomato soup
2 pieces of dried fruit
9 small bowls
9 small hand towel to cover the bowls
paper towels, one for each child
*In preparation for this blog post, my awesome friend took the original story I used and she turned it into a poem! (She is amazing!!) Feel free to use it if you'd like!  
DIRECTIONS –
Place each item in a bowl, then, cover each bowl with a towel.
Have the kids sit in a semi-circle in a darkened room. Give each of them a paper towel to keep in their lap in case they want to wipe their hands.
Tell the Dead Man's Body poem as you pass the covered bowls around for each of them to feel- without looking!
Get ready for squeals of excitement and disgust!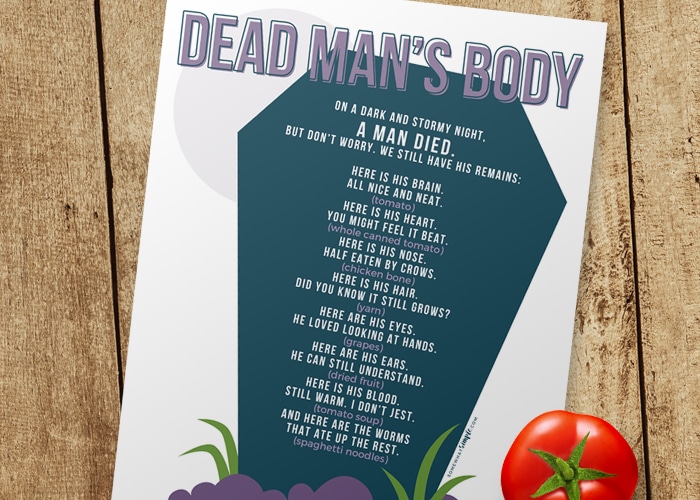 Hope you have a happy Halloween!
. . . . .
This post originally published in October 2009. It was updated with this darling poem and printable in February 2017. 
Hack Your Routine!
FREE E-COURSE
5 Time-Saving Tips for Crazy Busy Moms