These simple and easy pumpkin popcorn balls are a fun Halloween treat that are perfect for any party and the kids will absolutely love them!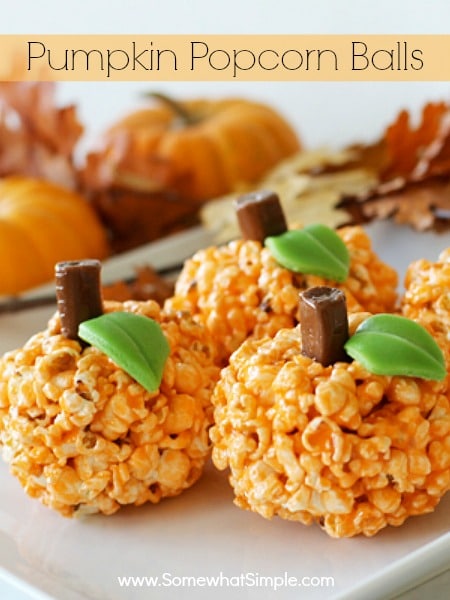 Fall is here!!! I'm ready for some pumpkin treats and this one can be done without firing up the oven or stove- you can whip up these pumpkin popcorn balls in the microwave! They are shaped like pumpkins, but not flavored like pumpkins. They are actually flavored by orange jello. Jello popcorn is tried and true around here. (my sister did a post on it here) It's so easy and surprisingly tasty! Here's the recipe:
How To Make Popcorn Balls
Ingredients:
1/2 c butter
1 box orange flavored Jello (3oz)
1/4 c corn syrup
1/4 tsp. baking soda
12 cups popped popcorn (approx)
Tootsie Roll mini candies
Green candies- You can shape Starbursts, green apple Tootsie Rolls (all green ones are available here), or Laffy Taffys. In the picture above we used green air heads. This is a "use whatever you can find" situation.
Directions:

MY LATEST VIDEOS
In microwavable bowl, melt 1/2 c butter.
Stir in jello and corn syrup.
Microwave again until it reaches a full boil (try 1 min. then more if needed). Stir.
Mix in baking soda. Stir for 2-3 minutes.
Mix in popcorn. (I never actually measure, I just add until its all covered evenly.)
Microwave the whole thing for 30 seconds more. (You can do more if you prefer it crispy instead of gooey.)
Then have the kids form them into balls. (We use plastic bags with a little non-stick spray on them as gloves for the kids.)
Add tootsie roll minis for the stems and shape your green candy for the leaf. Be sure to press the stem in while the popcorn ball is still warm and pliable.
Halloween Popcorn Balls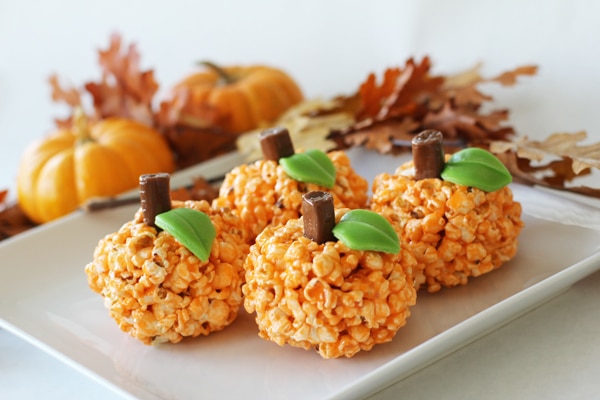 This is for sure a fall treat tradition- we've done it the past several years. I even have some friends who have made them for school class parties too.
Happy Fall!!!
About the Author: Ashleigh is the creative mom of three and blogger from Bee in Our Bonnet. Ashleigh spent a few years blogging on Somewhat Simple as our Baking Contributor.