These candy corn rice crispy treats are a fun seasonal twist on a traditional treat!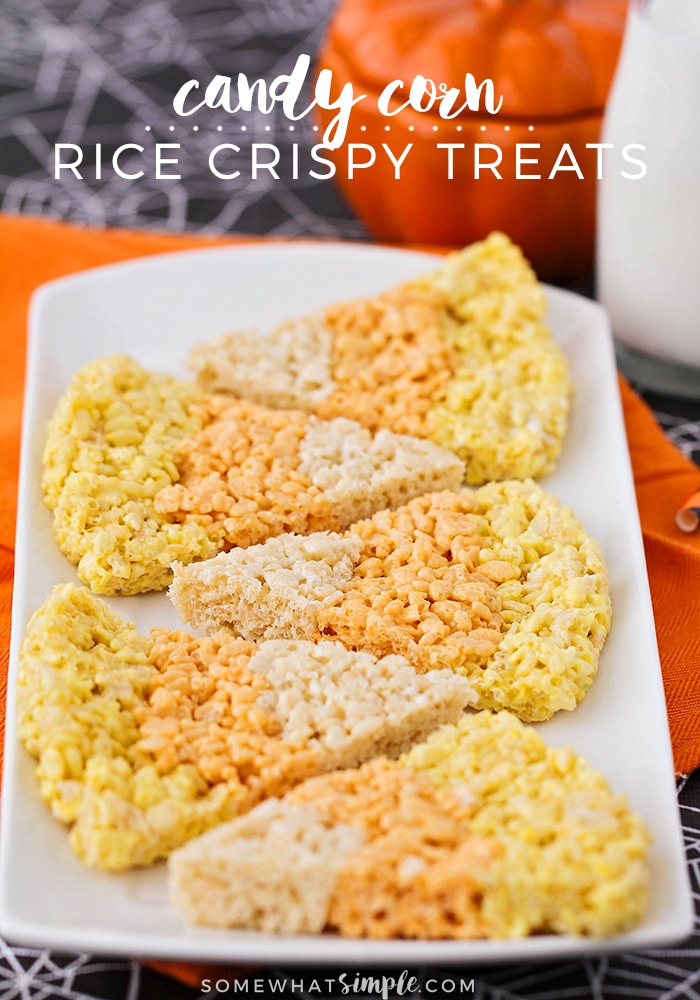 These candy corn rice crispy treats are perfect to make now, on Halloween or all the way through Thanksgiving!
Candy Corn Rice Crispy Treats Recipe
RICE CRISPY INGREDIENTS:
9 1/4 cups crispy rice cereal
1- 10oz bag mini marshmallows
7 tbsp butter
yellow & orange food coloring
Orange food coloring
non-stick cooking spray
CANDY CORN CRISPY DIRECTIONS:
Spray two 8″ round cake pans with cooking spray, set aside.
Divide mini marshmallows and butter into three large microwave safe bowls as follows:

Bowl one (will become the yellow ring): 5 cups mini marshmallows and 3 tablespoons butter
Bowl two (will become the orange ring): 3 1/2 cups mini marshmallows and 2 tablespoons butter
The third bowl (will become the white center): 2 1/2 cups mini marshmallows and 2 tablespoons butter

Microwave bowl one for about 2 1/2 minutes, or until marshmallows become very puffy.  Carefully remove bowl from microwave, it will be hot. Stir the marshmallow/butter mixture until smooth.
Add 2-3 drops of yellow food coloring, stir until desired color is achieved.
Once food coloring and marshmallow mixture is well blended, add 4 1/2 cups crispy rice cereal to the yellow marshmallow mixture.  Stir until all the rice cereal is coated in yellow marshmallow mixture.
Divide the yellow rice crispy mixture between the two cake pans, butter your hand well and begin to press the yellow crispies around the inside of the pans, forming a ring, leaving the middle of the pans empty. Use cooking spray as needed to prevent the mixture from sticking to your hands.
Repeat the process above for the orange ring and the white center, with the following measurements, don't forget to add orange food coloring to your second round of melted marshmallows:

Orange: 2 3/4 cups crispy rice cereal plus contents from bowl
White: 2 cups crispy rice cereal plus contents from bowl #3
When you are finished with this process, your pans should look like this: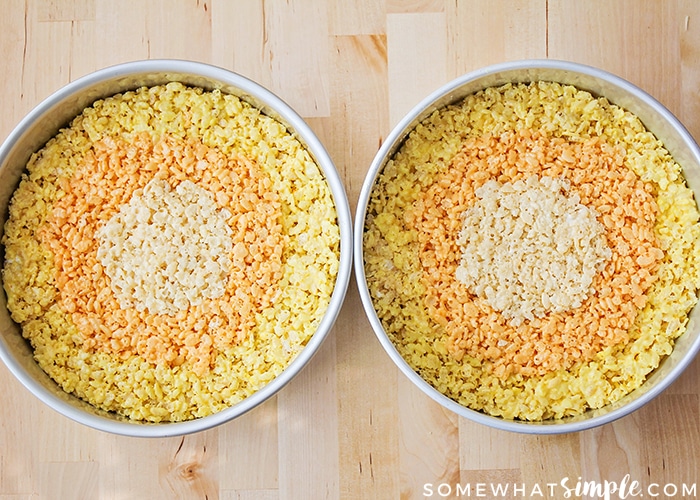 8. Let the crispy treats cool, turn out onto flat surface and cut into 6 equal pieces.  Serve immediately or store in air tight container.
These treats are also fun to serve on a stick!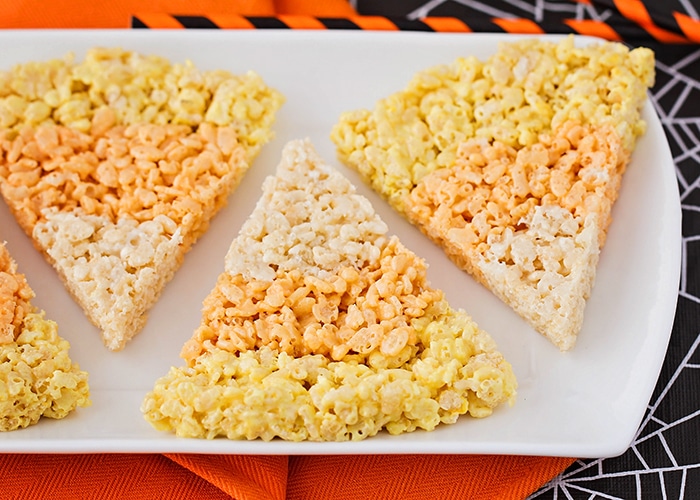 DON'T MISS A THING!
Sign up for our newsletter to receive our FREE Home Organization Binder Printables + weekly updates filled with creative inspiration and exclusive freebies!
---