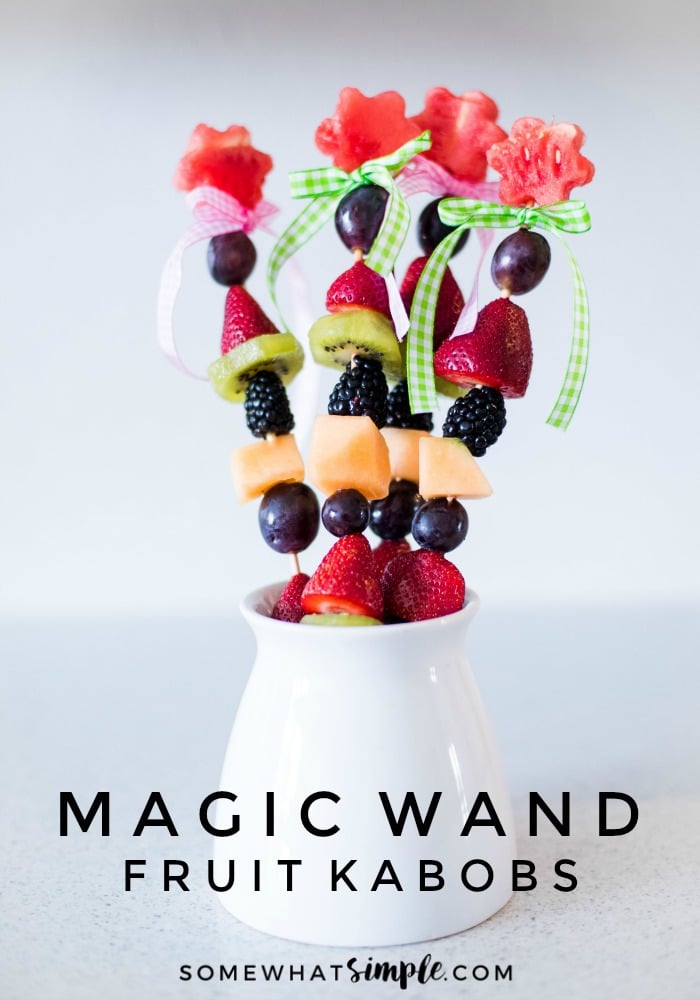 Fruit kabobs are made with all of your favorite fruits and are a fun way to eat more fruit! Using delicious seasonal fruits like watermelon, strawberries and grapes, this is a healthy appetizer or snack idea everyone will love!
My family loves eating fruit accompanied by a delicious dip. Some of our favorites to eat with fruit are these tasty Marshmallow Fruit Dip and Caramel Apple Dip recipes.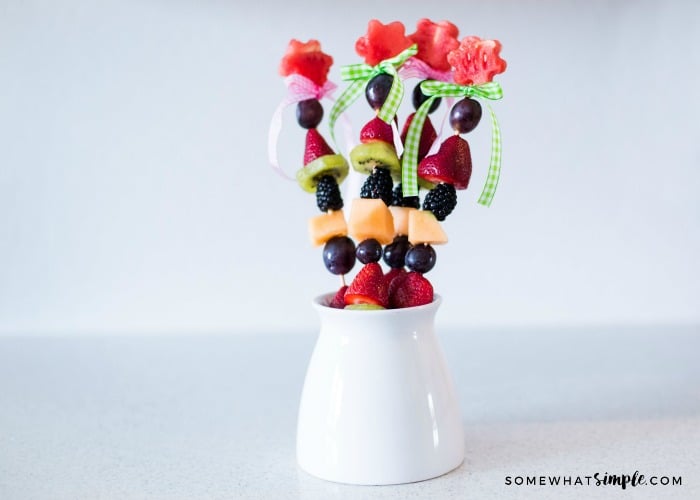 Colorful Fruit Kabobs
I love virtually every kind of fruit there is but trying to get my kids to eat fruit can sometimes be a little bit of a challenge. It's not that they don't like to eat fruit, they just prefer to eat the other sugary snacks in the pantry. One day I was trying to think of a fun snack idea and I came up with these adorable fruit kabobs.
My kids loved assembling these and ended up eating every last piece of fruit. My daughter loves the book Camilla the Cupcake Fairy so we decided to create an adorable variation by turning these kabobs into cute little fairy wands. There's nothing better than a healthy snack that doubles as a wand, so your little princess can have some fun at the table until the very last bite!
How To Make Fruit Kabobs
Before you begin to cut your fruit, place your bamboo skewers in water to soak
Let them soak for about 20 minutes
Cut your fruit into small pieces
Assemble the fruit on your skewers with any combination of fruit you love
If you want to turn these kabobs into fairy wands, tie a bow with some ribbon at the top of the kabob
Top with a star-shaped piece of watermelon
Rainbow Fruit Kabob Idea
Another fun variation of this recipe is to make fruit kabobs using fruits that match the colors of the rainbow. Here are some suggestions of fruit to use for each color:
Purple – Grapes or plums
Blue – Blueberries or blackberries
Green – Grapes, honeydew melon or kiwis
Yellow – Bananas or pineapple
Orange – Orange slices, cantaloupe or nectarines
Red – Strawberries, cherries, raspberries or watermelon
Fruit Kabob Tip
You can obviously use any combination of fruit, but I would definitely recommend using watermelon as the topper so you can easily create the star or flower shape.

To create the star out of the watermelon, slice the watermelon to be about two inches thick, then cut with a star-shaped cookie cutter.

Be sure to soak your wooden skewers before using them to minimize the chance of getting a splinter while assembling them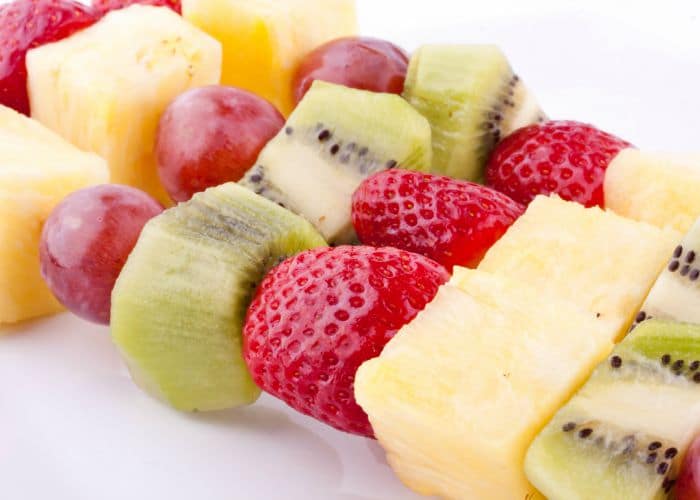 Can I Make Fruit Kabobs Ahead of Time
I don't recommend making them ahead of time but if you want to, I wouldn't recommend doing so more than 24 hours in advance. If they're made too far ahead, some fruits can begin to have cosmetic problems.
The darker colored fruit can start to bleed into the lighter colored fruit next to them and the fruit can get a little mushy. If you are including apples in your kabobs, they will most likely turn brown before you serve them. If made ahead of time, put them in an airtight container or wrap tightly in plastic wrap and then store in the refrigerator.
Items Used To Make Fruit Kabobs
Fruit Kabobs Recipe
This easy recipe is a healthy snack idea or can easily be served as a fun appetizer idea at your next party. Leave us a comment below and let us know what delicious fruits you used or tag us on social media because we love to see what you've been up to in the kitchen!
Fruit Kabobs Recipe
Fruit kabobs are a fun and healthy snack or appetizer idea.
Ingredients
Wooden skewers

Strawberries

Grapes

Pineapple

Blackberries

Kiwi

Watermelon

Cantaloupe
Instructions
Before you begin to cut your fruit, let your bamboo skewers soak in water

Cut your fruit into small pieces

Assemble the fruit on your skewers with any combination of fruit you love

If you want to turn these kabobs into fairy wands, tie a bow with some ribbon at the top of the kabob

Top with a star-shaped piece of watermelon
Nutrition
Other Notes