this easy recipe will show you how to cook ribs so they just fall off the bone! go from being a novice to a grill master in no time.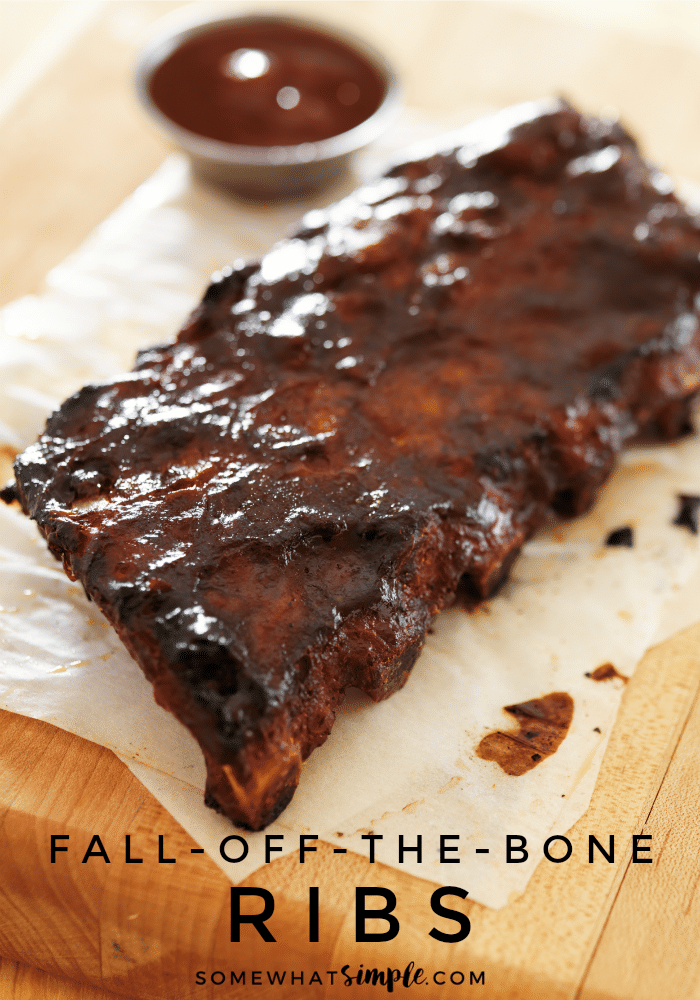 This MASTERPIECE recipe was shared with our family by my brother in law, Jason D. Before he showed me how to cook ribs, I never attempted them because I was too intimidated. But I wrote down every step and took pictures of it all with this blog post in mind so you can see how easy and delicious these are! BEST.RIBS.EVER.
*WARNING* The following pictures were taken with my cell phone in a dark kitchen, so they are not the best quality, but I had to work with what I had and my brother in law wasn't going to wait around for the perfect lighting to feed our starving family! 🙂
How to Cook Ribs + BBQ Ribs Recipe
Makes 2 full racks of pork ribs
INGREDIENTS –
1 1/2 tablespoons paprika
1 1/2 tablespoons salt
3 tablespoons brown sugar
1 1/2 tablespoons ground black pepper
1 teaspoon garlic powder
Ribs (we used pork ribs, but you can use beef if you'd like)
Your favorite BBQ Sauce
How To Make Ribs – Step By Step Process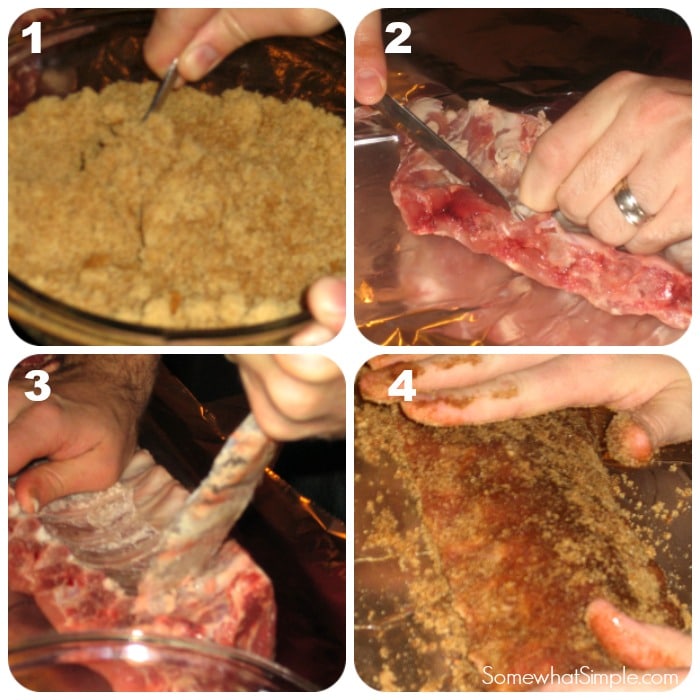 1. Make your rub by mixing together the brown sugar, paprika, salt, black pepper, and garlic powder.
2. Trim off the excess fat from your ribs.
3. Cut and pull off the thin membrane on the underside of the ribs. (This helps it fall off the bone so much easier!) I had never done this before so it was fascinating to me!
4. Rub both sides of the ribs with the dry rub mixture. Pile it on and work the mixture into the meat as best as you can. You don't need to do too much on the underside as most of the flavor will need to go on the meat which is on the top.
5. Wrap each rack in foil 2 times to insure no flavors drip out in the baking process. Let this marinate for several hours or in the fridge overnight. (This recipe takes patience, which is something I am working on!)
How To Cook Ribs In The Oven
6. Bake in the oven at 220 degress for 5 hours. (Again, patience my friends.)
7. Preheat your BBQ, drench with your favorite BBQ sauce, and throw those ribs onto the grill! The meat should already be cooked so just grill them long enough to get the smoky flavor and BBQ feel.
Helpful Tips:
When baking the ribs in your oven, some people prefer to bake the ribs in foil on a cookie sheet, but we just place the foil-wrapped ribs directly on the oven rack. (We lined the bottom of the oven with a couple sheets of foil to catch anything that might fall.)
My brother in law also flips the racks of ribs each hour… but his schedule must not be as busy as mine! He said this isn't necessary, it just gives him something to do and lets the awesome smell start floating through the air! If you don't want to keep flipping them, bake them upside down so all the juices drip into the meat instead of into the bones.
Last, but not least…
ENJOY every last stinkin' piece!!!
What Pairs Well With Fall Off The Bone Ribs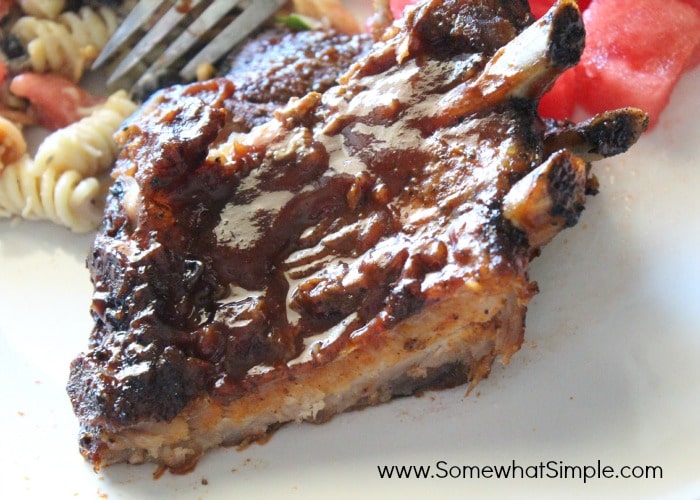 My mouth is watering while I type this!
More Great BBQ Ideas You Will Love
This recipe originally published on Somewhat Simple in January 2010