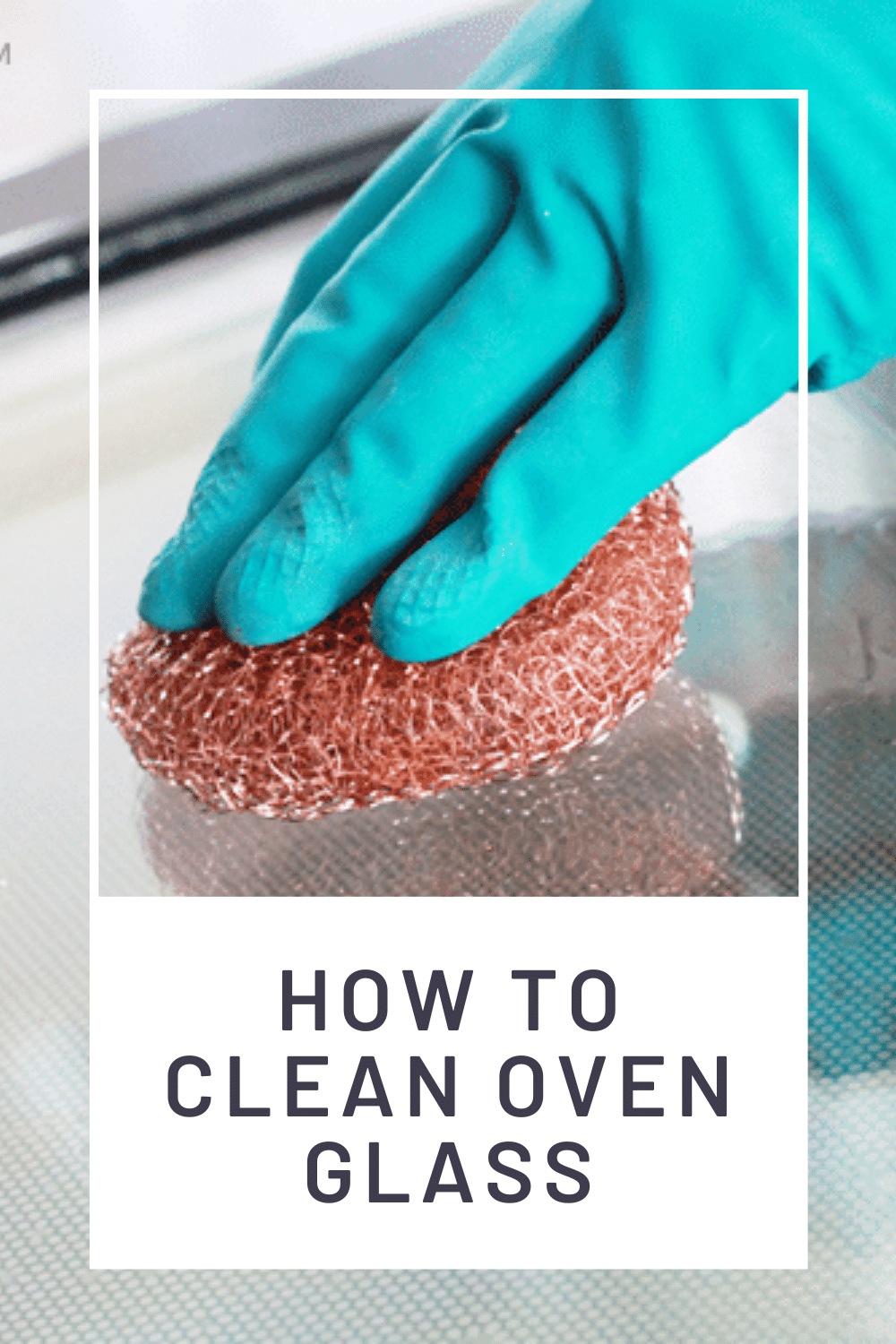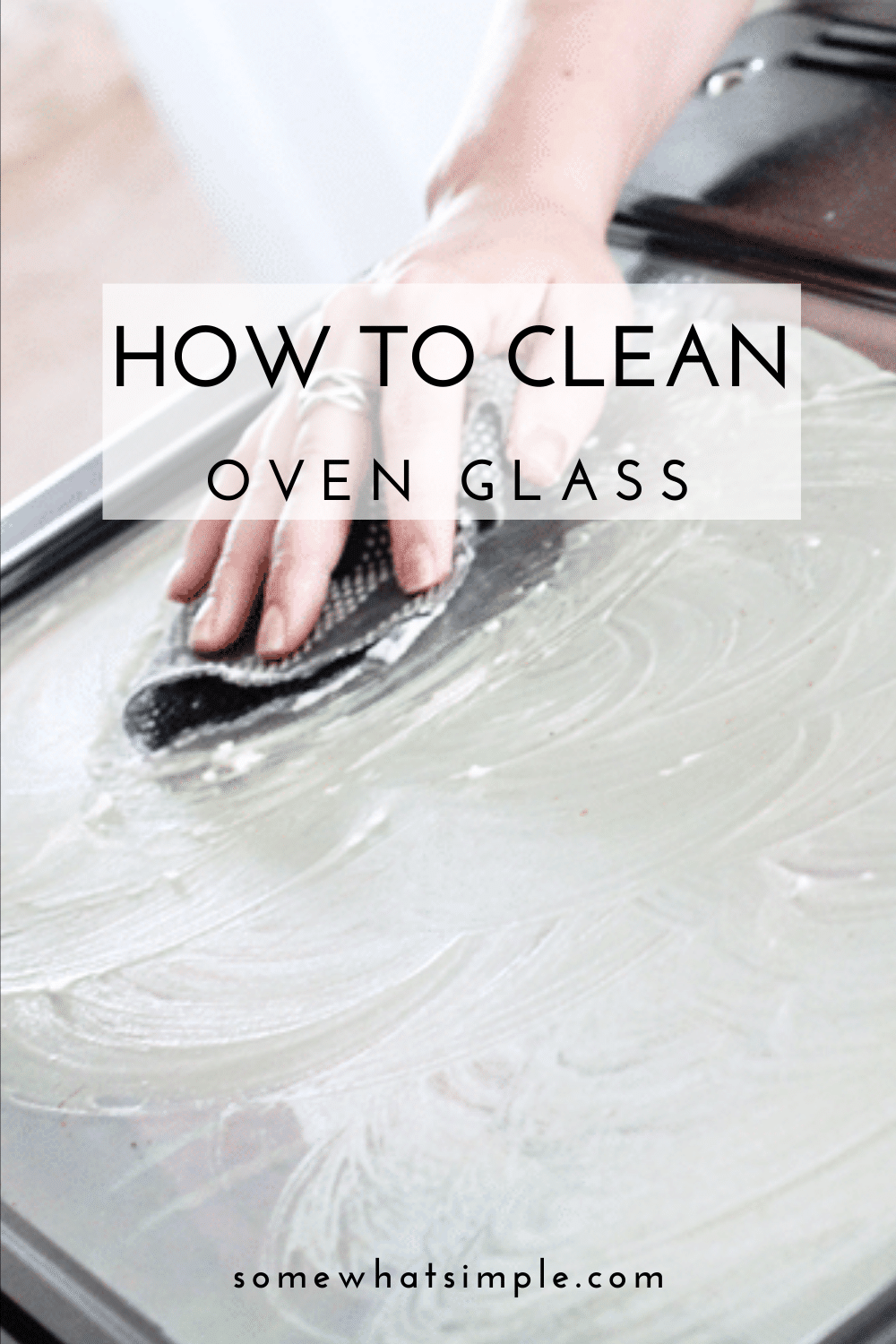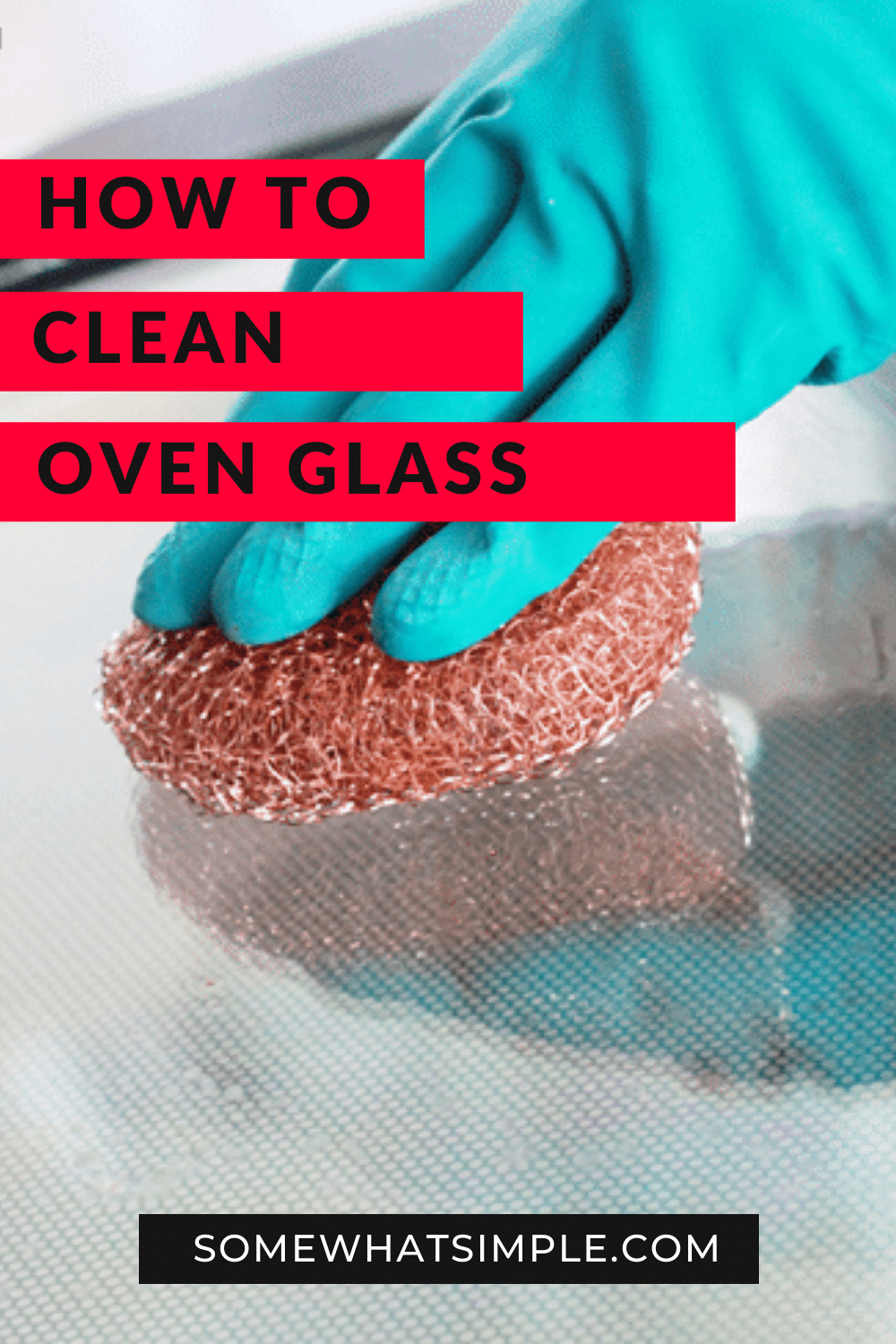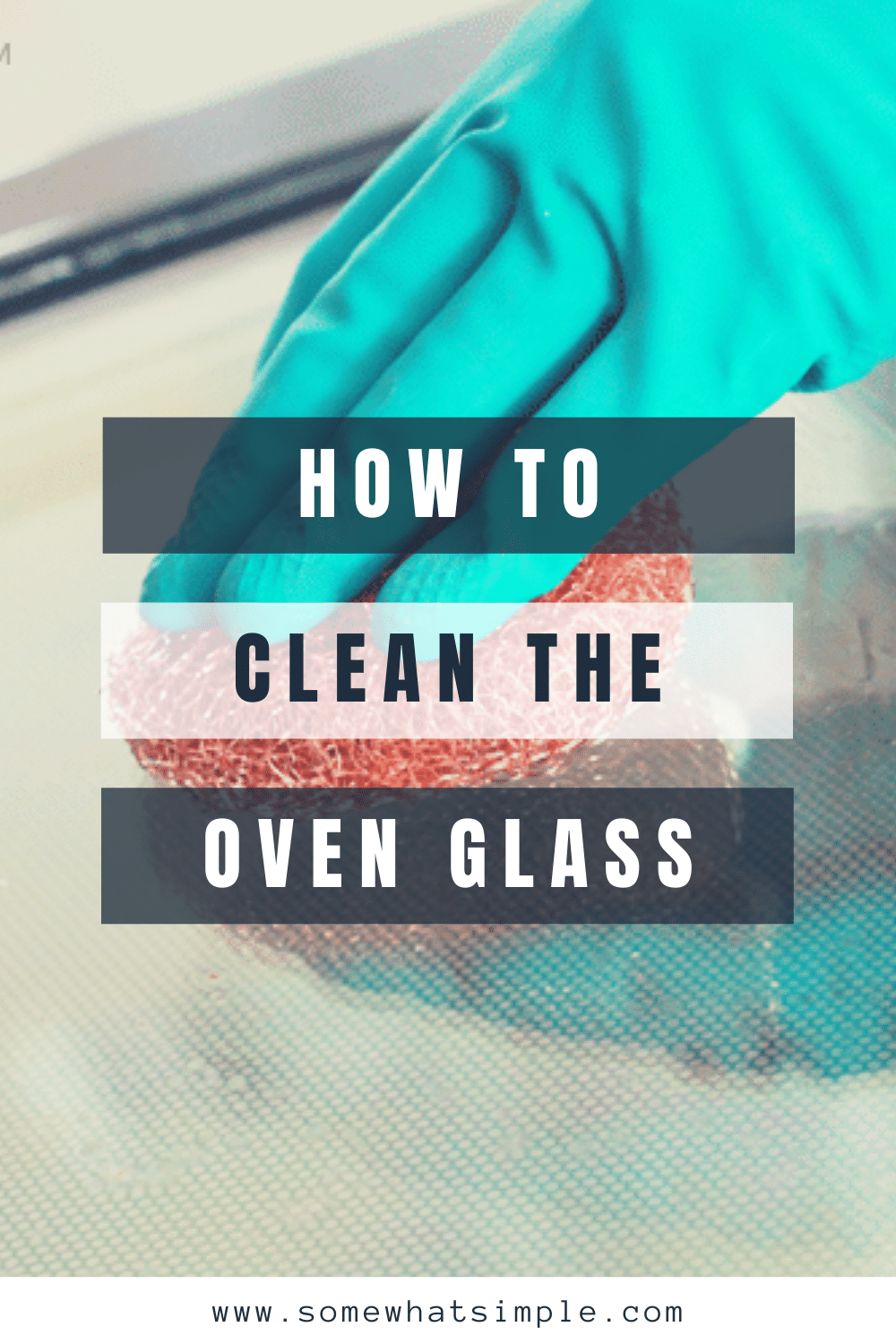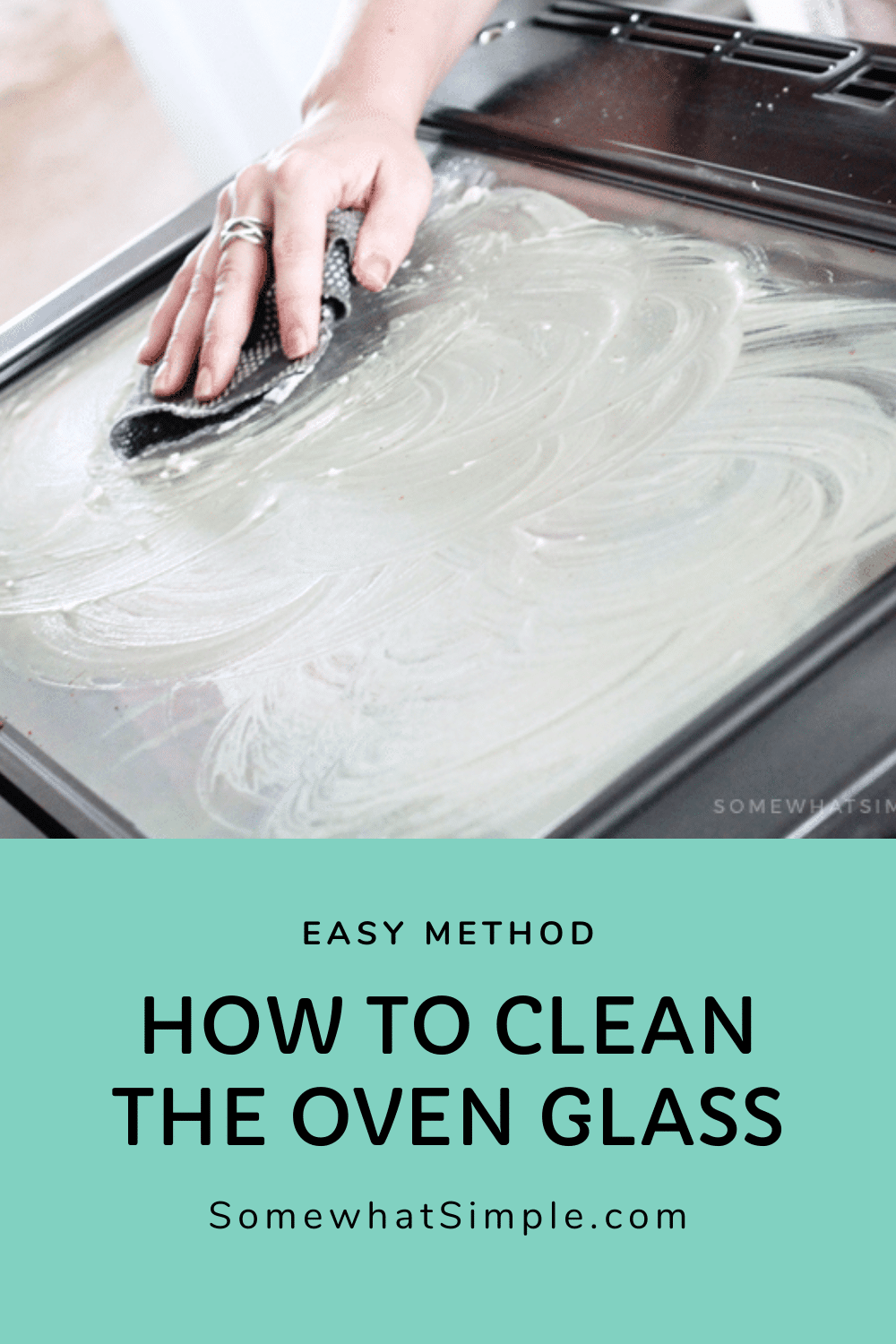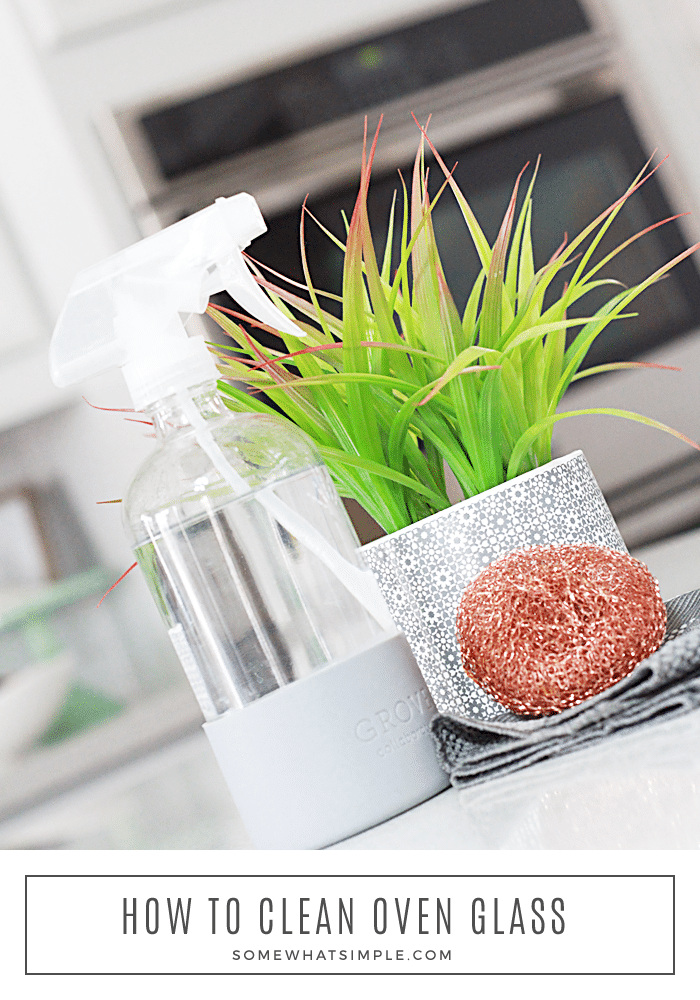 Cleaning the oven is no fun, but it's even less fun when your cleaning method is ineffective. Follow our step-by-step guide to clean your oven glass quickly and thoroughly, with no expensive products required.
Deep cleaning your kitchen isn't the most fun way to spend your day, but we're here to help make it as easy as possible! We've shown you how to clean your fridge, how to make your kitchen sink sparkle, and how to clean your microwave – but today we're sharing our oven cleaning tips that are both easy and effective. This just might make you do a happy dance! 🙂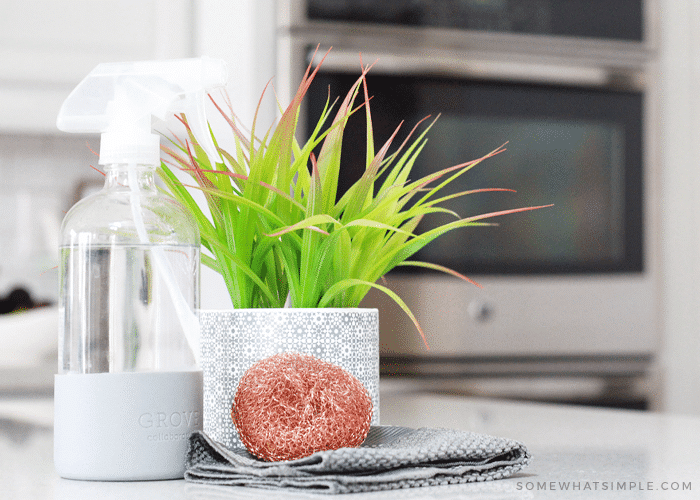 How To Clean The Oven Glass The Easy Way
Ever wonder what all that grime is on the inside of the oven door? How does it even get there? The residue is a combination of splattered food ingredients, grease, etc. and after being baked on at 350 degrees+ it becomes next to impossible to get off!
Rest assured, I am here to help! Today I'm sharing 2 solutions to clean oven glass that are amazingly effective and so simple!
What is a Good Natural Oven Cleaner?
The best natural oven cleaner we have found is to use baking soda mixed with a little bit of warm water to form a paste. Spread the baking soda paste over your oven glass and let it sit. Wipe with a warm damp cloth and you're good to go! Cleaning the oven with baking soda is a homemade oven cleaner that is simple, safe, and effective!
What is the Best Oven Cleaner?
For oven glass with more stubborn stains, a homemade oven cleaner may not do the trick. For these instances, we recommend using paper towels soaked in Ammonia. While harsh, it really is the best oven cleaner. Simply set the ammonia-soaked paper towels directly on top of the glass, then let it sit for at least an hour. The ammonia will help break down the stubborn grease, and you can wipe it clean much easier.
How to Clean Oven Racks
The best way to clean your oven racks is to let them soak in a sink or tub full of hot soapy water. I usually pull out my oven racks and let them soak in the bathtub full of hot water while I am cleaning the rest of the oven. For more stubborn grime, let your racks sit for several hours, changing the water each hour to make sure the water stays hot. After soaking, wipe down each oven rack with a Brillo pad. That's how to clean oven racks easily and without much effort!
How to Clean a Self Cleaning Oven
Newer ovens have a more effective self cleaning option than older ovens do. A self cleaning oven basically heats up the inside to make all the grime burn to a charcoal, making it easier to scrape or clean off. This can be helpful, or it can set off your smoke alarm! (Ask me how I know this!) To be honest, I really don't like to use my oven's self-cleaning function because it heats up our house and it usually smells bad.
But if you're wondering how to clean a self cleaning oven and you have a newer model, it is actually quite easy! Turn on the self-cleaning cycle and walk away! (Exact directions can be found in your owners manual. You can Google this if you can't find yours) Do not add any cleaner – this is not needed as it will just burn and make your house smelly. (Again, ask me how I know this.) 😉
More Easy Cleaning Tips
How To Clean An Oven Glass Door
Depending on how dirty your oven is, we have 2 methods for cleaning your oven glass you need to try!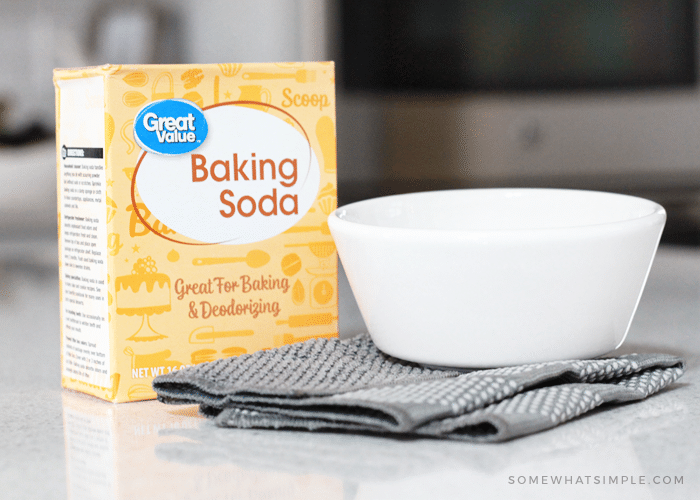 Cleaning Oven With Baking Soda
Best for mildly dirty ovens
SUPPLIES:
1/2 cup baking soda
water
clean rag
DIRECTIONS:
Mix the baking soda & water in a small dish. Add just enough water to make the mixture the consistency of a thin paste. Keep in mind that you don't want it to be too thick because you want the mixture to be spread easily. (Mine was a little runny, but it worked!)
Next, spread the baking soda mixture all over the oven glass.
Set the timer for 15 minutes and if your oven is REALLY dirty, set it for 20 minutes to give the baking soda a little extra time to work.
When 15 minutes has expired, use a clean rag (I used a damp wash cloth) to wipe up the baking soda mixture. You will be amazed at how easily the grime just wipes right off!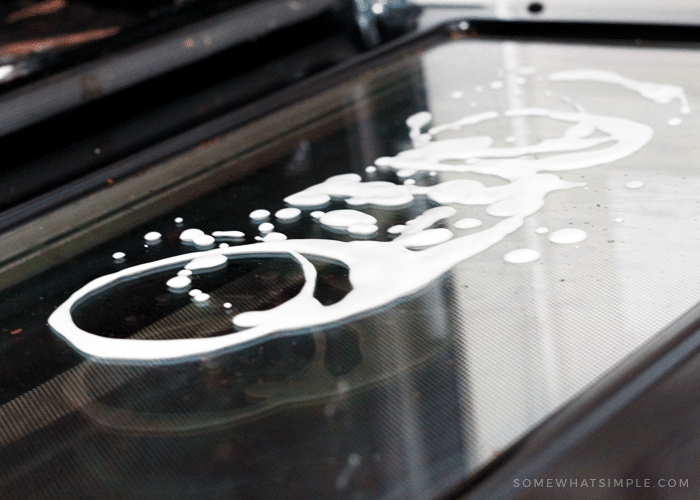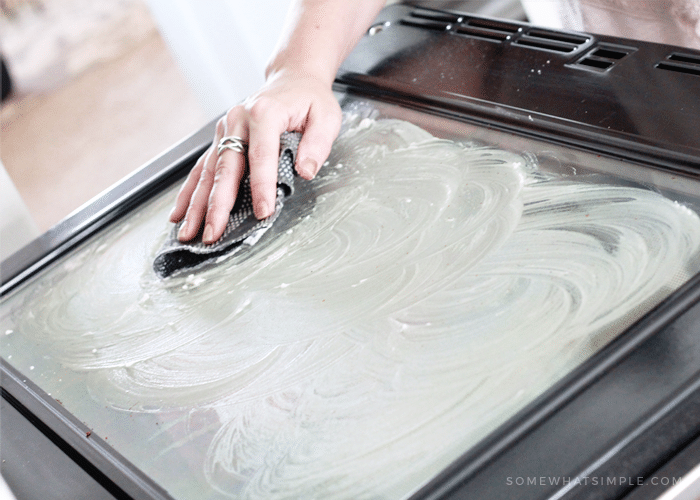 Sparkling clean oven glass is just a few minutes away!
This method is especially effective if you're giving your oven a quick refresh. I am always surprised at how easy it is to clean a glass oven door simply by using baking soda!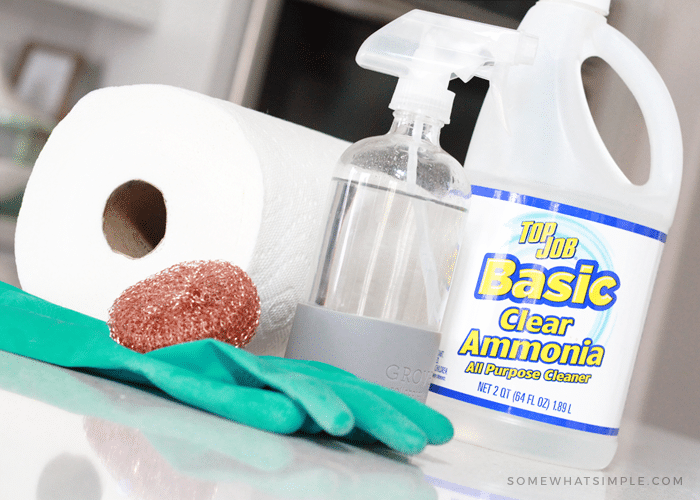 Easy Way to Clean Oven with Ammonia
Best for stubborn ovens
SUPPLIES:
ammonia
rubber gloves
squirt bottle
paper towels
copper or steel scrubber
clean rag
DIRECTIONS:
First, make sure all kids and pets do not have access to the oven until you are finished, and if you have a smaller kitchen, make sure the windows are slightly cracked so any fumes can escape outside.
Open the oven door and layout paper towel sheets so that they cover the entire oven glass, or if your oven is super dirty, the entire door.
Pour some ammonia into an empty spray bottle, and spray the paper towels until they are soaked completely.
If you have any stubborn spots inside the oven, you can just place an ammonia-soaked paper towel onto the area.
Leaving the door open/down, let sit for 30 min to an hour. (Which is why it's smart to have the kids and pets out of the home for this)
Using your gloves, remove the paper towels.
Start scrubbing! With the steel or copper scrubber or the rough side of a damp sponge, begin gently rubbing in circular motions the stubborn areas. Apply more elbow grease if needed.
Once finished, wipe down the entire oven with paper towels or a damp microfiber cloth, and voila!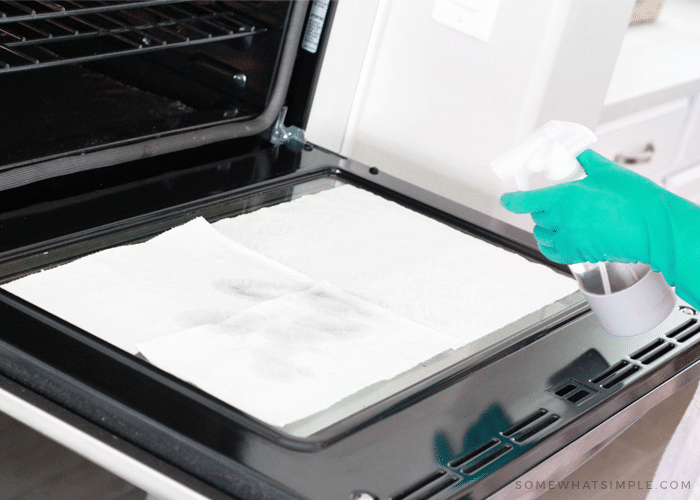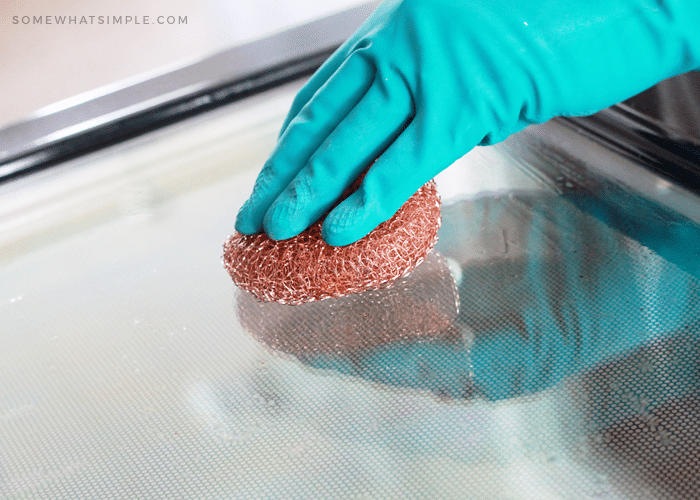 How To Clean Inside of Oven
Whether your oven is old and dirty and hasn't been cleaned in years, or if you've had a recent cooking disaster that is requiring a bit more attention, we hope these tips on how to clean an oven quickly are helpful and effective!
Have any other tips or tricks on how to clean the glass oven door?
Let us know in the comment section below!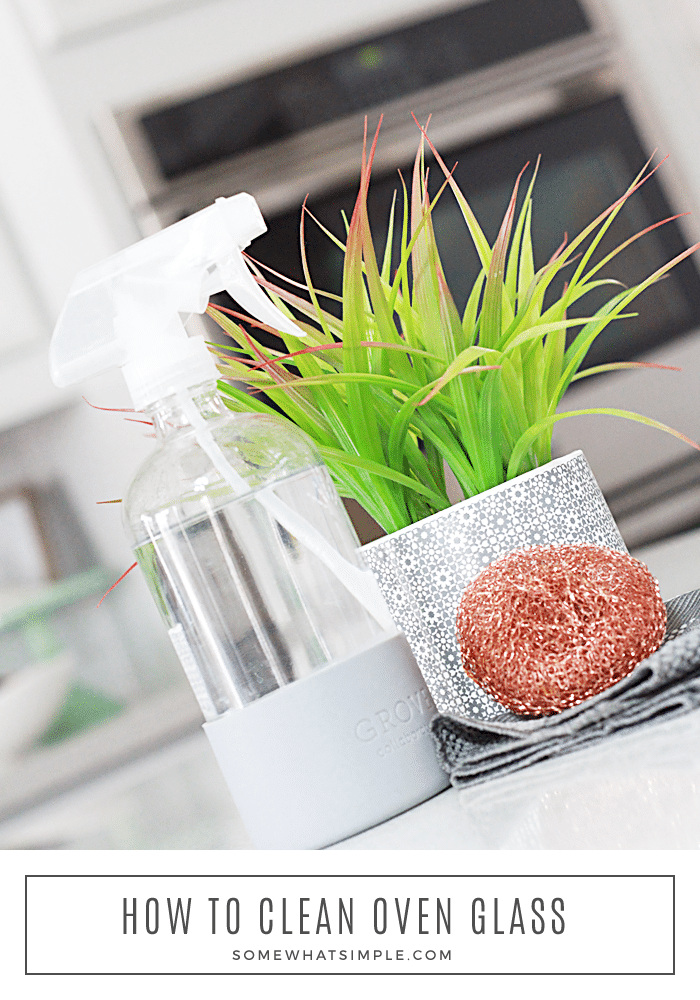 . . . .
About the Author: Anna is the creative blogger from Ask Anna. She loves to answer your household questions about cleaning, organizing, decorating, and more! Anna was a monthly contributor on Somewhat Simple in 2011- 2012.
This post was originally published on Somewhat Simple in September 2011.
SaveSave