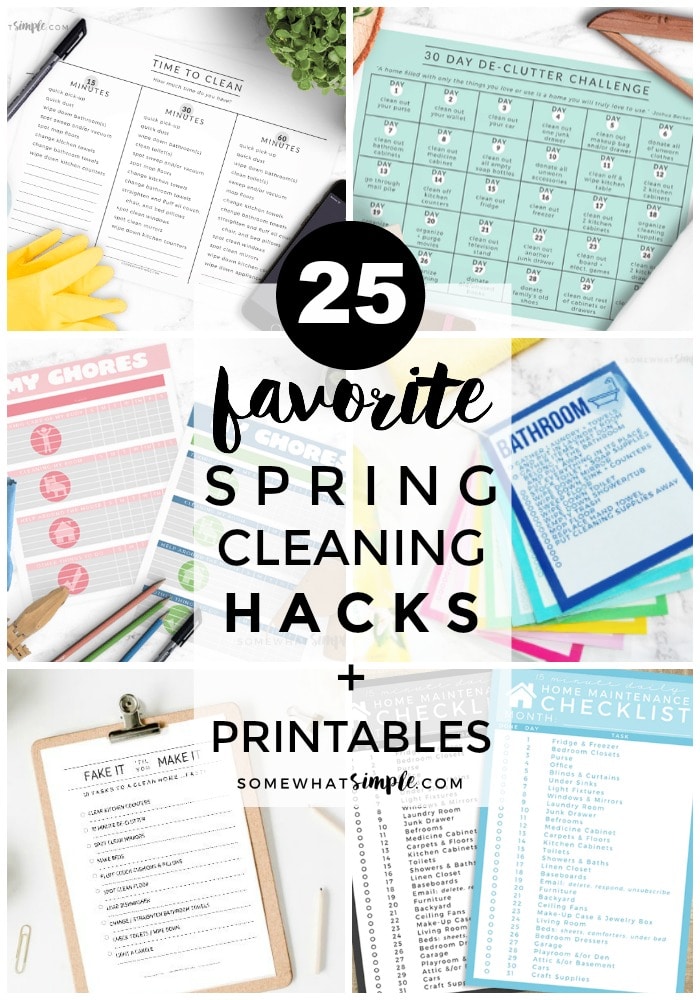 Let's talk about Spring Cleaning Hacks that can make your life so much easier!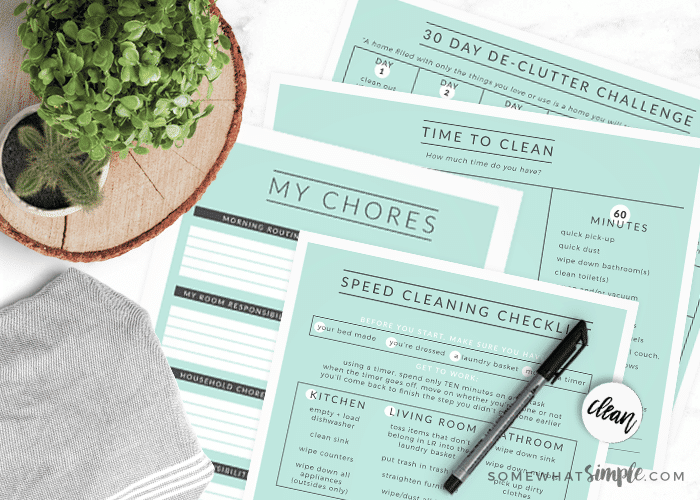 I know I am not the only one who is knee-deep in a good spring cleaning! People all over the country are shedding their junk and ridding their clutter because it feels good to freshen up after a long winter. I am a serious fan of cleaning out all of the cupboards and reorganizing spaces in my home, but things like baseboards and ceiling fans are way too often overlooked! Here are 25 spring cleaning hacks we love, plus 8 printables to help with the process!
First, please enjoy our YouTube video we made highlighting several of our favorite ideas –
*All links to the printables and ideas we demonstrated are included below.
8 Cleaning Printables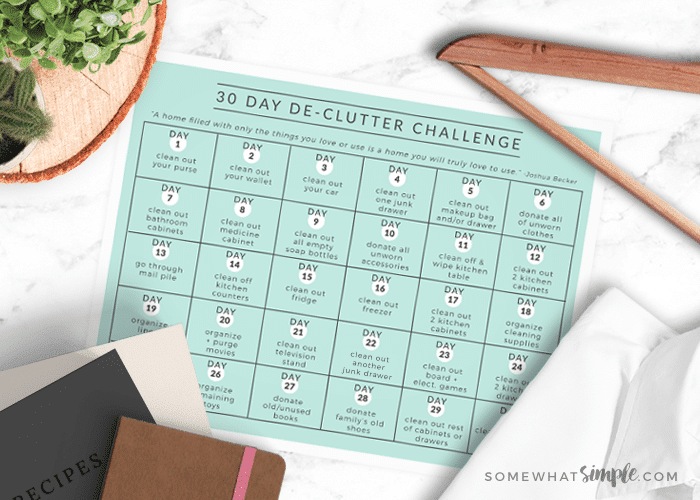 Feeling overwhelmed by 'stuff'?! We'll show you how easy it is to take back your home with our 30 Day Declutter Challenge!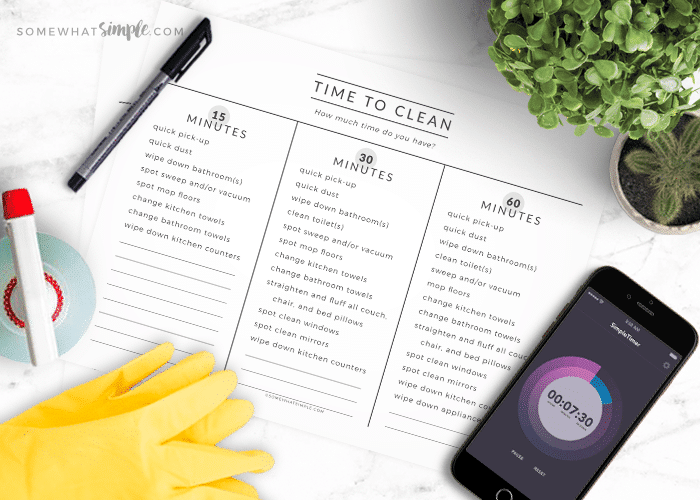 Have some time to do a little cleaning, but don't know where to start? We've got some quick house cleaning tips and a free printable to get you on your way to a cleaner home in no time!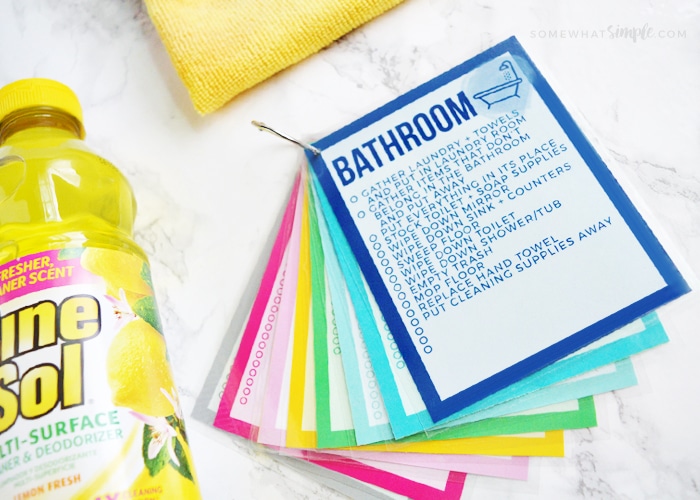 If you've got Spring Cleaning on the brain, these colorful Printable Cleaning Checklist Cards will help you tackle your goals!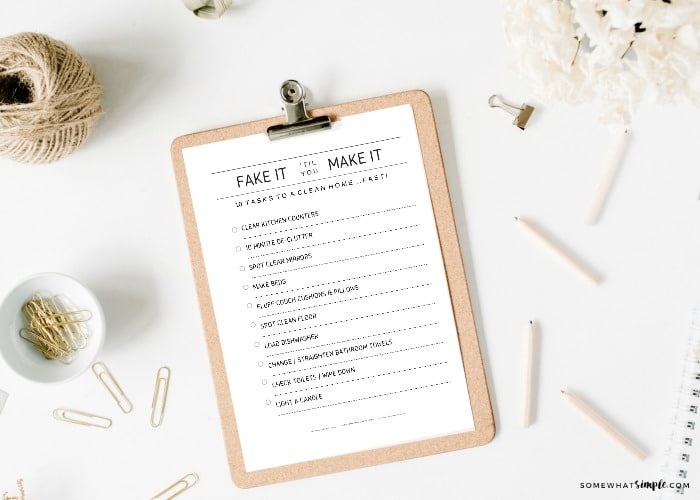 Learn how to fake a clean house to get your house back in order, and fast!
This daily cleaning schedule is an easy way to stay on top of that never-ending list of chores!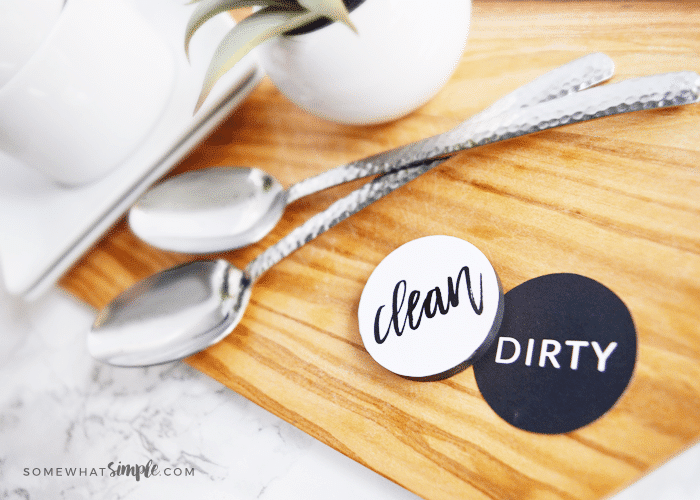 Tired of trying to guess if the dishes are clean or dirty? Then you need this simple DIY Dishwasher Magnet in your life, STAT.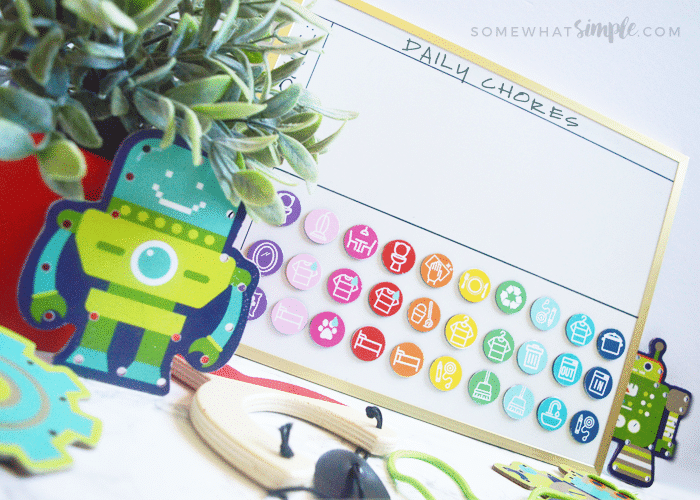 This easy tutorial will show you how to make a darling Magnetic Kids Chore Chart in a snap!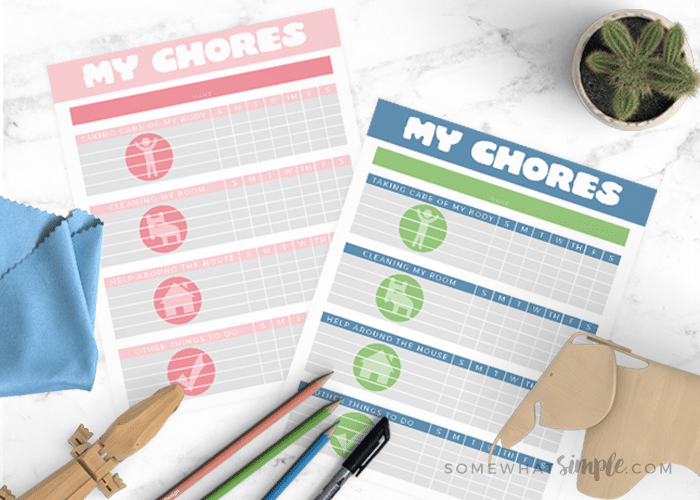 In an effort to help control the mess and to keep productivity level up, I designed these chore charts for kids that parents can print and change as often as they need to!
5 Spring Cleaning Hacks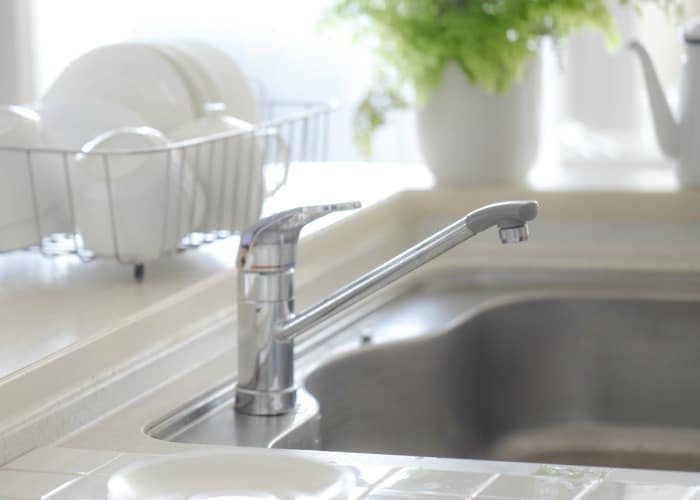 Rub wax paper over your faucets to keep them shinier and water-spot free!
Cleaning ceiling fans can be a real pain! It typically involves covering the entire bed or couch with a sheet so the dust doesn't fall all over, then vacuuming again and again (and again!) to make sure it gets picked up… I seriously HATE it! Problem solved completely by using a pillowcase to clean ceiling fans. (Tip from Real Simple)
Toss your Legos in a mesh bag and then put the mesh bad in your washing machine. The easiest, least painful way to get them all clean fast!
Clean your mattress by sprinkling baking soda over the top of it. You can add some lavender drops to make it smell pretty too!
Clean your blinds with a sock! Mix equal parts vinegar and warm water in a bowl. Put your hand inside the sock, then wet it with the vinegar mixture. Wipe the dust and dirt off your blinds and watch as it cleans the top and underside the same time!
12 House Cleaning Tutorials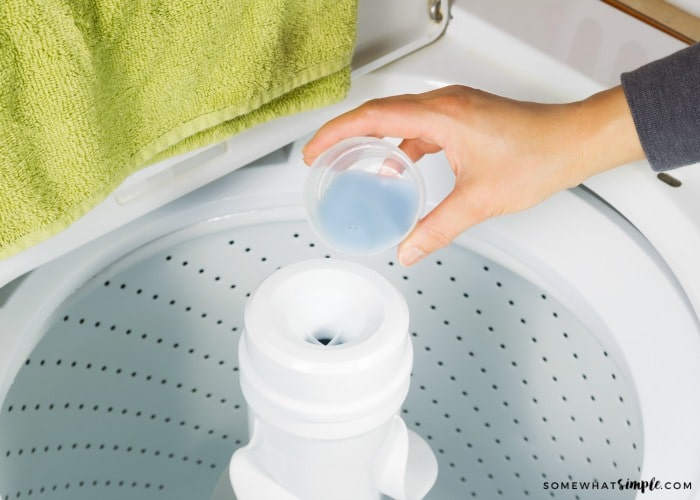 It's recommended that you clean your washing machine at least once a year, so it's a great task to add to your Spring Cleaning list! Our step-by step tutorial will make the process fun and stress-free! (Promise!)
We all know that cleaning a microwave can be a daunting task. It's a time consuming, smelly task and can require a lot of elbow grease to get the job done. But if you Steam Clean your Microwave it will be left smelling great and grime-free in no time!
If you've ever had to change a duvet cover, you know what a pain it is. But after watching this video on How to Put on A Duvet Cover from Crane and Canopy, you'll wash your duvet ten times more often! This seriously changes everything!
Here is a simple trick on how to clean your vents AND make them super easy to clean in the future.
You're only one hour away from having your kitchen appliances sparkling like new! Here is our step-by-step method on cleaning your microwave, dishwasher and refrigerator in 1 hour!
If your fridge needs even more TLC, here are 3 refrigerator cleaning tips you do not want to miss!
Learn how to clean the oven glass in an easy way that takes less than 20 minutes of your time!
Cleaning your stove can be a daunting task, but one that can really set the mood for your entire kitchen! Here is how to clean your stove in a simple way that involves ZERO chemicals and not even a whole lot of elbow grease!
How to clean your kitchen sink and why it is so important to stay on top of this simple task!
I really need to clean my dryer vent! This tutorial is a great reminder, from Pretty Handy Girl
How to clean your window tracks, from Ask Anna
How to remove candle wax from a wall or carpet! This cleaning tip will help you easily remove wax when it spills.
8 Cleaning Hacks / Tips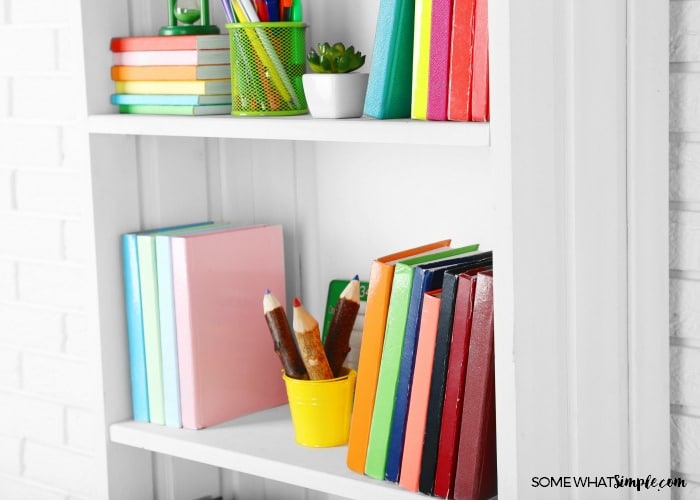 These 4 steps to organizing will help keep you on task and they will produce awesome results!
Allow yourself have a black hole – It shouldn't be too big or takeover an entire room, but designating a certain spot where clutter can pile is certainly helpful in keeping the rest of your house clean. 'Cause let's be honest, having a perfectly clean house all the time is not realistic. Allowing yourself to have a "black hole" is a good way to do a quick clean when someone calls and says they are on their way. Do a quick pick-up of the house, put everything in your black hole and put it away when you have more time.
Make it smell good. A good smelling house can help mask a mess. And lets be honest, even a clean room that smells gross is not pleasant to be in. I like to use my wax burner to get a good scent through out the whole house!
Do these 5 EASY tasks each day to keep your house clean!
Tackle that scary space in your home with these 5 questions that determine what to keep and what to get rid of.
The secret to success on how to get rid of the boys bathroom smell is a simple process that will change your life. (Or, at least change the way your bathroom smells!)
Here are specifics on how to clean your closet to ensure a safe, successful procedure:
Here is a 3-step process to make clean up time fun for kids.
. . . . .
Do you have a favorite cleaning tip or trick that has made your life a little easier?