This daily cleaning schedule is an easy way to stay on top of that never-ending list of chores!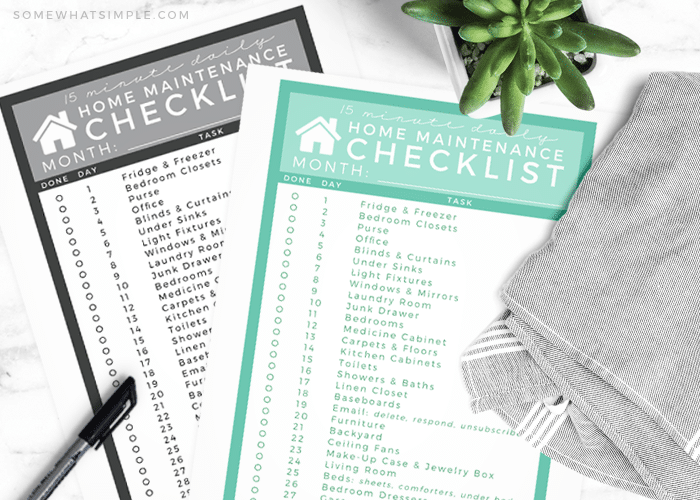 How to Clean Your Home Everyday
We built our first home and chose everything to our liking and budget. It was nice knowing that no one else had ever lived in it and that everything was literally in brand-new, pristine clean condition. But as life happens, we found ourselves doing small repairs and home maintenance and my cleaning list started to grow quickly too! If I were to set aside a block of time to clean everything in my house from top to bottom, it would take me at least an entire day- and I don't have time or patience for that!
So I decided I needed to put together a system that wasn't too overwhelming, but ensured all the chores I had on my list were getting done. I made this printable daily cleaning schedule to help keep me on task. I simply spend 15 minutes a day (or more, if I want to) on the areas listed above. So on the 14th of every month, I spend 15 minutes cleaning out my kitchen cabinets. Usually cleaning the kitchen cabinets takes more than 15 minutes, so I work for as long as I want and then I can pick up where I left off the next month on the 14th. I can skip a day if I really need to, but knowing I only have to work for 15 minutes keeps me from putting it off for too long.
Everyone has 15 minutes of spare time, and when you think of it that way, chores seem less daunting! You are welcome to download it for free if you'd like to use it too!
Daily Cleaning Schedule
As always, this printable is for personal use only and may not be sold, mass-produced, or claimed to be your own. Thanks for understanding.