Maximize your cupboard space and get rid of worn boxes once and for all with these simple Board Game Storage and Organization tips!
We keep a cupboard in our family room stocked with board games and card games that we can grab easily and be ready to play. The cupboard is filled with games that we've collected over the years – some favorites, some classics, and some we bought with higher hopes that ended up not being that fun!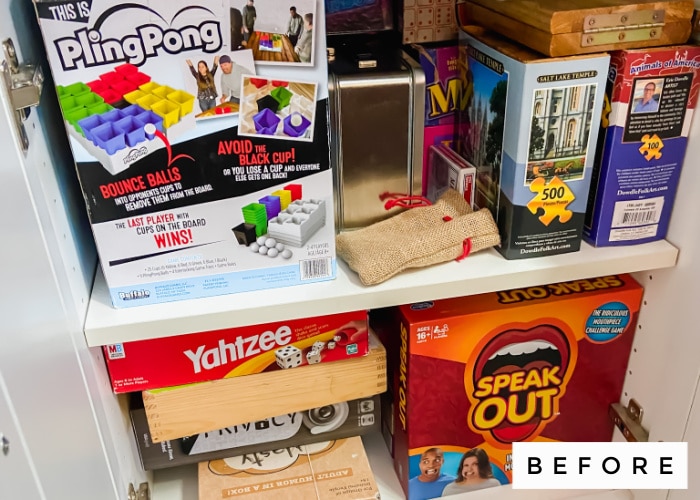 As much as I love having a game cupboard that is easily accessible, this particular cupboard definitely lacked in the organization department. It was packed so full that you couldn't see what boxes were in the back without pulling out every box in the front!
And speaking of boxes, you could definitely tell which games were well-loved, as most of the boxes of our family favorite games were falling apart!
In an effort to fix all of these issues, I set out to organize this cupboard once and for all… and I couldn't be happier with the results!
I basically went from this huge stack of games (the size of my 7-year-old!) to this compact size of plastic boxes that are durable, space-saving, and pretty too!
Here's how I did it –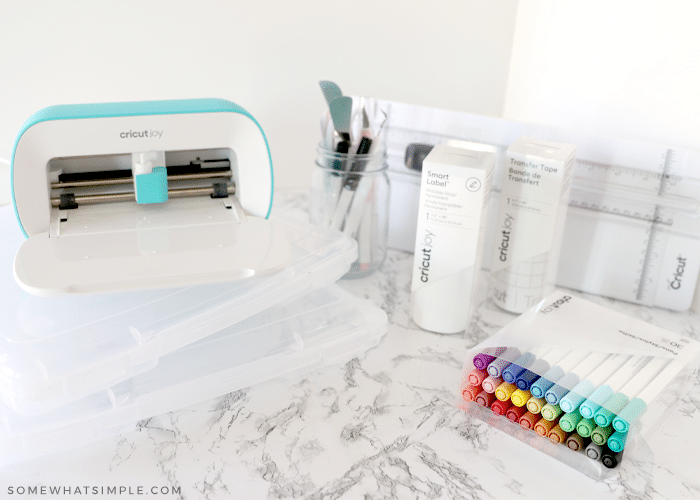 Game Storage Cupboard Organization
YOU WILL NEED –
Label Maker or Cricut Joy – I used my Cricut the first time I organized this cupboard, but lately, I've been using my label maker. Both work great!
8.5″ x 11″ plastic cases – The 8×11 plastic cases should hold a big majority of your games, but for games that have wider/taller contents, use THESE from Amazon or THESE from Ikea.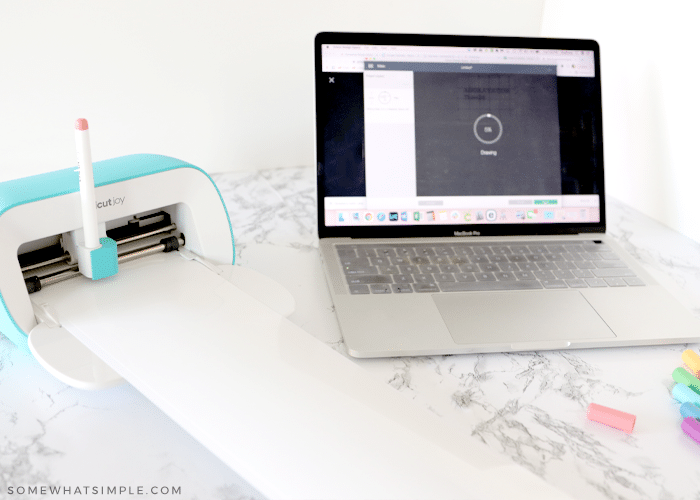 DIRECTIONS –
PURGE. Don't store unused and unwanted games! Donate them to Goodwill and keep only what you love to play!
I had a good amount of games that we never play anymore. It felt good getting rid of those items that took up so much space!
RE-PACKAGE. Put all your board games and card games into their new plastic homes. Make sure your plastic boxes fit in your closet/cupboard/shelf, and if they don't purge some more!
I kept only what fit in my cupboard. If we add more games to our collection in the future (which, I am sure we will!) I will have to decide what game to replace it with so I don't have an overflowing game cabinet!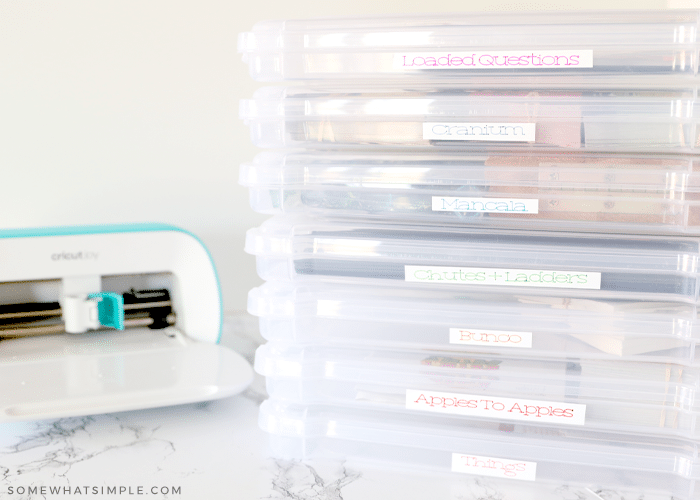 LABEL. Make the labels for your boxes.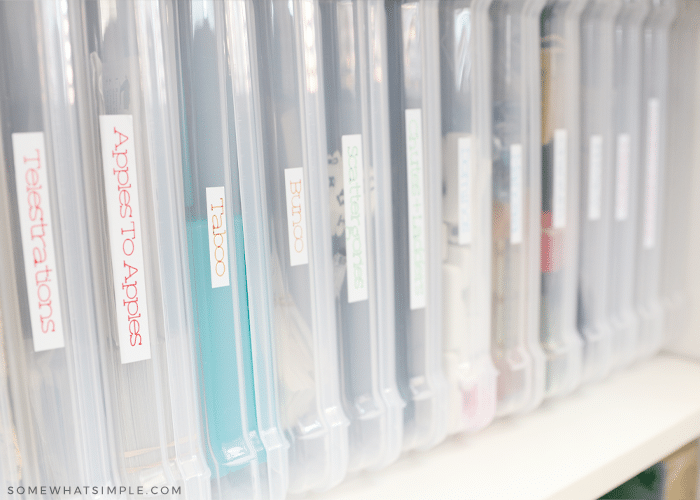 … and you're done!!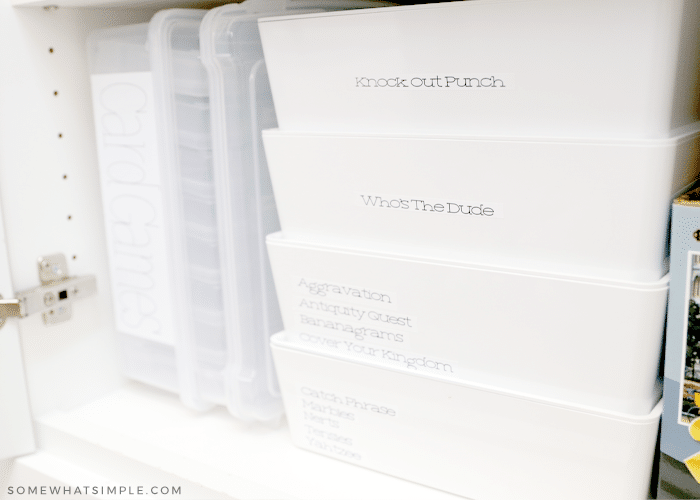 Now when our family is ready to play a game, it doesn't take forever to find the game we want! No more boxes falling out of the cupboard or stuffing things back in once we're finished playing!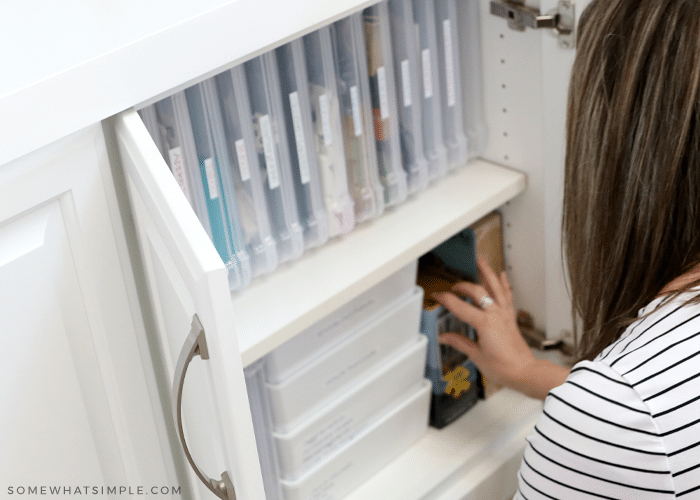 Such a good before and after, right?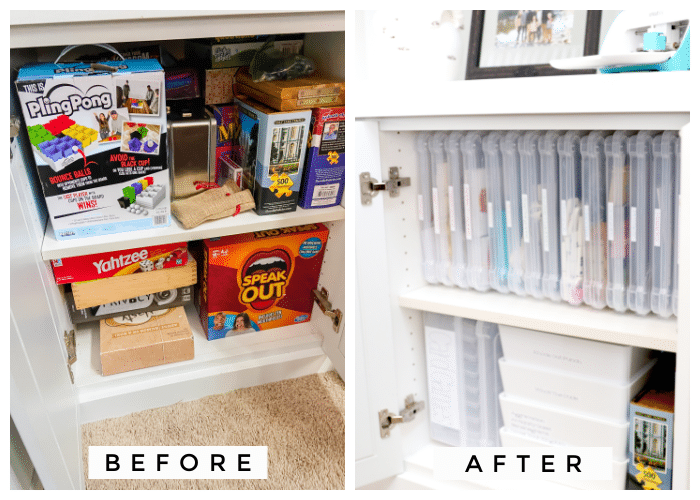 Do you have any great Board Game Storage ideas? Leave me a comment in the section below. I'd love to hear your thoughts!