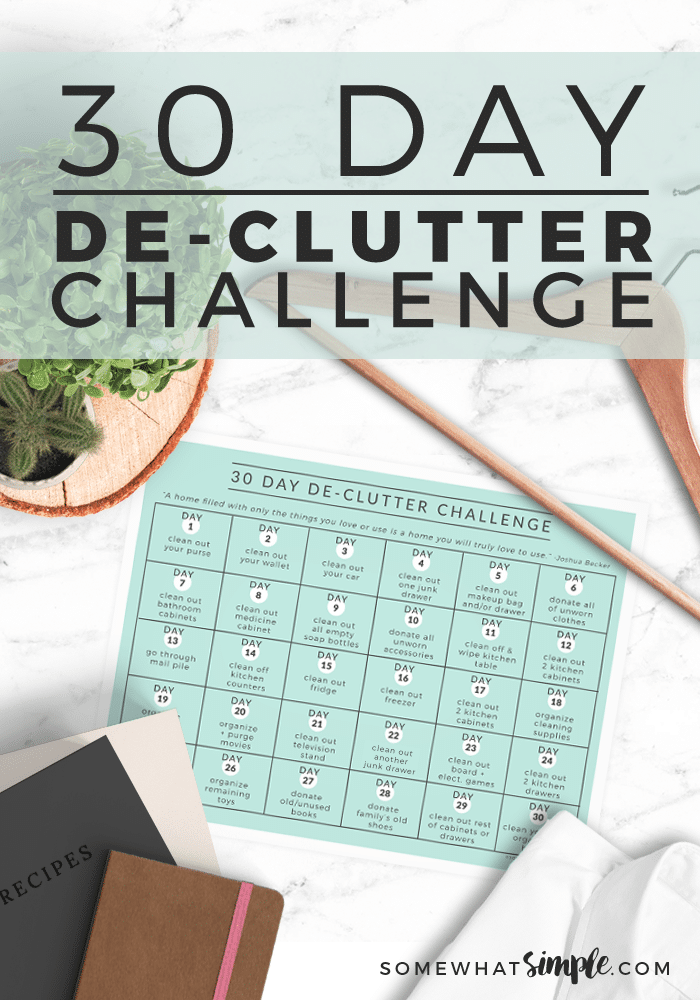 Feeling overwhelmed by 'stuff'?! We'll show you how easy it is to take back your home with our 30 Day Declutter Challenge!
Cleaning printables are kind of our jam. Our Speed Cleaning Printable Checklist, House Cleaning In Minutes, and printable Chore Charts for Kids are some of our reader's very favorites. But this 30 Day Declutter Challenge will have your home clean and tidy in one months time, tackling spaces you normally wouldn't get to! Take a look –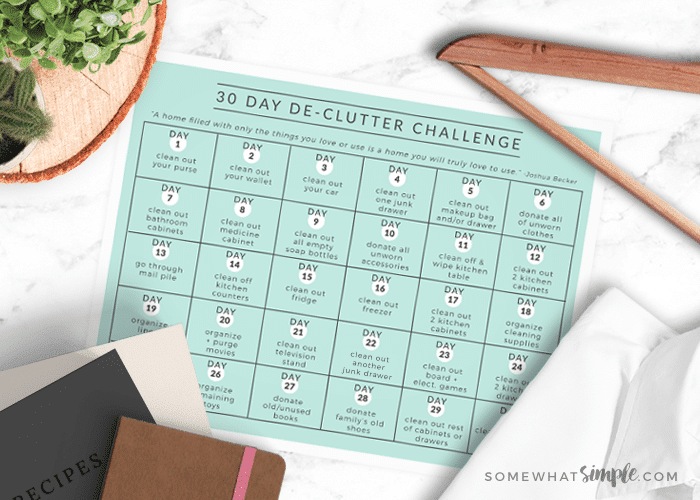 Organizing and Cleaning Calendar
Does anyone else feel like their home is being overrun with junk? Well, friends, it's time to take our homes back! (Please tell me you read that in your best Braveheart voice)
We've scoured the web and put together our favorite ideas to create this 30-day challenge! No special equipment necessary! Well, maybe a garbage sack. Or two. Or three… 😉
30-day Declutter Challenge
How to get started:
First, print off our De-Clutter Challenge printable (download below), and place it in a spot where you can easily see it, and stay motivated.
Commit. Make this a priority. I promise that you'll thank yourself later.
Get the family involved. You've heard the sayings: The more the merrier, many hands make light work, etc. right? You can definitely apply those here. Except when you're cleaning out the toys. I highly recommend doing that one sans children. 😉
Think of a reward. Treat yo'self when you've completed this challenge! You deserve it! I recommend using this printable goal tracking journal to do just that!
And finally, before you start, make sure you have plenty of large trash bags and/or boxes available for trash and donating items that you're getting rid of, and throw or donate those items immediately. This way, you won't be tempted to go back and keep anything. This also will help keep your home clean – if you're like me, you don't need more piles! Lol!
Decluttering Ideas
In this 30 day challenge, we're going to tackle spaces that are both big and small. Some of the ideas will only take a couple minutes and others will take a little longer. However, at the end of the 30 days your house is going to be more organized than ever before! Here are a few of the things we're going to do this next month.
Clean out your freezer
Go through that pile of mail that's been stacked on your desk for a month
Clean out that junk drawer that can barely shut
Take things you don't use any more and donate them to a good cause
Get rid of medications that expired years ago
And so much more!!!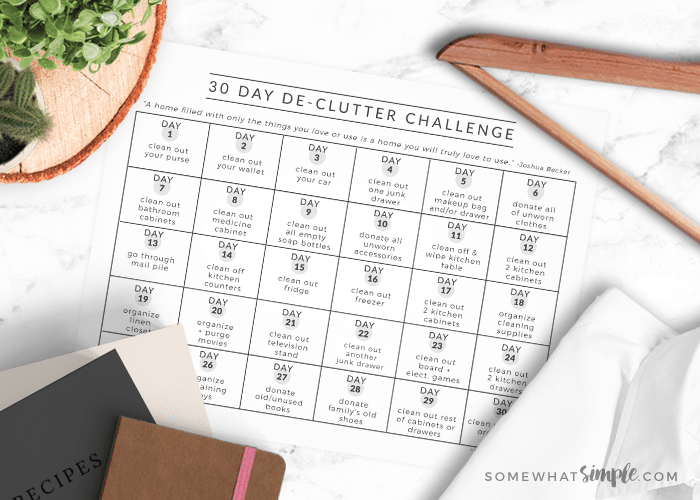 More Easy Cleaning Ideas
Declutter Challenge Printable
And that's basically it! Not so bad, huh? 😉 . Are you ready to start on this 30 day declutter challenge? Then it's time to download our printable calendar and get started. We have a color version and a black and white version if you want to save your printer's ink.
Let's do this! Leave a comment with any other tips or tricks you might have – we'd love to hear what people have had success with! Happy de-cluttering!