Feeling overwhelmed by 'stuff'?! We'll show you how easy it is to take back your home with our 30 Day Declutter Challenge!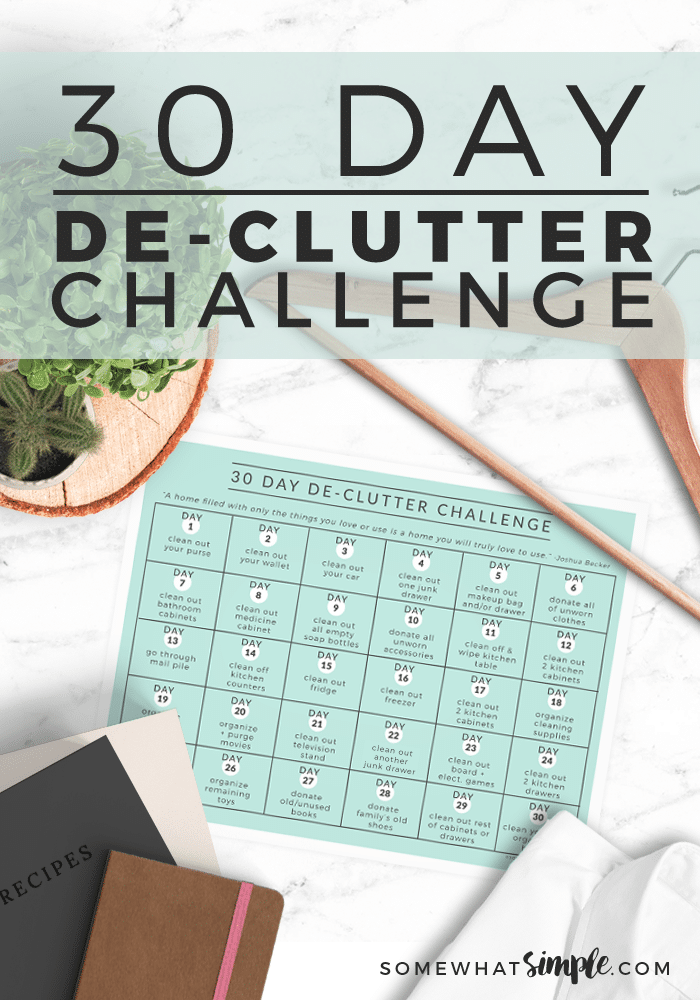 I've been wanting to do this for a while now. I feel like my home becomes more and more 'full' with every Christmas and Birthday that comes around! Am I alone in this? Does anyone else feel like their home is being overrun with junk? Well, friends, it's time to take our homes back! (Please tell me you read that in your best Braveheart voice)
We've scoured the web and put together our favorite ideas to create this 30-day challenge! No special equipment necessary! Well, maybe a garbage sack. Or two. Or three… 😉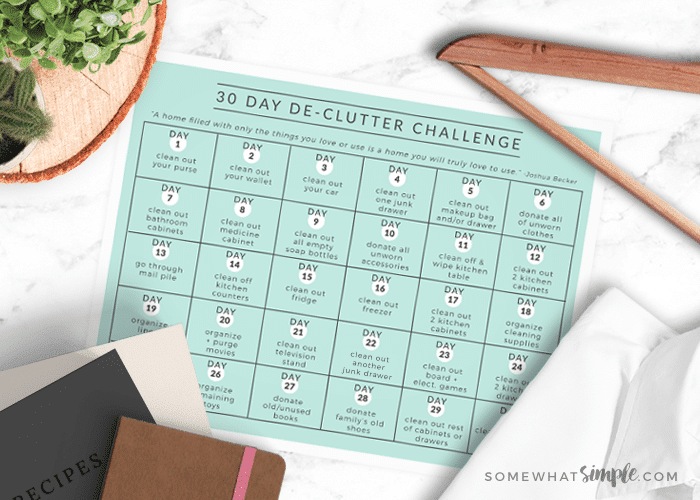 30-day declutter challenge
How to get started:
First, print off our De-Clutter Challenge printable (download below), and place it in a spot where you can easily see it, and stay motivated.
Commit. Make this a priority. I promise that you'll thank yourself later.
Get the family involved. You've heard the sayings: The more the merrier, many hands make light work, etc. right? You can definitely apply those here. Except when you're cleaning out the toys. I highly recommend doing that one sans children. 😉
Think of a reward. Treat yo'self when you've completed this challenge! You deserve it! I recommend using this printable goal tracking journal to do just that!
And finally, before you start, make sure you have plenty of large trash bags and/or boxes available for trash and donating items that you're getting rid of, and throw or donate those items immediately. This way, you won't be tempted to go back and keep anything. This also will help keep your home clean – if you're like me, you don't need more piles! Lol!
And that's basically it! Not so bad, huh? 😉
click to download our 30 Day De-Clutter Challenge Chart in color
And for those who don't have color printers, or want don't want to save ink:
click here to download our 30 Day De-Clutter Challenge Chart in b&w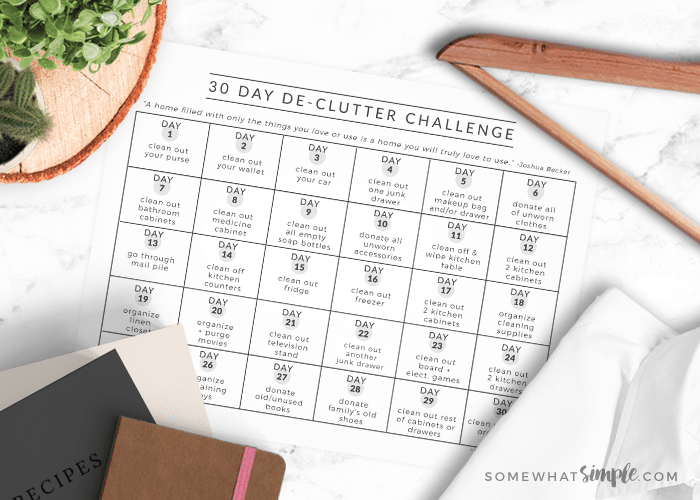 Let's do this! Leave a comment with any other tips or tricks you might have – we'd love to hear what people have had success with! Happy de-cluttering!
Our readers have also enjoyed these posts:
https://www.somewhatsimple.com/quick-clean-ups-with-clean-mama/
Chores for Kids – How to Make Clean Up Time Fun and Successful