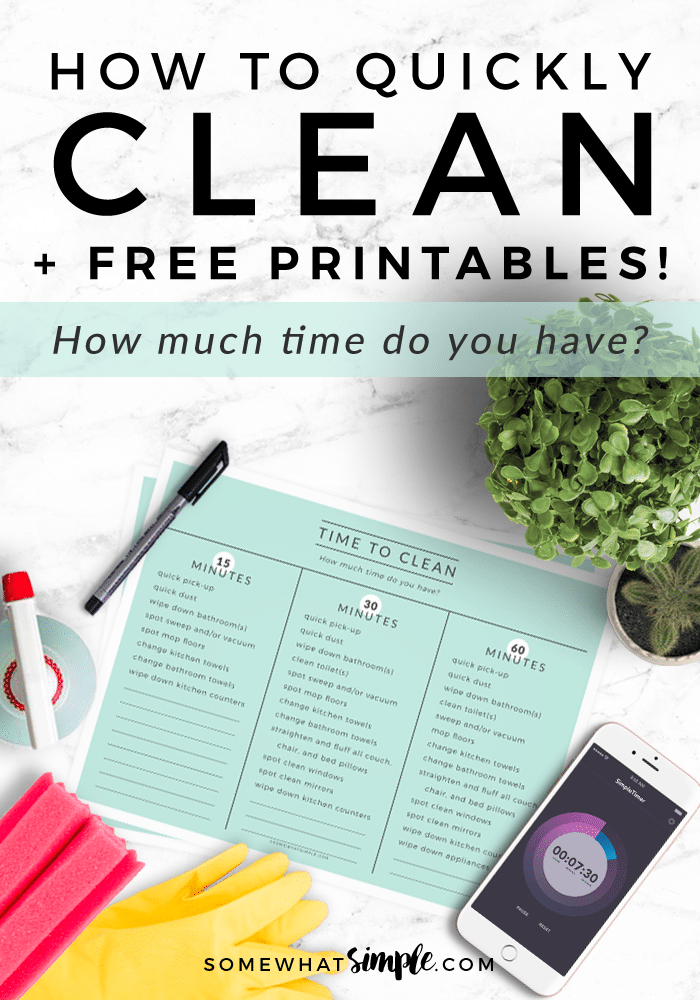 Have some time to do a little cleaning, but don't know where to start? We've got some quick house cleaning tips and a free printable to get you on your way to a cleaner home in no time!
I know I am not the only one who does a quick clean up around the house before a friend calls and says she is "on her way". Quick cleans can also be used before dinner or bedtime or at the end of a busy week to help you keep a cleaner home. Plus it can put a little sanity back into your life. 😉
But not all your available cleaning time is going to be the same. And so, we created three different plans for a quick clean up, depending on how soon your BFF is going to show up your door! So how much time do you have before she gets there? How long before dinner is done? How soon do you want the kids to get to bed? 😉 Don't worry about assessing the situation or needs of your home, just figure out how much time you have and get started!
Quick House Cleaning in Minutes
How To Get started:
First, you'll need to grab our free printable (download below), print it off, and place it somewhere you can access it easily. Like on the fridge, or taped to the back of the pantry door or cleaning cupboard.
Make sure you have a timer: use an app, your microwave, an egg timer, etc. but don't skip this! You want to be able to focus completely on your tasks, and not worrying about checking the clock. A timer is crucial for you to be successful!
I recommend having a quick clean caddy or bucket ready specifically for these quick clean ups. Read through our printable, and assess what you'll need for your home in order to check things off.
And lastly, don't get distracted! That text or email can probably wait. Just focus, and you'll be surprised how much you can get done! And then you'll be able to answer that email or text without your home nagging you in the background. 😉
Good to know:
A "quick pick up" might mean tossing items in a laundry basket and hiding in a closet to sort through later. Don't feel quilty – you can get to it after your BFF goes home.
To "spot" clean means to clean what is visibly dirty.
Cleaning wipes are great for quick cleaning and disposal – grab some at the store or make your own!
Need something that's not on our printable? Just add tasks that you need to do for your home on the blank lines.
We love a good colored printable! But if you don't want to use up a lot of ink, we've also got a black + white version available for you!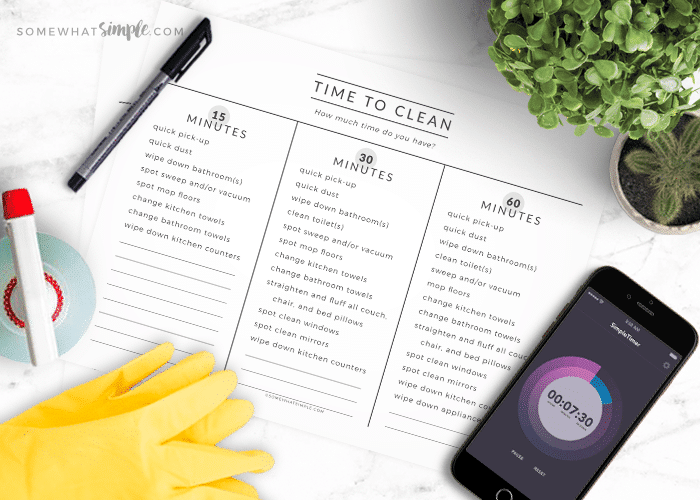 Ready to have a cleaner home? Grab our free printables and get started!
There's nothing like checking off a list to give you that nice feeling of accomplishment!

About the Author: This post was originally written by Becky who blogs about all things clean, organized and domestic at Clean Mama. She is a former art teacher, turned work-at-home mom that keeps it "all" together with a good list and a cup of coffee.
This post originally published in May 2011, but was updated with a new printable and images in 2018