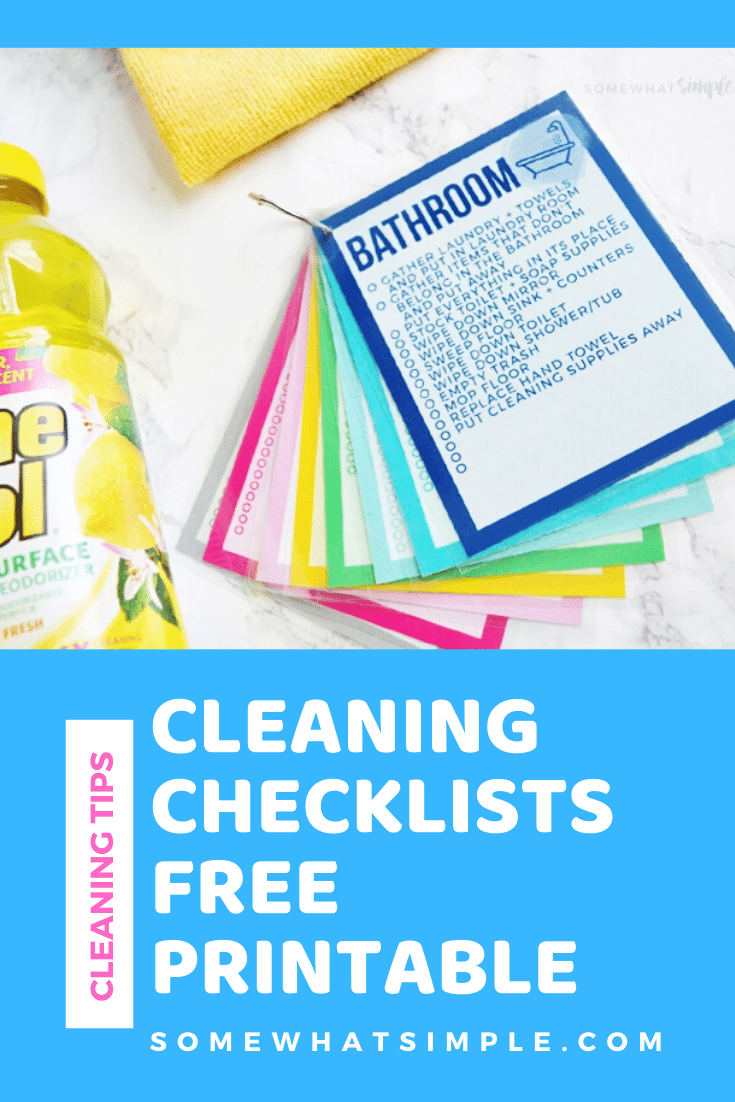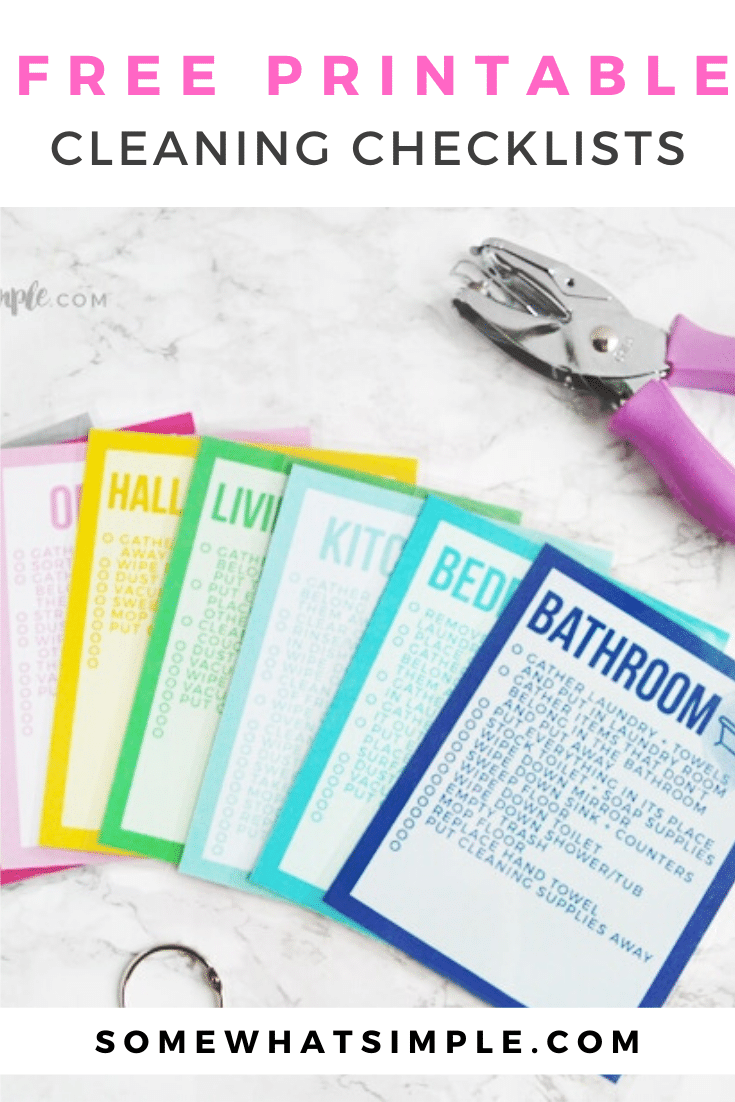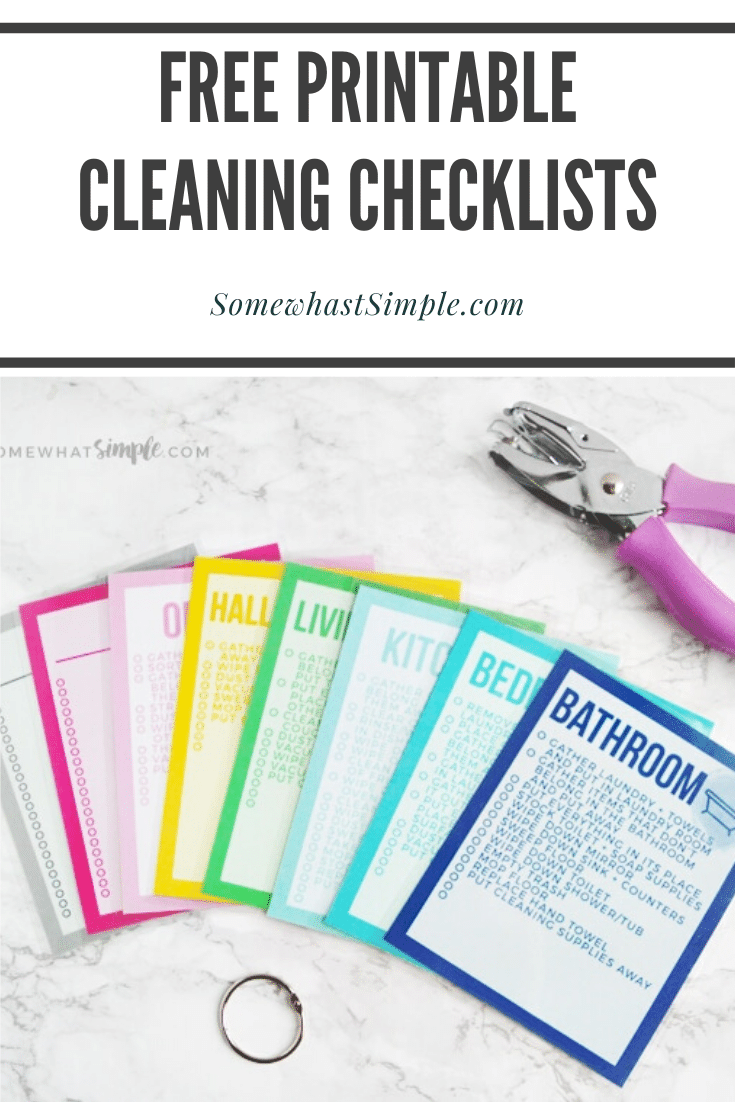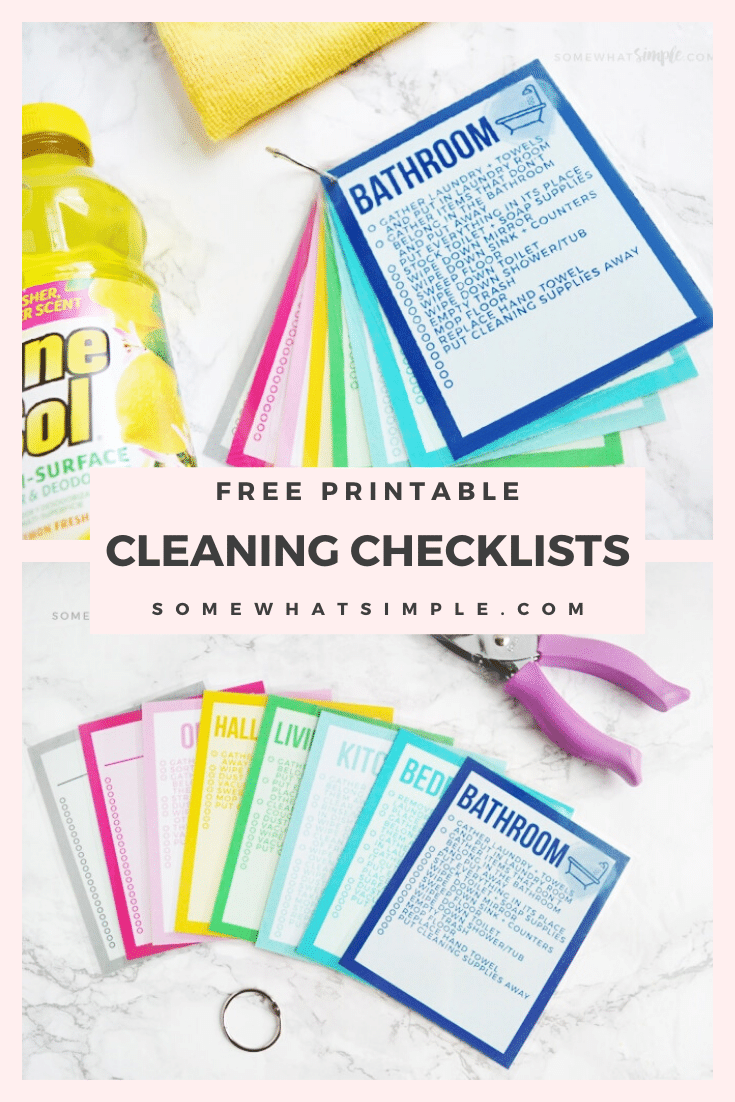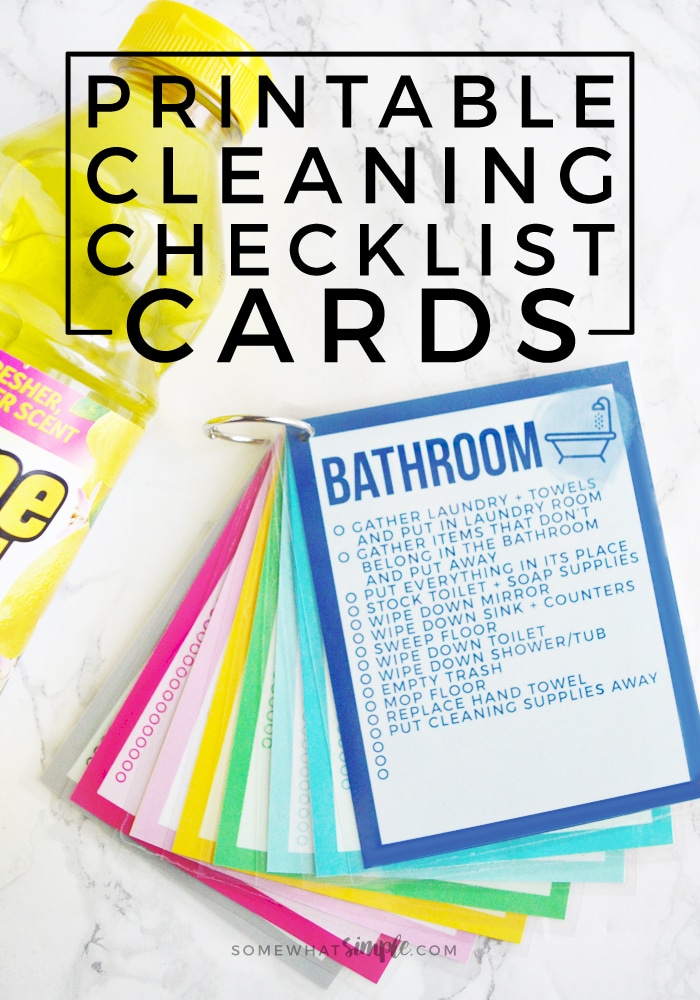 If you've got Spring Cleaning on the brain, these colorful Printable Cleaning Checklist Cards will help you tackle your goals!
Here are a few more cleaning and organizing posts we think you'll love – How to Clean Your Garage, Bathroom Cleaning Tips and Tricks, 10 Laundry Hacks, 10 Ways Kids Can Help at Home, 12 Vinegar Cleaning Hacks, and 15 Kitchen Organization Ideas.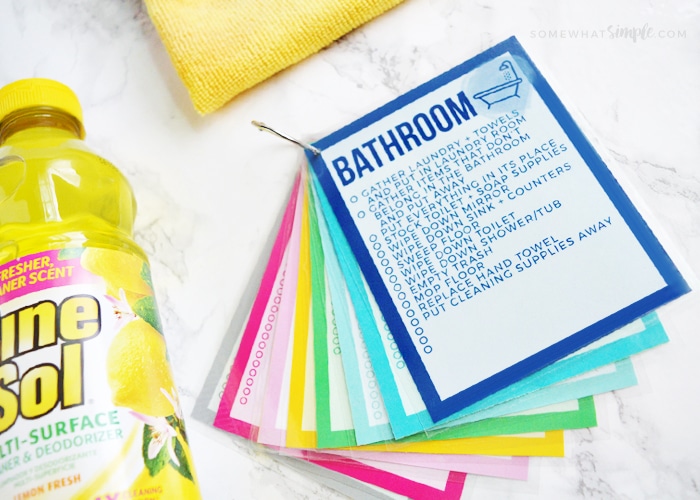 Let's face it. Doing household chores is not the most glamorous thing to do. And to get the kids involved? Sometimes it's easier to herd cats. #JustSayin' So we're here to help make the mundane task of cleaning a little more fun and easier for you and the whole family!
How to Make A Cleaning Checklist
Grab a few supplies and you'll be ready to go!
Cleaning Cards – The first thing one needs to get properly motivated is a colorful + darling checklist. (Because cute makes everything more fun, right?) And let's not forget to mention the deep satisfaction of checking things off a list. We've created these Printable Cleaning Checklist Cards with those two facts in mind.
Caddy – Next, you're going to need a caddy or bucket of sorts, with a handle or holes in it.
Hole Punch + Metal Ring – Punch the corner of your printables, slip your ring onto the holes, then attach it to the handle of your bucket.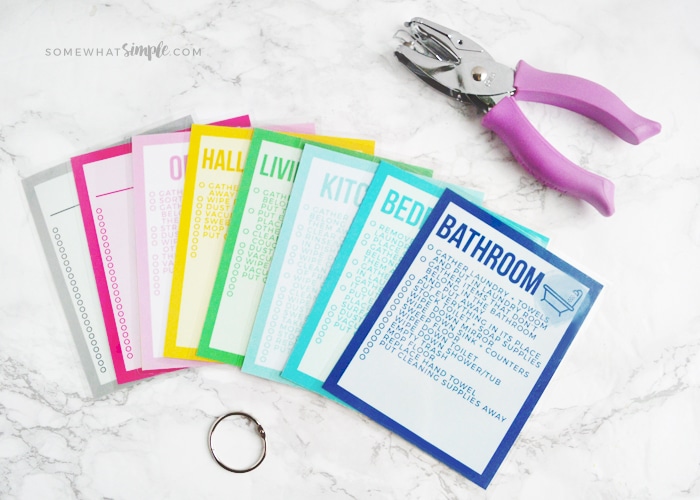 Printable Cleaning Checklist Cards
Ready to get your bucket o' clean on? Chore time is going to be a breeze! #LetsDoThis
SUPPLIES –
Cleaning Checklist Cards (download below)
hole punch
laminating sheets + laminator*
scissors and/ or paper cutter
clip (or O) ring
dry erase marker
caddy or bucket with handles
basic cleaning supplies – we used Pine Sol Lemon, Clorox Disinfecting Wipes, Glad Trash Bags, and microfiber cloths that we found at our local Walmart and Walmart.com.
DIRECTIONS –
First, print off our Cleaning Checklist Cards.
Fill in any additional chores, or use the blank cards to create any other rooms or areas you have in your home.
Cut out and laminate. (*If you don't own a laminator, you can use an iron. Just place the cards inside the laminating sheets, place that in between two towels, and iron until clear.)
Cut out (leaving a slight edge of the laminate to keep your cards waterproof).
Punch hole in top corner, and thread onto your clip.
Clip onto caddy or bucket, fill with your cleaning supplies, and you're ready to go!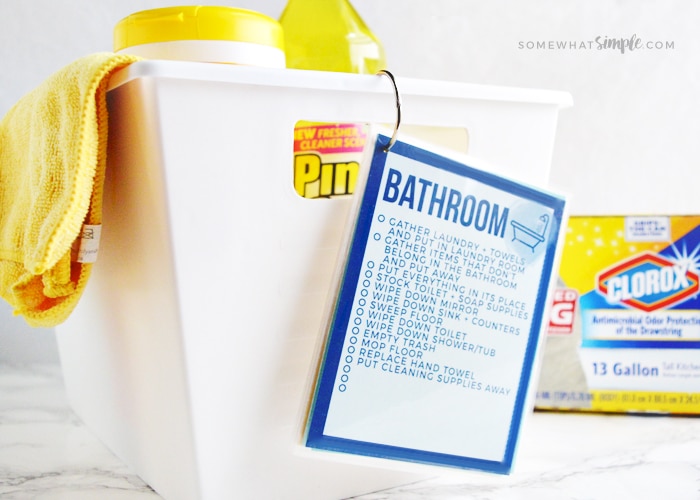 HELPFUL CLEANING TIPS –
First of all, don't worry about filling your caddy or bucket with a bunch of items – with these cards, you really only need a few things to keep on top of those pesky chores:
Trash bags: Each room needs to have the trash gathered and thrown away, so make sure you have those. We love the Glad Trash Bags with Antimicrobial Odor Protection, because of kids (and teens). And no one wants to smell last night's dinner, or the bathroom garbage, am I right?
Disinfecting wipes: Let's be honest. The kids love using these, and I love being able to just grab, wipe, and throw all those germs and grime in the trash. And you know it's killing those viruses + germs when you're using

Clorox Disinfecting Wipes. And they're perfect for all surfaces, including stainless steel, finished hardwood, mirrors, and glass.

Multi-surface cleaner:

Some tasks are just too large for disinfecting wipes, so another thing you're going to want is a great multi-surface cleaner. We LOVE the

Pine Sol Lemon

– cleans + deodorizes, leaving the whole house smelling fresh and clean! Plus it also c

uts through tough grease, grime, and dirt on multiple surfaces (cleans floors, sinks, counter, stoves, bathtubs, showers, tile, and more). So for those rooms that require mopping or cleaning appliances, this is perfect to have in your arsenal.

Microfiber cloths:

We love microfiber cloths for dusting, shining faucets, etc. They can also be used to quickly wipe down floors instead of pulling out the mop. They're a great thing to have in your cleaning bucket!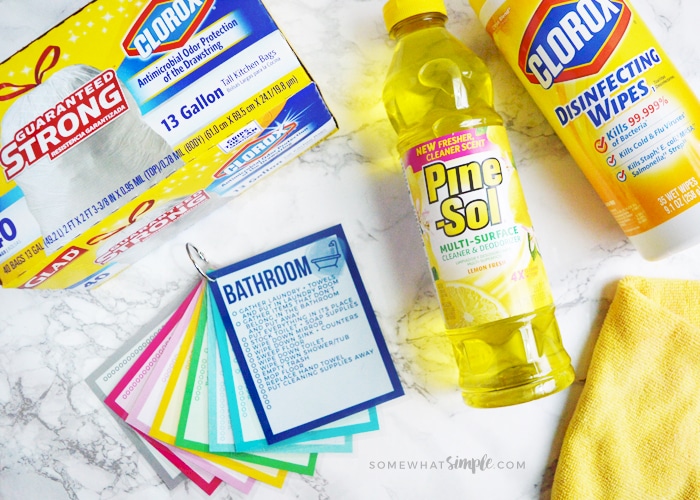 Ready to grab your own Cleaning Checklist Cards?
Do you have any other cleaning tips + tricks to add? We'd love to hear them! Leave us a comment, and happy cleaning + list check-off-ing! 😉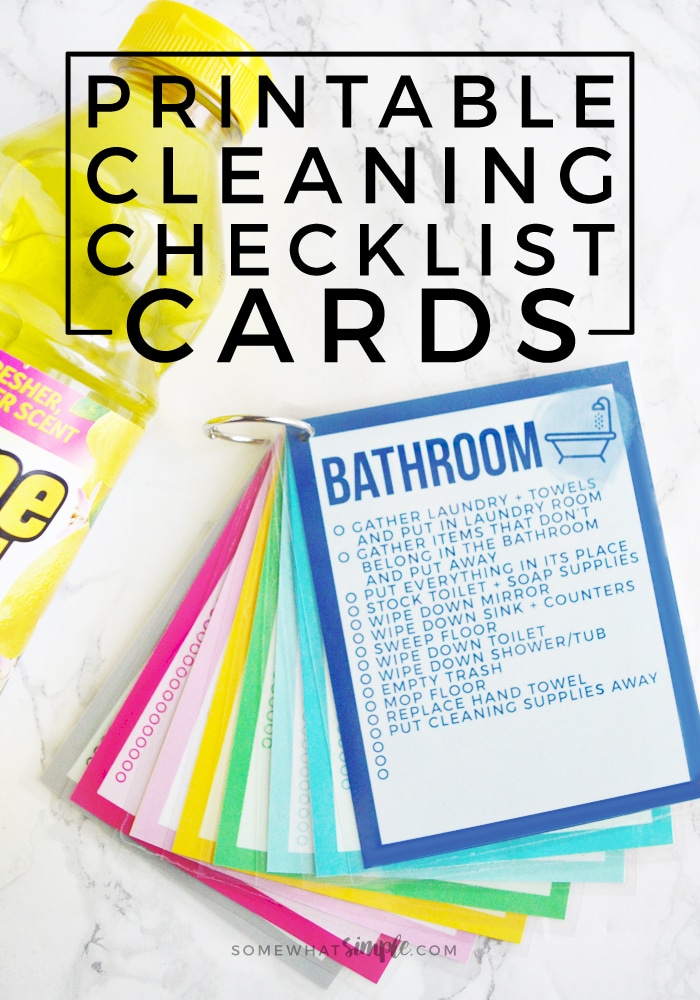 This is a sponsored conversation written by me on behalf of Clorox. The opinions and text are all mine.