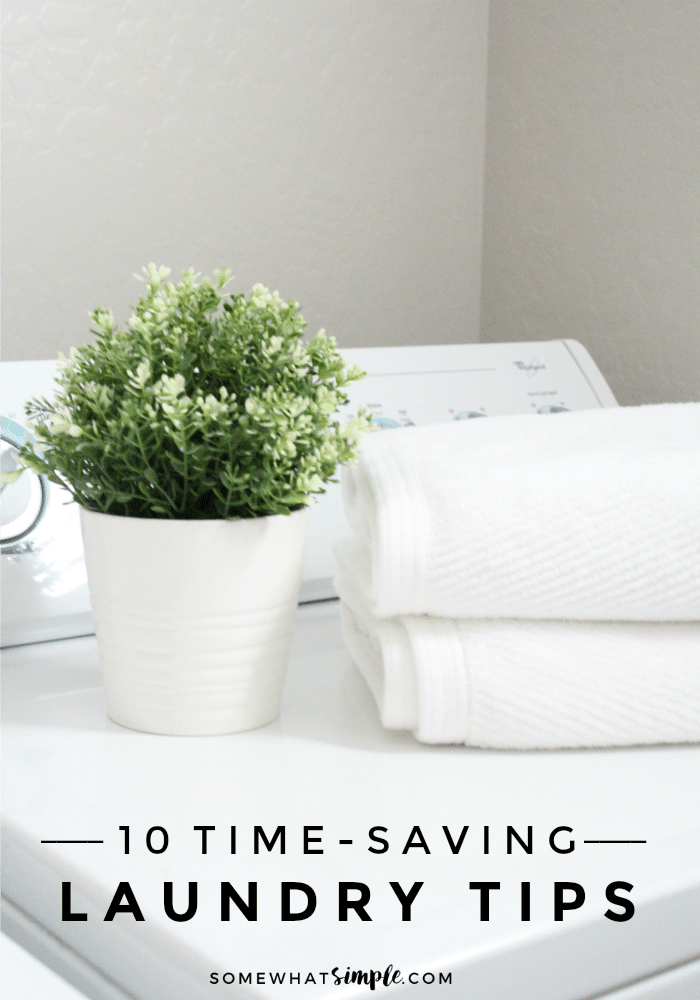 Here are 10 of favorite laundry hacks and savvy shortcuts to scrubbing stains, eliminating odors and cleaning clothes! These easy tips will not only save you precious time but also your sanity!
These laundry tips are in partnership with Tide. All opinions are 100% my own.
Looking for more cleaning hacks? Here are a few of our favorites – How to Clean Your Oven, How to Clean Your Microwave, and How to Clean Your Washing Machine.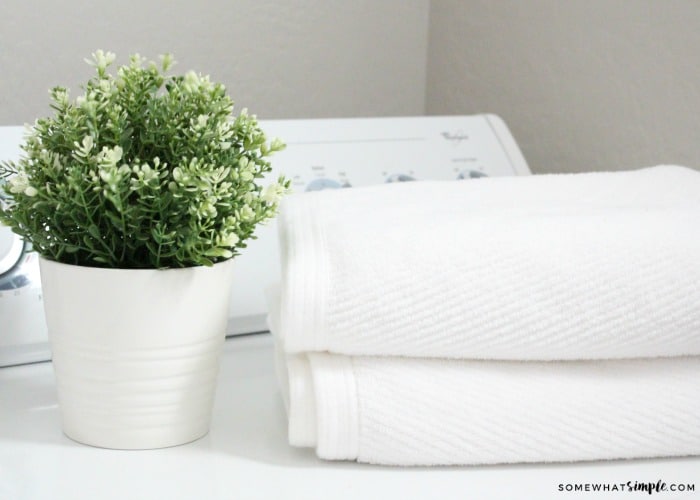 Laundry is probably my least favorite household chore. Its never completely done for longer than a day, so it feels never-ending! But everyone has to do laundry, right? And there are a few tips and tricks I've learned over the years to make it slightly less inconvenient. Here are my very favorite laundry hacks and how I combat the never-ending chore that is my laundry pile.
10 Favorite Laundry Tips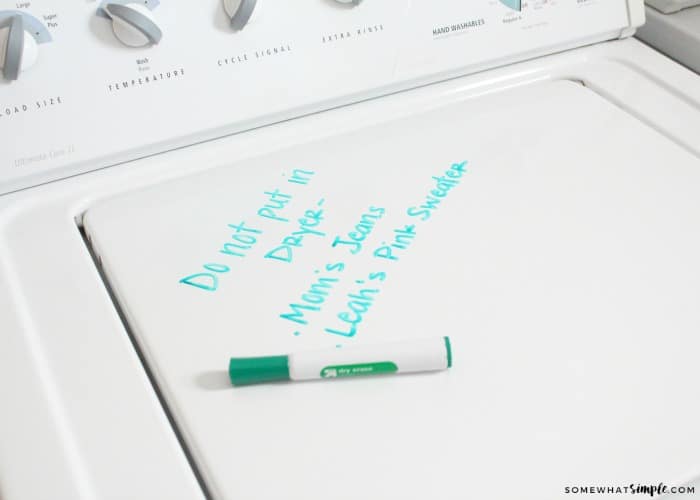 Tip #1 || Write it Down
This tip is my favorite one to use when I'm doing laundry. Over the years, I've ruined way too many articles of clothing by accidentally putting them in the dryer. When I'm busy doing other things while the clothes are washing, I usually forget what I put in there by the time the cycle is done. Now I use a dry-erase marker to write on my washer to remind me of the clothes that are inside that shouldn't be dried.
Tip #2 || Laundry Time Saver – Don't Sort Your Laundry
You're probably thinking, "Did she just say not to sort my laundry?!" Yes, yes I did. This was a tip I was given a couple years ago from Laura. She was a witness to one of my "I hate laundry" rants (I think on Twitter or Facebook?) and she simply said, "Don't sort it. It goes against everything we've been taught, but it saves time."
And guess what- she is right. Read all about Laura's time-saving system HERE.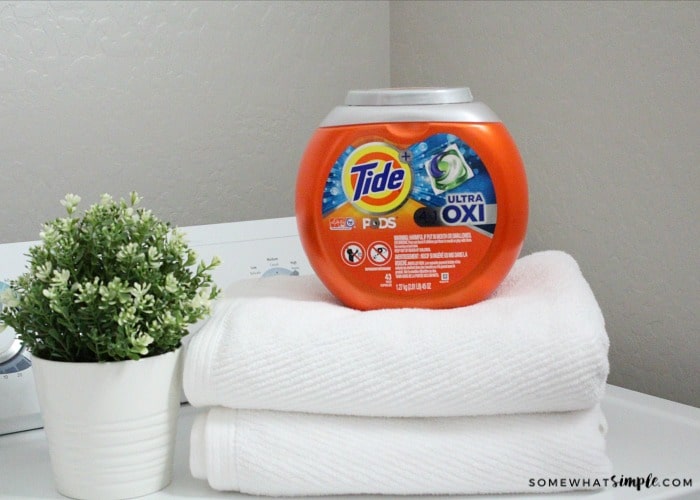 Tip #3 || Ditch the Laundry Hacks!
I've always turned to laundry hacks to get out the toughest stains or smells –
Vinegar to eliminate odor
Lemons for brightening
Baking soda for removing stains
To put these common laundry hacks to the test, I went to the experts – scientists at Tide! They invited me to their headquarters in Cincinnati, Ohio to test these common laundry tricks first hand – and I can't say I was very surprised at the results. We found that the detergent I've been using literally my entire life is all I need! Washing clothes with Tide (specifically their newer Ultra Oxy product) worked better than the laundry hacks that so many people swear by!
Tide Ultra Oxi removes stains better than baking soda
Vinegar might hurt more than it helps; since it is an acid it can lower the optimal pH of your detergent making it less effective
Lemon juice isn't designed for use on both colors and white clothing, in fact, lemon juice has bleaching power and may fade colors if not used correctly
Tip #4 || Quick Wrinkle Remover
This next laundry hack will help you when you need get those wrinkles out of a shirt quickly. Toss the wrinkled item in the dryer for a few minutes with some ice cubes for a quick steam press!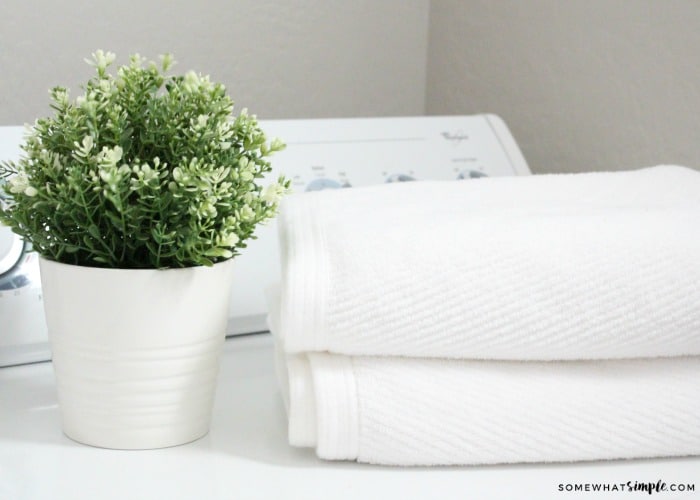 Tip #5 || Cut Drying Time
Save time and energy by tossing in a clean, dry towel in the dryer with your wet clothes.
Tip #6 || Keep it Together
Place all socks in a mesh bag before putting them in the washer and you'll never lose a sock again! Plus, they are easy to pair when it's time to fold them!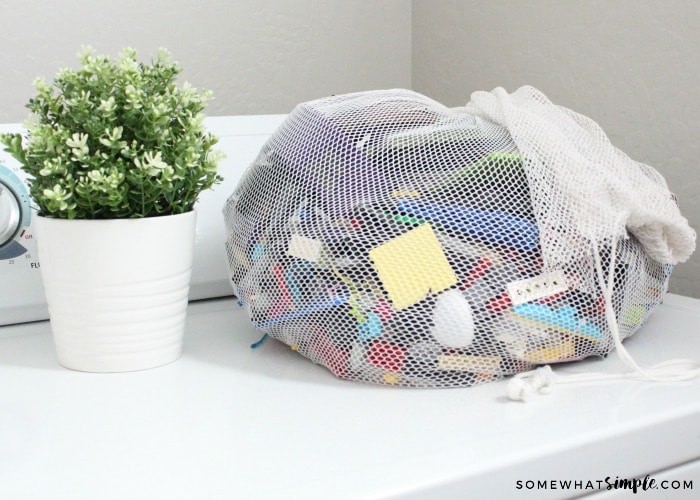 Tip #7 || Toy Car Wash
This laundry hack is a great way to clean those small toys your kids play with all the time. They're covered in dirt but cleaning each one individually would take all year. Here's how you do it. Put toys in a mesh bag and toss the entire bag into your washing machine! (This is the only way our Legos ever get clean!)
Tip #8 || Clean Your Iron with a Dryer Sheet
Turn your iron to the lowest heat setting. Lay a dryer sheet on your ironing board and iron over it. All the "stuff" on the bottom of your iron will transfer over to the dryer sheet.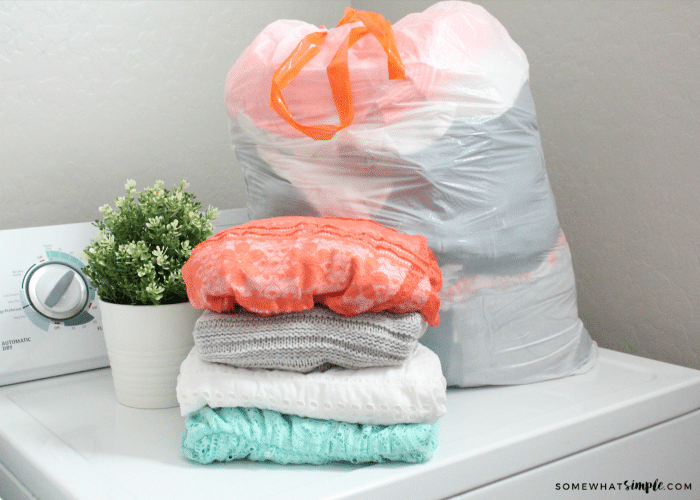 Tip #9 || Get Rid of Clothes Every Few Months
If you have sentimental attachments to certain items of clothing, this can be a tough one. But it feels so freeing and refreshing to donate or sell clothes that are taking up space in your closets and taking up room in your laundry pile. Often times I end up purging out of anger.
It's usually when I am folding piles and piles of laundry and I think to myself, "She doesn't need 50 shirts – 10 are just fine!". Then I go on a purge, saving only what looks and feels best and parting from the rest. It always makes me feel better, mainly because I know less clothes means less laundry to wash and fold!
Tip #10 || Have a Ball
My last laundry tip is will help keep things nice and fluffy. Toss a foil-covered tennis ball in the dryer to reduce static electricity and prevent clumping. This method also works well for drying pillows.
. . . . .
Hopefully these tips will help take your laundry days from boring to… well, less boring!
More Cleaning Tips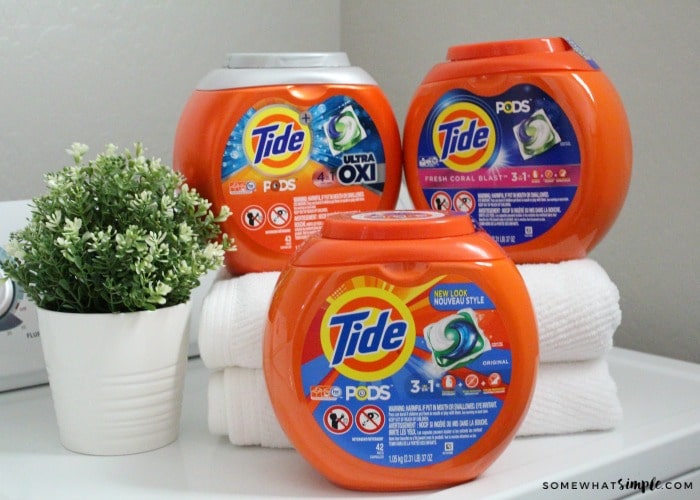 The best times in life are filled with laughs & happiness, and often leave behind a lot of mess. Tide helps minimize your laundry stains and odors quickly and confidently, so you can move on with your life looking great and feeling fantastic! No need to continue to waste your time with inefficient hacks that claim to make bargain detergent work better! Go out and try Tide Ultra Oxi and Fresh Coral Blast and see for yourself!
Now if I can just get these Tide PODs to fold and put away my clean clothes… that would be magical!