This cleaning box idea will make sure no household task goes unnoticed again!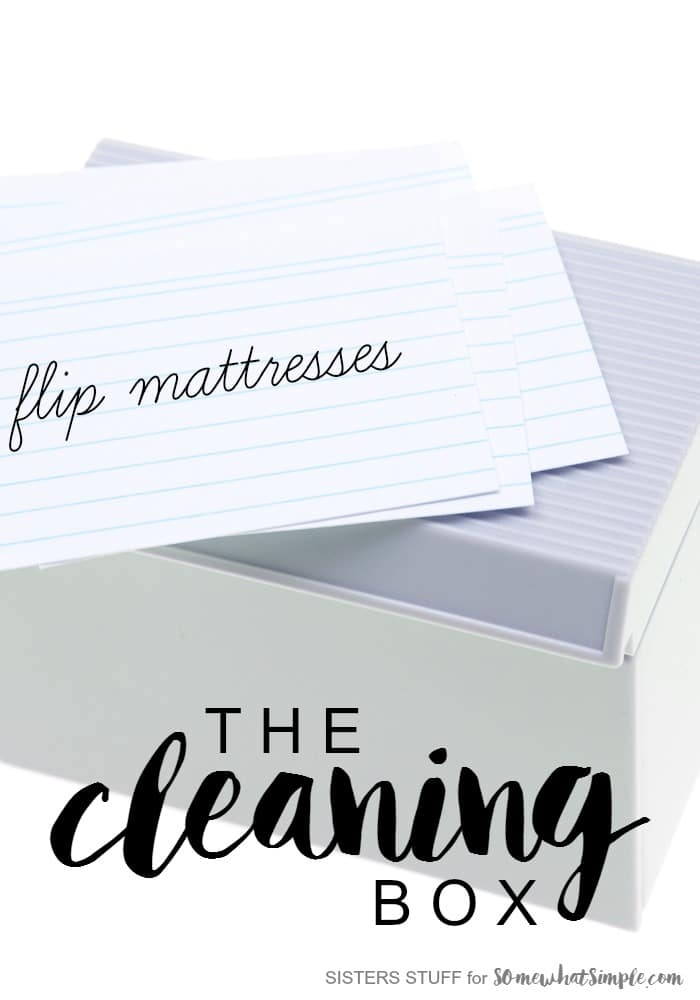 I don't necessarily have a hard time staying on top of my daily and weekly chores – mostly because we eventually need those dishes that are stacking up in the sink, and my carpet gets gross enough to warrant vacuuming pretty much every day. But I am not so good at the "deep cleaning" chores, or the things that need to be cleaned occasionally, just not every week. So my sister and I came up with this system to help get organized and stay on top of all the daunting tasks around the house, no matter how often they need to get done!
The Cleaning Box – Mom's Personal "Chore Chart"
MATERIALS:
file box
3 x 5 cards
3 dividers
pen or marker
DIRECTIONS: 
Write one of the following labels on each of your dividers, then place dividers inside file box and set aside.
• Easy – Do Often
• Easy – Do Less Often
• Hard
Grab your 3 x 5 cards and write 1 chore on each of them. Think of aaaaalllllllll the things you would ever need to clean, organize or tidy up in a completely perfect world where time, distractions, (and laziness!) are not an option. (Keep reading to see the list that I came up with to help get you started.) 
Once you have your cards written out, divide them up into those 3 categories.
NOW THAT YOUR CLEANING BOX IS MADE, HERE IS HOW IT WORKS: 
Let's talk about the 3 categories:
Easy – Do Often: A small group of chores that can all be done often. Complete one of these chores each week.
Easy – Do Less Often: A bigger group of chores that need to be done less often. Complete one of these each week.
Hard: Big chores that take more time and planning to finish. Complete one of these each month.
So, to recap…
You do 2 weekly easy jobs a week and one harder one per month.
After you have done the job, you move it to the back of the section and then do the first one the next time.
Here is a list of chores – 
Wipe front of kitchen cabinets
Clean out kitchen cupboards
Clean out kitchen garbage can
Clean lights
Clean vents
Wipe baseboards
Wash windows inside and out
Clean out master bath cabinets
Clean out kids bath cabinets
Clean fridge inside and out
Clean microwave
Clean out oven
Clean out garage
Clean out garage Freezer
Mope behind fridge and under oven
Wash light switches
Clean lamps
Clean planter shelves
Sanitize remote controls and phones
Clean kitchen blinds
Clean family room blinds
Clean bedroom blinds
Under kitchen sink
Microwave
Wash walls
Vacuum under couch and cushions
Move furniture in rooms and vacuum under
Vacuum out window sills
Base boards (wash and vacuum them)
Flip mattresses over
Washer and dryer
Wash doors, frames and handles
Wash shower curtain, clean rod and hooks
Clean out car
Computer keys, monitor, and printer
Organize and type up new recipes
Dust/wipe artificial plants
Dust curtain rods, clean curtains
Clean out junk drawer in kitchen
Sanitize toys
I am realizing that the easy jobs are SO easy and I am wondering why I didn't do them more often. (They are also good for kids to help with!)
The big jobs – cleaning out the garage or cleaning the blinds –  I still dread, but at least I am getting them done and I don't keep putting them off!  (Last week, I got my husband to help me with the garage. It was so nice!)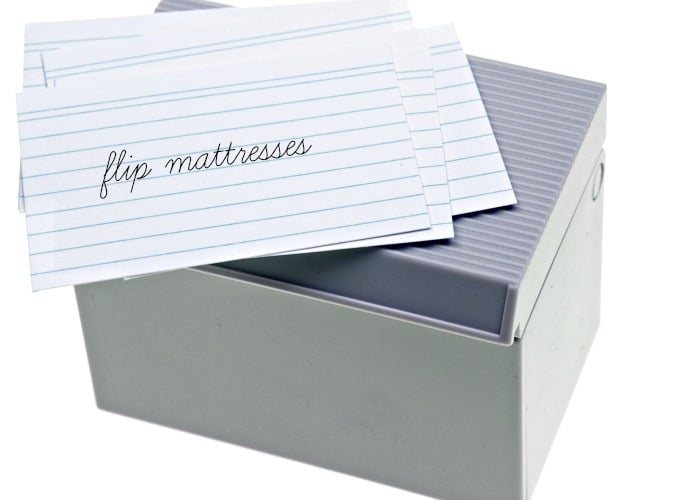 Happy Cleaning!
. . . . .
ABOUT THE AUTHORS: Hi Somewhat Simple Readers! We are Alish & Whitney from Sisters' Stuff. We share creative ideas for managing your home plus some crafty projects too! Stop by and say "hi!" 
This post originally published on Somewhat Simple in May 2010.