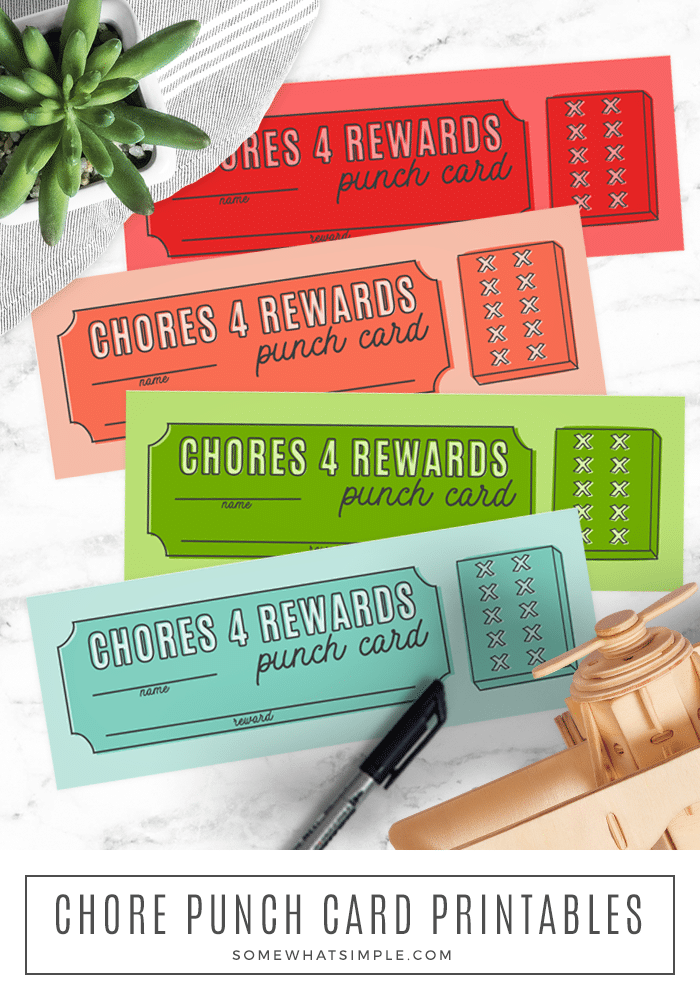 Chore Punch Card Printables are a great way to get the kids motivated and excited to help out around the house!
Looking for some additional cleaning motivation? Here are a few printables we love – 30 Day Declutter Calendar, Quick Cleaning Checklist, and Fake Clean a House in Minutes.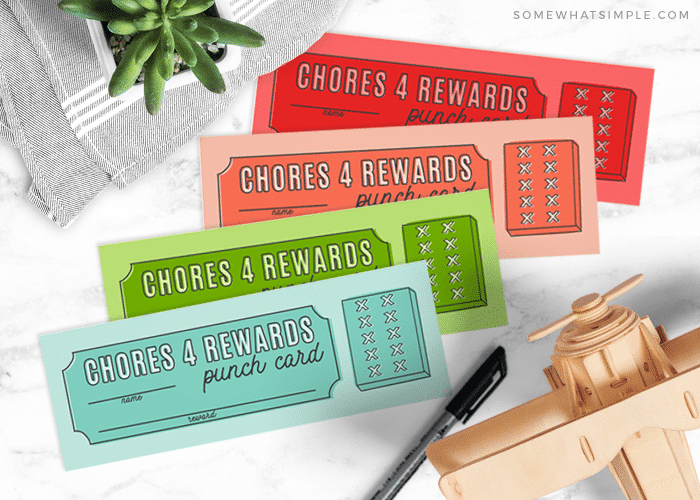 Last month we shared our Homework Punch Cards and they were a HIT! (Glad to see I am not the only parent looking for incentive and encouragement to get through homework time!)
When we shared the homework idea on Facebook, we had several people suggest a similar method, but one that could be used for household chores… and I absolutely LOVED the idea!
I haven't even tried these with my kids yet because I was too excited to share them with you! (But they are so cute, so they've gotta work, right?!) 🙂
How to Use Chore Punch Cards
The idea is very simple..
YOU WILL NEED –
Punch card printable (download below)
Cardstock, optional
Scissors
Pen or marker
Hole punch
HOW IT WORKS –
Download and print the chore punch card Printables for each of your children. I think cardstock is probably best to use, but you can be the judge of that!
There are 4 fun colors to choose from, so let them pick their favorite and then cut it out.
Write their names on the name line, and then pick a reward they will be excited about. Incentives that work well around here are –

15 minutes later bedtime
30 minutes extra screen time
ice cream date with mom or dad
a trip to the dollar store for X number of things

Get to work! Once your child has completed a task, punch one of the X's on the side. When all 10 X's are punched put, give them their reward!
More Chore Printable Ideas
Punch Card Chore Printable
These punch cards are so simple, fun, and hopefully it works for your family! 🙂 Just enter your email address below and you'll be given instant access to this free printable.