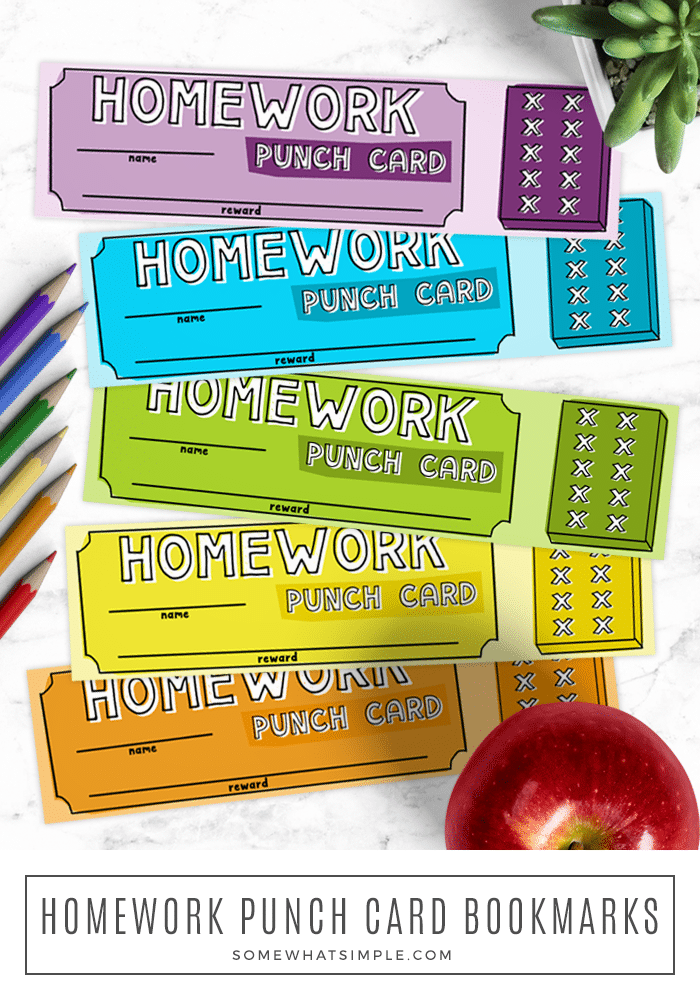 These free printable Homework Punch Card Bookmarks are the perfect incentive to get homework done, and make it more exciting!
Here are a few more Back to School Ideas that you might find helpful – Teacher's Pencil Vase Gift Idea, B2S Tic Tac Labels, and Candy Grams for the Teacher.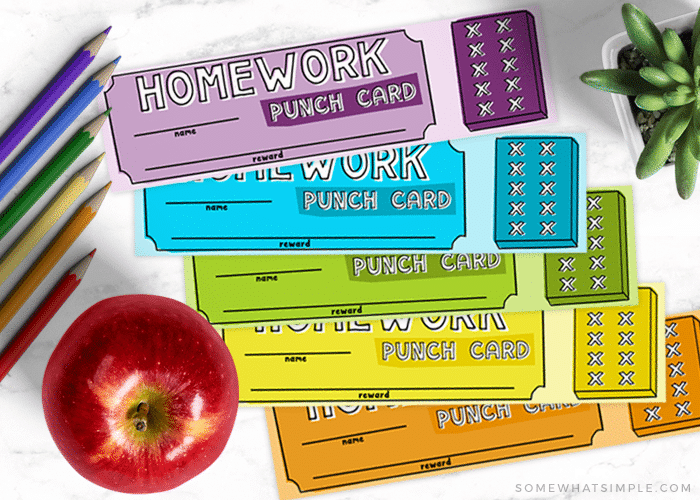 Homework Help
Getting homework done around here can sometimes be a chore. Sometimes there are tears. Sometimes said tears are not from the kids. 😉 ASometimes it can get frustrating. And sometimes, we all just need a little motivation. Therefore, I decided to create these Homework Punch Card Bookmarks. But let me tell you about the inspiration behind them: The BIG FAT NOTEBOOK series.
These books are built on a simple concept—borrowing the notes from the smartest kid in class. There are five books in all, and each is the only book you need for each main subject taught in middle school: Math, Science, American History, English Language Arts, and World History.
Inside you will find every subject's key concepts, easily digested and summarized: Critical ideas highlighted in neon colors. Definitions explained. Doodles that illuminate tricky concepts in marker. Mnemonics for memorable shortcuts. And quizzes to recap it all. But best of all? My 13 yr old LOVES them.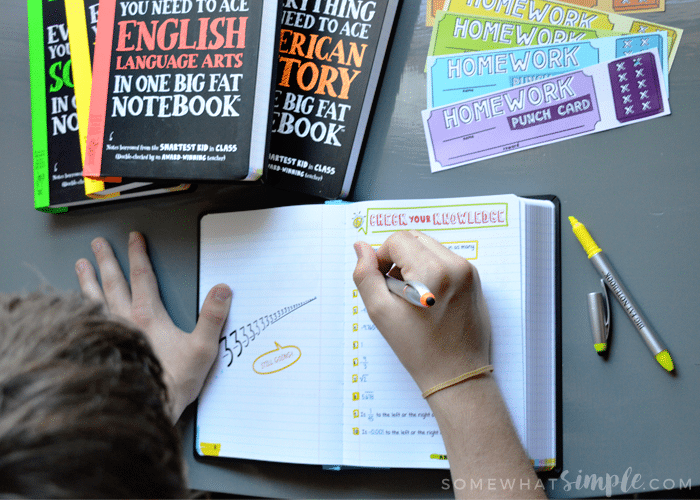 They have a 'Diary Of A Wimpy Kid' feel to them, and he can't get enough. After receiving these books, he took them into his room and started reading immediately. And this is HUGE. Because my son has high functioning autism.
Getting him to do homework is hard. Getting him to love and understand it is even harder. But these books? I'm having him do a couple pages on top of normal homework, and he doesn't complain. He asks to do them. I'm an official fan.
And if you're wondering, The BIG FAT NOTEBOOKS meet Common Core State Standards, Next Generation Science Standards, and state history standards, and are vetted by National and State Teacher of the Year Award–winning teachers. They make learning fun and are the perfect next step for every kid who grew up on Brain Quest.
So being the fan that I am now, I thought I'd marry their design style with these punch card bookmarks! My kids love them, and they can't wait to get homework done so they can get a punch that'll get them closer to their reward! You can go as simple or elaborate as you want for the rewards, and they're perfect for all ages!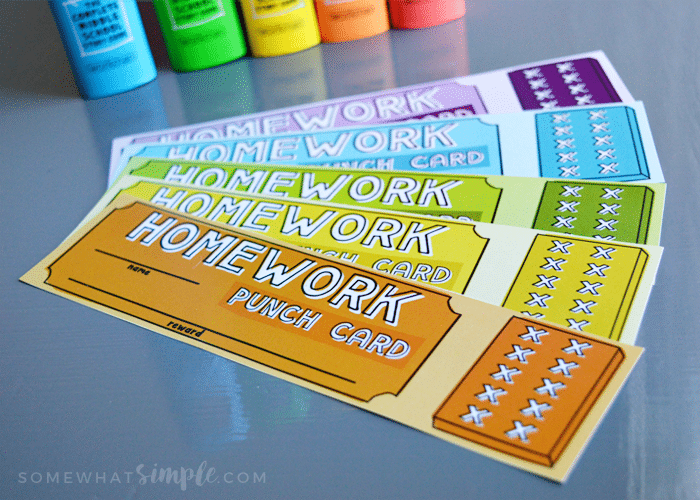 How To Make Homework Punch Cards
SUPPLIES –
Scissors or paper cutter
Hole punch
Homework Punch Card Bookmarks (Click below to download):
DIRECTIONS –
Print off the bookmarks
Cut out.
Fill out.
Start punching!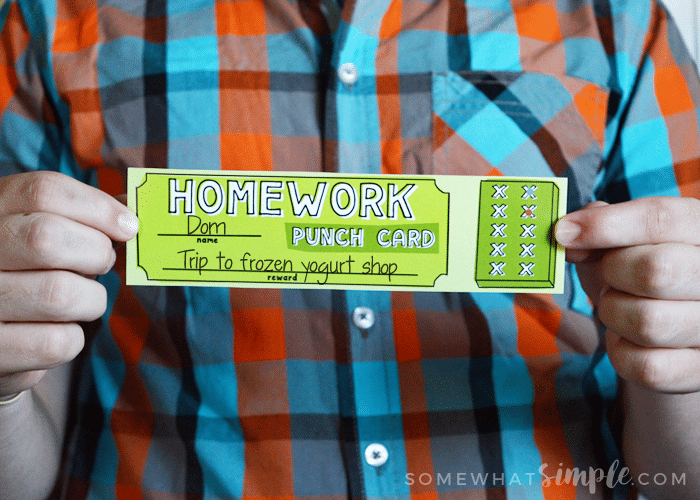 Homework Punch Card Bookmark Printable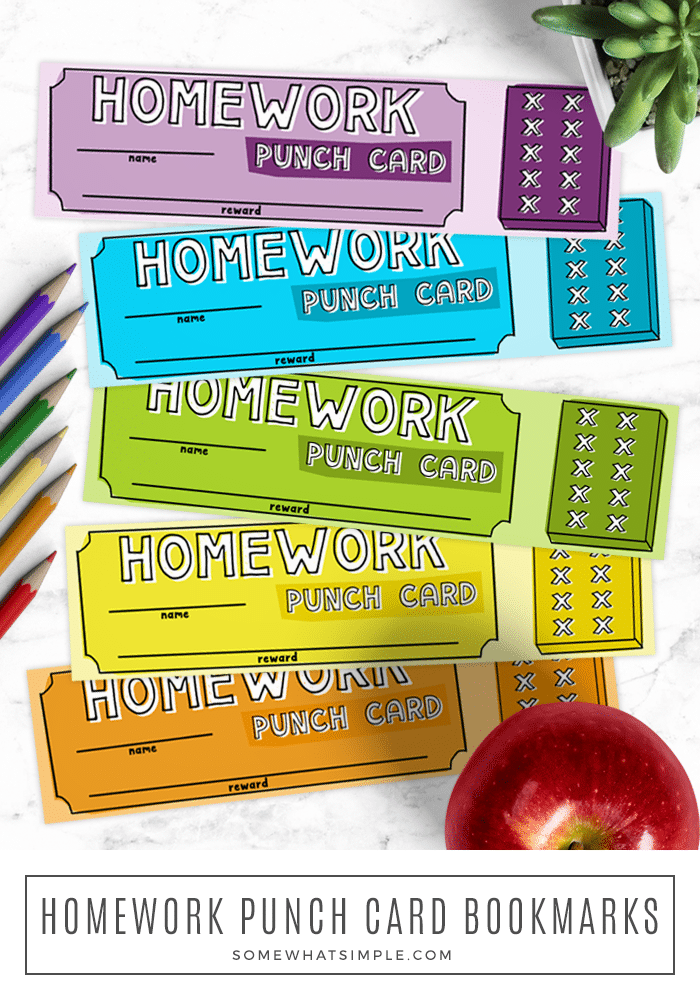 This is a sponsored post in partnership with Workman Publishing. As always, all opinions and text are 100% my own.