I seriously LOVE summer, but with the kids home all day, every day, our house is bound to be messier than usual. In an effort to help control the mess and to keep the productivity level up, I designed these chore charts for kids that can be printed and changed up as often as I need!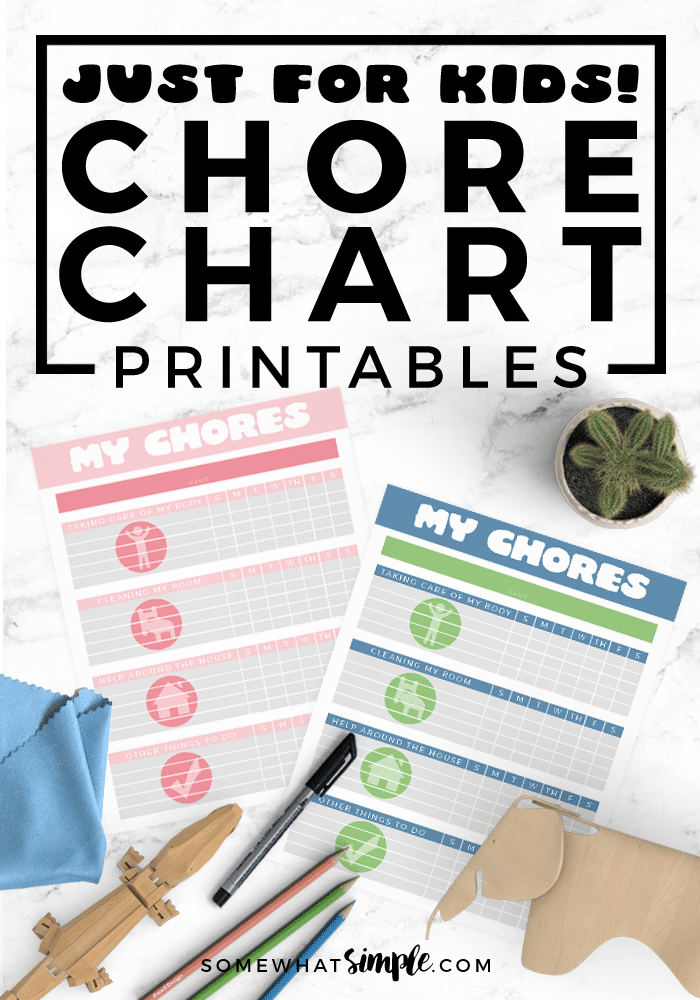 I have found that itemizing chores for younger kids can really make cleaning more fun. If I have a chart with only 3 things to do everyday, chores get boring faster. And that means entire tasks don't get done and chore charts become useless. With a big list of small tasks, children have more to mark off and they are motivated by seeing progress.
With this in mind, I made a chart where I could list everything they need to get done. Rather than writing clean your room, I list all the tasks to be done in their room: make your bed, pick up your toys, put your laundry away, etc. All of their chores are organized into 4 categories – good hygiene, bedroom, home, and misc. tasks to complete. These chore charts have been so successful in my home, I thought I'd share them with you too!
Chore Charts for Kids
supplies
directions
Download and print the chore chart for kids, then fill out the chores you'd like your kids to complete.
Laminate each chart, or place it in a plastic sheet protector.
Display the chart where it can be easily accessed, then let your child mark off their completed tasks each day with a dry erase marker.
So simple, your house is going to be tidy in no time!
 
But hurry! They will only be free in our shop for the first 100 people! 
This post was originally published in June 2012 but it was updated in March 2016.