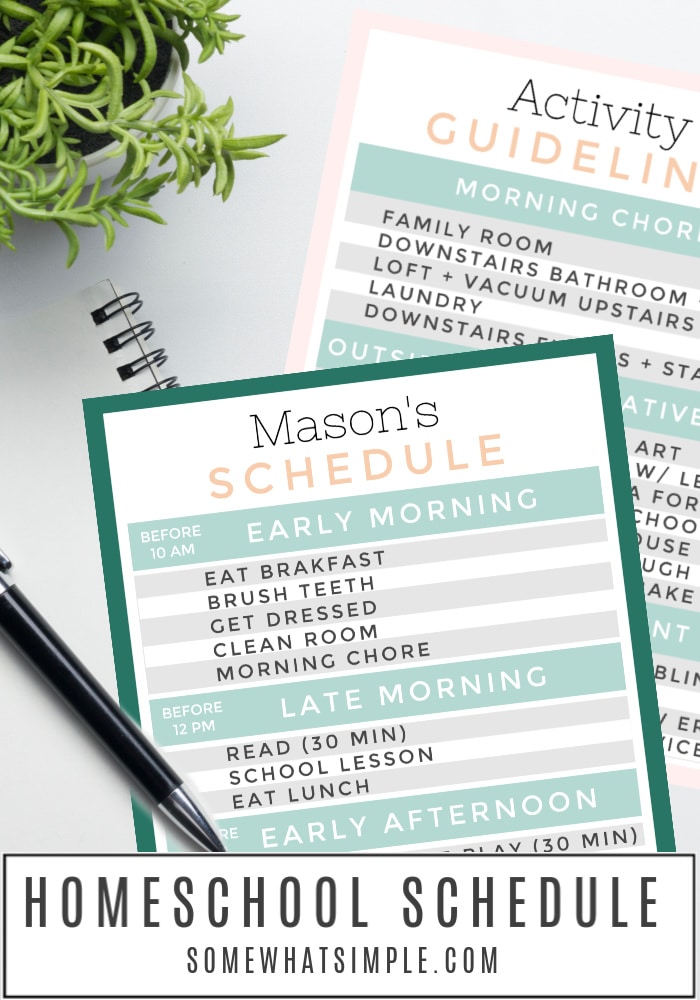 Add some structure and variety to your day with our free printable Homeschool Schedule. Download, print, and edit it to fit your family's routine.
More homeschool helps – Edible Plant Cell Model, Free Printable Coloring Pages, and Back to School Family Dinner.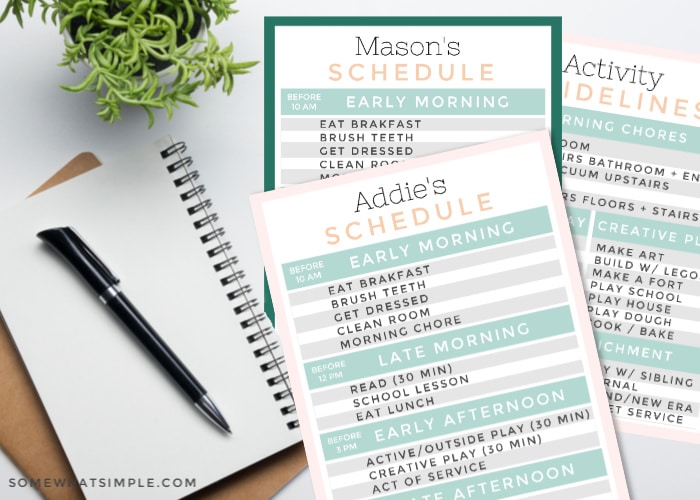 As the crazy events going on in the world leaves families quarantined at home, parents all over the world are being "promoted" to home school teachers! I'll be honest, this was welcome news in our family! I LOVE having my kids home, and I would totally homeschool my elementary kids full-time if I could get my husband on-board! So the cancellation of our kid's classes was actually a silver lining for me.
And everything was going so well. I was loving every minute of the kids being home and I loved our lazy casual schedule… and then we hit day 4!
On this day, my 13-year-old rolled out of bed at noon, my 12-year-old spent the entire morning on Xbox, only to come downstairs at 2 pm wanting lunch, the little kids were fighting over the family computer, it was loud and crazy, and the house was a disaster.
As much as I didn't want a schedule dictating our day, enough was ENOUGH!
Bring Back The Structure
So I stayed up late into the night making this homeschool schedule with the hopes that it would bring some structure to our day. The kids groaned when I showed them, (I know, another chore chart! 😂) but when they worked through this simple checklist and realized it didn't micro-manage their entire day, they actually loved it. ALL OF THEM.
As much as we all wanted to fight the idea and be our own boss, we all seem to thrive with a little structure and variety.
We were informed yesterday by our Superintendent that we will have a curriculum sent home in one more week, so we will definitely have to make adjustments to this schedule so we can get the requirements done. But the basic outline will stay the same – no tasks listed out by the hour, (because those checklists don't work for us!) just a general timeline of expectations.
When I shared this idea on social media, I had so many people asking if they could download a copy. So I did my best to make a file that you can print and adjust to fit your family. It looks a little different than the ones I made for my kids, but the general structure is there!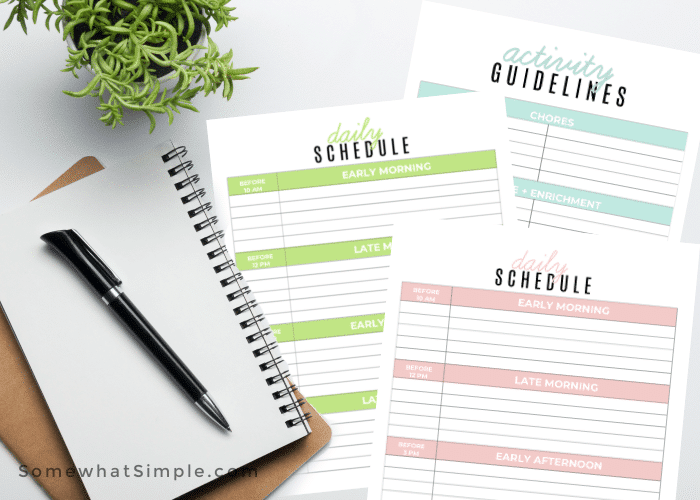 Homeschool Schedule Pack
What's Included in this Homeschool PDF –
3 colors of the schedule + a black and white version
3 colors of the activity guidelines + a black and white version, so you can brainstorm activity ideas together, just in case they get stuck
How to Edit this Homeschool Schedule –
Download the file (below)
Go to PDFEscape.com and upload the file.
Add a text box and type in the wording of your choice. (You can also duplicate and delete pages.)
Download your edited file, then print and enjoy!
Homeschool Schedule
To download this file, enter your name and email below and a new page will immediately load with the file!
What's been working (or not working!) for you? Are you still loving the casual days of having the kids home, or did "DAY 4" happen in your home too? 🙃