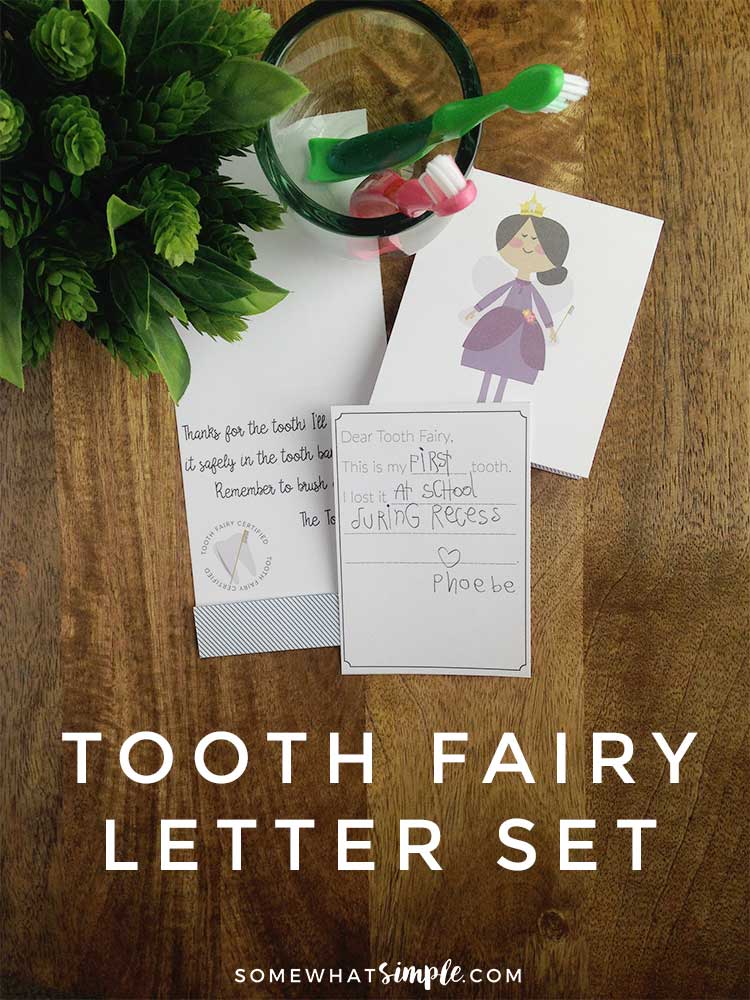 This tooth fairy letter set is a great way to celebrate the first, second or last lost tooth!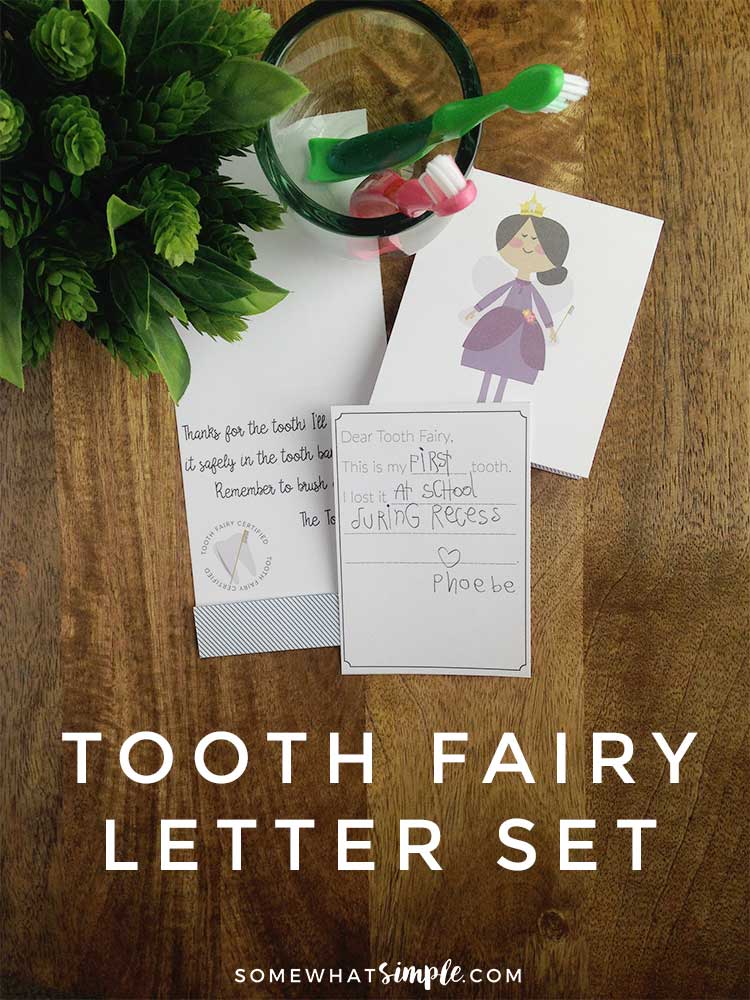 A few weeks ago, we made our bi-annual visit to the dentist. Like any mom, I crossed my fingers that my youngest would at least be compliant and that we'd make it out alive with a bonus of being cavity free. We succeeded on all counts and at the end of the visit my 5 year old exclaimed, "Mom, did you know that sometime soon my teeth will get wiggly and when it falls out I'll get a visit from the tooth fairy?"
To say she was ecstatic about this upcoming event would be an understatement. Ever since, we've been brushing and flossing and wiggling teeth, "just in case".
I figured I'd better help the Tooth Fairy get prepared so we were ready when our first wiggly tooth made an appearance. I designed this cute little Tooth Fairy Letter Set and I'm sharing it with you while it waits to make it's debut at our house!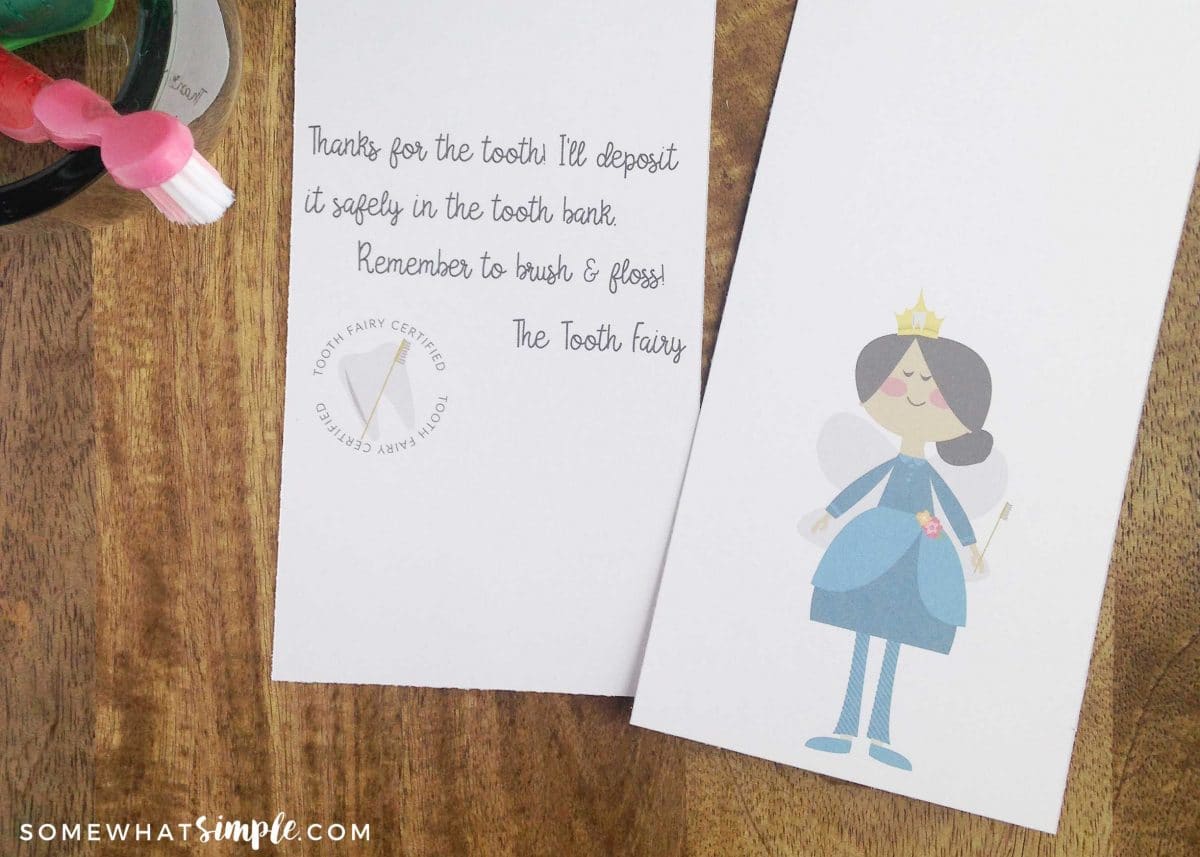 Tooth Fairy Letter Set
Supplies
Tooth Fairy Letter Set digital files (download below)
color printer
white cardstock
bone folder tool, optional
paper cutter
double-sided tape or a decorative paper clip
ruler
Directions
Download and print the Tooth Fairy Letter and Notecard files.
Print and trim your letter template to the Tooth Fairy. Have your child write their letter – and there's even space to draw a picture!
Print the Tooth Fairy Notecard files on 8.5″ x 11″ white cardstock. Follow the guidelines for your specific printer so the pages print back to back and your card will fold correctly.
Trim off 0.25″ on all sides with a paper trimmer. Cut down the center of the remaining piece to create two 4″ wide strips.
Use a bone folder tool on the inside of the card to create a crease along the top of the striped edge.
Fold the striped edge toward the inside of the card. Adhere the edges of the flap to create a pocket for the Tooth Fairy money. (This is the bottom edge of the card).
With the inside of the card facing up, measure down from the top 4.75″. Use a bone folder to create a crease and the top fold of your card.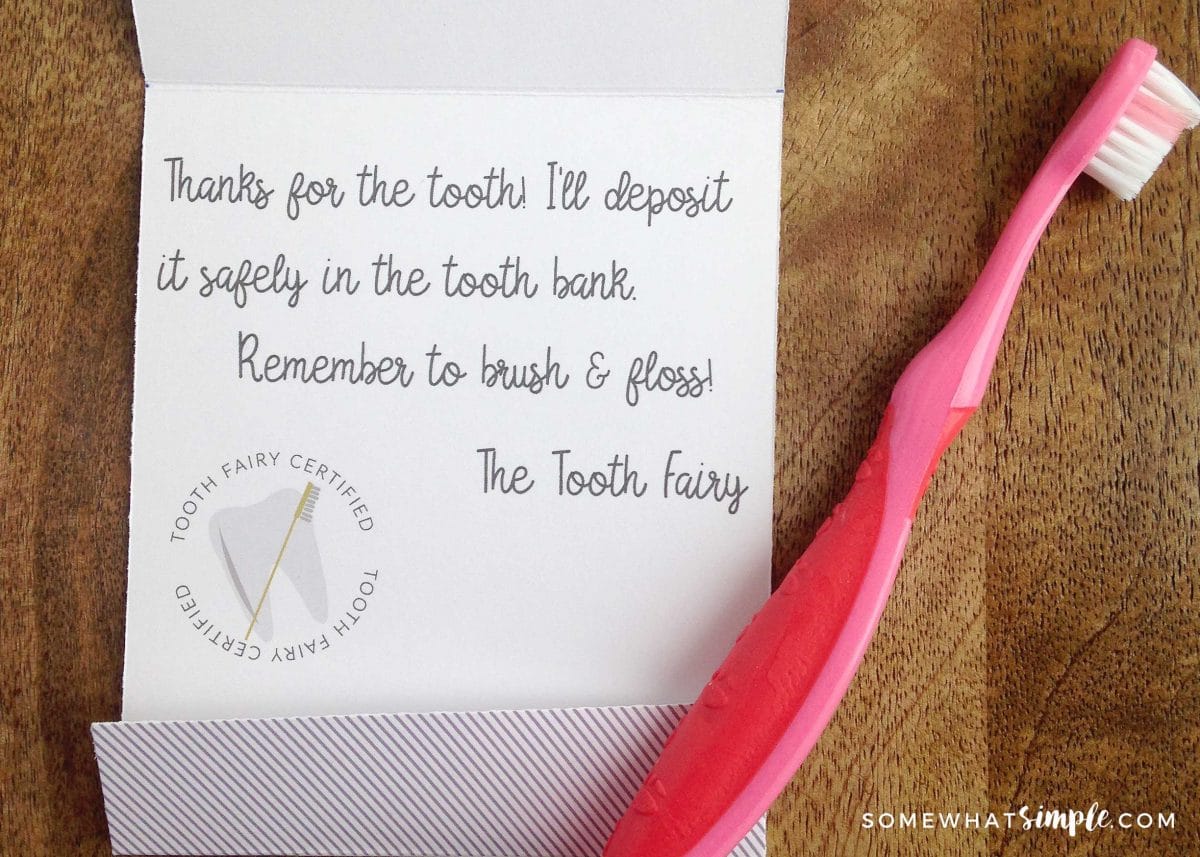 Tips & Ideas
Bone folders are awesome, but if you don't have one on hand, simply use the rounded tip of your scissors or one of those plastic pen caps that has the small piece that allows you to clip it to a stack of papers.
Never used a bone folder before? No problem. Simply make small tick marks on either side of your paper, line your ruler up to create a strait line and run your bone folder (or one of the other items mentioned above) to draw a line along your ruler edge. Press just hard enough to make an indentation in the paper, but not hard enough to actually break the fibers. Bonus: Always create your crease on the inside pressing down and then fold the edges of your paper up. The fibers tend to break if you create your crease and then fold your paper the same way.
Have your tooth fairy go the extra mile and drop off a new toothbrush or some floss along with her payment and card.
If you don't want to mess with adhesive, simply paperclip your tooth fairy payment into the card at the fold.
Here are a few more posts you might enjoy: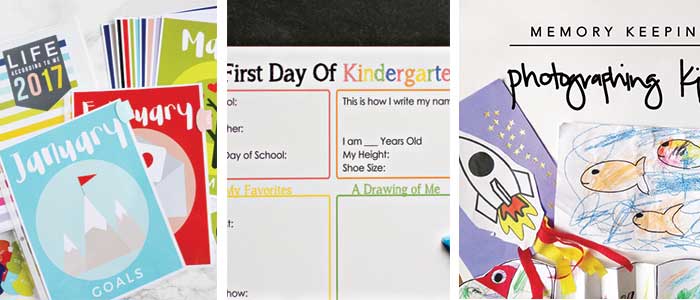 Monthly Journal Pages – Join Our Club // First Day of Kindergarten Interview // Memory Keeping Mom – Photographing Kids Art