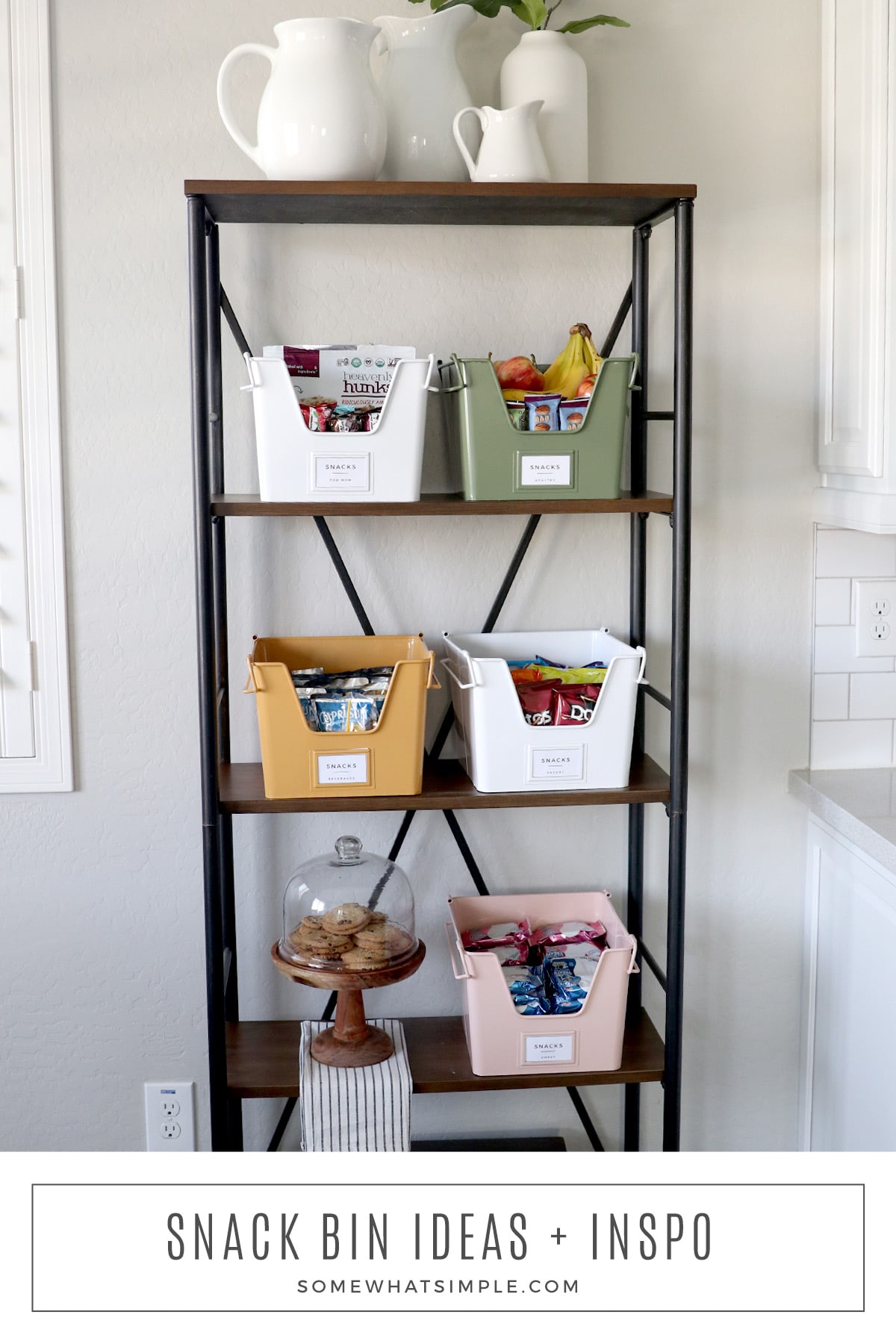 Our favorite snack bin ideas with quick and convenient snacks that make hungry kids HAPPY!
Struggling to keep bored kids from eating everything in the pantry this summer? Here are a few of our favorite boredom busters – Make Bubble Snakes, Plan a Family Movie Night, and How to Play a Game of Spoons.
Creating a Snack System
You're not the only one with kids who ask to eat each time they are bored. In fact, I'd bet it's probably been an age-old issue affecting every mom who has raised a school-aged child.
But we are here to offer support and advice with a favorite "Summer Sanity Saver" that will help combat summer boredom like nobody's business!
We'll show you the magic of creating a snack system that works for your family. Everything you need to know from setting a snack schedule, encouraging healthy eating, and stocking your snack bins with a bit of variety.
Here's how to do it –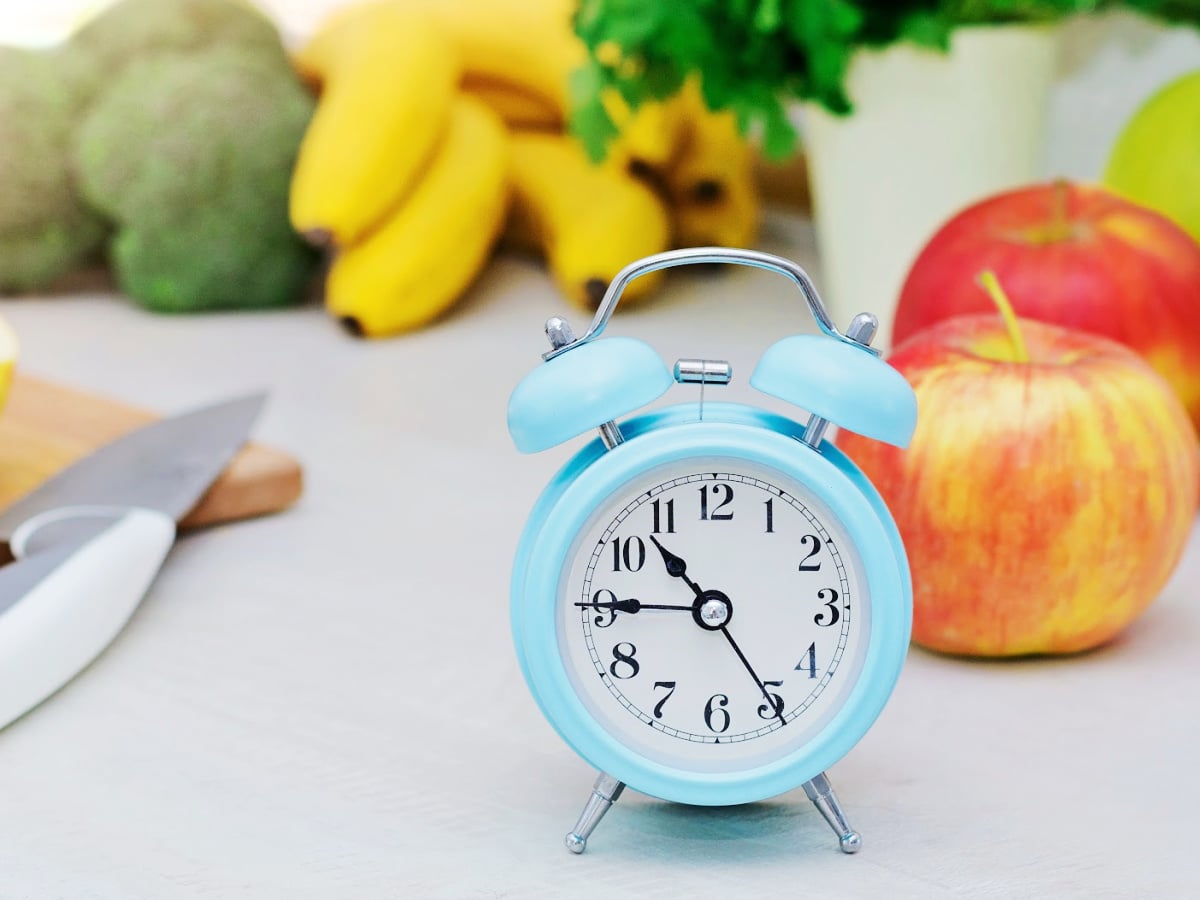 Schedule Your Snack Times
Stick to specific times of the day so your kids know what to expect. On days we are home all day, I make sure to schedule a morning snack and afternoon snack in between meals. Our schedule looks like this –
8 am – Breakfast
10 am – Snack
12 Noon – Lunch
3 pm – Snack
6 pm – Dinner
If you stick to your schedule, you have a good reason to tell them to go play and come back at snack time if they happen to tell you that they're hungry!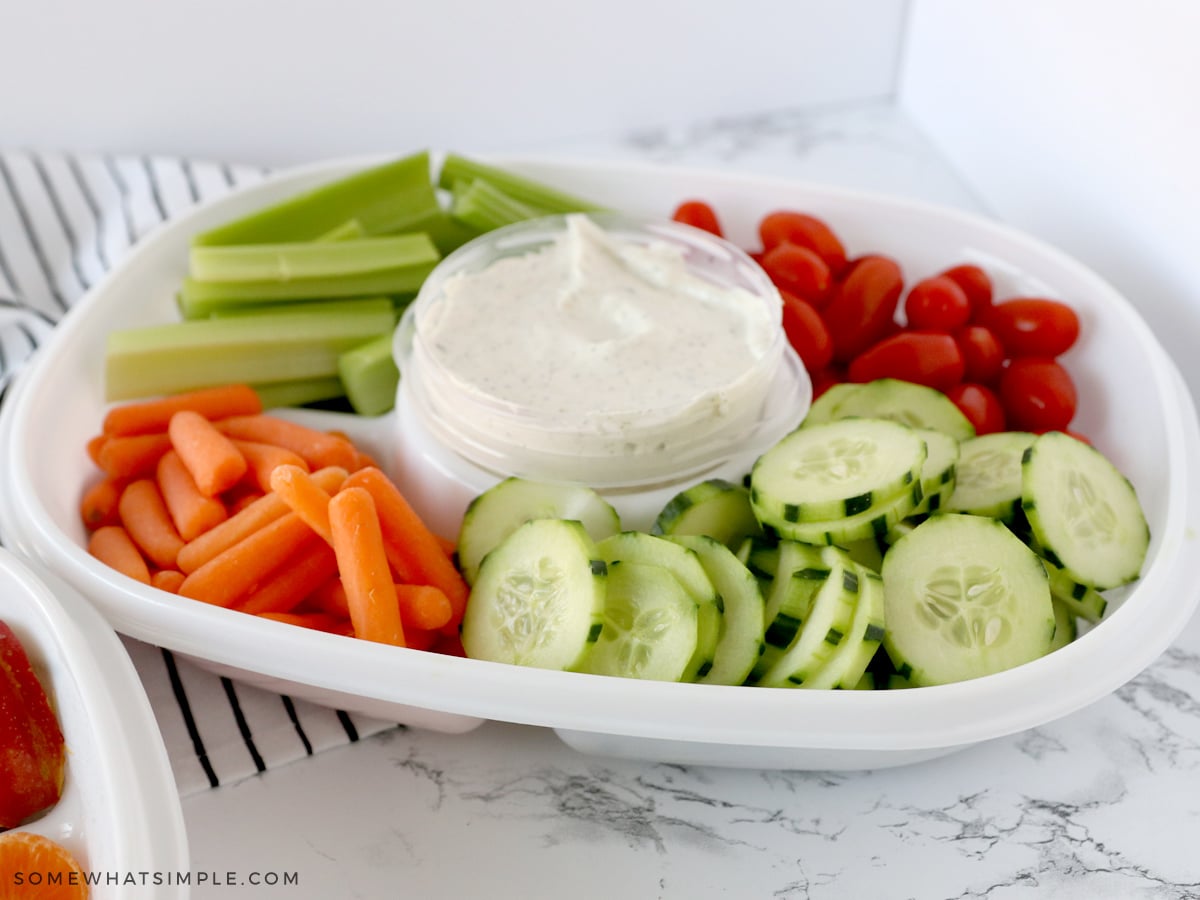 Encourage Healthy Eating
This is actually easier than you think! By keeping fruits and vegetables readily available, your kids will naturally eat more of them.
I keep a fruit tray and veggie tray stocked in my fridge, and a bowl of apples, oranges, bananas, pears, and plums on my counter. I told my kids that they can eat whatever fruits and vegetables they want whenever they want, even in-between snacks and meals!
So if they tell me they are hungry and we just had lunch, I tell them to grab a piece of fruit. Most of the time my kids don't even ask me anymore- they just help themselves!
Another tip about having a fruit basket is to keep a good variety. Kids will get bored of apples every day, but if you switch it up, you'll hear a lot less complaining!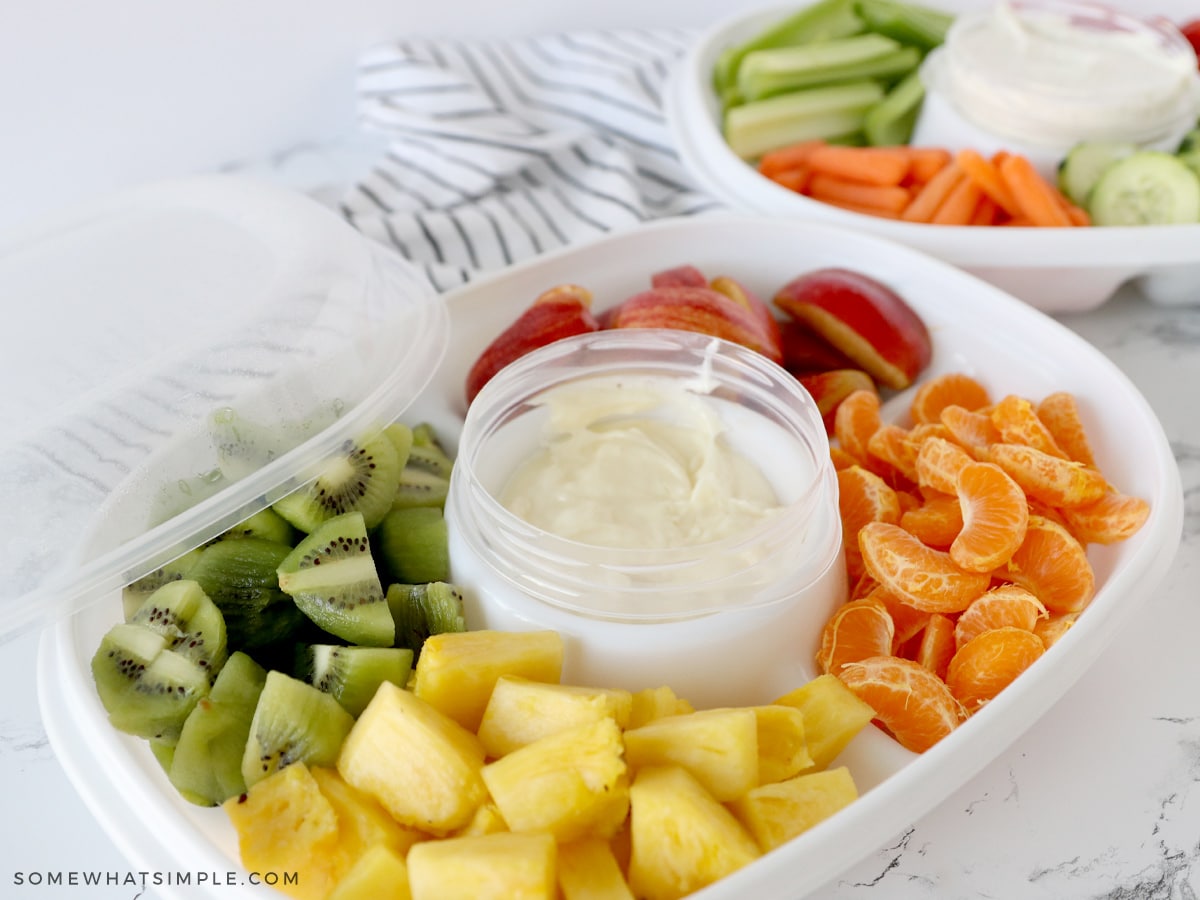 Here's a link to my favorite snack trays. I keep one full of fruits with slices of cheese or a fruit dip in the middle, and I keep the other one full of veggies and ranch dip.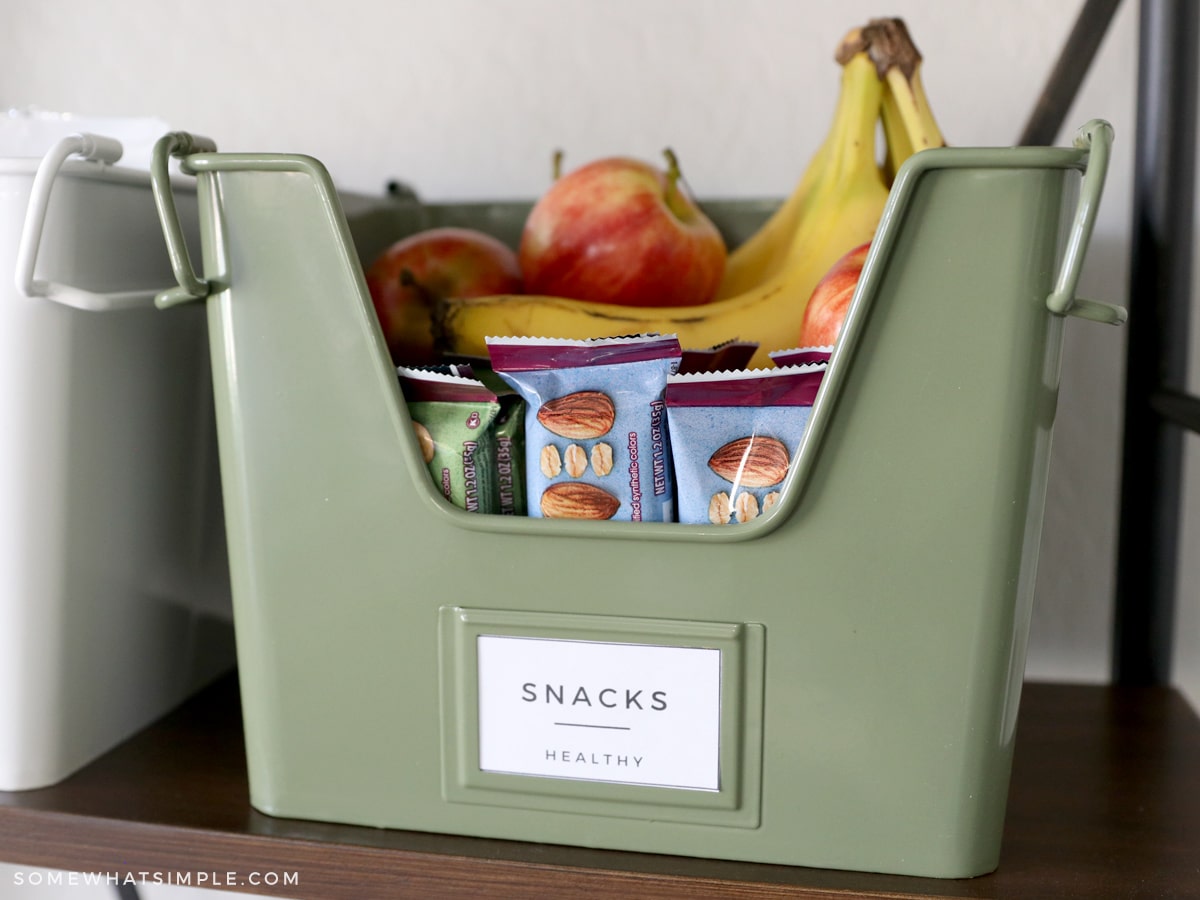 Make a Snack Bin
Having a bin for the kids full of their snacks is not only useful, but it's also fun for them, too! My kids love when I go grocery shopping and refill our snack bins – they're always excited to see what foods I purchased for the week.
You can keep all snacks together in 1 bin, or divide snacks into categories and use as many bins as you have space for.
I have 2 snack bins in my pantry and one fridge snack bin with perishable items.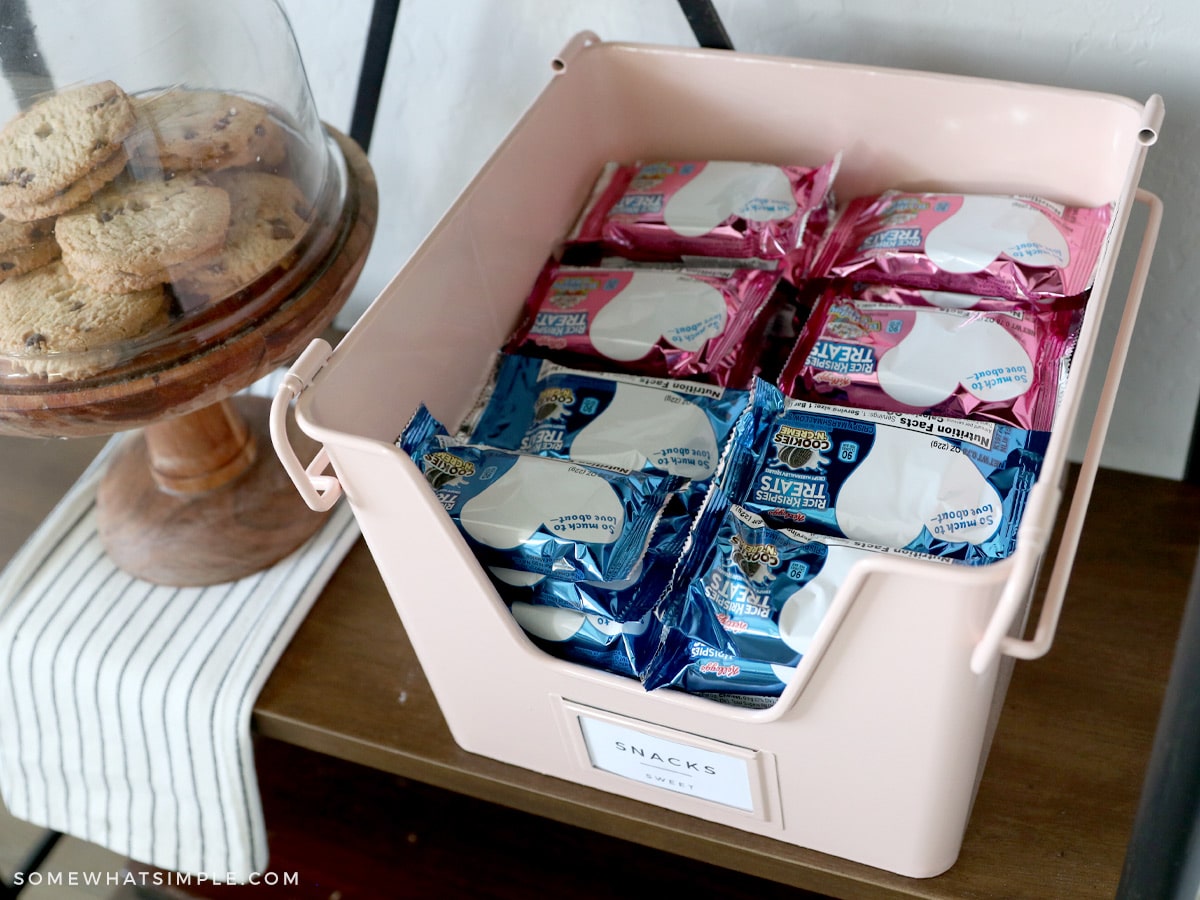 Snack Ideas
You can buy individual snack packages, or buy snacks in bulk and put individual portions in baggies so they're ready to be eaten.
Sweet Snacks – cookies, snack cakes, pudding cups, fruit snacks, Rice Krispie Treats, etc.
Savory Snacks – chips, crackers with peanut butter, etc.
Snack Beverages – water bottles, juice boxes, etc.
Healthy Snacks – granola bars, trail mix, apple sauce, popcorn, etc.
Fridge Snacks – cheese sticks, fruit cups, yogurt, hummus + carrots, snack bags with sliced strawberries and grapes, etc.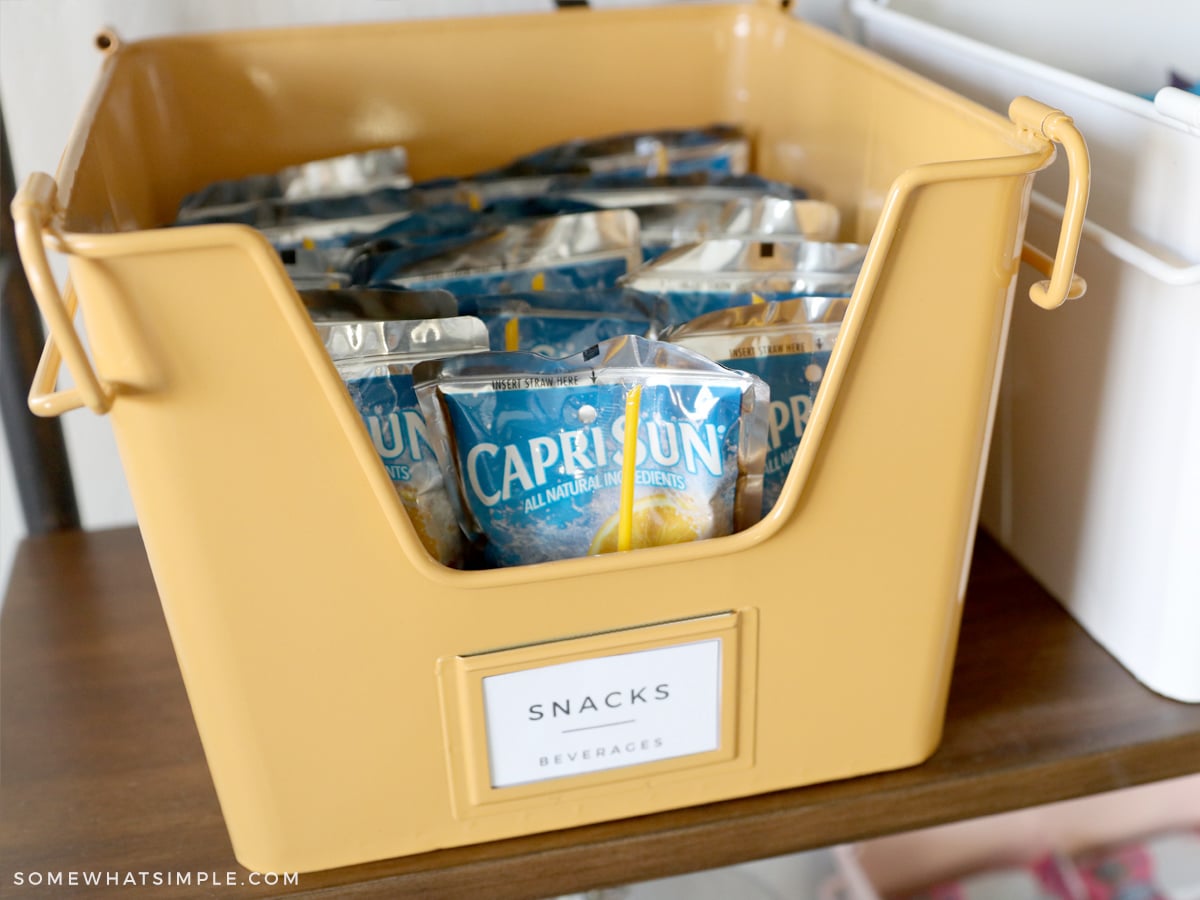 Snack Storage
Feel free to use whatever baskets or bins you have in your home! Here are a few storage bins we love: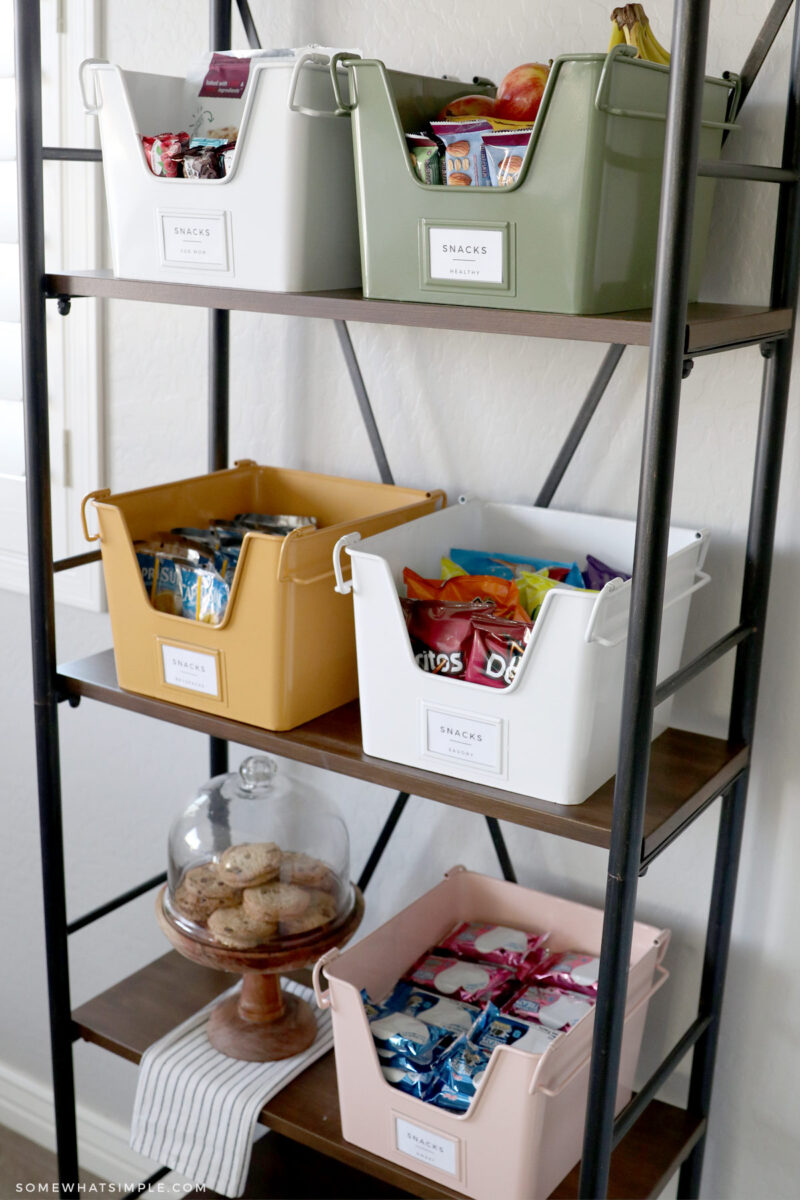 Snack Box Labels
I made snack bin labels that match my pantry labels and spice labels. If you'd like to use them in your home, enter your name and email address in the form below.
We hope these ideas have been helpful!